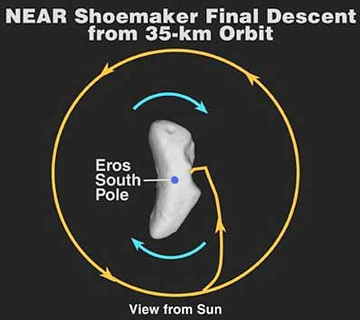 February 12, 2001  Laurel, Maryland – Scientists at Johns Hopkins University's Applied Physics Laboratory broke out the champagne to celebrate today when the clock ticked 3:02:10 p.m. EST and the last picture was taken by NASA's NEAR Shoemaker spacecraft as it lowered at 4 mph for the first historic landing of an Earth vehicle on the asteroid Eros 196 million miles away. Touchdown was in the yellow circle below on the edge of the asteroid's saddle-shaped feature named Himeros.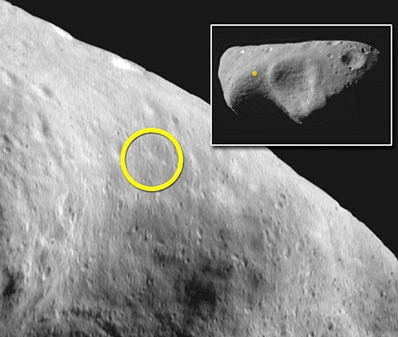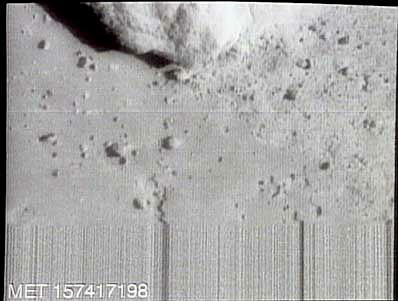 A spokeswoman at the JHU Applied Physics Laboratory which controls the NEAR Shoemaker mission for NASA said a signal and telemetry were still being received from the spacecraft on Eros, much to the surprise of the engineers and scientists. So NASA announced that NEAR's work on the asteroid will be extended for up to 10 more days to gather more science data, around February 22.
One of the project scienctists is Lucy McFadden, a geologist and Professor of Astronomy at the University of Maryland. I talked with her about the historic Eros landing.
---
Interview:
Lucy McFadden, Ph.D., Associate Scientist and Professor of Astronomy, Department of Astronomy, Univ. of Maryland, College Park, MD: "The engineers and navigation team here at APL did receive communications from the spacecraft. They did get information which allowed them to assess the health and state of the spacecraft and we weren't expecting that, so it was all very exciting.
Then the Mission Director, the person responsible for driving the spacecraft, got excited and said, 'Wouldn't it be great if we could launch again from the asteroid and look back at where we landed?!' But his engineers did an assessment from the telemetry packet which has information about the spacecraft in it and they determined they only have about 1 kilogram of fuel which is not enough to do anything. So, basically we're sitting there.
Meanwhile, the other team leaders said, 'Wait a minute! We're sitting here right on the surface and we can detect gamma rays.' That's the natural radiation from the soil surface itself and maybe we can make some measurements if we integrate it for a week, turned our gamma ray spectrometer back on and integrate it for a week, we would get an improved signal and get a very good measurement for this part of the soil.
WHAT WILL THE GAMMA RAY INFORMATION TELL YOU?
Tell us about the elemental composition of the soil.
FROM THAT WHAT COULD YOU LEARN?
I'm particularly interested in that because I've been analyzing reflected sunlight in the near infrared which gives us signatures of metal, minerals, which are the minerals in the rocks. If we can get the abundance of the element of iron, for example, that will constrain our analysis. The iron has to exist in a certain state and it allows us to determine whether all of the iron is in the crystal structure I measure in the near infrared spectrum or whether some of it is metallic iron, which I don't measure in the mineral spectrum. And that's a very important piece of information. Whether it's all in the mineral structures, or whether some of it is in the metallic state.
IF YOU CAN REFINE WHAT THE MINERALS ARE ON THE SURFACE OF EROS, WHAT WILL THAT TELL YOU ABOUT THE BIGGER PICTURE?
The composition of the minerals, there is a reflection of the processing that has gone on on the surface, whether it's material that condensed at the early time of the solar system or whether it has been partially heated or heated since it formed. So, the knowledge of the minerals and the distribution of metallic iron or iron in other minerals tells us whether Eros is primitive and has been unaltered since it formed at the beginning of the solar system, or whether it may have experienced some subsequent heating in its course through the solar system.
We don't have any evidence that there's been a melting like a volcano. Some of my team mates are starting to model mechanisms that would move some of the dust and fill in the craters. We see a lot of filled in craters. But there's a question. Are these deep craters filled in with a lot of stuff? Or are they flat craters that aren't very deep that don't have much stuff in them?
We're trying to figure out how this material moves around on the surface – how parts of Eros are smooth, filled in. We're actually calling them 'ponds.' They seem to be filled in and smooth. But when you get up there, there are rocks all over the place.
WHY ARE THERE SO MANY MORE ROCKS PER SQUARE AREA THAN EVEN THE MOON?
That's another question we're trying to quantify. That's our first assumption, or our first sense when we look at it. But you know what? We have to actually sit there and count the rocks per square area and compare it to the rock count on the moon. Before we spend a lot of time trying to explain the difference, we're still getting our facts straight.
WHAT ABOUT THE MYSTERIOUS SQUARE LOOKING CRATERS THAT SEEM TO BE REGULARLY SPACED OUT. I'VE STUDIED ONE OF THOSE PHOTOGRAPHS AND THAT REALLY IS PECULIAR.
Yes, but there's also one of those on earth – a meteor crater that's actually square and that's because of the structure of the bedrock around it. It controls the crater shape so it just means we are impacting into something that has some strength to it.
ANY IDEA WHAT THAT MIGHT BE AT THIS POINT?
Nope! (laughs)
BUT YOU'RE STILL LEFT WITH A MYSTERY ABOUT WHY THERE ARE THESE UNUSUAL SMOOTH AREAS ON EROS, RIGHT?
I think our mystery is what's the distribution of the boulders and the craters? Are there small craters? Is there an absence of small craters? We've looked all over Eros and there's been a lot of activity. We've gotten down to things that are inches across and so it doesn't look smooth anymore. There's always rocks and boulders there. It's pretty rough. There are places that are relatively smoother, but that's inside one of the larger features. We're debating whether it's a crater or not. We think it's a crater.
IS THAT THAT SORT OF CRADLE-SHAPED PLACE WHERE YOU LANDED?
Right. That area is now called Himeros.
THAT IS VERY UNUSUAL TO LOOK AT IN THE AERIAL PHOTOGRAPH.
Right, and from a larger distance it looks relatively smoother. But when we get down there and we landed in that area, it's still very rough. There's a lot of debris spread out all over the asteroid."
---
Websites:

© 1998 - 2019 by Linda Moulton Howe.
All Rights Reserved.