"It's puzzling. I looked at a few pictures around (area) and couldn't find anything to explain it. Very puzzling! These are huge boulders. There are no indications of any outcrops that could shed such boulders."
– Michael Carr, U. S. Geological Survey –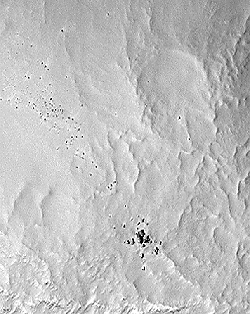 February 25, 2001  Carlsbad, California – On February 14 while NASA's Near spacecraft was making its historic landing on the Eros asteroid between Mars and Jupiter, a camera on the Mars Global Surveyor orbiting the red planet was under the guidance of an international group of four girls and five boys aged 10 to 15 known as the Red Rover Goes to Mars team.
"The students were the first members of the public to direct a camera aboard a spacecraft orbiting another world," said a Planetary Society press release. The nine students gathered at Malin Space Science Systems in Carlsbad, California. Planetary scientist, Michael Malin who built and operates the Mars Global Surveyor camera, opened his offices to the students from Brazil, Hungary, India, Poland, Taiwan and the U. S. as part of an educational opportunity sponsored by NASA, the Jet Propulsion Laboratory and LEGOLAND of California.
The students were allowed to target three high resolution images at three different sites that "coincided with the MGS spacecraft's orbital position during the February 11-16 week of their visit. Michael Malin, Ken Edgett and Becky Williams of Malin Space Science Systems personally supervised the Student Scientists."
One of those photographs in the Nilosyrtis Mensae Valleys has surprised everyone at 31.2 degrees North and 289.5 degrees West. The students wrote about their photograph, "This image was taken in the fretted terrain area located in the middle latitude of Mars. Black boulders are as big as 15 to 25 meters (49 to 82 feet). The puzzling position of these mysterious rocks and the lack of our ability to understand how they got there reminds us how much there is still left to discover about the mystery planet."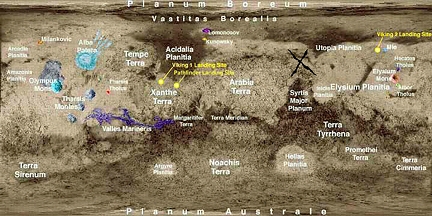 Dr. Malin said, "The location and nature of these boulders is unusual, but their shape and distribution – in respect to the slope upon which they sit – is consistent with a boulder shattered by weathering. The fall to their present location could also have broken the boulders apart. The mystery is why so much of the rest of the slope is smooth and devoid of rocks."
This weekend I asked Dr. Ron Greeley, a geologist at Arizona State University who also worked on the 1976 Viking mission to Mars, what he thought about the new photograph.
---
Interview:
Ronald Greeley, Ph.D., Regents Prof. of Geology, Arizona State University, Dept. of Geological Sciences, Tempe, Arizona: "My first reaction is that I really don't understand what these objects could be! I still don't understand them. They are very dark and appear to really be out of context with the surrounding terrain. Most of the surrounding terrain appears relatively smooth at the resolution of the images and would appear to be made of soft sediments, easily eroded. And yet here are these very dark features that look like boulders, huge rocks, that are either perched on or emerging from this soft background rock. And this just doesn't make sense geologically, and that's the thing we all find so puzzling about it.
IF I UNDERSTAND FROM THE SCALE THAT HAS BEEN DESCRIBED AT THE PLANETARY SOCIETY AND MIKE MALIN'S SITE, THESE OBJECTS RANGE IN SIZE FROM ABOUT 50 TO 85 FEET, WHICH IS HUGE.
It's huge, indeed! Those would be quite large blocks or rocks.
THE CONTRAST IS SO STARTLING. DO YOU OR OTHER GEOLOGISTS HAVE ANY SPECULATION AT THIS TIME ABOUT WHAT MIGHT HAVE HAPPENED?
We really don't. One has to remember that the contrast on Mars is pretty low and these pictures have been what we called stretched in the computer to increase the contrast. So, while they appear very dark, it's sort of a relative thing compared to the background. Nonetheless, they are dark, darker than most features that we see on Mars.
IS THERE ANY POSSIBILITY THAT AN ASTEROID, FOR EXAMPLE, MIGHT HAVE CRASHED INTO MARS AND BROKEN UP PRODUCING ALL OF THESE DARK FRAGMENTS ON THE SURFACE?
That's a perfectly reasonable hypothesis. We know that many categories of asteroids are dark, composed probably of material we call carbonaceous chondrites, for example. And this is carbon-rich, very dark in appearance, and the distribution of the features that we see there on Mars- there is a prominent cluster with the largest fragment and if you go up to the upper left from that prominent cluster, there is a whole string of smaller dark spots. So, the suggestion that this could be something that smacked into this part of Mars and broke up and left those boulders behind is entirely reasonable.
COULD YOU EXPLAIN TO A GENERAL AUDIENCE WHERE THE DARK OBJECTS ARE ON MARS AND WHAT SURROUNDS THEM?
This area is in the Northern Hemisphere of Mars that is close to the boundary between what we call the Cratered Highlands and the Northern Lowlands. The features close by are the Nilosyrtis Mensae – a series of fractures where the crater terrain has been broken by faulting and then the whole of the region has been eroded into the softened terrain we've seen in this image. (Nilosyrtis Mensae is quite a distance east of the famous Cydonia Mensae region containing the controversial Face On Mars.)
DOES THAT MEAN THAT THERE ARE, OR HAVE BEEN, A LOT OF EARTHQUAKES ON MARS?
We see a lot of places on Mars that have been heavily fractured and this would indicate extensive earthquakes. We don't know if earthquakes are taking place today, or not. This is why on one of the future missions we hope to place a network of seismometers to monitor the earthquake activity. Today we just don't know.
ARE THERE GOING TO BE MORE ROVERS THAT CAN GO TO A PLACE LIKE THIS FOR A CLOSE-UP LOOK?
Yes, there are plans to have Rovers in the future. In fact, the 2003 launch opportunity will carry two Rovers to Mars. This would not be an area of high priority for exploration by Rovers in the current scheme of things, though. More likely what we would plan to do would be to image this first with the current orbiter and then later with orbiters that will fly with higher resolution cameras of the sort that's being discussed for the 2005 opportunity.
WHAT WOULD BE THE PRIORITIES FOR 2003 AND 2005 LANDER ROVER MACHINES ON MARS?
Currently the 2003 Rovers on Mars which will involve two Rovers going to two different places on Mars has the priority to go to an area that shows good evidence of water activity, past water activity. This is consistent with the scientific goals of looking for past and present life on Mars. It's also important to understand how the climate has changed on Mars. So, water is an important consideration in the current exploration program.
DO YOU KNOW WHICH LATITUDE LONGITUDE THE NEXT ROVER ON THE GROUND MIGHT BE GOING TO?
The latitude is fairly constrained to a narrow band around the equator about 14 degrees North to 14 degrees South. This is the result of the lander systems being powered by solar energy and we need a lot of sun to do that. The equatorial regions receive more sun and this would allow us to have a longer mission. So that's one of the main considerations.
HOW DO YOU DECIDE WHICH SPOT TO GO TO?
The other engineering constraints deal with the landing system and the mission operations. Currently, all Mars landers have to go to areas of lower elevation because they use as part of the landing system a parachute. Because the air on Mars is so thin, we have to have a lot of atmosphere before it reaches the surface. And of course, that would be in the lower elevations on Mars. So the landing sites tend to be restricted below a certain elevation level. So, it's not only the latitude that constrains the system, but also the elevation.
Then in addition because of uncertainties in geography and space craft systems, we have to have what's called a landing footprint or landing ellipse of a certain minimum size because we don't know where we are going to set down within that uncertainty. And currently those landing ellipses are fairly large. That means we need to have large, smooth areas that would be relatively safe to land in.
IN TERMS OF THAT LOWER ELEVATION, DO YOU MEAN LIKE ON EARTH THAT DEATH VALLEY WOULD BE AT A LOWER ELEVATION THAN SAY DENVER, COLORADO?
That's absolutely correct. There would be more air for the parachute to operate in as the system reaches the surface in Death Valley than it would in Denver.
YOU NOW HAVE TOPOGRAPHIC MAPS THAT ARE PRETTY ACCURATE ABOUT WHAT ELEVATIONS THERE ARE AND THAT'S HOW YOU DECIDE?
That's correct. The current orbiter has a laser altimeter that has given us our first really good high quality topography for Mars and so this is what is being used for mission planning."
---
More Information:
The students were also allowed to pick their choice for a Earth future mission landing site and that image will be taken when the MGS spacecraft orbit takes it over the target area some time in the next five months.
A manned mission could perhaps settle the water debate once and for all, but there won't be any manned missions to Mars for the foreseeable future. There will be more camera orbiters and remote-controlled land rovers.
April 2001 – launch of Mars Odyssey that will carry a camera known as "Themis." The Themis camera will be able to photograph in thirty different frequencies, including infrared. That mission will arrive in fall 2001 with a camera able to photograph in color and carrying a thermal channel so scientists will be able to derive properties of the surface from rocks that are too small to be seen in areas covered by dust and sand. The 2001 mission will also have instruments that can measure the chemical composition of the Martian surface. Dr. Greeley hopes that a wider color image of the terrain surrounding the mysterious dark objects can be taken.
2003 – Twenty-six months later, two land rovers will be sent to Mars that will be able to move at least 1000 meters from the landing site.
2007 – Three years after that, a mission will launch to put aerial scout balloons in the Martian atmosphere that will fly low and take photographs while an intelligently programmed Lander and Rover will dig around in whatever site was selected from the previous mission as possibly having water. Those machines will have the ability to drill down at least a meter or so and examine rock cores.
2011, the goal is to put a smart Lander and Rover down that can dig and drill in the most promising site for water and microbes and return the soil for the first time back to Earth. If there is no evidence of water, some scientists say humans won't be able to put any base colony on the red planet. If water is definitely found, then a future manned mission might head for Mars in about 25 years from now.
---
Websites:
http://planetary.org/html/news/articlearchive/headlines/2001/marsmystery.html
http://www.msss.com/mars_images/moc/redrover_2_01/
http://www-pdsimage.wr.usgs.gov/PDS/public/mapmaker/mapmkr.htm
http://planetary.org/html/news/articlearchive/headlines/2001/marsmystery.html
http://www.msss.com/mars_images/moc/redrover_2_01/
http://www-pdsimage.wr.usgs.gov/PDS/public/mapmaker/mapmkr.htm

© 1998 - 2019 by Linda Moulton Howe.
All Rights Reserved.