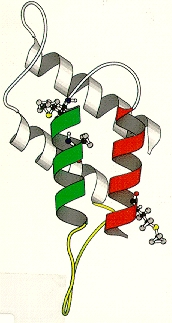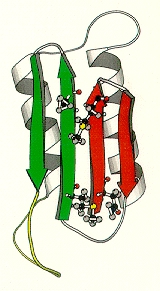 April 24, 2001  Denver, Colorado – Another infectious agent made headlines in North America in April 2001. That is the fatal prion brain destroyer known as "Chronic Wasting Disease," or CWD. The first case of chronic wasting disease confirmed in a wild mule deer was shot by a hunter last fall in Saskatchewan near the border of Alberta, Canada. Over the past four years, dozens of CWD cases have been confirmed in Saskatchewan's 19 captive game farms. About 3000 animals have been slaughtered there in an attempt to keep the dreaded disease from spreading. Elk are raised on the game farms for their meat and their antler velvet which is used in homeopathic remedies and to provide aphrodisiacs for Asia. But now even Korea has banned imports of elk antlers from Canada because of concerns about spreading chronic wasting disease.
In Colorado in January and February, hunters killed 206 deer that were tested for CWD. Nineteen of them were positive with the prion disease, or about 8% of the herd. In an area north of Fort Collins and in southeastern Wyoming, as many as 10 to 15% of the deer are testing positive for chronic wasting disease. So, the Colorado Division of Wildlife decided to eradicate at least 300 of the infected deer and have been killing them this month. This week I talked with the Wildlife Division's Chief Information Officer, Todd Malmsbury in Denver, who said slaughtering animals to control disease is a decision no one likes.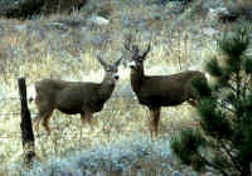 ---
Interview:
Todd Malmsbury, Chief of Information, Colorado Division of Wildlife, Denver, Colorado: "This is certainly not a happy situation for anyone here. We have game managers who worked in this area, in some cases for more than 20 or 30 years. They worked very hard to manage, protect and enhance the deer herd. Now we're faced with the situation in selected areas of having to decrease that same herd that they have worked so hard to increase in size. It's really tough duty for our folks, especially for those who have to actually go out and shoot and kill animals.
DO YOU TALK WITH PEOPLE ABOUT THE CONCERN IF BSE JUMPED SPECIES FROM BOVINE AND HOOFED ANIMALS IN ENGLAND TO PEOPLE THAT THE SAME THING COULD HAPPEN FROM CWD IN DEER AND ELK TO PEOPLE?
One of the places where the jump might likely occur might be from deer or elk to cattle, given they are more similar than people. We have studies underway right now that are being conducted jointly by state, federal and university researchers. What they have done is take cattle that are healthy and put them in pens with deer that have CWD. After 42 months, none of the cattle have developed wasting disease. We have also taken literally infected material and fed it directly to healthy cattle and after 42 months, none of those animals have contracted wasting disease.
In a similar situation, if healthy deer are associated directly with sick deer, the deer in a matter of months or perhaps a year or so will contract the disease. And if you feed the material directly to deer, again those deer will get sick. The cattle have not. It's still an ongoing study and it's a 10 year study which in terms of a deer and a cow is a very long time because we want to be sure if there can be a jump in species barrier.
So far, at this point, it's encouraging, but it's not completed. It would be consistent with lab and other work that there is a very specific species barrier for these TSEs, transmissible spongiform encephalopathy or wasting type diseases. But the research needs to be completed before we can say with more certainty.
BECAUSE WE ALREADY KNOW THAT IT JUMPED FROM HOOFED ANIMALS IN ENGLAND TO PEOPLE.
That's right. What occurred in England, and I'm certainly not an expert on this, but what we've been told by colleagues and others about what happened there – that a large amount of infected material, including both the brain and spinal tissue from infected cattle, literally hundreds of thousands of infected cattle, were fed in various meat products including sausages and other ground up products that include brain and spinal tissue directly to millions upon millions of citizens of the U. K. and to some lesser stance, the Continent. That sort of activity has not occurred here. But that appears to be based on what we learned occurred there. For that reason we are urging people not to eat the brain or spinal tissue of any animal that appears to be sick or any animal under any circumstances.
Fortunately, that's not a practice that occurs. I personally, nor anyone I work with or associate with wildlife, knows anyone who eats deer brains or deer spinal tissue. The work done in the U. K. and on the Continent has shown that the disease is not in the meat of the animals. But still, our recommendation and of health officials is that even though there is no suggestion to date that the disease has caused illness in humans nor will cause illness in humans, it is just sound basic common sense: If you are a hunter, don't take any animal that looks sick. If you take an animal that looks sick, don't eat it. And that's true of any number of diseases where we know there can be transmission such as tularemia in rabbits where a person can get quite sick from that.
IF THE ANIMAL EVEN SEEMS TO BE HEALTHY AND IS A DEER AND ELK, DON'T EAT THE BRAINS OR THE SPINAL CORD?
That's exactly right, and fortunately, that is not a common practice.
And of course, people don't eat the rendered products of deer and elk as they do cattle. But clearly the exposure that occurred in the U. K. there were hundreds of thousands of sick animals fed to millions of people, including not only the meat but also brain and spinal tissue and other internal organs.
THAT RAISES AN INTERESTING QUESTION ABOUT THE DEER AND ELK IN NORTH AMERICA: DEER AND ELK ARE NOT KNOWN TO EAT THE BRAINS AND SPINAL CORDS OF OTHER ANIMALS, I DON'T THINK.
Nope.
HOW DID THE PRION DISEASE DEVELOP IN THE DEER AND ELK IN COLORADO AND WYOMING IN THE FIRST PLACE AND CONTINUE TO SPREAD?
We don't know why it developed her and not in other places. And when you look at the various factors that are involved here in terms of the habitat, the population of animals, there is nothing special about southeastern Wyoming and northeastern Colorado certainly. We do know, based on what we've observed in our research, that the disease once present can be spread from animal to animal. That's how it's spread within the deer family. But specifically, why did it occur here and not in western Colorado or Nebraska or Pennsylvania or Michigan. We don't know the answer to that."
Another Strange Disease Has Shown Up In Pennsylvania Carp
The strangest microbe that might turn out to be yet another prion disease has turned up in 10,000 coy carp that died in the summer of 2000 at a commercial fish company about 30 miles from Harrisburg, Pennsylvania. The beautiful and colorful carp were being raised to sell for ornamental ponds. The water they were kept in was raw Susquehanna River water that originates in the great lakes. the fish had been growing for a year in good health from inch-long babies when suddenly they began to die in the hundreds each day. tissue samples were sent to many different labs and experts, one of which is Dr. Fred Rommel, Chief of Immunology and Aqua Culture Services at the Pennsylvania Veterinary Laboratory in Harrisburg. After a year of all kinds of tests, here is what Dr. Rommel has to say:
Fred Rommel, Ph.D., Chief, Immunology and Aqua Culture Services, Pennsylvania Veterinary Lab, Harrisburg, Pennsylvania: "At this point, we still have not been able to identify it. It is an extremely bizarre (laughs) – I don't want to call it a "creature" – but an extremely bizarre agen to work with. It grows extremely slowly. It has very peculiar morphology and characteristics in tissue culture. But it is undoubtedly there. We have a lot of pictures of the effects on tissue culture. We have no electronmicroscopy images yet, but we hope in the near future to get those.
WHAT IS THE STRANGE MORPHOLOGY?
The shape. It's very hard to describe. All I can say is that after the end result after a month or month and a half in tissue culture is a large, round body, many of them in the tissue culture that has obviously begun and slowly destroys tissue culture cells. It's a large, round body with no symmetrical internal structure, but rather just a lot of granular material inside this round body and there are also bizarre shapes of this same thing I am describing.
WHAT WOULD BE A BIZARRE EXAMPLE?
Well, elliptical, round, they attach to each other. They are as what I would describe as no particular shape at all.
GOING FROM THERE TO WHETHER THESE PERHAPS COULD BE MISSHAPEN PRIONS HAS COME UP?
Well, yeah. It's always a casual speculation. It's because of their very slow growth pattern. And coupled with that is the fact the tissue culture cells are derived from carp brain. And they are being investigated and their properties examined in collaboration with some German workers by Dr. LaPatra at the Clear Spring Foods in Idaho.
WE'RE BACK AGAIN IN BRAIN AND PERHAPS SPINAL TISSUE IN WHICH THIS STRANGE ORGANISM IS FOUND IN YOUR CULTURE?
That's right.
THAT IS UNIDENTIFIED IN NORMAL FISH DISEASE, BUT DOES FIT THE SLOW GROWING AND DISINTEGRATING PATTERN OF PRION DISEASE?
Well, it could. Let's put it that way. I don't think anyone would be willing to call it a prion yet, but it's a very strange, slow-growing. It grows best in this new tissue culture cell line which is derived from carp brain.
IF THIS CARP OUTBREAK OF DEATHS IN THE SUMMER OF 2000 IN THE SUSQUEHANNA PROVES OUT TO BE A PRION DISEASE, WOULD THIS BE THE WORLD'S VERY FIRST DOCUMENTED LARGE KILL-OFF OF A SPECIES LINKED DIRECTLY TO PRION DISEASE?
Yes. It certainly would. It certainly would."
---
Websites:
http://www.wildlife.state.co.us/


© 1998 - 2019 by Linda Moulton Howe.
All Rights Reserved.