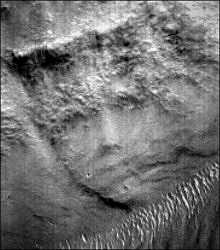 June 2, 2001 Tempe, Arizona – Unusual surface features on Mars imaged by the Global Surveyor continue to provoke controversy among scientists and civilians. One such image looks like a female face taken a year ago in May 2000 in the valley of Libya Montes near the Martian equator, but not publicized until the New York Post featured the image on May 9 after a press conference by astronomer Tom Van Flandern, Ph.D. and former astronaut Brian O'Leary. This week I discussed the face image with planetary geologist, David Nelson. Mr. Nelson is a Research Specialist in the Department of Geological Sciences at Arizona State University in Tempe. His current work is to study the Mars Global Surveyor images and to contribute ideas about where the next NASA Mars Excursion landing sites should be in January 2004. Two rovers are planned for that mission and one likely exploration site will be near sedimentary deposits in the walls of Valles Marineris, the 3000 mile long canyon that runs near the Martian equator.
I e-mailed Mr. Nelson a jpeg of the female-like face in Libya Montes and asked him if he and his planetary geology colleagues had seen and discussed it? As I have frequently discovered, even scientists officially studying Mars for upcoming missions have seen only a small percentage of Mars Global Surveyor's more than 65,000 images.
---
Interview:
David Nelson, M.S., Research Specialist Senior, Dept. of Geological Sciences, Arizona State University, Tempe, Arizona: "This is the first time I've seen it and no one else has brought it to my attention, so I don't think we are aware of it here. But this looks like it's probably the inside of a valley wall where the sort of crown or crest where the hair would be looks like the valley top, going from a slope to a flat surface. The sort of forehead part would be like the upper layers of materials or upper strata. And in the bottom half would be a softer material down below and the dunes down below that.
What I'm thinking is that this is a windblown, wind-etched interior of a valley wall that just the angle of light and the structure just happens to be very unique. I'm certainly not suggesting anything artificial. I just think it is an interesting perspective on how this thing was formed.
YOU WOULD AGREE THAT THIS IS A VERY HAUNTING FACE-LIKE LOOK, THOUGH?
It is intriguing, but I still would be very skeptical that it's created by somebody.
IF YOU TAKE THIS LIBYA MONTES FACE AND THE STRANGE CYDONIA FACE, IT MAKES MARS SO PROVOCATIVE AT A MEGALITHIC LEVEL. ARE THINGS CARVED ON MARS THAT MIGHT NOT BE NATURAL? THAT'S THE QUESTION THAT HAS BEEN RAISED?
I would be skeptical.
THIS LIBYA MONTES FACE IS HOW FAR FROM CYDONIA?
Libya Montes is located just about at the equator at about 275 degrees and Cydonia is way to the west from that. I would say a couple thousand miles. Easily.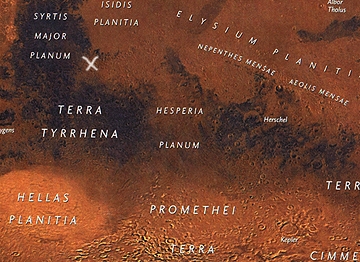 AS A PERSON LOOKING AT POTENTIAL LANDING SITES, WHAT IS YOUR PERSPECTIVE ABOUT CYDONIA?
Well, the main thing that drives the landing sites right now anyway is safety. Is a landing site going to be safe enough to put down a lander so we don't wreck it? And the second thing is that there has to be a scientific return. Now, a lot of people would argue that if they think the Face is real that an archaeological site would obviously be a high priority. The scientific community as a whole, though, is very skeptical about the origin and nature of the Face up in Cydonia. So, it's not by us considered a high priority. So, the other things that come to mind are – since we know very little about the composition of Mars – is we are interested in the mineralogy of a given landing site. We're interested in looking for water and the main driving factor for looking for water is a possibility for life, probably extinct life, looking for fuel and resources that can be used for human explorers when we eventually get there. And also, getting us a handle on the climate of Mars, both now and in the past. So, the main goal for Mars exploration right now is looking for the water. In fact, the theme is called, "Following the water."
THE VALLES MARINERIS WOULD BE A LIKELY CANDIDATE BECAUSE THERE ARE SO MANY SEDIMENTARY LAYERS THAT ARE VISIBLE EVEN IN CURRENT IMAGES?
Right. So there is a suggestion that water played a role in the formation of Valles Marineris and the features found there in the past and that would be a good candidate.
IN TERMS OF LANDING DOWN THERE IN THAT VERY DEEP CANYON, IS THERE ONE PLACE THAT YOU HAVE ISOLATED THAT YOU THINK IS SAFER THAN OTHERS AND STILL HAS INTERESTING THINGS TO SEE?
There is no one place. There are a variety of places. The only problem is that if we land in a safe place, does that also mean boring? If it's just flat and no rocks, then we're not going to get a lot out of it. So the other thing we have to consider is: If we have a Rover, can we drive to where it is interesting?
Right now, we are very much in the working phases of a lot of these things and these are exactly the kinds of questions we are trying to answer right now.
WHEN DO YOU THINK WILL BE THE NEXT LANDING SITE THAT YOU'D BE INVOLVED WITH PICKING A PLACE AND ACTUALLY GETTING SOMETHING THERE?
We have a Rover that is going to be launched in 2003. This is the MER, or Mars Excursion Rover, and that is going to be landing at the end of 2003, beginning of 2004, January of 2004. And that's actually two Rovers, two separate missions.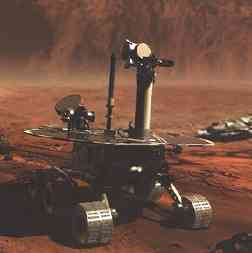 WHERE WOULD YOU MOST LIKE TO SEE THAT LAND?
There is a place called Terra Meridiani (also on the equator a little east of Valles Marineris) where there is a mineral formation called hematite. The reason why that particular mineral is important is that the mineralogists believe that the only way you can form that is in a liquid water medium, like in a standing body of water. So, if we were to go there, we could potentially be landing on a lake bed.
IF YOU WERE LANDING THERE, WHAT WOULD HAPPEN THAT WE WOULD BE ABLE TO ANALYZE THE HEMATITE AND MAKE SOME INFERENCES ABOUT WHETHER H20 WATER HAD BEEN THERE?
We would be using a variety of tools. First of all, we would be drilling below the surface. We are talking about drills that might go as deep as two meters. So, that's about six feet and pulling up minerals, rocks and so on that could be analyzed on board. And we have things like ovens and chemical analyzers and something similar on Pathfinder was an element abundance analyzer. That way we could get a handle on what the material we are looking at is made of.
WHEN WILL IT FINALLY BE CLEAR WHICH EXACT INSTRUMENTS ARE GOING AND WHEN THE EXACT LANDING SITE WILL BE ANNOUNCED AND THOSE SORT OF DETAILS?
They are working on a package of instruments right now that probably will be approved in the next few months. Because if this is going to be launched in 2003, they have to be putting it together pretty soon. And the actually landing site – we are doing a variety of workshops right now because everyone has their favorite site. But I think that's supposed to be determined by the end of this year, early next year.
IF THE CYDONIA FACE THAT IS SO CONTROVERSIAL HAS WHAT SEEMS TO BE SUCH A REGULAR BOUNDARY AROUND IT – IT ALMOST LOOKS LIKE SOMETHING MOLDED, EVEN IN THIS MOST RECENT MALIN SPACE SYSTEMS IMAGE. WOULDN'T IT BE A PRIORITY ONCE AND FOR ALL TO GET SOMETHING THERE TO LOOK AT THIS ODD FEATURE AND IF IT WERE ARCHAEOLOGICAL, IT WOULD BE WORTH DISCOVERING?
It would be neat to go there and find out just to put the question to rest. But then you would have to consider how we would do that. If we were to send a Rover that we've seen in the past like for the Pathfinder mission – would that be able to answer the question? It would have limited Rover capability. Remember, this structure is over 2 kilometers across, about a mile and a half wide. So, we would need something that could drive all the way around it, preferably drive up on top of it and either probe into it with some kind of radar system or dig into the surface with a deep drill.
So, we would need to have a very sophisticated Rover in order to be able to do that. Another possibility would be an airplane or balloon that could fly around it and so that way we could get multiple angles and perspectives on the structure. And then if we wanted to use radar, maybe something from orbit would be able to penetrate its surface to see if it is made out of rock or something else.
IN TERMS OF CYDONIA AND THE FACE AND THE SURROUNDING ARTIFACTS BEING THE TARGET FOR ONE OF THE ROVERS THAT COULD DRILL AND ALL THAT, HOW LIKELY DO YOU THINK THAT COULD BE A TARGET FOR HAVING A ROVER THAT COULD DRILL INTO THE FACE AREA?
To be honest, I think it's a pretty low priority because in the workshops I have been to it has not been raised as an issue. Now, one of the reasons behind that is that Cydonia is so far north in latitude. Most of the missions we are proposing are all solar powered, so to get the optimum amount of energy you need to be pretty close to the equator, plus or minus 10 degrees from the equator. So, if you consider that, it would knock Cydonia out of hand.
IS THERE ANYTHING YOU HAVE TACKED UP ON YOUR WALL OF AN IMAGE ON MARS THAT ESPECIALLY INTERESTS YOU?
I guess the main things for me are the outflow channels. They are the most intriguing.
MEANING, ARE THEY WATER OR SOMETHING ELSE?
Right. My suspicion is that they are probably water, or some water and CO2 combination. It has a lot of implications. If it is water that created these channels, it suggests a lot about the past climate on Mars and whether there is liquid under the surface of Mars and whether there is a possibility of water underneath the surface of Mars today. If so, then there could be potential reservoirs of life under the surface of Mars. Again, this is all speculation, but that's what makes it intriguing for me."
---
More Information: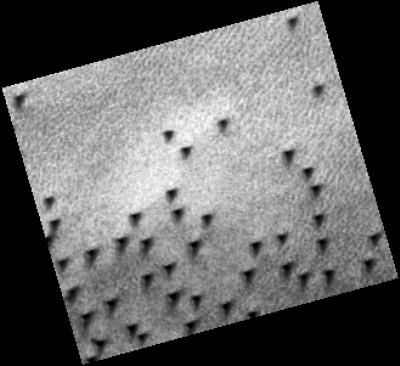 David Nelson said about this image, "These are likely to be barchan dunes, crescent-shaped dunes. We see these types of dunes on Earth in the Sahara Desert. What happens is that the wind is going in one direction pretty continuously pushing small grains of sand along the ground. When the air hits an obstacle, it builds up in one place. Wind velocity in the northern polar cap, especially in the winter time, could create pretty significant and constant winds of 60 to 100 miles per hour."
---
Websites:
http://europa.la.asu.edu
Arizona State University
http://www.jpl.nasa.gov/pictures/mars
Jet Propulsion Laboratory
http://www.msss.com
Malin Space Science Systems
http://nssdc.gsfc.nasa.gov/planetary/marsurv.html
Mars Global Surveyor




© 1998 - 2019 by Linda Moulton Howe.
All Rights Reserved.