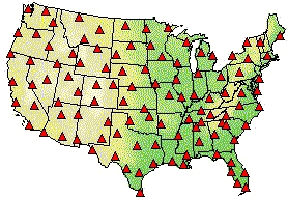 July 25, 2001  Tucson, Arizona – Since several atmospheric scientists suggested that the abnormal power surge in Hartsville, Tennessee on July 6, 2001 at 10:45 a.m. might have been a rare clear day lightning strike, I contacted the National Lightning Detection Network (NLDN), the only national lightning detection network in the United States. The network has more than 108 sensors that instantaneously detect the electromagnetic signals given off when lightning strikes the earth's surface. Each sensor transmits the lightning information via satellite to the Network Control Center (NCC) in Tucson, Arizona. Using data from two or more sensors, the "intersection" of the data enables the determination of a strike location with a 15 mile radius.
The strike locations are stored in the computer archives which are used to produce StrikeNet fact sheets. I requested one for 165 Marlene Street (location of WJKM Radio), Hartsville, Tennessee on July 6, 2001 at 10:45 a.m. CST. The report below states, "Lightning was not detected within the search area and time span."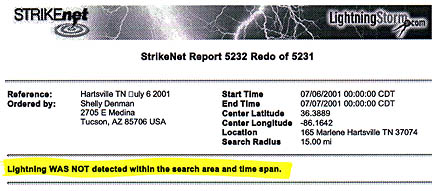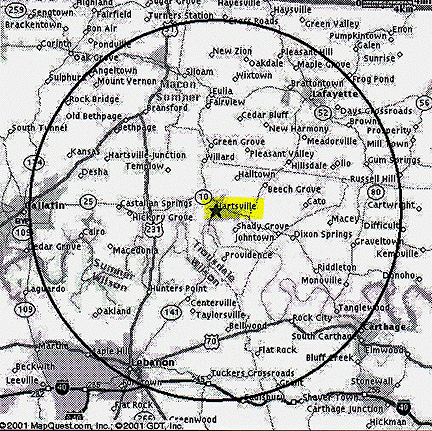 StrikeNet Report 5232 Redo of 5231
Reference: Hartsville TN July 6 2001
Start Time 07/06/2001 00:00:00 CDT
End Time 07/07/2001 00:00:00 CDT
Center Latitude 36.3889
Center Longitude -86.1642
Location 165 Marlene Hartsville TN 37074
Search Radius 15.00 mi
Finding: Lightning WAS NOT detected within the search area and time span.
NLDN says that the accuracy of its data since 1998 for detecting the presence or absence of lightning in a five-mile search radius is 99.03%. "There is a less than 1% chance that the network might miss a storm. By recording eight to nine out of every ten cloud-to-ground lightning flashes, the NLDN achieves high storm detection efficiency. … A zero strike report is issued only when LightningStorm.com can conclusively state no lightning was detected."
Can lightning cause damage without directly striking the location of loss?
NLDN says yes. "Due to the intense power of a lightning strike, currents can be carried hundreds or thousands of yards, depending on the conducting surfaces. Electric utility, telephone and plumbing lines are widely recognized conductors for carrying surges into facilities.
Controversy:
Professor Michael Kelley, Atmospheric Physicist and Engineer at Cornell University, insists there is a rare phenomenon of "clear sky lightning." However, Nancy Roth, Marketing Supervisor at Global Atmospherics in Tucson, Arizona e-mailed me the following comment:
7/25/01 E-mail: "FYI, there is no such thing as a 'clear sky lightning strike.' Lightning can only be generated in clouds, specifically, clouds with hail (or soft hail) in them. Lightning can travel horizontally 10 miles or more from its cloud origin to strike the ground, so clouds may not be overhead, but they should certainly be visible. Lightning traveling more than 10 miles would be unusual, but possible."
---
Websites:
http://www.lightningstorm.com/lightningstorm/products/analysis/faq.jsp



© 1998 - 2019 by Linda Moulton Howe.
All Rights Reserved.