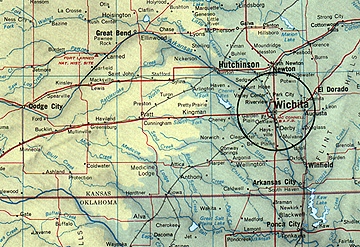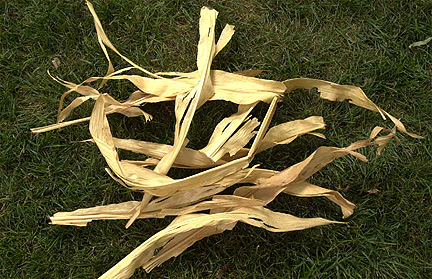 August 11, 2001  Wichita, Kansas – Sales executive Paul Corn was celebrating his nephew's pending marriage with a backyard pool party around 4:30 p.m. on Friday, August 3. The nephew's fiancee was floating on her back in the water when she called out, "Look. There's something spinning down out of the sky." Everyone watched in amazement as first one pale object and then another slowly spiraled down to the yard. Warm to touch, the fragile objects were corn leaves. The group then realized that thousands of leaves were floating in an oval pattern about a thousand feet up in the cloudless, blue sky.
Paul Corn called the Wichita Eagle newspaper to see if other residents had reported falling corn leaves. No one at the paper knew anything, but reporter Becky Tanner was sent to do a story. As she drove to Paul Corn's house, Becky saw hundreds of corn leaves on the streets, lawns and houses. Reuters international news service picked up the story and called Weather Data Inc.
Meteorologist Chad Pettera said there had not been any unusual weather to explain the phenomenon. "It was a pretty large area where people reported (the falling corn leaves.) I think it is very odd. In our area there has been no weather to speak of, no high winds. It's just been very hot and dry." A National Weather Service meteorological technician, Holly Kreutzer, confirmed, "There weren't strong winds. I don't see how (the leaves) could have gotten blown up in the air."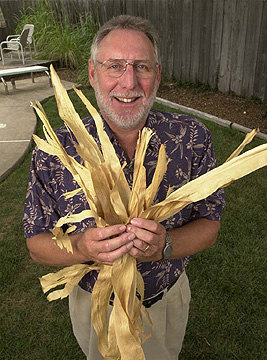 ---
Interview:
Paul Corn, Sales Executive, Graphic Systems, Wichita, Kansas: "At the time, when we saw the cloud and these first few starting to spiral down, we had no idea what they were. We watched this for several minutes before one finally dropped on the house and the wind blew it off and we recognized it as a corn leaf. But we stood there in awe just watching this happen. I mean we were just pretty much dumbfounded. It's like nothing anyone had ever seen or even imagined before.
We could see that up there, but had no idea what they were, except there was a lot of it. Then we could see there were thousands of these leaves!The leaves were about 18 inches long, brown and kind of brittle. But there was just a cloud floating up there in the air pretty calmly. I'm estimating up about 1,000 to 1,500 feet vertically. And they would seem to get to a point and the air currents seemed to change because it would reach this point and start tumbling down. They kind of covered a pretty wide area in the northeast part of Wichita.
LIKE ABOUT HOW WIDE?
Well, the newspaper later estimated it went between Center and 37th street north, so that's probably about a 25 or 30 block area lengthwise ­ and from the various reports ­ about a mile wide. It was just a couple hundred feet above the house so we could see it. We had a fair number fall on top of the house and in the back and front yards. And the majority of them went over our property and fell blocks north of us.
DID YOU PICK SOME UP TO SEE IF THEY WERE COLD OR HOT OR SOMETHING?
Yes, we got them and went out into the neighborhood and picked up some more, but they were very dry and a warm temperature.
DID YOU CALL THE POLICE OR FIRE DEPARTMENT?
No, we called the newspaper and asked if anyone had reported it.
WHAT DID THE NEWSPAPER SAY?
They said, 'No,' they hadn't heard anything about it. Then they called back and had checked and hadn't heard anything so they sent a reporter out. And we told them the story and the reporter said while she was driving up here to our house that she had seen a pretty fair number of them out in the streets, yards and gutters. Two of my nephews did find a spot that they said there were probably a couple hundred lying there in a small area.
WHAT HAS BEEN SO FAR THE OFFICIAL EXPLANATION OF WEATHER PEOPLE OR ANYBODY AROUND YOUR AREA?
There have been four follow up stories in the newspaper since Saturday when this story ran and they have talked to county agents and meteorologists and obviously this is an agricultural area, at least it is around Wichita. And no one really has any explanation. No one had ever actually heard of or seen anything like this before. But the best explanation was like a big whirlwind. There had not been a tornado in the area, so that wasn't a cause of it. But they were speculating it could have been a whirlwind.
WHY WOULD THERE BE THOUSANDS OF CORN LEAVES ON FRIDAY?
Well, there isn't any real explainable reason for that except the corn harvest south of us and around us, I understand, is finished. And the corn plants are left standing in the field and they just dry up and eventually – I'm not a farmer – they eventually plow under or chop them up for silage and it just hasn't been done. There's probably just a lot of leaves laying around after harvest on the ground.
BUT NOBODY SO FAR HAS ANY REAL EXPLANATION AND I KNOW ONE OF THE WEATHER DATA METEOROLOGISTS, CHAD PETERRA, WAS QUOTED IN AN ARTICLE BY REUTERS THAT IT WAS VERY ODD AND SAID THERE WAS NO UNUSUAL WEATHER TO EXPLAIN ANYTHING LIKE FALLING CORN LEAVES OUT OF THE SKY.
Exactly. The leaves were about 18 inches long, about the same length and they were dry and curled. I guess that once they hit a draft that didn't hold them up, that's why they were spiraling down because of the way they were shaped.
AND HOW IN THE WORLD DID ALL OF THEM GET UP THERE?
(laughs) There has been a lot of discussion in the paper with people who should know some of this, like meteorologists and county extension agents and that type of agriculture people who aren't sure."




© 1998 - 2019 by Linda Moulton Howe.
All Rights Reserved.