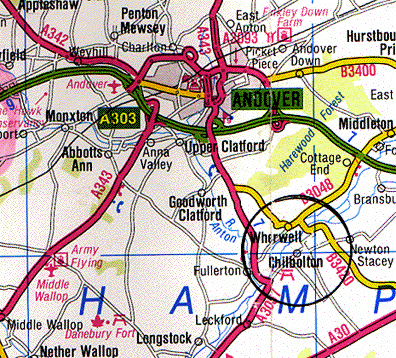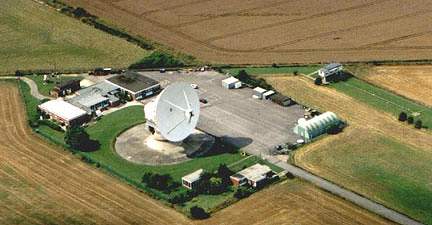 August 30, 2001 Chilbolton, Hampshire, England – On Tuesday, August 28, The Daily Mail finally published a news story with photographs by researcher and author, Lucy Pringle, about the controversial "face" and "binary code" in the wheat field next to the Chilbolton Observatory south of Andover, Hampshire. Chilbolton Observatory is a government-owned installation that was constructed in 1965 to study radio wave propagations from space and satellites and is owned and operated by the Rutherford-Appleton Laboratory under the U. K. Office of Science and Technology. Cereal crop fields that run along the barbed wire boundary of the Observatory are owned and operated by various farmers. The wheat in which the formations appeared is owned by the local Leckford Estate and by Wednesday, August 29, the Estate had cut down the "face" and "binary code" in its normal wheat harvest.
The Chilbolton Observatory is now primarily focused on weather radar research. It is also studying higher frequency millimetric radio waves in the gigahertz range. Britain hopes to open up more of the those higher, shorter radio frequencies for commercial use to help relieve congestion in the lower frequency bandwidths.
Since crop formations have appeared repeatedly in the field next to the radio telescope, I wondered if the Chilbolton Observatory had any involvement with the Arecibo radio telescope's 1974 transmission into space toward the Messier 13 star cluster. To learn more about the history and current work of the Observatory, I talked with Darcy Ladd, Chilbolton Observatory Station Manager. Mr. Ladd received is Master of Applied Science degree in Electrical Engineering from the University of Ottawa, Canada and has been working at Chilbolton since 1994. First, I asked him to confirm the dates that he and his colleagues at Chilbolton became aware of the "face" and "code" in the wheat.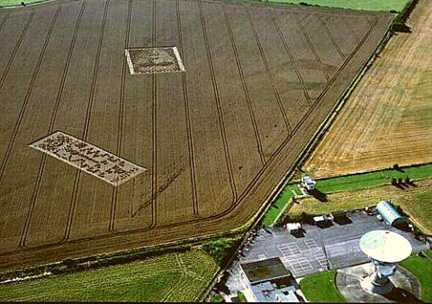 ---
Interview:
Darcy Ladd, Station Manager, Chilbolton Observatory, Chilbolton between Wherwell and Stockton south of Andover, Hampshire, England: "I think chronologically, the face appeared first on Tuesday, the 14th of August. That was when we first noticed it.
How did you notice it since it was so flat in the wheat field?
I think from one of our experimental cabins which is sort of close to the perimeter fence. You can go up on the roof. You could see there was a sort of disturbance in the crop, but you couldn't get sufficiently high to see what it was.
So you knew something was there, but you did not know what it was?
That's right. It did seem to have sort of a square pattern to it, so it didn't just look like windblown crop.
Did you get in touch with the ministry of Defence of the police to ask them to fly over it and see what it was?
I didn't myself. And I'm not aware that anyone else did either.
How did you become aware it was a face?
I think what we did do was look on the internet. There is a fair amount of overhead traffic where we are anyway. And we had seen aircraft flying over. I think it was suspected that somebody had flown over with the deliberate attempt to photograph it. So we kept an eye on the internet doing searches and eventually it did show up. I'm not aware that anyone from this Chilbolton site informed anyone official of its presence.
The other one, the digital message, was observed the following Monday, August 20. There is no one here on site on Saturday and Sunday, so there is no way to confirm which night or which morning it exactly first appeared.
But the formations were a week apart and the face was first and then came the code.
That's right.
Have any of you at Chilbolton Observatory studied the code in the field and compared it to the 1974 Arecibo transmission?
I've seen a picture of the Arecibo transmission. Nobody recognized it until it was first put on the web. Then I think someone said it was related to the transmission from Arecibo (November 16, 1974.) So, I think somebody on site here went to the SETI web page and found a copy of the original transmission. Then, I guess we did do some qualitative comparison.
Is all of the wheat field and observatory government-owned land?
No, it's not. The Observatory is on government-owned land, but the field in which the crop circles were discovered is owned by Leckford Estate which is privately owned. The Observatory is right on the boundary. Across the fence, it is privately owned land.
When the observatory was built in 1965, what was its primary work?
It was built for radio wave propagation studies.
What was the observatory's main focus back then?
They were using radio stars as sources of radio frequencies to study the interaction through the atmosphere.
Of radio signals coming from stars to here?
Yes. They weren't interested in the radio stars themselves. They were interested in the interaction of the radio frequency energy passing through the layers of the atmosphere. The principal aim was to study the effects that communication satellites would undergo, communication with satellites in space.
Did Chilbolton send out transmissions?
No. In those days, it was simply a receiving station. It could look at both celestial sources or terrestrial sources.
By 1974 when Cornell University was at Arecibo and Carl Sagan and his colleagues were organizing that binary code transmission about humans and earth that went toward Messier 13, was Chilbolton Observatory involved at that time?
At that time, I think the 25 foot antennae had begun to be used for weather radar. It was no longer principally involved in looking at space.
But it had always had a capacity to receive signals from space?
Yes, it would always depend upon which receiver equipment was installed.
But essentially that has been the nature of Chilbolton Observatory – to receive signals from space?
It's used now as a weather radar, so it does actually transmit. But it's never been used for communications. When it was listening to radio stars, it was just looking at the magnitude of the signal and seeing how that changed through the interaction of rain and clouds and the ionosphere. And now it's used as a radar, so we're beaming pulses of energy out and listening for the return echoes.
That is what you are doing now?
That's what we do now.
It's interesting that from its inception in 1965 to this day Chilbolton has either been listening to space or sending into space and listening for returns.
It's radio wave studies.
Is the only work that Chilbolton Observatory is doing now weather radar?
Weather radar and other related propagation studies.
Is that for the Ministry of Defence?
No. It's commercial research. We are a government laboratory. Basically we do work on a contract basis for various agencies within the U. K. I think the Radio Communication Agency is one of our principal funders.
What does the Radio Communication Agency do?
They would be in a similar role to your department of communications (Federal Communications Commission- FCC). They effectively license and monitor the use of radio frequencies in the U. K. If anybody wants to set up a radio system, they need to get licensing and approval from the Radio Communication Agency.
How does Chilbolton fit into those licensing processes?
We're the research side. We use the weather radar to study the effect of rain and other sort of weather-related atmospheric elements on radio wave propagation. We're mainly interested in millimetric frequencies, a lot of frequency bands not yet in use, but it's foreseen that they will be in the near future, once technology is suitably advanced to make them commercially viable.
A millimeter wave is …?
Effectively in a gigahertz, from 10 gigahertz to 100 gigahertz.
The idea would be that if you can use millimetric radio waves, you can expand the amount of radio frequency space that can be used commercially?
That's right. You can sort of put more information effectively into the radio spectrum. The bands that we use now are heavily congested, so rather than tell people that they have to stop using a particular band, the government is trying to open up new bands higher out (beyond meter and centimeter wavelengths).
What has prevented the gigahertz use up to now?
It's the technology and the cost. I think it's much more complex and difficult and expensive to build the equipment that would be required.
I think a lot of people assume the Office of Science and Technology is under the thumb of government intelligence. Is there any connection with intelligence?
Not that I'm aware. I think we're getting into political intrigue.
When somebody says Chilbolton Observatory reports to the Ministry of Defence, it makes one wonder why?
I think people have sort of misconstrued our presence here. We're fairly open about what we do. There is nothing secret that goes on here. Some of it might be proprietary because it's being paid for by companies, but there is nothing secret that goes on here.
Who is your parent agency in the Office of Science and Technology?
Our parent agency is the Rutherford-Appleton Laboratory.
What does Rutherford-Appleton Laboratory do?
It's a government laboratory. They do a lot of, all sorts of things. You want to find out more about it, go to the web page at http://www.cclrc.ac.uk. (Council for the Central Laboratory of the Research Council)
We're basically an out station from that organization, that lab.
Are they under the Research Council of Britain's Office of Science and Technology?
Yes.
You might come into relationship with the MOD depending upon what might or might not be happening in the atmosphere that affects the military or its need to know about weather?
Yes, the could come to us directly to do an experiment or go through the Radio Communications Agency which they do associate with radio spectrum usage. The military is a major user of the radio spectrum. It all needs to be coordinated."
---
Websites:

© 1998 - 2019 by Linda Moulton Howe.
All Rights Reserved.