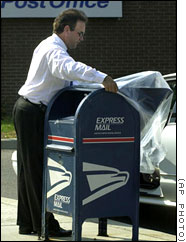 October 24, 2001  Washington, D. C. – Officials have confirmed that two postal workers who worked in the Brentwood postal facility that processes mail for Capitol Hill, including contaminated mail from the Trenton, N. J. Processing and Distribution Center, have died from inhalation anthrax. The number of people who have died from anthrax since September 11 is now three. Further, officials announce that another Brentwood postal worker has inhalation anthrax and symptoms in nine other workers are under medical watch. A 56-year-old New Jersey female mail handler at the Hamilton, New Jersey mail center near Trenton is now hospitalized with inhalation anthrax. Overall, thirteen people have been diagnosed with anthrax, five inhalation and seven with skin infection.
New Jersey health officials put out an emergency alert for all doctors in the state to be suspicious of anthrax in patients. All employees of the Hamilton processing center and the West Trenton Post Office have been asked to see a doctor and take antibiotics for at least ten days as a precaution.
The White House confirmed yesterday that since September 11 for security reasons no mail delivery has been allowed at the White House and tests did not find any signs of anthrax spores there. President Bush told reporters, "We're making sure the West Wing and the White House are safe. I don't have anthrax."
So far, anthrax in Washington has been detected at the Brentwood postal facility where mail arrived from the Trenton, New Jersey Processing and Distribution Center, the Hart and Dirksen Senate Office Buildings, the Ford House Office Building, the Capitol Police mail sorting facility where Capitol Hill mail is sorted and the White House mail-screening facility at Bolling Air Force Base.
Random testing of 7,000 employees in six Manhattan post offices has begun. All employees have been offered antibiotics as a precaution.
---
More Information: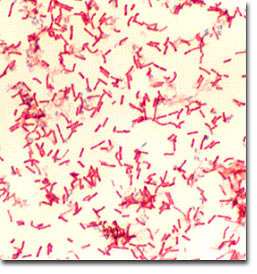 There are three categories of anthrax disease and none is infectious person-to-person:
1) Cutaneous anthrax – bacteria or its spores (hibernating bacteria protected by hardened sheaths) naturally found in soil or on animals such as sheep get into cuts or scratches in skin and over two to six days spread into a pimple that becomes a blister that becomes a large, depressed black scab. The word anthrax is Greek for "coal" because of its blackness. With antibiotic treatment, cutaneous anthrax can be cured. Without treatment, the mortality rate can be 20%.
2) Ingestion/gastrointestinal anthrax – bacteria form on spoiled, undercooked meat which when eaten make people extremely ill and can cause death. Symptoms include nausea, abdominal pain, vomiting, low energy and bloody diarrhea. Antibiotics can help if treatment is early in the disease. But mortality rates are high because early diagnosis is difficult. To date, no cases of gastrointestinal anthrax have been reported in the U. S.
3) Inhalation anthrax – dry anthrax spores can be breathed deep into the lungs. If enough – approximately 8,000 to 10,000 spores – are inhaled, the spores germinate into anthracis bacteria. First symptoms are like a flu with fever, dry cough and chest pain anywhere from six to 45 days after exposure. The maturing bacteria produce lethal toxins that spread into the bloodstream and cause systemic shock and collapse of body systems resulting in death. Inhalation anthrax death rate exceeds 90%.
Facts about Anthrax
"Anthrax is an acute infectious disease caused by the spore-forming bacterium Bacillus anthracis. Anthrax most commonly occurs in hoofed mammals and can also infect humans.
Symptoms of disease vary depending on how the disease was contracted, but usually occur within 7 days after exposure. The serious forms of human anthrax are inhalation anthrax, cutaneous anthrax,
and intestinal anthrax.
Initial symptoms of inhalation anthrax infection may resemble a common cold. After several days, the symptoms may progress to severe breathing problems and shock. Inhalation anthrax is often fatal.
The intestinal disease form of anthrax may follow the consumption of contaminated food and is characterized by an acute inflammation of the intestinal tract. Initial signs of nausea, loss of appetite,
vomiting, and fever are followed by abdominal pain, vomiting of blood, and severe diarrhea.
Direct person-to-person spread of anthrax is extremely unlikely, if it occurs at all. Therefore, there is no need to immunize or treat contacts of persons ill with anthrax, such as household contacts, friends, or
coworkers, unless they also were also exposed to the same source of infection.
In persons exposed to anthrax, infection can be prevented with antibiotic treatment.
Early antibiotic treatment of anthrax is essential – delay lessens chances for survival. Anthrax usually is susceptible to penicillin, doxycycline, and fluoroquinolones.
An anthrax vaccine also can prevent infection. Vaccination against anthrax is not recommended for the general public to prevent disease and is not available."
Since this CDC release, more anthrax vaccine production has been called for to help prevent larger public outbreaks of anthrax disease. Call your local public health office for updates on vaccine supply for both anthrax and smallpox.
---
Websites:
http://www.bt.cdc.gov/Agent/Anthrax/Anthrax.asp

© 1998 - 2019 by Linda Moulton Howe.
All Rights Reserved.