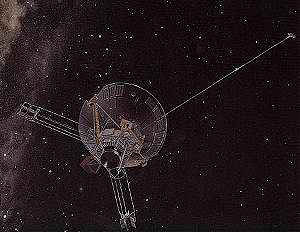 February 24, 2002  Los Alamos, New Mexico – Thirty years ago on March 2, 1972, NASA launched the Pioneer 10 spacecraft from Cape Kennedy aboard an Atlas Centaur rocket. According to officials, it was the "fastest spacecraft ever to leave Earth." Its mission was to travel through the asteroid belt, be the first manmade machine to pass Jupiter and be the first spacecraft to use planetary gravity to change course and to reach escape velocity from the solar system. Pioneer 10 is powered by electricity derived from the warmth of decaying plutonium 238 and was intended to last only 21 months. Thirty years later, it is still going and sending signals.
Its twin spacecraft Pioneer 11 was launched on April 5, 1973. It was Pioneer 11 that obtained dramatic images of the Great Red Spot. As it passed the great planet, NASA reports the craft "used Jupiter to accelerate to a velocity 55 times that of the muzzle velocity of a high speed rifle bullet, 108,000 mph (173,000 kilometers per hour)." Both Pioneer 10 and 11 were designed and built by engineers at TRW. Both probes passed Pluto and headed out into deep space long ago, traveling at 27,000 mph and are now more than 7 billion miles from earth.



Their weak signals have been monitored by earth scientists who recently published data from the spacecraft in the journal Physical Review Letters that shows Pioneer 10 and 11 are both slowing down about 6 mph per century. The rate of deceleration is very close to a cosmic measurement known as Hubble's Constant. That refers to the expansion of our universe. Think of a balloon blowing up and imagine you are a dot on that expanding balloon. If you started on Earth, the further you traveled into space the faster you and everything around you would be expanding away from the earth. The rate at which that expansion velocity increases is known as the Hubble Constant.
How have physicists measured that Pioneer 10 and 11 are slowing and found that the rate of deceleration is strangely close to the Hubble Constant? I asked Michael Martin Nieto, a theoretical physicist who has worked at Los Alamos National Laboratory since 1972. He has focused on trying to understand the mystery of what could be "tugging" at the Pioneers. He begins by explaining what can be measured from those spacecraft so far beyond our solar system.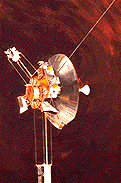 ---
Interview:
Michael Martin Nieto, Ph.D., Theoretical Physicist, Los Alamos National Laboratory, Los Alamos, New Mexico: "We actually measure a Doppler shift, a change in frequency of the light as it's coming back to us. And we interpret that to mean that the vehicle is slowing down faster than it should as it is leaving the sun. But again, the fundamental measurement is a Doppler shift, a fundamental change in frequency of the light coming back to us. By that, I mean the radio signals.
When you studied the acceleration of Pioneer 10 and 11 and you found that it was actually decreasing instead of increasing incrementally and the slowing force was equivalent to Hubble's Constant of expansion velocity, that would be a contradiction to what should have been happening, right?
At first sight, yes, and the Hubble's Constant is a very large scale phenomenon. The size is on the order of the size of the universe. Let's put it this way: the distance from us to the sun is a distant of 8 light minutes. It takes light 8 minutes to get from us to the sun. Pioneer is something like about 12 light hours from the sun. The size of the universe is about 10 billion light years. So, that is a much bigger scale. So, it is hard to make the leap from that scale to this scale. But the coincidence is there and we observe it.
It is a mystery to you because what did you expect that is different?
Well, we expect of course that it will obey Newton's Laws (of gravitational force) for an object leaving the solar system. And then when you have this very small effect left, you say it has to be some systematic such as heat pushing on it, fuel being expelled from the remaining rockets. But we checked into that, but as far as we can tell, there is no way that we can understand how something like heat from the nuclear fuel or radiant heat from the electrical power could cause this. It doesn't mean that it isn't there. It means we couldn't find out how it could do it.
Gravity Might Not Work Exactly The Way We Thought It Did?
Another idea is that maybe you have a modification of the Laws of Gravity at large distances. There is one guy in particular by the name of Moti Milgrom (Theoretical Physicist at the Weizmann Institute of Israel, Rehobeth, Israel.), who has proposed at very large distances gravity gets modified. Why he says that for instance is that people noticed that rotation curves of galaxies are not what you would expect given the visible matter that you see. And so they say, 'Ah, there's got to be Dark Matter, missing matter.' And Milgrom says, 'No, there isn't Dark Matter, there isn't missing matter. It's just that gravity is modified.'
Once again the size of this modification scale is about the size of our anomalous acceleration (in Pioneers 10 and 11). So, maybe this is sort of like the first appearance of this modification of gravity at large distances.
If so, why would it show up still so close to our solar system? Pioneers 10 and 11 are still not that far from us.
Yes, that's right. But the point is, what happens is that this is the first craft which has been able to be tracked to this accuracy at this distance. No other spacecraft at this distance has been able to be tracked this well for various technical reasons. This one was just built by accident so you could track it very precisely. And other spacecraft were not built this way and couldn't be tracked as well as this one can.
How would we see things differently if Dr. Milgrom's theory is proved correct?
What that would mean is that our understanding of what is causing cosmology, our understanding of cosmology would change radically. Right now, our ideas of cosmology are very biased toward the fact that there exists Dark Matter out there. And we're trying to understand the behavior of the universe at very large distances. And our current understanding is based on a paradigm that there exists large amounts of Dark Matter. And with this theory, that ain't true. So, our understanding of cosmology changes radically if this were indeed correct.
If Dr. Milgrom is correct, he is saying we don't need dark matter, but what then replaces dark matter?
A force. Because what the Dark Matter does is make things behave a certain way under Newtonian physics or Einstein physics. But what Milgrom's Theory says is that a smaller amount of matter of normal matter will make the objects obey the way we thought they would only with large amounts of matter.
Let me give you an example: Spiral galaxies – they basically rotate as a solid disc. And that has been very, very strange because there is not enough visible matter in those galaxies to make them rotate solidly.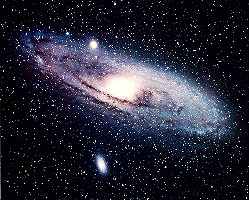 The spiral arms should all wind up just like you were rotating a little banner in back of you going around and around and it winds up wrapped around you. That's basically what should happen with the spiral galaxies if only the matter that we see is there. But they don't. They remain solid. It's like someone painted a disc and then rotated the disc. And the way people say, 'Aha, it behaves, there are different ways ­ that there is more matter in there than we think.' And Milgrom says, 'No, you don't need more matter. You need a change in the laws of physics. So, that's an example of how our understanding would change.
Then if he's right, how would that effect the way we look now at the evolution of this universe? Would it continue to expand infinitely? Or would it collapse back on itself?
What would happen is that we would have to re-analyze that question. OK? I imagine that the end result would be what we think now ­ that it is expanding. But our understanding of how that happens would be radically different.
What is the next step in the research on this?
Well, there are three different subgroups some of us are looking at. One is to get more Pioneer data from the archives which is still coming in slowly and analyze that. A second one is to look at other spacecraft. That has been done a little bit, but every other spacecraft out there looks to be more difficult to analyze to this accuracy. And third is to get a new mission, or repair a site on a new mission, to do an experiment to test this effect.
If this difference in gravity turns out to be supported by new research, is it possible that what you are measuring that is equivalent to Hubble's Constant would imply that the whole big cosmology has some kind of restriction built in on the acceleration of objects in space?
Well, it's impossible for me to rule that out. I would think it would be more like a modification ­ I think there is something out there that we don't understand and on this scale, the size of the scale of the solar system is the first scale at which we can begin to see it.
It's sort of like in the beginning of the 1900s when people were first beginning to understand the workings of the atom and what eventually lead to quantum mechanics. They began to find funny things going on which they couldn't understand. And this event lead them to what at that point was an unbelievable breakthrough; i.e., quantum mechanics. So, it could be in the best of all worlds, if it was going to be something new, that might be more like it. This would be the first signal of something new that is going on.
Does all this excite you?
Oh, yeah, of course! I mean, I've worked very hard for a very long time on this and it's been very fascinating. And I've gotten involved with people I thought I would never get involved with. One of the first things that was said was that it has to be heat from the radio isotope thermoelectric generators. These are basically hunks of plutonium that are on the craft which make a lot of heat just because they are plutonium. And from the heat, you use some thermocouples to generate electricity. But there is a lot of heating power out there. So, obviously there is enough power to cause this effect if it happens to be directed in one direction. So, that's the obvious thing – it's got to be that. So, let's forget about it.
Well, we decided to look into it in more detail. And when we did, we got to talk to some people who had worked on this project some 30 to 40 years ago. And as I say in my talks, I found out they (TRW engineers) really knew how to build cars then. They were really good! And I got to appreciate what they did and understand what they did.
You are excited about discovering something that you have worked hard with others to try to explain by all of the obvious possible explanations and have moved out through Newton's laws of gravity and out to Einsteinian laws of relativity concerning mass, matter and gravity. Are you on the edge of possibly an entirely new concept of gravity?
Maybe, but I want to do it right. And the way you do it right is that you are extremely careful. You make very clear the difference between what you know, what you believe, what you think, what you suspect, what you hope and what you don't know. It's very important to keep those things distinct in your mind. Otherwise, you'll blow it.
But you could be on the brink of modifying Einsteinian relativity and Newtonian gravity?
Could be. Yeah, one can always say that. Let's put it this way, I cannot rule that out, so that's why I'm going. We have worked very hard to rule that out. You don't want to claim it at this point. We have come out and stated: we unequivocally have something which we do not understand. We've tried to explain it with normal physics. We haven't been able to. It doesn't mean you can't. It means we haven't been able to, nor has anyone else. Does that mean it could be something new? Yeah, it could be something new. Could it be something to do with gravity? Yeah, even though it's hard to understand for given reasons.
So, yeah, we could be. I would doubt it. I have to doubt it. But I certainly am continuing to look for it We came out with our first Physical Review Letters in 1998 and our final report is just coming out now, four years later, and so for four years we have been answering all these questions. And at the very beginning, you think, 'Oh, my God, everybody's right. We've blown it. This is wrong. It can't be' But then you look at it in more detail and you find, 'No, they thought this was true, but it's not.' So, it's a series of emotional ups and downs. And it's been very exciting.
The anomaly stands on its own whether it's related to Hubble's Constant or not. In other words, we have this anomaly. That is the big thing. The fact that it's related and seems to be numerically the same to Hubble's Constant, that's interesting. But whether it's 2 times Hubble's Constant or 1 times Hubble's Constant, right now since we don't understand it, that's a side issue. The big issue is we have this effect, OK?
Supposing this is not new physics. Supposing it is old physics. Why is it at this level? The reason why it's at this level is because nobody has looked at things this precisely before. And actually, that's why we emphasize to people a lot, 'Look, even if this is old physics, this is very important. Why is it important? Because we have shown that you've got to be aware about how to navigate things this precisely. There are new missions out there like the Space Interferometer Mission which need to worry about this kind of precision in their guidance. Nobody's had to worry about that before. Now, you have to. So, this is a win win situation. If it's new physics, then obviously it is a huge win! If it's not new physics, it's still a win because we have shown people how to and that you have to navigate things this precisely."
---
More Information: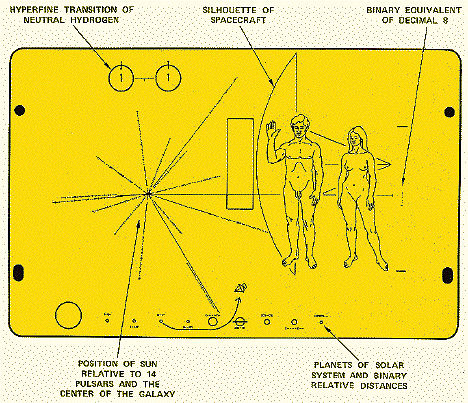 Future Spacecraft Missions That Could Further
Test for the Mysterious Force:
"Today as we start into 2002, what are the chances now of getting some kind of spacecraft launched specifically to do more testing that you would like to do to compare against Pioneer 10 and 11?
Well, there are two chances really. One is that independent of this, the NASA and space science community wants to get a mission out to Pluto fast. The reason for that is Pluto which is on a very eccentric orbit is going out into the solar system and by the year 2020, it's atmosphere is going to freeze out. And the space scientists want to get out there before the atmosphere freezes.
It's distance from the sun is increasing because it's on a very eccentric orbit. In other words, you know how comets have very eccentric orbits and come in very close. Well, Pluto is something like that. At its closest point, its orbit is within the orbit of Neptune, OK? At its furthest distance, it's quite a ways outside Neptune.
Into the Oort Cloud?
At the beginnings of it, right. Probably not quite that far, but certainly the Kuiper Belt. But, it basically goes in and out in an eccentric orbit and right now, it is going out. And it is going to go out far enough that it's atmosphere is going to freeze. And it's going to happen by 2020.
So, therefore there is a strong community of space scientists who want to get a craft out there fast. And of course, what we say is, 'Why don't you build it so we can also test this?' that's one possibility.
The other possibility is a separate craft and NASA has just come out with a new initiative called: New Frontiers in Science. And one of the things that people are talking about is the Inverse Square Law. Well, this effect amounts to a test of the Inverse Square Law. So, we obviously want to encourage that also.
If the pressure is on getting to Pluto before its atmosphere freezes, does that mean we will be trying to launch something there in the next two or three years?
In the next 5 years.
And the idea would be that you could have an experiment on board of what is launched to Pluto as well?
Yeah, that's our idea, the idea I'm talking about.
When do you think you'll know?
On Pluto?
Yes, whether you'll have a test on that launch?
That would take a couple of years, I imagine. What has to happen is a design team has to design the craft and depending upon the craft, we either have a test or we don't.
So, maybe about 2004 you might know for certain about the next step?
Yes.
Who will be responsible on that Pluto launch?
That is the $64,000 question. There have been two assignments and both have been rescinded for various political and financial reasons. Budgets cut to zero with tremendous politics going on. So, I don't know."
---
Websites:
http://science.msfc.nasa.gov/headlines/y2001/ast03may_1.htm
http://spaceprojects.arc.nasa.gov/Space_Projects/pioneer/PNhome.html



© 1998 - 2019 by Linda Moulton Howe.
All Rights Reserved.