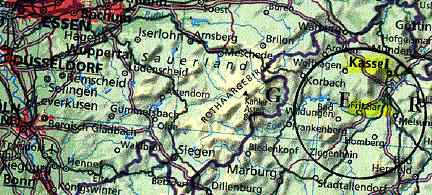 May 4, 2002  Saarbruecken, Germany – Crop formation investigator, surveyor and author, Andreas Mueller, reported to me today that two formations have been discovered south and north of Kassel, Germany in oil seed rape so young it had only begun to open its bright yellow flowers. Both formations are thought to have been created the same night on Thursday, April 25. The first near Fritzlar south of Kassel was found by the farmer on Friday, April 26. The second was found May 1 north of Kassel, but the condition of the crop indicated the plants had gone down earlier. In previous years, Kassel has had two formations arrive at the same time and, like Avebury in England, is the geographic focus of the crop phenomenon in Germany. See More Information at the bottom of this report and my Earthfiles reports beginning 05/19/01 about last year's prolific season in Germany.
Germany's First 2002 Formation Discovered
in Fritzlar south of Kassel on April 26, 2002: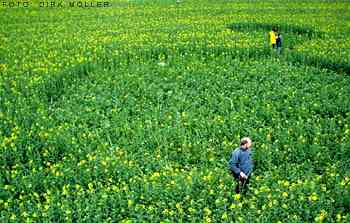 Germany's Second 2002 Formation Discovered
North of Kassel on May 1, 2002 (est. to have formed April 26):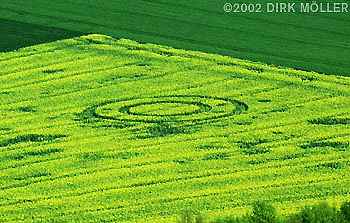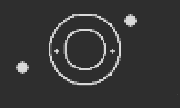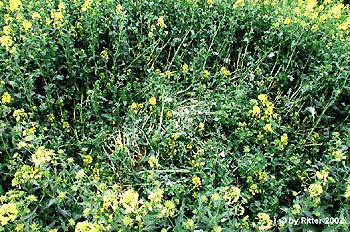 ---
Interviews:
Andreas Mueller, Creator of the International Crop Circle Archive (I.C.C.A.) and author, Kornkreise – Geometrie, Phanomene, Forschung © 2001, Saarbruecken, Germany: "We have the report of the farmer and he was out on Thursday, April 25. He was spraying his field and on April 26, he discovered the formation for the first time. So it had to happen sometime in the night of April 25 to April 26.
Basically it's two circles. There's a bigger circle and a smaller circle and they are connected by a path, by some kind of ­ it's not a straight path like we have in typical dumbbell formations. It's an angled path that runs out in some kind of path from the big circle connecting the small circle and forming a tangent to the small circle. So, it looks a little bit angled, the whole thing. And there is a small grape shot circle at the bottom of the big circle as well.
Given the crispness of oil seed rape, which is a little bit like thin celery stalks, it is difficult to understand how a small grape shot circle can be made isn't it?
It is very hard to do this with these fragile crops.
Also, it is interesting to note that when we were in the formation, there were already, had been already some visitors and animals like deer. We could see this by footprints in the very damp soil. But by walking on the floor, on the flattened plants, you hear them always snapping and breaking under your feet. We were in a few days after it was discovered and many plants came up again, as they usually do, to grow in the direction of the sunlight. So this means that many plants were not harmed or damaged so hard they couldn't lift up again. And the damage we caused was so hard that the plants were broken in two. So, this is very interesting to note when you are in an oil seed rape field. Something pushed the plants down before that did not cause this damage.
Did not break them off.
That's right.
Did Frank or anybody get up in an airplane to take an aerial photo soon after the farmer found it?
Not yet, because the weather is not very good. This was also the conditions when the formation had formed. It was very rainy, very cloudy, very windy weather conditions here. So it was not possible to go up with an airplane. And this counts also for the second formation. But on that one, we have a good view from a nearby hill.
So, the weather itself makes it remarkable that there would be any formations in oil seed rape right now?
Yeah, you have to imagine here that the weather ­ it's not very nice to be out in a field, especially not in a rape seed field where the crops grow up to your shoulders and everything is wet. You get wet. And to get into the formations themselves, the tramlines are filled with water. It's really muddy and it's not nice to be out there for longer than 10 minutes. So, this was also a thought I had inside the formation. I thought, 'If somebody should have done this, it was an ugly job!' And there were no mud prints on the stalks as we would expect (if people had made it).
What about the second formation?
The second formation again is in an oil seed rape field and basically it's simply two concentric rings and then there are four smaller grapeshot circles placed some of them in between the two rings, so in the standing ring. And some outside in the normal field. The overall diameter of this formation is 37 meters (121 feet), which is about 100 feet or so, a little bit more, 110 or 120 feet. This was found on May 1st, but as the formation is not visible from any road or ground, you have to climb this hill. We expect it to be a few days older and because it shows the same degree of the re-erection of the plants as the first formation, we suspect them to have been formed probably in the same night. And this is very common in this area close to the city of Kassel, especially the early formations and some of the later formations, they appear as twins. They don't look the same, but they appear often two in one night. So, this is also a common feature we can say about the crop formations here at this Kassel area.
When you say it looked like grapeshot between the two concentric rings in the second formation, it reminds me of the Soberton formation, the first in England this year with those two circles in between the rings. (See photograph on the Earthfiles Headlines page.)
Some people already came up with this comparison. But the thing is ­ the two circles in Soberton are standing. And our grapeshot here are flattened. So they are flattened in between the standing rings that divide the inner ring from the outer flattened ring. So, it looks different. It's not like a positive or negative image of each other.
But again, we are always left with the mystery about understanding what is behind the circle-making intelligence. If we did understand more, we might find that what came down in England and what came down in Germany had some relationship.
Yeah, if we could understand it. What would probably be very interesting for you and the audience is that a colleague of mine ­ his name is Klaus Listmann ­ he is a researcher from the FGK Group, which is another group here in Germany investigating the crop circle phenomenon. He did a temperature survey in both formations. He uses a professional temperature device to measure the temperature.
He's measuring the temperature of the soil or plants?
No, inside the formation. It has the sensor of the surrounding.
In the air?
Yeah, in the air, I guess. It doesn't take the soil or plant temperatures. It takes the usual present temperature. The temperature surveys confirmed that inside the flattened area it was 3 degrees Celsius warmer than in the normal standing field. And the same effect was measured in the second formation. There the difference was four degrees. And this is something you already feel if it is 4 degrees warmer somewhere, which my friend did.
The weather conditions were windy, cold, rainy and cloudy and one would expect the opposite effect because the flattened areas are open for any wind movement to blow away any isolated heat. But the effect is the opposite. It is warmer inside the formations which is very strange."
W. C. Levengood, Biophysicist, Grass Lake, Michigan
I called biophysicist W. C. Levengood in Michigan to tell him about the measured higher air temperatures in the two German formations.
"Yeah, I'm not surprised.
You say you're not surprised because…?
There are several factors why I'm not surprised. First of all, we have abundant data strongly indicating the presence of microwave energy.
Right.
So if you have moisture in the soil that automatically would mean it would heat up very rapidly because microwaves heat up the water. It's designed to get the water molecule vibrating and increase its temperature. So, that's not surprising at all.
The German researcher who has been studying temperature variations in formations found a 3 degree Celsius higher temperature in the first formation and a 4 degree Celsius higher temperature in the second. And those measured higher even in cold, rainy, windy weather.
Well, again that's not surprising. Soil you see is a pretty good thermal insulator. It takes awhile to heat soil up and it takes awhile for it to cool down. It isn't something that occurs like when you turn your hot plate on and off. That cools down pretty fast.
So, if microwaves had been interfacing with those crop formations, the soil would have retained that heat?
Yes and it could have penetrated quite deep. By quite deep, I mean several inches.
And that would affect the heat of the air above those soils in the formations?
Oh, sure. It's radiating that heat out very slowly."
Andreas Mueller:
Is it fair to say that since 1990, from April to May 4, there have usually been more formations by now in previous years around the world than so far in 2002?
Yeah, definitely. I don't know why this is. We are, as I said, I am very curious why there are so few formations in England.
One can take this from different points of view. The claim is also by some German skeptics that in England and Germany there are dozens of hoax groups out there. So, I ask you: where are they? They might answer they have stopped to show nothing happens? Well, I think we have to see. And as long as we don't know about the real background of the crop circles ­ I know there is a real phenomenon besides some of the croppies (hoaxers), man-making croppies. When I talk about the crop circles, I talk about what I think is the genuine, not man made phenomenon. So as long as we don't know about the source and origin of that, we can only speculate.
---
More Information:
People always hope that the crop circles will get bigger and more complicated and elaborate and bigger in scale. I think these asking for bigger records tells us more about ourselves than about the crop circles. Probably if we are now a little bit disappointed and wondering why there is so few crop circles, again it probably shows us our expectations which probably don't have much to do with the crop circles."
When I was writing my book, Mysterious Lights and Crop Circles © 2000, I asked Michael Hesemann, publisher of Germany's Magazine 2000 in Duesseldorf and long time student of ancient histories and religions why Kassel has played a pivotal geographic role in Germany, as Avebury and Silbury Hill have in England. He responded:
"In my opinion, it is no coincidence at all that Kassel became the German center for crop circle activities. It is indeed, next to Karlsruhe and Schleswig-Holstein (which are the other areas with frequent circles in our country), the land which comes closest to the sacred landscape design of the sanctuaries of Avebury and Stonehenge.
"Kassel is also the birthplace of Rosicrucianism in the 17th Century and the center of Masonic activities in the 18th Century. In 1614, the Kassel printer Wilhelm Wessel published two books which became the 'Bibles' of Rosicrucianism: the anonymous General Reformation of the Whole World and the famous Fama Fraternitatis or the Discovery of the Commendable Order of the Rose Cross. It was written by Johann Valentin Andreae, son of a Lutheran priest with the reputation of being an alchemist, born and living near Tuebingen in Wuerttemberg.
"One year later, Andreae published his second book Confessio Fraternitatis or Confessuin of the Commendable Brotherhood of the Venerable Rose Cross, Addressed to the Intellectuals of Europe, again in Kassel. The fact that Andreae spent all his life in Wuerttemberg, but published his books in Kassel/Hessen indicates that there was indeed a secret society already active at that time which coordinated the publication. With a very high probability, Andreae's friend, Rudolf August von Braunschweig-Wolfenbuettel, was another member of this Rosicrucian order. Its center of activities at that time was obviously already the city of Kassel.
"Mentioned for the first time in 913, Kassel obtained its town-rights by the end of the 12th Century when it became seat of a German chapter of the Knight Templars. Since 1277, it is the residence of the Counts of Hessen. At that time until 1848, Germany consisted of over a hundred independent states or counties ruled by Counts, Barons, Princes and Kings, united within the Holy Roman Empire of the German nation. In 1527, Hessen introduced the Lutheran Reformation as one of the first German states. The Counts of Hessen were proud of their French ancestry, sharing with the Kings of France a remote descent from Pippin, the Short, the father of Charlemagne.
"In 1717, the very year in which Freemasonry went public for the first time with the foundation of the Great Lodge of England in London, the Count of Hessen-Kassel, one of the first German Freemasons, completely changed the design of his residential city, Kassel. With the help of Italian architects, he designed it as 'the city of man,' a model of the human energy body with its seven chakras. For this, he erected a network of fountains and monuments along a straight line, the city's new axis, ending on top of a mountain. There, he erected an octagonal structure corresponding with the eight-petalled lotus of the Buddhist model of the Kundalini, crowned by a structure which is half obelisk and half pyramid, with a bronze statue of Hercules on top: the God-Man of the Greek/Roman mythology leaning on his club. Hercules stands for the perfect man. Seen from below, the whole structure resembles a Tibetan stupa. At his feet in the octagon, Count Hessen-Kassel placed the defeated Giant Encelados, symbol for the ungodly 'old man.'
"Interestingly, Carl of Hessen-Kassel, who ruled from 1767 on, became one of the closest friends and disciples of the mysterious alchemist, Comte du Saint Germain. Although Hessen preferred to reside in Gottorf near Schleswig, the capital of his land was Kassel. He hosted Saint Germain in the nearby castle of Louisenlund, where he allegedly died in 1784. In 1774, Carl of Hessen-Kassel was received as a Freemason in the lodge at Schleswig. In 1782, he organized the first national conference of Freemasons in Wilhelmsbad near Kassel.
"In conclusion, I can say that Kassel was Germany's most important center for Rosicrucianism with a ruling family deeply involved in alchemy, freemasonry and sacred landscape design. There is a direct connection between these ancient crafts and occult sciences and ancient Egypt as there is one between the stone temple of Avebury with its Silbury Hill pyramid and the land of the Pharaohs. Therefore, it does not seem to be a coincidence that right here in Kassel the circle makers found a second field of activity."
---
Websites:
http://www.cropcircleconnector.com



© 1998 - 2019 by Linda Moulton Howe.
All Rights Reserved.