September 10, 2002
Nationwide Threat Level (Code Orange)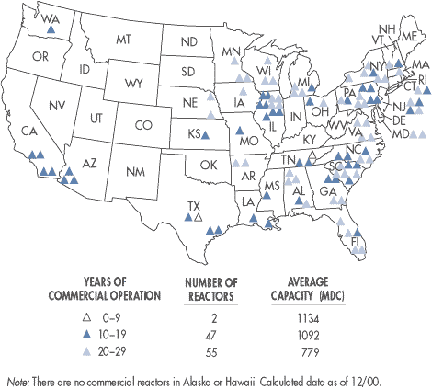 September 10, 2002  Harrisburg, Pennsylvania – Today for the first time since the Homeland Security color-coded threat level went into effect last March, the level was raised from Code Yellow to Code Orange, only one notch below the highest Code Red. Homeland Security Director, Tom Ridge, and Attorney General John Ashcroft, said the alert level was raised after receiving what they called "an abundance of credible intelligence" about terrorists planning attacks to coincide with tomorrow's first anniversary of September 11, 2001 – somewhere in the U. S. or world.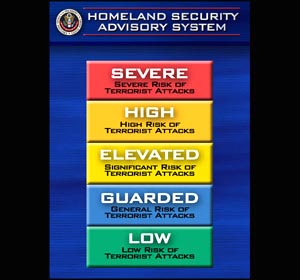 The New Jersey National Guard troops were mobilized to guard critical facilities, including nuclear power plants. In Pennsylvania, everyone wondered about Three Mile Island. Even the issue of armed National Guard patrols at Pennsylvania nuclear power plants is still controversial.Yesterday, a Geiger counter belonging to the TMI utility was found along with unrelated items inside a cooler placed at the 9/11 Shanksville crash site for reasons unknown. Was it a prank? Or an Al Qaeda terrorist cell member leaving a weird calling card at one of its 9/11 destruction scenes?I called Ralph DeSantis in Three Mile Island security to find out what was happening under the new Code Orange alert.
---
Interviews: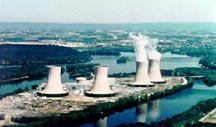 Ralph DeSantis, Security Communications, Three Mile Island Nuclear Power Plant, Harrisburg, Pennsylvania: "Here's the deal. They went from yellow to orange, as you know. And at Three Mile Island and at all nuclear power plants, we are taking guidance from the Nuclear Regulatory commission on additional security measures. Some of those measures could include:
– Having additional security personnel on standby.
– Adding or changing our security barriers that we have at the plant.
– Reducing unnecessary activities at the site.
– And we are increasing our communications with federal and state law enforcement agencies.
WHAT ABOUT PUTTING BULLETS IN THE NATIONAL GUARD'S RIFLES?
You have to talk to the National Guard about that. I don't speak on behalf of them.
IS ANY GUARD AT THREE MILE ISLAND ON SEPTEMBER 10, DO THEY HAVE BULLETS OF SOME SORT IN THEIR WEAPONS?
All officers are prepared to defend the plant. The actual status of their weaponry is safeguarded information, but needless to say, they have live ammunition and they are ready to defend the plant.
YESTERDAY, I BELIEVE IT WAS IN SHANKSVILLE, A CONTAINER WAS FOUND WITH SOME THREE MILE ISLAND-LABELED EITHER GEIGER COUNTERS OR RADIOACTIVE-RELATED MATERIAL?
It was not radioactive at all.. At the Shanksville site they found a cooler which contained among other things not at all belonging to Three Mile Island, but there was one radiation detection device that was in the cooler that is from our environmental monitoring program.
HOW DID IT GET THERE?
Someone stole it.
AND IF SOMEONE STOLE SOMETHING FROM YOUR …
It was not on the island. These are detectors. We have 200 of these around the site in the environment to detect radiation and someone stole one. It was a very cowardly thing to do and we are working diligently with the federal and state law enforcement agencies in the investigation.
IS THE FBI INVOLVED?
You'll have to talk to them.
IS IT POSSIBLE THAT SOMEONE DID THAT AT THE SHANKSVILLE SITE TO LEAVE A CALLING CARD?
I don't know what their motive was in doing it. If that was their motive, we consider that to be cowardly, a disgrace to our country and we're working with authorities to prosecute to the fullest extent if we could find the person who did it.
WHAT IF IT THAT IS RELATED TO AL QAEDA?
I cannot get into what if and speculative types of questions."
Pennsylvania House Minority Whip, Representative Mike Veon (D) from the 14th District in Beaver Falls is so concerned about the vulnerability of Three Mile Island and other nuclear power plants to attack that he drafted legislation this summer that would require National Guard troops to carry loaded weapons while patrolling nuclear plants. That bill has been resisted by Pennsylvania Republican Governor Mark Schweiker who thinks everything about nuclear plant security should be secret.
Given the heightened state of Code Orange alert, I asked Representative Veon this afternoon if he or other state officials had been given any inside information from the federal government about whether Three Mile Island has specifically shown up on intelligence hit lists.
Mike Veon (D), Minority Whip and State Representative of Pennsylvania's 14th District (Beaver Falls) Harrisburg, Pennsylvania: "No, the legislative leadership in Pennsylvania has not been briefed on the updated warning status. So, we don't have any knew information that is not in the public realm as to exactly what this new heightened status means for Pennsylvania or for the nuclear plants in the state.
DOES THAT BOTHER YOU THAT STATES, ESPECIALLY ONES THAT HAVE A LARGE CONCENTRATION OF NUCLEAR POWER PLANTS, ARE NOT CALLED BY HOMELAND SECURITY AND TOLD, 'WE ARE GOING TO RAISE FROM YELLOW TO ORANGE AND THIS IS THE REASON'?
Absolutely. I think there should be a much better system of articulating and educating public officials. I get calls all the time. I have a district that is only a few miles from the first nuclear plant built in this country, a shipping port in Beaver County. I have people who stop me on the street all the time and ask me about the safety and security. I don't think we have a very good system in place that educates and informs and articulates elected officials exactly what the immediate heightened security concerns are. I think we need a much better system. There ought to be a more adequate briefing and there just is no system in place.
YOU HAVE LEARNED TODAY ABOUT THIS HEIGHTENED ALERT FROM YELLOW TO ORANGE TODAY BY WHAT, LISTENING TO CNN?
I learned like everyone else from the public media.
WHAT DO YOU KNOW THOUGH ABOUT THE STATE OF SECURITY AT THREE MILE ISLAND?
I don't know anything more than I knew yesterday about it. I have been critical that we don't have a large enough National Guard force. I've been critical about the kind of weapons, or lack thereof, of the kind of weapons that are at the nuclear facilities all across the state. So, I don't know anything today more than I knew yesterday. Frankly, that bothers me.
YOU DON'T THINK RIGHT NOW THAT THREE MILE ISLAND IS IMPERVIOUS TO AN ATTACK OR HAS ENOUGH ABILITY TO FEND OFF AN ATTACK?
I do not. I have been critical from the start. Some people have said I'm an alarmist. I'd rather be safe than sorry and I have yet to receive what I think are adequate descriptions of nuclear plant safety and security in this state. I get reassurances from those that are in charge of security and yet, Three Mile Island is a good example. They told me that it's very safe, yet a fisherman and his son pulled a boat right up onto the island within a hundred yards of the plant without being detected.
RIGHT. I TALKED WITH SECURITY ABOUT THAT AND THEY SAID, 'OH, THOSE PEOPLE COULD NEVER HAVE GOTTEN TO THE POWER PLANT.'
Sure, they are always full of reasons why something couldn't be done. But the first time, the first explanation to me was that they could not even get to the island. Then once, they get to the island, now they say they couldn't get to the nuclear power plant. So, that's just not adequate and I think that's a sign and signal for people like me that the job is not getting done the way it should be.
CLEARLY PEOPLE IN THE HARRISBURG AREA AROUND THREE MILE ISLAND ARE CONCERNED ENOUGH TO HAVE THREE MILE ISLAND CITIZENS GROUP THAT IS CONSTANTLY TRYING TO MONITOR. WHAT I THINK I'M PUZZLED ABOUT AS A REPORTER: IF YOU HAVE BEEN A STATE REPRESENTATIVE FOR 18 YEARS, WHY IS IT THAT YOU CAN'T SEEM TO MAKE THE SECURITY OF THREE MILE ISLAND A PRIORITY HIGH ENOUGH TO HAVE ACTION WITHIN THE LAST 12 MONTHS?
I think to some degree it is a philosophical difference with the governor and his staff in this state. They want to treat security in Pennsylvania only as a state secret. The less anyone knows about it, they believe, the better. That's my opinion about their philosophy. I believe the more people know about we have in place, the more greater the visible deterrents, the more public knowledge, the more public information, the more public expression of strength and security and deterrents, the better off we are.
THERE IS A LOT OF CONCERN RIGHT NOW THAT BETWEEN NOW AND MIDNIGHT TOMORROW ON SEPTEMBER 11 THAT THERE IS GOING TO BE AN ATTACK, A SUICIDE ATTACK OR SOME KIND OF ATTACK EITHER SOMEWHERE IN THE UNITED STATES OR AN ATTACK ON AMERICA SOMEWHERE ELSE IN THE WORLD. IF YOU WERE LOOKING AT ALL THE POSSIBLE TARGETS IN THE U. S. THAT COULD DO THE MOST DAMAGE, WOULD YOU PUT THREE MILE ISLAND UP THERE ON A LIST OF THE TOP FIVE?
I would certainly put it on the list of the top five sites that if attacked and if destroyed could cause the most damage. No question about that just because of the fact that it's a nuclear facility. I wouldn't necessarily put it on the list of places most vulnerable to attack, but certainly on a list of places that if attacked could cause the most damage. And I think from President Bush to Tom Ridge to Donald Rumsfeld to Governor Schweiker to everyone in Pennsylvania, we're all well aware of that and certainly on September 10 and September 11, we're aware that that is a very possible high profile target.
WHAT IS THE LEGISLATION YOU DRAFTED HOPING YOU COULD GET IT PASSED?
I drafted legislation that mandates the National Guard have live bullets in their weapons. I think it's an insane policy, and a wrong policy…
TO NOT HAVE…
to not have live ammunition in their weapons. And the precious seconds it takes to load those guns are seconds that should not have to take place. We made that clear. We've tried to do it by law. The governor could do it with a phone call or comment to the Attorneys General. But as far as I know, they won't say one way or the other.
WHAT IS THE STATUS OF THAT LEGISLATION TODAY?
It's in the House of Representatives (Pennsylvania) and the Republican legislature refused to move it, I think out of concern of embarrassing the Republican governor.
BECAUSE HE HAS TAKEN A STAND THAT HE DOESN'T WANT ANYONE TO KNOW WHAT THE EXACT SECURITY MEASURES ARE?
That's correct.
WHAT IS YOUR OWN PERSONAL GREATEST CONCERN ABOUT WHAT MIGHT HAPPEN TO THE NUCLEAR POWER PLANTS EITHER IN PENNSYLVANIA OR THIS COUNTRY? AND I'M THINKING EVEN IN TERMS OF AIRLINE SUICIDE ATTACKS RIGHT INTO THE DOME OF THREE MILE ISLAND?
My own personal most significant concern would be an attack from the air. I think that could do the greatest damage. I'm certainly concerned about any infiltration of the perimeter of the plant, but that would be my number one concern."
Project On Government Oversight (POGO) Report Critical of Nuclear Power Plant Security
This afternoon I also received word that the Project On Government Oversight (POGO) in Washington, D. C., has completed a four-month-long investigation interviewing 22 guards at 13 nuclear power plants to determine what the guards' perspectives are on the adequacy of security protection. POGO says in its report to be officially released on Thursday, September 12, that "security guards at only one out of four nuclear power plants are confident their plant could defeat a terrorist attack."
I called POGO's Senior Investigator, Pete Stockton, who has worked for Congress and has spent the past two years as an investigator for the Secretary of the Department of Energy on security problems at nuclear weapons facilities.
Pete Stockton, Sr. Investigator, Project On Government Oversight (POGO), Washington, D. C.: "We've interviewed Nuclear Regulatory Commission experts, Department of Energy experts, and we're just coming out with a report now. And we find there are significant inadequacies in the protection of these plants. We're just focusing on physical security and we are finding that the guards are under-manned, they are under-paid, and they are out-gunned which leaves major holes in the security of these places.
WHEN YOU SAY OUTGUNNED, YOU MEAN?
The problem with being out-gunned. The problem when we started this two or three months ago, a third of the guards in the country were only equipped with side-arms and shotguns. What you would expect in a real terrorist attack is these guys coming in with automatic weapons, grenade launchers, sniper rifles and all of that. These guards feel they are significantly out-gunned.
Now, there are a number of facilities now that have gone to AR-15s, which is a semi-automatic rifle similar to an M-16 that's semi-automatic. Still, that doesn't measure up to the kind of weaponry that the terrorist would come in with.
In a facility like these and a terrorist attack, you don't have perimeter defense like that. You develop your security from the inside out. As one of these National Guardsmen said, 'All we are are canaries in a coal mine.' When they die, the guard forces are going to know they are coming, the bad guys are coming because they are just sitting ducks out there.
WHAT IS IT GOING TO TAKE TO CHANGE THIS?
It's going to take some action on the part of the NRC and the utilities to upgrade this security. The biggest problem they have right now is their defensive posture is based on only three terrorists attacking from one spot. That's highly unrealistic after what we found at 9/11 where you had 19 terrorists in a highly coordinated attack. I wouldn't recommend going with a the DBT threat level that the facilities are supposed to be able to guard against.
WHAT DOES THAT STAND FOR?
Design Basis Threat. That means the number of outside attackers, the number of terrorists coming in, the kind of weaponry that they carry and the number of insiders that are going to help them both active and passive. A passive insider is just one that provides information to the terrorists. An active insider can be actually armed, shooting people in the back, that kind of thing.
WHAT IS YOUR PERSPECTIVE ON THREE MILE ISLAND AT THIS POINT?
I can't comment on that, on a particular facility (to protect the security guards). I think we are talking about the fact that there are basic problems at most of these plants.
SO, THE SUMMARY IS THAT OUT OF 13 PLANTS IN WHICH YOU WERE ABLE TO INTERVIEW GUARDS ANONYMOUSLY, ONLY TWO OF THOSE THIRTEEN INSTALLATIONS SEEMED TO HAVE IMPROVED SECURITY…
Since 9/11 essentially, that's an easy way to put it. That have taken it seriously and have improved the security. Where the guards really believe that they could handle the old DBT and possibly could handle a real terrorist attack.
The vast majority of the others, they would be wiped out. These attacks take about 3 minutes. We say between 3 and 10 minutes, one of these attacks is over and the NRC and a lot of the utilities say, 'Well, we're just going to contain these guys and wait for outside help.' But SWAT help comes in about an hour and a half to two hours. So, they simply can't wait for any outside responders to be of any help at all.
WHY IS IT THAT THE NRC HAS DRAGGED ITS FEET IN TERMS OF UPGRADING SECURITY AT THE NUCLEAR POWER PLANTS?
(laughs) There have been arguments for a long time that they have been too close to industry and industry either doesn't believe in the threat or the major issue is that they don't want to spend the money on security because it's an overhead issue. Essentially, it comes out of profits and they simply don't want to spend the money.
One of the shocking things we found is that these guards are seriously underpaid and the janitors at the plant make between $1 and $4 an hour more than the guards make. In fact, we found at a number of sites that the guards make less than the local manicurists and aerobic instructors and people like that who aren't risking their lives.
A YEAR AFTER 9/11, THIS DOES NOT MAKE SENSE?
It doesn't.
SO WHAT CAN BE DONE?
One thing that's going on right now is that the Congress is so upset about this that they are trying to legislate a new DBT, which is kind of a bizarre thing to be doing. It's trying to upgrade security with legislation if the NRC refuses to move. And the NRC has been trying to fight that legislation.
Let me tell you, a crisis in Washington, the first thing you do was reorganize and you create new bureaucracies and that somehow salves the concern of the American people, or it's supposed to. They don't get down on the ground and find out what is the problem. They don't talk to the guards. They don't go out and investigate what is happening at these plants.
The NRC has done exactly the same thing as Homeland Security has done on a mega scale ­ they have created a new Office of Security in the NRC. If you look at the top five managers, only one has had any security background at all, has any experience in security. So, you tell me!
SO, IF I UNDERSTAND CORRECTLY, YOU'RE SAYING THAT CONGRESS IS SO FRUSTRATED BY ALL OF THE COMPLAINTS ABOUT NUCLEAR POWER PLANTS FROM ITS OWN CONSTITUENTS THAT IT IS NOW TRYING TO LEGISLATE AND SAY THAT ALL NUCLEAR POWER PLANTS MUST BE READY TO TAKE ON A BIGGER ASSAULT BY TERRORISTS OR SOME ATTACK THAN CURRENTLY BECAUSE THE NUCLEAR REGULATORY COMMISSION HAS FAILED TO DO SO?
That's exactly right. You put it perfectly. And there was serious frustration on that committee and you should have heard Hilary Clinton (Senator (D), New York). You know, she's got Indian Point in her back yard and all she hears from her constituents is about the security at Indian Point."
---
Websites:
http://www.whitehouse.gov/homeland

© 1998 - 2019 by Linda Moulton Howe.
All Rights Reserved.