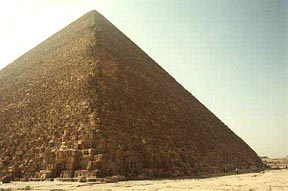 September 25, 2002 Washington, D. C. – Zaia Hawass, head of Egypt's Supreme antiquities Council in Cairo, held a press conference on September 23, 2002. He announced that after the September 16 television program broadcast by Fox and National Geographic to explore the southern shaft of the "Queen's Chamber" in the Great Pyramid of Cheops, the robot was sent up the second northern shaft off the same chamber. Back in 1993, German engineer Rudolph Gantenbrink had discovered a sharp 45 degree turn about 60 feet from the chamber, but did not go further. The National Geographic and iRobot team decided to see how far the new 2002 robot could go. To their surprise, at 80 feet from the Queen's Chamber, there were two more turns. Then at 65 meters, or about 210 feet, there was yet another door with copper handles like the one in the southern shaft. As of this date, no one knows what is behind either of the little limestone doors.
This week I asked Chris Sondreal, Producer, Egypt Robotics Unit, National Geographic Television and Film in Washington, D. C., about their off-camera decision to send the robot up the northern shaft around the 45 degree turn.
Engineer Gregg Landry, from Boston's iRobot, on September 16, 2002 lifts a robot outfitted with lenses and drills to explore one of the narrow, mysterious 8-inch diameter shafts inside the Cheops pyramid of Cairo, Egypt. Photograph by Khaled Ryad and © 2002 by Associated Press.
Interview:
Chris Sondreal, Supervising Producer and Producer, Egypt Robotics Unit, National Geographic Television and Film, Washington, D. C. 20036: "In terms of looking at the Great Pyramid itself, you realize that the northern shaft could not continue straight for 210 odd feet. There is a structure called the Grand Gallery that it would be running straight through. In fact, the German group (Rudolf Gantenbrink, 1993) discovered the first (45 degree) turn which lead us all to realize that probably the northern shaft would have to make a jog and go around the chamber called the Grand Gallery.
Two More Turns Discovered Beyond the Gantenbrink Angle
So, what was a surprise were the second two turns in which it appears that the northern shaft reorients perhaps all the way to true north. So, it's as if it was designed to head to true north and made a turn and then turned back to true north,We really were concentrating on getting around these corners and making sure we could do that safely and mapping them and getting data as we were going. All of a sudden with modifications we had recently done to the robot, we were at 90 feet and around the corners. Although there were still the metal rods that were left previously by other archaeologists on the bottom of the shaft, we were suddenly moving very quickly, relatively speaking ­ 5 feet or so a minute.
Extraordinarily, we got past the metal rods and kept rolling and rolling and rolling and we reached 150 feet and the shaft just kept going. It was completely clean and clear at that point. There were no tread marks or traces of any other robot or any other explorer having put anything that far in the shaft. And we got to 160 feet, then 170 feet, and every shaft block is a little bit different looking. So, every time we came to a new block, it was something we hadn't seen before and we had to stop and look at it. Some are shiny and some look like maybe there was some water damage. And we kept going for 180 feet, 190 feet. And then at about 200 feet, we could see our lights bouncing off of something and within a couple of seconds, we could see those copper pins and we knew we had found another blocking stone.
DID IT LOOK EXACTLY LIKE THE SOUTHERN SHAFT?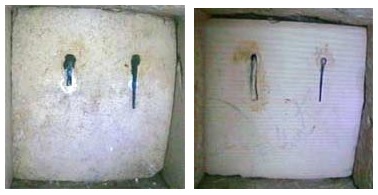 From a distance. From a distance, it looked like the exact same stone at the exact same distance from the Queen's Chamber. But as you got closer to it and we drove up to it, we realized they are not identical. They have roughly the same dimensions. The stone is roughly the same quality. But the copper pins are placed in it in a different fashion. In this new blocking stone, the pins seemed to be much better preserved. There is not ­ they seem to be clearly pieces of metal and there is not nearly as much kind of green residue on them from corrosion or other natural weathering of metal.
And in the case of the one on the left, it seems as if it has been bent back or put into position and carved out by a chisel. It's actually kind of recessed a bit into the stone. Also, it appears that both of the holes that things come out of are slightly higher in position, at least as it appeared to our cameras. They appeared to be maybe a centimeter higher than they are on the other blocking stone. So, it's like two guys maybe ­ just idle speculation ­ but like maybe two guys got together and described to one another what they wanted to make and they were craftsmen and went off and made virtually the same thing, but never put them side by side to make them perfectly the same thing.
WOULD THERE BE HANDLES ON THE OTHER SIDE?
We don't really know what is happening on the other side of the stone because the one time we put a camera through, we didn't have mirrors on it or any means of turning the camera back to look at the stone. But it is quite possible that on the other side, these copper pins, these metallic pins, are connected together in a handle, or maybe they are individually a separate handle. Maybe there are two handles on the other side.
We are tantalizing close to being able to go up and looking through the hole that we put in the southern door, going up with a camera with a mirror on it and being able to look back at ourselves back at the dark side of the blocking stone and find out what is going on.
ANY PLANS TO DO THAT ANY TIME SOON?
We will have to coordinate with our colleagues at the antiquity authorities in Egypt and get their approval for a plan and work with some scientists in the United States to make certain we have the right instruments on the robot. But I think we are optimistic that some time in the next 12 months or so, we'll be able to go back and solve many more mysteries.
AND PERHAPS DRILL THROUGH DOOR 2?
I don't actually know what the plan will be there because we are going to have to do what we did with the first blocking stone that we discovered ­ we are going to have to use remote sensing technology to find out how solid the door is, to make sure we don't damage it if we were to drill it. Also, try to use remote sensing technology to tell us how thick that second one is. So, it's a possibility. But I think until we find out that it is yet another thin slab of stone, we wouldn't want to make any commitments about what we are going to do next.
IS IT DIFFICULT TO GET THAT REMOTE SENSOR UP TO THE SECOND STONE AND TRY TO FIND OUT HOW THICK IT IS?
It is. The one sensing technology we have that won't be difficult, or should be relatively easy, is ground-penetrating radar. It will, it can peer, the particular model that we have, can peer through up to 18 inches of concrete. It will also peer through air spaces. We know we have a 2 to 3 inch block happening first. Then we have a 7 inch air space. Then we have another block starting. We know that ground-penetrating radar should be able to at least tell us, it will be able to read the face of that next block. If it's not too thick, it might be able to confirm for us how thick that next block is. If we are going to use the thickness gauge or other sensors, then it is extremely difficult because we will have to figure out how to put that sensor through a 3/4 inch diameter hole. At least in the current configuration, that would multiplies the complexity of what we are trying to do.
I HAVE BEEN PUZZLED THAT IF THE RADAR WAS USED ON THE OUTSIDE OF THAT FIRST DOOR THAT WAS DISCOVERED IN 1993, WHY WOULDN'T IT HAVE SHOWN VERY CLEARLY THAT THERE WAS ALSO THE SECOND DOOR SEVEN INCHES BEYOND?
We actually weren't able to launch the radar on the missions we had, these last two missions we had. The only remote sensing technology that we were able to get all the way to the door ­ this is because of the very physical obstacles of the step and also the weight tolerance of our robot ­ was the thickness gauge. And a thickness gauge can only read the piece of stone that it's touching. So, had we been able to bring the ground-penetrating radar up there, we might very well have had a much better sense of what we were going to find but because of a variety of technical issues, we didn't use it this time around.
RIGHT NOW WITH THAT HOLE GOING THROUGH THE FIRST BLOCK OF STONE, WOULD YOU BE ABLE NOW TO GET THE GROUND-PENETRATING RADAR RIGHT UP AGAINST THE FACE OF THE SECOND BLOCK?
No. No, because the ground-penetrating radar antenna is about 5 inches by 5 inches. So, we would just push it against the surface of the first stone and get our readings that way. We are fairly confident that will be allow us to be able to read the face of the next stone, if not the whole thickness of it.
AND DO YOU KNOW WHEN YOU MIGHT TRY THAT?
Once again, I'm hoping to learn in the next 12 months what all the authorities and National Geographic and Dr. Hawass will agree to how we proceed next. I would assume that would be one of the first things we do when we return.
IT'S SO AMAZING THAT 4500 YEARS LATER THAT THIS GREAT PYRAMID IS STILL SO MUCH A MYSTERY AT SO MANY LEVELS.
It is. It's extraordinary and it's a privilege to be part of a team that's trying to crack a millennia's old puzzle."
---
Websites:
http://news.nationalgeographic.com/news/2002/09/0923_020923_egypt.html
http://solos.users.netlink.co.uk/door.html

© 1998 - 2019 by Linda Moulton Howe.
All Rights Reserved.