October 25, 2002 – The following e-mails were sent to me after my news update on COAST TO COAST radio on October 21, about the very large, dark brown bird seen flying by dozens of eyewitnesses, including pilots, in the Manokotak and Dillingham towns north of the Alaska Peninsula since the end of September 2002. See Earthfiles report.
I interviewed Prof. Douglas Causey, Ph.D., Senior Vertebrate Biologist, Museum of Comparative Zoology, Harvard University, Cambridge, Massachusetts. He doubted the estimated 14-foot-wingspan that residents described and suggested the answer could be a bird so rare it hasn't been officially observed for nearly fifty years: the sub-species of the Steller's Sea Eagle known as Haliaeetus pelagicus niger. Niger is Latin for "dark." Eyewitnesses stressed that the large bird seen in Alaska is all dark in color. The Niger Sea Eagle is all dark except for its white tail; the Steller's Sea Eagle has white shoulders and tail. Neither species of sea eagle reaches a 14-foot-wingspan. In this report, I have included for comparison photographs and information about other modern birds that have large wingspans.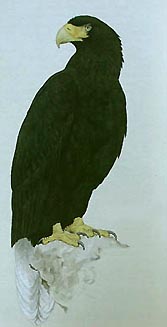 1) "I was amazed recently to hear of the bird with the 14 ft. wingspan had been sighted by others in other States. It was back in November 1993. I took my son hunting over at the area where Northern Nevada, Utah, and Idaho come together. It is a rather remote area of Utah at a place called Mahogany Spring with a few ranchers in the area, but little else except desert.
My son and I were driving on a dirt road traveling back to an area we wanted to check out for deer, as that is what we were hunting, and off to the right of the vehicle about 100 yds., I saw this large dark animal sitting on a knoll, and I remember saying to my son, 'Look at the bear, son, up on that small hill.' We both watched it for a few minutes. I also made the remark that I didn't think that there were black bears in the west desert of Utah.
Just as I said this, the so-called bear spread its wings and started to fly from the area. We were totally flabbergasted when this happened, as I knew I had never heard of a bird this large. It stood about four feet tall when it was perched on the ground and I estimated that each wing was just shy of being twice that length (or about 14 feet across). I couldn't get this bird off my mind, and haven't since. I thought it was just a gigantic Golden Eagle that was a freak of nature. It fits the description that was given in your report to a tee. Best wishes, Martin"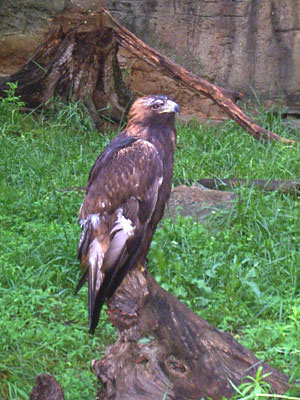 2) "I know this may sound funny to you but I believe that I have seen this bird that has been described in Alaska. Trouble is, I live in Mount Vernon, Washington. I saw it about a year ago. It flew over my home here in the Skagit Valley in Washington State.
I looked up to see a large object in the sky. About 700 to 900 feet up. Maybe 1000 or so. It was hard to tell. We have a lot of eagles that fly overhead. There are eagle nests nearby in a grove of cedars. This bird was not an eagle, at least not the kind of eagles that we see regularly. After the bird was close enough for me to actually see that it was some kind of large bird, I became transfixed at the sight of it. It was colored similarly to what has been described in your report. Bronze is a good description. The head was a lighter color, like more tan in color.
The thing that set this bird off from the eagles was not only it's size, but also something else that helped indicate the size of the thing. The wings. This thing was moving on pretty well and the wings powering the flight were like an eagle, but at least twice the span of a mature eagle. Possibly three times the size. These wings beat slowly and with great power. This bird traveled through the air with a consistency of velocity that appeared to match it's shear size and weight.
I watched this large bird fly at between 800 & 1000 feet high, coming from the Northwest, proceeded toward the Southwest. From my location it looked as if it were heading toward the Olympic Mountains.
Sincerely yours, Bennie Rawson"
3) "Maybe in 1968-69, I saw film footage shown on a Detroit station of a
large bird that knocked a full grown ram mountain goat off of a
mountain ledge. They indicated that it was an Andes Condor.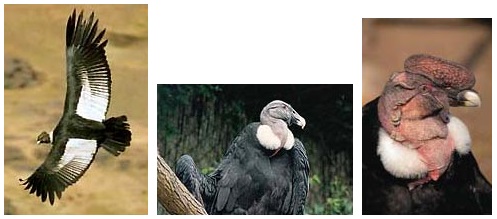 The interesting thing about the film was that the bird held onto the ram as the ram fell down the side of the cliff. The bird had a hold of him behind the neck. The ram was falling under the bird. When the bird attacked the ram, he had folded his wings back in the typical high speed angle and maintained this posture during two thirds of the free fall down the face of the cliff. The narrator said the cliff was maybe twelve hundred feet down onto a rock strewn floor. Much to my amazement, the bird slowly arched his wings back flying and pulled up from the vertical drop into horizontal flight while still holding onto the ram. The bird and the ram glided off behind a fall of trees.
I have just researched Andes Condors and the site indicates that they do not have the ability to grasp a pray as an eagle does with its talons and then fly away. If that is true, the bird on the film was not a condor. The weight of the ram must have been at least 80 lbs. The forces sustained by this bird during the transition from the vertical drop to a horizontal plane were enormous. This would take a very large and powerful bird to accomplish this feat. This film was photographed during the time that special effects were very crude and easy to spot. This film was not faked. Steve Bevington"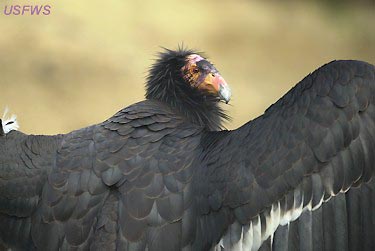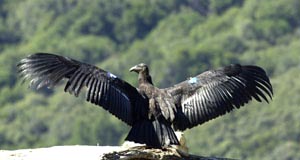 4) "I heard your report on the Art Bell show concerning the "giant bird" and can only say it is more than likely a giant condor – they are dark brown to a sooty black, with a lighter colored head and have a wing-span of ten to twelve feet. They can achieve heights of 23,000 feet, being the highest flying bird in existence, and are capable of snatching up a sheep or goat and carrying it away. In fact, there is another bird that has even a larger wing-span than the condor – the wandering albatross, which is closer to 14 feet. The color favors the condor though – and who is to say just how large they are capable of growing in the wild? Nick K."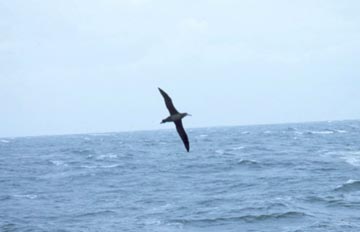 ---
More Information:
In 1980, the Los Angeles County Natural History Museum displayed parts of a skeleton of the biggest known bird that ever flew on earth. Its fossil remains were discovered along the banks of Salinas Grandes de Hidalgo in the Argentina La Pampa province 400 miles southwest of Buenos Aires. The huge bird skeleton named Argentavis magnificens had a 25 feet wingspan (8 meters) and was 11.5 feet (3.5 meters) from beak to tail. This giant bird lived during the Miocene (23 to 5 million years ago).
Other large Miocene birds were Teratornis merrami and Osteodotornis orri.
---
Website:
http://www.clemetzoo.com/rttw/condor/allabt.htm
http://www.defenders.org/wildlife/birds/calcondor.html
http://fadr.msu.ru/o-washinet/spysnop.html
http://www.earthlife.net/birds/intro.html



© 1998 - 2019 by Linda Moulton Howe.
All Rights Reserved.