"If the North Atlantic Drift that brings the warm Gulf of Mexico water to Europe should stop, average winter temperatures in the Northeastern   United States and in Western Europe could abruptly drop 10 degrees Fahrenheit."
– Bruce Peterson, Ph.D., Marine Biological Laboratory, Woods Hole, Massachusetts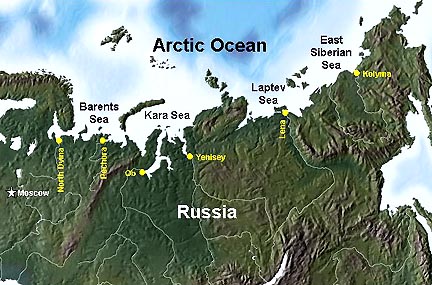 December 14, 2002  Woods Hole, Massachusetts – Six of the world's biggest rivers in Eurasia are dumping 7% more fresh water into the Arctic Ocean than they were in the 1930s. The current outflow is 128 cubic kilometers per year. The increased fresh water runoff is attributed to increased rainfall and melting perma frost and glaciers as greenhouse gas emissions continue to heat up the earth.
This week on December 13, the American Association for the Advancement of Science journal, Science, published the recent findings of a research team from the Eco System Center's Marine Biological Laboratory (MBL) at the Woods Hole Oceanographic Institution in Massachusetts.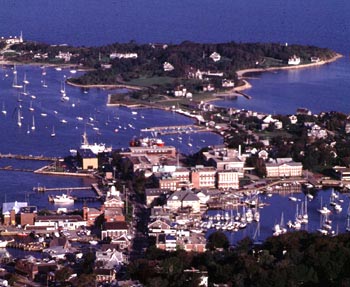 The team's leader, Dr. Bruce Peterson, an aquatic ecologist and senior scientist at MBL, reports that the discharge from the rivers over the past 64 years is closely related to the global surface air temperature and to the North Atlantic Oscillation which, combined with the North Atlantic Drift that brings warm Gulf of Mexico waters northward to warm temperatures along eastern North America and western Europe.
But in the past seven years, fresh water from the Eurasian rivers has increased and spread rapidly over 15 million square miles from Greenland to the coast of the Carolinas in the United States. This week I talked with Dr. Bruce Peterson about the Arctic river water research and what all that fresh water diluting the salty Atlantic might do to the North Atlantic Drift and Oscillation.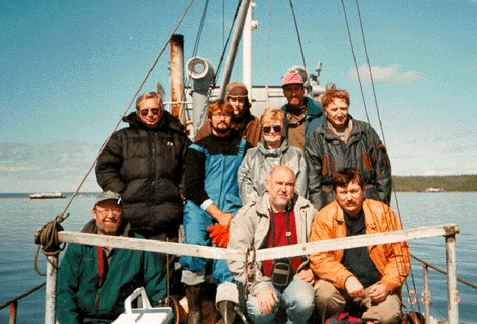 Interview:
Bruce Peterson, Ph.D., Senior Scientist, Eco System Center, Marine Biological Laboratory, Woods Hole, Massachusetts: "We plotted the sum of the discharge of six rivers that are spread across the breadth of Eurasia and were rather surprised and intrigued to see that there was a highly significant increase ­ that is, a 7% increase from the 1930s to the end of the last century (1999).
Now, that 7% might not seem like a huge percentage but, in fact, it does amount to about to about 128 cubic kilometers each year of more water discharging from just those 6 rivers than was the case in the 1930s. And that's a lot of water.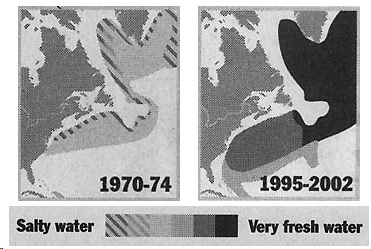 WE'RE TALKING ABOUT FRESH WATER THAT IS GOING INTO THE SALTY OCEANS.
Exactly right. And so we took the (United Nations) Inter-governmental Panel On Climate Change (IPCC) recent publication, 2001 publication, and saw that within this next century they expect an increase in temperature due to greenhouse warming of about 1.4 to 5.8 degrees C. If we then use the amount of water per degree that we see on our regression line, we'll end up with an increase in discharge from these rivers that is roughly on the order of 18-70% increase over this coming century, that is by the year 2100. Now that range is wide because we use the very widest range of temperature projections; that is, 1.4 to 5.8.
BUT THAT WOULD BE AN AWFUL LOT OF FRESH WATER GOING INTO THE SALTY OCEANS AND WHAT WOULD THE CONSEQUENCES BE?
Well, that could well be a lot of water and although these are only 6 rivers, even that amount of water from these 6 rivers, if it were the high end of that range ­ that is, towards the 70% – could potentially effect the circulation of water in the North Atlantic. The North Atlantic is the site where North Atlantic deep water is formed and it's a critical site in the global thermal circulation of the world's oceans.
But what I am concerned about is that these 6 rivers are only 40% of the Arctic watershed when you include all of Eurasia and the rest of North America. And in addition to that, we have a large amount of water tied up in the ice sheets, the ice cap of Greenland, and smaller amounts of water tied up in various glaciers and sea ice that could also melt and influence the Arctic.
So, I'm guessing now, but it's potentially possible that the total change could be two or three times greater than if you just look at these rivers by themselves.
TWO OR THREE TIMES GREATER IS A GIGANTIC VOLUME OF FRESH WATER GOING INTO THE OCEANS.
That would be a volume of fresh water which, according to my understanding of these global climate models that deal with the linkage between the atmosphere and the ocean circulation, that would be an amount of water that would really overlap with the kinds of the amounts of water that are expected to either slow down severely or shut down that Atlantic Drift…
THE NORTH ATLANTIC DRIFT.
North Atlantic Drift, or the North Atlantic deep water formation, which is where the North Atlantic Drift ends up.
IF THAT HAPPENED, THEN THAT'S WHERE THE QUESTION IS: WOULD THE EUROPEAN AREA BE PLUNGED INTO DEEP COLD OR MODERATE COLD? WHAT MIGHT ALSO HAPPEN TO VARIOUS MARINE LIFE IN THE ATLANTIC?
This, in fact, is such a shocking thing to think about ­ this overturning in the North Atlantic, shutting off, that is about as far as we've got in considering the impact. Again, to think about what happens beyond that, you really need to look at the ocean circulation models because the ocean circulation drives a lot of the biology. They can tell you what the temperatures are likely to be, what the upwelling rates are likely to be, and those are the things that will really influence the biology.
What we would expect, of course, is that this region of the earth's oceans would be much cooler. If the North Atlantic Drift that brings the warm Gulf of Mexico water to Europe should stop, average winter temperatures in the Northeastern United States and in Western Europe could abruptly drop 10 degrees Fahrenheit.
HOW FAR OUT IN THIS CENTURY DO YOU THINK CREDIBLY THAT WE MIGHT EXPECT THAT TO HAPPEN, IF THIS NEUTRALIZING OF SALINITY IN THE OCEANS CONTINUES?
Well, first of all, I think it would not only be Eurasia, but North America would have to be ramping up and Greenland might have to be melting to get that amount of water. However, if the total input was ­ what time in this century? I would expect that ­ and I've seen some simulation models that suggest that the highest risks are between 100 years from now, the end of the century and the middle of the latter parts of the next century.
How soon could it happen? Well, it could happen, with a low probability, very soon and with increasing probability as we get toward the end of this century, if ­ and this is a big if ­ if the fresh water does ramp up with increasing temperatures as it has over the 64 years of the record that we have in front of us.
RECENTLY I READ THAT THEY ARE NOW SEEING THERE IS ACCELERATED MELT IN GREENLAND AND THAT FITS RIGHT INTO WHAT YOU ARE JUST SAYING ­ THAT IF WE DO BEGIN TO SEE THAT THERE IS ACCELERATION EVEN IN THE LARGE ICE ON GREENLAND GOING OFF INTO THIS OCEAN, THAT A CHANGE IN THE NORTH ATLANTIC DRIFT COULD COME SOONER THAN ANYONE WOULD THINK.
Well, it's possible, but we don't have a good temporal record of the melt in Greenland, so we might not be able to do what we did with the rivers ­ that is, run a regression over many years to see what the slope of it would be. We understand there is a great deal of year-to-year variability in temperature in different parts of the system. So, although there might be a big melt this year, if that melt were sustained or increased, yes, this certainly would increase the probability that this could happen sooner than if just the rivers were contributing.
WHEN WOULD YOU KNOW, IN TERMS OF DATA. WHEN WOULD YOU KNOW THAT THINGS MIGHT BE REACHING A DANGEROUS POINT IN THE ATLANTIC DRIFT IN TERMS OF ITS SLOWING DOWN TOWARD STOPPING?
It's very hard to answer that question because the history of research in that area over the last 30 years has shown us that there can be pulses of fresh water that are called 'salinity anomalies' which apparently can slow the deep water formation and of course, it can bounce back.
What we're talking about is a little bit different than that. We're talking about enough fresh water to shut it down. But when would we know? I would say that the fact that we've observed three of these 'salinity anomalies' is sort of a little early warning saying, 'There's enough fresh water around to seriously effect things now. If you keep pushing in this direction, I would think the next two or three decades are really the critical time for us to be understanding the dynamics of this system. Our ability to project and model the future right now could be greatly improved by consistency in monitoring and study in the next decade. I don't know if society has that long to sit around and wait before they decide whether or not they are going to push this greenhouse effect as high as the upper limits of those ranges. But, if I had a stake in this, I would say I would try to think right now about how to lower the CO2 emissions enough that we don't hit the upper end of that temperature range predicted by the IPCC.
BECAUSE THE CONSEQUENCES ARE SO HUGE AND UNKNOWN.
Right, we don't have the ability to project beyond what might happen after a shut down in any detail at all. It's just an event that it might not be good. It certainly would be destabilizing for some, if not much, of our society and since it's somewhat unpredictable, I would like to stay away from that threshold, if it were up to me.
And it's frightening to us, you know! We just stuck our nose in the river discharge data and did not go into it with the idea that we were going to find a trend like this. It was a surprise to us and alarming to me that so early ­ in the 1930s ­ we started a trend that appears to relate quite well to just a small amount of warming less than 1 degree C that we have had already in the last century. So, it's surprising to me.
BUT EVERYTHING IS, BOTTOM LINE, GLOBAL WARMING?
Well, it appears to be related one way or another to global warming. I think any model that you look at, the temperature is going up and if the relationship between temperature and the hydrology that we've seen right here continue, the water is going to go up, too.
WHAT IS YOUR PERSONAL GREATEST CONCERN, NOT ONLY AS A SCIENTIST BUT AS A PERSON LIVING ON THE PLANET NOW, LOOKING AT A TIME WHEN THERE DOES NOT SEEM TO BE ANY AGGRESSIVE ACTION TO SLOW DOWN GLOBAL WARMING?
I guess my major concern is public education. That is, I feel if the public can't have access to this kind of information and begin to understand it and thus, sort of vote with a very informed perspective ­ of course, our Congressmen and Senators should have this perspective, as well. So, I feel we have a short number of years in order to get the education to the point where people will recognize we would really like to know the mechanisms linking warming and runoff in the Arctic much better than we do now. So, we really worry about that because our speculation for the future depend upon how well we understand the system as it's operating today. And we have imperfect knowledge. So, there is a tremendous amount of effort right now ­ the National Science Foundation has just invested roughly $30 million in intensifying the study of the fresh water cycle of the Arctic and also the circulation of the Arctic Ocean in the North Atlantic. They have at least recognized that we need to understand the mechanisms in order to make any informed prediction or speculations for the future.
ONE OF THE HUGE DISRUPTIONS THAT COULD HAPPEN WOULD BE A LOWERING OF TEMPERATURE IN EUROPE…
Right.
… THE AMOUNT OF LOWERING NOT QUITE KNOWN, BUT IF IT WAS SIGNIFICANT, IT COULD EFFECT EVERYTHING FROM FOOD PRODUCTION TO TRADE TO GENERAL MOBILITY OF PEOPLE.
If it was significant, all those things would be true. Unfortunately, we can't tell you how significant it would be. If it's not much of a cooling above what we have in the current climate ­ that is, it just compensates largely for the warming that we are forcing upon the system by burning CO2, then temperatures might not be that much different.
But just sit back for a minute and think what the rest of the world would be like 5 degrees warmer than it is now. So, it may be that Europe would have an air conditioner and the rest of the world could be frying.
WHAT WOULD THAT DO TO ALL OF THE GLOBAL CLIMATE MACHINERY?
You're way beyond my ability to predict. My understanding from experts in interpreting the global climate machinery is that we do not have the ability to even predict what the ocean circulation would be like. How would it re-establish itself after such a shut down? And until we can do that with some assuredness, we certainly can't get the climate right.
WHAT HAVE SOME OF THE SPECULATIONS ABOUT WORSE CASE BEEN?
Well, you can find in print in a number of places people speculating, 'It will put Europe and the Northern Hemisphere on the track to have an ice age.'
---
More Information:
See other Earthfiles.com reports related to North Atlantic Drift changes in the Archives:
· 12/22/2001 —  Scientists Warn That Climate and Earth Life Can Change Rapidly
· 01/09/2000 —  Global Warming Alert from NOAA and U.K.
· 12/25/1999 —  Y2K Nuclear Concern and Global Warming Update

© 1998 - 2019 by Linda Moulton Howe.
All Rights Reserved.