"We are not engaged in an arms race, but rather in a race of perfecting an integrated program of UFO technology (including extraterrestrial plasma weapons and Electro-Magnetic Pulse devices.) …But our scientists will not turn to national defense unless they perceive an actual danger to the United States. A danger was perceived in 1939, only two years before a UFO was captured (1941), and Pearl Harbor (attacked by Japanese). It is vital that scientists should perceive the danger now, before it is too late. What is at stake is not only the prevention of defeat, but prevention of cosmic war. Nevertheless, convincing the American scientific community that military UFO research (is important) is a most difficult undertaking."
­ Excerpted from a 1980s paper entitled, "UFO Technology and the Imbalance of Power," by Edward Teller, Ph.D., Physicist, and former director of the "Star Wars" Space Defense Initiative (SDI),
Ronald Reagan Administration, 1980-1988.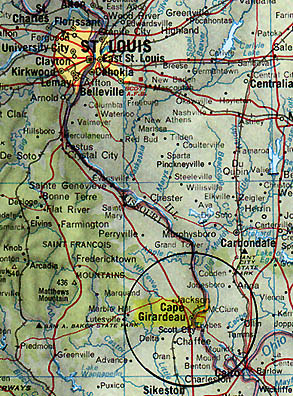 December 28, 2002  Broomfield, Colorado – For additional update, please see More Information below from Stanton Friedman. Since the mid-1990s, aerospace engineer, Robert Wood, Ph.D., and his son, Ryan Wood, a mathematics and computer science professional, have taken on the challenge of trying to prove – or disprove – the authenticity of several hundred pages of allegedly leaked U. S. government documents about "flying saucers," "extraterrestrial biological entities," "interplanetary" technologies, and Majestic-12, a highly classified government unit set up by President Harry S. Truman in 1947 to study and keep secret the presence of non-humans on this earth.

The main source of the government papers which have alluded to an important technology recovery in 1941 has been a man named Timothy Cooper whose father worked at White Sands in the 1940s. Twice Timothy has found in his mailbox a large stash of alleged classified government documents from one or more anonymous sources. The latest delivery was July 2001 and the postmark on the package was "from Virginia."
Inside were 23 pages of new documents, not originals, but photocopies of old onion skin copies of original documents. The tissue-thin onion skin paper had bled through from the back side making them very difficult to read. Dr. Wood used a magnifying glass in the summer of 2002 to painstakingly translate all the pages into clean, easier to read copies at Bob and Ryan Wood's www.majesticdocuments.com website.
This weekend, I talked with Ryan Wood about one of the 5-page papers entitled, "UFO Technology and the Imbalance of Power" by Dr. Edward Teller, physicist and former director of the "Star Wars" Space Defense Initiative (SDI) program in the Ronald Reagan administration of 1980 to 1988. Dr. Teller describes in his paper an "extraterrestrial scientific revolution" and states the following:
"We are not engaged in an arms race, but rather in a race of perfecting an integrated program of UFO technology (including extraterrestrial plasma weapons and Electro-Magnetic Pulse devices.) …But our scientists will not turn to national defense unless they perceive an actual danger to the United States. A danger was perceived in 1939, only two years before a UFO was captured (1941), and Pearl Harbor (attacked by Japanese). It is vital that scientists should perceive the danger now, before it is too late. What is at stake is not only the prevention of defeat, but prevention of cosmic war. Nevertheless, convincing the American scientific community that military UFO research (is important) is a most difficult undertaking."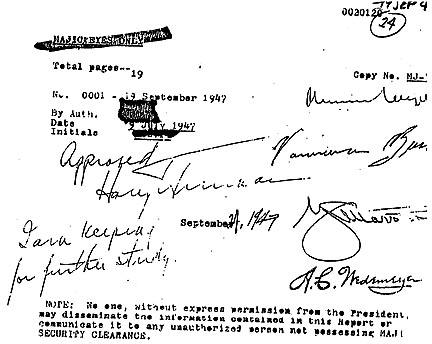 The 1941 reference is especially interesting in light of another government document that made its way to Timothy Cooper and the Woods back in the 1990s. The first page is dated 9 July 1947 and 19 September, 1947. Significant signatures included, "Approved Harry Truman, I am keeping for further study," along with President Truman's Scientific Adviser, Dr. Vannevar Bush, and Lt. Gen. A. C. Wedemeyer, who was in the Joint Chiefs of Staff Evaluation Board in 1947.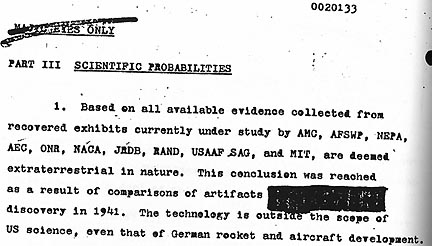 Several long-time researchers of government knowledge and cover-up have helped study the many documents, including Canadian nuclear physicist and author, Stanton Friedman. Stanton first located and interviewed Charlette Mann, granddaughter of a Southern Baptist minister, who allegedly said prayers in April 1941 over three non-human bodies at a crash site near Cape Girardeau, Missouri. Ryan Wood has also been able to confirm that there was a fire in the Houck Woods outside Cape Girardeau in April 1941, the same month that Charlette Mann says her grandparents, Rev. William Huffman and his wife, Floy, had Charlette's father and pregnant mother as house guests before Charlette's sister was born in early May 1941.
Interviews:
Ryan Wood, President, www.majesticdocuments.com, Broomfield, Colorado: "I think the 1941 reference in both Edward Teller's paper and the White Hot Intelligence Estimate are an extremely significant context for the testimony of Charlette Mann that her grandfather, Reverend William Huffman, prayed over the dead and dying bodies of non-human beings at a crash site near Cape Girardeau, Missouri in 1941.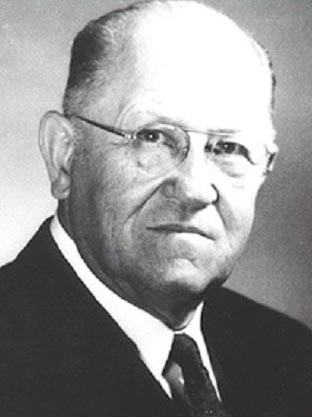 Charlette Mann, Spiritual Counselor, Tyler, Texas, and Granddaughter of Southern Baptist Minister William Huffman who began his ministry in Cape Girardeau, Missouri in 1941. "My father had this picture which I had seen ­ I don't know when I saw it the first time. I've seen it many, many times. And it was a picture of a little alien being that was held up under the arm pits. There was a man on either side and they had one hand under the arm pit and then further out on the arm because the little guy had much larger, longer arms than we have. And I grew up seeing that occasionally at home. I didn't think much about it as younger. But as I grew older, I began to ask questions about it because I was always very fascinated with the eyes. I wasn't afraid of them exactly, but they haunted me.
My grandmother became ill with cancer and so she spent a great deal of time in my home taking chemotherapy and staying with us until she was a little bit stronger. That was shortly before her death that I began to ask her questions. And I tried to make them very open ended. I didn't want to lead her into anything and I asker her if she recalled that evening when grandfather had received a call. And it took me quite a few days to even convince her after all these years and grandfather having passed away quite some time ago to break that bond or confidence that they had made. Grandfather ­ and this is how it was related by my grandmother and then I knew ­ if it came out of my grandmother's mouth, I knew it was correct.
WHEN WAS SHE ILL AND DYING, WHAT YEAR?
It was in 1983 to 1984 and passed away ­ I'm not good with dates ­ it was in the year of 1984, I believe. She was here at my home. She lived in Missouri at the time, but I brought her here and she stayed in my home.
IN TEXAS.
Yes.
AND DURING THAT TIME IN 1984 BEFORE SHE PASSED, THAT'S WHEN YOU WERE ABLE TO HAVE SOME KIND OF CONVERSATION WITH HER ABOUT WHAT HAPPENED IN CAPE GIRARDEAU, MISSOURI IN 1941.
Right.
DID SHE EVER SUGGEST A MONTH OR A DATE?
We talked about it and she thought, and I still strongly believe, that it was the latter part of April. The reason being is that my mother and father were there visiting grandmother and grandpa and she was expecting my sister. My sister was born on May 3, 1941. And so, they had been there 3 or 4 weeks before Mother delivered.
OK, APRIL 1941. WHAT DID SHE TELL YOU ABOUT WHAT SHE REMEMBERED?
Well, they were sitting around visiting and it was 8 or 9 o clock of the evening. The phone rang and grandfather went to the telephone. He talked for a little bit and hung up the phone. What was said at that time was that someone from, had called the police department, or we assumed it was the police department, and they had reported what they saw was a plane crash, that the person whose property it was on had seen it. It had landed into a field and there was some fire associated. So, they asked if grandfather would be willing to go out with them to the scene in case there were some people who might need prayer or assistance because they weren't quite sure what they were headed to.
So, he agreed to do that and a car was sent for him. They picked him up. I don't know how long he was gone. She didn't ever tell me that, but for awhile. It was later because they stayed up late to wait. When he came back, he was very shaken and it took a lot to shake my grandfather. She said that he set down and told her, 'I'm going to tell you what has happened. You can never repeat it and I will never speak of it again.'
And he said that when he got out there that it wasn't a crashed plane at all. There were some civilians. We assume probably people who lived near the farm where it had crashed, near the people who had placed the call. Neighbors. I believe there was a newspaper man from the newspaper. I believe there might have been fire people at the time. But some civilian people.
Grandfather described what he saw was a saucer-shape that had broken in half and you could walk up to see inside. He saw a lot of panel of things he didn't know. Gauges, different things and small little seats that looked children-sized. The thing that seemed to impress him the most and intrigued him the most was there was a band around it of a type of metal that he was not familiar with. It looked as if it had hieroglyphic, like Egyptian-type, writing that he assumed was writing.
THE SYMBOLS WERE ON THE WALLS INSIDE THE CRAFT?
On the inside. And that there were three beings, thrown. They were on the outside and assumed they were thrown out (by the crash). One was still breathing, was not dead. Grandfather knelt down next to him and he expired, but he prayed over each and every one of them."
1999 Drawings by Charlette Mann Based on Her Memory of the 1941 Photograph
In 1999, Charlette Mann drew what she remembered seeing in the photograph that her father kept of the 1941 incident. Around her drawing, she wrote: "My Grandfather stated that the being was not alive at the time of this picture being taken. The picture was approximately 9 inches by 9 inches and had scalloped (white) edges. This is how the little Alien was being held in the picture I saw of my grandfather's (incident). There were some trees. The grass was ankle high and deeper in places. I was so fixed on his eyes I don't recall as much other details as I might have." She also noted that the man on the right in her drawing "had on dress slacks, wide brimmed hat. They both had white shirts on." The man on the right had "his sleeves rolled up. The other had a short waist coat jacket. There was no one else in the picture except these three."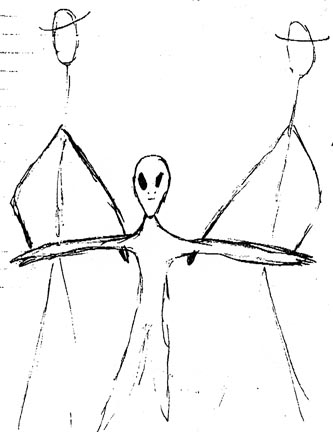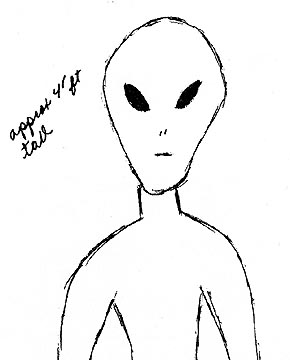 It seemed to be a child-sized being, probably 4 feet tall, maybe. It was difficult to tell if it had on a metallic suit or if its skin ­ it kind of looked like crinkled aluminum foil, but soft. I stated in speaking about it since then, he looked as if he had no bone structure, but kind of like octopus tentacles would appear soft like that. Very large oval eyes. I have never ever seen anything like it until at one point several years ago, I saw Whitley Strieber's book cover on Communion, and that alien being, that face, was the first I had seen ­ not exactly the same, but fairly close. Larger head. The dark oval eyes. Large eyes. It didn't really have a nose. It looked like two little dots, like someone had taken a pencil. and marked two dots. I don't recall the mouth. It was more as if you took a knife and slit across. No lips, nothing like that.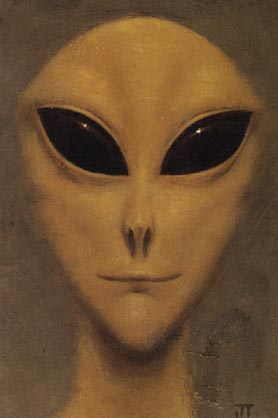 I can't recall the feet because I never could hardly get past those eyes. I do recall it had a small framed body. The arms were much longer than our arms. Their hands ­ I don't know how many fingers it had exactly, but I do recall that it was not formed like our hand. But there were less fingers and much longer.
DO I UNDERSTAND THAT THE MEN ON EITHER SIDE OF THIS NON-HUMAN WERE NOT DRESSED IN MILITARY UNIFORMS?
Oh, absolutely not. They were there before the military got there.
WHO DO YOU THINK THEY WERE?
They were local people. The photograph itself was in a rural field-like country setting. In other words, it was grass that is grown up, or wheat or whatever happened to be in the field. I remember there being a large tree in one area of it. There were no other people who were visible. There were two men, one on each side, that were holding the alien up. Each one of them had one hand under the armpit and then had hold of the arm further out, not quite reaching the wrist, but fairly close.
AS IF DEMONSTRATING HOW LONG THE ARMS WERE, AS WELL?
I think so, because they went completely across their bodies and were still extended further out.
The alien, I don't know how to describe it exactly other than to say it actually did not look like it had on clothes, but there were no physical male or female features. And it looked crinkled, kind of shiny, if you will, as if it could have been aluminum foil and crinkled. So, I don't know if that was a suit or his skin, but it covered every part of him. You couldn't see seams or buttons or anything like that.
WHAT ABOUT THE NECK AND THE HEAD? WERE THEY COVERED AS WELL?
No, they were out just normal. As I said, the eyes were looked just huge oval with blackness. No expression.
NO EXPRESSION. WHEN YOU SAY AN OVAL, IT COULD BE VERTICAL IN THE FACE OR HORIZONTAL OR SLANTED. DO YOU REMEMBER IF THOSE EYES WERE SITTING HORIZONTAL, VERTICAL OR SLANTED?
Vertical, up and down.
I SEE, VERTICAL OVALS.
Yes. And two little dots for what I would have called a nose and a slit for the mouth.
AND NO EARS?
I don't remember ­ no, no ears like we have ears. I can't say he had ears, no. I couldn't see a side view of where the ear might have been, so I don't know if he would have had the same little dots like for the nose. I don't know. But no, not ears like ours at all.
IF THIS CRINKLY PART THAT SEEMED TO BE SORT OF METALLIC LIKE CRINKLED TINFOIL WENT UP TO THE NECK AND THE FACE, BUT DID NOT COVER THE NECK AND FACE?
It did not actually ­ that's why I say it's hard to know what you were looking at because there was no seam. It wasn't like if you have a suit and there is a collar with a seam. It just blended or moved into. I don't know how else to describe it.
DID THE NECK AND FACE COLOR IN THE B&W PHOTO SEEM TO BE SIMILAR TO THE COLOR YOU WERE SEEING AS CRINKLED TINFOIL OR WAS IT DARKER OR LIGHTER?
Being a B&W photograph, it's hard to distinguish. No, it was not darker. If anything, lighter.
WITH THE DARK OVAL EYES. AND IN TERMS OF THE FACE, HOW BIG DO YOU THINK THOSE OVALS WERE IN TERMS OF THE AREA THEY COVERED IN THE FACE?
Most of its face.
AT THE ENDS OF THOSE VERY LONG ARMS, WHAT CAN YOU REMEMBER ABOUT THE HANDS?
I do remember as if he had ­ I don't remember seeing more than 3 fingers and they were very, very long, much longer than ours. I don't recall seeing any fingernails, but I can't swear to that because I was so taken with the face. But I do know he did not have 5 digits. That I can tell you. It seemed to be more like three and they were quite elongated and both hands were the same.
DOWN THE LEGS TO THE FEET?
I don't ­ it's odd. I don't recall seeing his feet. I just was too taken with the face. I noted that he was, I know he had legs. But I can't describe the feet for you at all. I'm sorry, but I just didn't focus on them.
OK. DID YOUR GRANDFATHER SAY THAT HE KNEW THAT THIS BEING WAS DEAD IN THIS PICTURE WITH THESE TWO CIVILIANS HOLDING IT? OR WAS THAT AN ASSUMPTION THAT WAS MADE?
No, because he ­ I think the picture was taken while he was ministering to the one who he said still seemed to be taking short breaths. And so, the other two were ­ several said dead on impact. So, he knew it was one of those that the picture was taken of. How he came about ­ he wasn't aware that that picture had been taken. But someone came to the house, this gentleman came to the house two weeks later and he seemed, Grandmother said, 'Very, very frightened.' And he wanted someone that he trusted to have a copy. Hew felt like someone should have a copy of the picture and he asked grandfather if he would take it and he did. So, that's how we came about to even having it."
Military Arrives and Orders Secrecy in the Interest of National Security
While this was taking place, all of a sudden, military just showed up, surrounded, and overran the place. Grandfather was taken aside as were several of them and they were told that they had not seen what had taken place, that it was high security as far as the government (was concerned) ­ national security. So, they weren't to speak of it.
Nowadays, we probably wouldn't (obey). But in that day and time, if you said to my grandfather, 'This is about our country and this is important and it will be detrimental.' He truly never did speak of it again to our knowledge.
So, I think they (military) scared some of them much more than it did my grandfather. My grandfather seemed to be more shaken with the fact that there were alien beings. But anyway, they (military) dispersed them. Grandfather came home. That would have been that, except one of the men, a photographers had taken I guess a personal camera ­ one of his own ­ in addition to his professional newspaper camera. He had taken some pictures. That was the one I later saw.
THIS WAS OF TWO CIVILIANS OR FIRE WORKERS …
No, they were not fire workers. They were definitely two civilian people holding up one of the deceased aliens.
THE BEING WAS DEFINITELY DECEASED?
This one, yes.
AND YET IT HAD ITS EYES OPEN?
The eyes appeared just ­ yes, they did. I don't know if they have eyelids. I don't know. I can only tell you what I saw. I can't explain it. I don't try. I don't want to tamper with it. I just give the account that was given to me. The eyes were very visible.
DID YOU EVER HEAR ANY DETAILS ABOUT WHETHER YOUR GRANDFATHER COULD SMELL ODOR FROM THE BEING, COULD FEEL TEMPERATURE, COULD HEAR ANY SOUNDS OR HAD ANY MENTAL IMPRESSIONS AS HE BENT OVER THE LIVE BEING TO DO PRAYERS?
I don't think any of that in that kind of order was ever discussed. So, I don't know about smell. He did say about the breathing, that's why he believed him (alien) not deceased. There were a few short, shallow breaths. He did mention that. I can only say that grandmother said he was forever changed by it. He was a southern Baptist minister for 40 years of his life, but he became much less rigid, much more accepting of unexplained things after that. Now, that was relayed to me through my grandmother and my father. But none of the other that you speak of, I'm sorry to say.
WHERE DID THE MILITARY TAKE THE CRAFT AND THOSE BODIES?
We never heard anything else after grandfather came home and gave his account. There was never anything else mentioned.
BUT IF IT HAPPENED IN CAPE GIRARDEAU AND POLICE AND FIRE AND MILITARY WERE INVOLVED, YOU WOULD THINK THE ENTIRE COMMUNITY WOULD HAVE KNOWN THAT SOMETHING EXTRAORDINARY HAD HAPPENED.
Well, I would have thought that until the last few years in finding out what I have about our government and our news media. If you can keep the bomb that was dropped on Hiroshima a secret with the number of people involved and the number of people who worked on that, then I'm convinced they can keep, they can really quell a story if they desire to. And I think it wasn't just their ability, but how it was presented to the people and how they accepted that responsibility at the time. I don't believe it was covered in the newspaper as what it actually was. I don't know if you went back and traced the papers if there would be a mention of ­ a plane crash or ­ I don't know because granddad knew it had happened. He didn't need proof for himself and he wasn't going to talk about it. And my dad just didn't go after the facts. I'm not sure ­ you have to be kind of a researcher to know how you do that and I just don't know that he knew. I guess it's just if you have seen the picture, and we had that, we didn't need any proof and we weren't, my intent has never been ­ I'm not out to prove anything to anybody. I can't answer all the questions correctly. I can only give the account of the picture I saw and what was related to me."
Ryan Wood Finds 1941 Government Mapping Aerial Photographs of Cape Girardeau
Ryan Wood: "I guess from an investigator's point of view, my next direction with this is to continue to focus in on the historical aerial photography and look at what is available in the National Archives and blow it up to meter by meter size and ultimately finer to systematically review, eliminate and isolate the crash site. I'm confident that it's been captured on the photography either in the spring or the fall.
WHOSE PHOTOGRAPHY IN 1941?
The government's photography. Of airplane overflights in 9-inch stereo negatives, all part of the geodesic survey process of the United States. It just turns out to be fortunate from an investigation point of view that they happen to have overflown Missouri in the target area that we wanted right on time.The quality is much better with airplane overflying and I've looked at and blown up some and I can clearly see houses and roads and fields and wagons and lots of detail and the description is that there is a scar in the earth where this happened. I would think if this was done in the middle of a field, there would be trampling and so forth that would not go away at all quickly.
THE PHOTOGRAPHS THAT YOU ARE LOOKING AT WERE DONE FOR THE U. S. GEOLOGICAL SURVEY TO MAP THE UNITED STATES?
Right.
SO FAR, STARTING WITH JANUARY 1 OF 1941 AND GOING FORWARD, HOW MUCH OF THAT YEAR HAVE YOU SEEN SO FAR IN THESE PHOTOGRAPHS TAKEN FROM AIRPLANES?
The photographs were done in I think October 23, 1941. I've just focused around this area in Cape Girardeau and studied the map and identified 4 or 5 potential probable crash site zones.
THOSE PHOTOGRAPHS WERE TAKEN FROM AIRPLANES ONLY IN OCTOBER OF 1941?
Yes.
SO THE EVENT WOULD HAVE TO HAVE HAPPENED BEFORE OCTOBER 23, 1941 TO SHOW UP?
Right.
Remote Viewing of the Cape Girardeau Incident
From an investigation point of view, I have wanted to thoroughly vet the aerial photography. I have some other intuitives (remote viewers) who have provided information that still needs to be run down.
WHAT HAVE THEY SAID?
The intuitives basically validated Charlette Mann's story. Two intuitives I have used ­ one is Joe McMoneagle, a famous remote viewer. He clearly found the crash site mentally and described what was there, the scene.
WHAT KIND OF NON-HUMANS DID HE GET?
I didn't zoom in on the non-humans. I focused on: Are there any artifacts there? Describe the area? How can I identify the area? It was more of a tool to validate the ground truth somehow.
DID HE REMOTE VIEW THAT IT WAS NOT A HUMAN TERRESTRIAL CRAFT OR BODIES?
Oh, yes. He clearly said it was the crash of an extraterrestrial vehicle.
How To Get Information to Ryan Wood and Majesticdocuments.com
As an investigator, I am always looking for more witnesses or leads or ideas on how to proceed and find the truth as to when this happened and where it happened. It's so long ago that it's unlikely we are going to get any living witnesses, so it's up to the military and governmental, Deep Throats of the world to provide hints or guidance as to what really happened back in 1941 with this first crash retrieval event that we've been able to document."
To contact Ryan Wood:
Telephone: 720-887-8171
Website: www.majesticdocuments.com
E-mail: [email protected]
See Part 2: Cape Girardeau and Charlette Mann's 1991 Letter About Her Grandfather's Experience
---
More Information:
Update from Stanton Friedman on January 6, 2003:
"Linda:
I read the article. Like the stuff about Charlette and her family. However, the document shown in page 4 is very definitely a fraud. The handwritten 'Approved Harry Truman' was lifted from a letter to Truman from Robert Lovett dated Sept. 26, 1947. The hand written 'I am keeping for further study' was lifted from a letter from Truman to Lovett dated Oct. 28, 1950.A little history: During a visit to the Marshall Archives in Virginia, I checked their card file under Truman and picked out 23 items that he had signed or signed off on. I sent copies of these to several people, including Tim Cooper.It took me a while to recognize the items a few years later on the Tim Cooper stuff. My computer guy fit the hand written stuff from the phony right on the original in no time. This holds for a number of the other phony documents such as the supposed directive to Twining which is an emulation of the one to Wedemeyer. The original handwritten items are there in the book by Wedemeyer. Bob and Ryan (Wood) have been shown and told. I discussed this in my MUFON 2000 paper 'Roswell and the MJ-12 Documents in the New Millennium' which show the original and phony items from this very document. I can send you a copy if you wish.
I also have serious doubts about the genuiness of the Teller report as well as all the other Cooper documents. I can't say who created the phony documents or even why. (Perhaps disinformation which when discovered would cast doubt on the legitimate MJ-12 documents?)
I should also point out that Len Stringfield's reporting on the 1941 case (I have no reason to doubt Charlette's recall) happened long before the Cooper documents came to light.
Hastily, Stan"
For Other Related Earthfiles.com Reports, Please See Archives by Dates:
11/09/2002 —  UPDATED: Majestic-12 Documents with Ryan Wood About Extraterrestrial Technologies

04/20/2002 —  Canadian and American Officials In 1950s Collaborated on Study of Unidentified Aerial Disks

04/17/2002 —  Part 2 – Unidentified Aerial Craft Over Farmington and Aztec, New Mexico in Spring 1949

02/12/2002 —  JFK, MJ-12 and Outer Space
01/10/1999 —   Updates: Astronomy and Rufus Baughn, Nevada Test Site
---
Websites:
http://www.majesticdocuments.com

© 1998 - 2019 by Linda Moulton Howe.
All Rights Reserved.