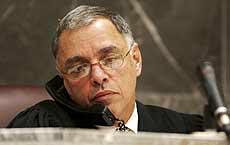 January 23, 2003  Miami, Florida, Broward County – Yesterday, in a Broward County, Florida courtroom under the gavel of Circuit Judge John Fusciante, three lawyers, several state welfare agents and reporters from various countries gathered for an arraignment on the issue: is a cloned human baby an abused child?
Coral Gables attorney, Bernard F. Siegel, first filed the lawsuit against the company, Clonaid, after Clonaid's Chief Executive Officer and chemist, Brigitte Boisselier, Ph.D., assembled a December 27th press conference in Miami to announce the alleged birth of the first human clone. Since that date, Clonaid has announced that a second cloned baby was born and a third is due, but no DNA medical proof has been provided to bolster the claims. Then Mr. Siegel resigned from his law firm, Aronson & Associates, so that I could direct all my efforts to this lawsuit. I'm back as I have been for most of my 28 years of law practice. I am now the law offices of Bernard F. Siegel."
Attorney Bernie Siegel handed a subpoena to Clonaid's Vice President, Thomas Kaenzig, on January 11, 2003, when Kaenzig was a keynote speaker at a Money World 2003 Conference in Fort Lauderdale, Florida. The subpoena ordered Kaenzig to appear via telephone under oath at the January 22 arraignment to answer questions about the location and wellbeing of the alleged cloned baby whose parents are Florida residents.
But on January 21, 2003, in a last minute move to block the subpoena, Clonaid lawyers argued before the court that Kaenzig was based in Las Vegas, that Clonaid was not a registered company anywhere in the United States, that he had no "pertinent information" about the cloned child, and therefore, the Broward County court had no jurisdictional right to compel a Clonaid officer to appear. But the judge ruled against Clonaid and the arraignment went forward as scheduled on January 22. By a telephone speaker that could be heard in the courtroom, Judge Fusciante asked questions and listened to the responses of Thomas Kaenzig.
Interview:
Bernard F. Siegel, Attorney, Broward County, Coral Gables, Florida: "It didn't seem like there was a lot of information that he gave. He mainly pointed his finger at his superior at Clonaid, Dr. Brigitte Boisselier, as having knowledge about the child, the cloning, the set up of Clonaid. Clonaid, he testified, is not registered in any state of the United States. There wasn't very much information that he gave.The judge, Circuit Judge John Frusciante, directed him to appear in Florida next week for a deposition.
WHAT DATE?
That is yet to be determined. I have to work that out with Clonaid, Clonaid's lawyers and Mr. Kaenzig's lawyers, but he also has to appear in court next Wednesday, January 29, 2003, so the matters that were started yesterday will be continued.
CAN YOU EXPLAIN WHAT MATTERS WERE COVERED IN SOME DETAIL?
This is really a unique case on first impression. We've never had allegations of a cloned human being and a cloning company, as I assert, that has ties to Broward County, Florida. I subpoenaed Mr. Kaenzig when he was at a Money Conference (here) to attend a hearing. The judge, I think on a preliminary basis as he has a perfect right to do, made some direct inquiries to determine what anyone ­ especially the witness ­ might know about a child that may be secretive, a child that might be in danger in any way or might have a substantial risk of harm. The judge took it upon himself to ask about 90% of the questions about Mr. Kaenzig and his knowledge of this. After all, he purports to be the number two man in this organization called Clonaid.
SO HE SHOULD KNOW WHERE THE CLONAID OFFICES ARE BASED?
He is the number two man – what can I say? From my standpoint as the petitioner in the case, I am trying to find out the whereabouts of the child so the child can have some protection. Perhaps Clonaid will come in and have the equivalent of the Columbia Presbyterian Hospital and everything is going to be fine with the child. Even though they have never cloned a chimpanzee or primate, and nearly all animal cloning fails, maybe they've perfected a gem the first time and this child has nothing to worry about. And all the National Academy of Sciences studies and all the medical association studies and two presidential commissions are wrong. Maybe there are no substantial risks of a handicapped child if a cloning experiment is done today.
Maybe they (Clonaid) will have the opportunity to present that if they can come in from the cold. This is their opportunity to do that and satisfy the concerns ­ at least my concerns ­ and hopefully the concerns of a Florida judge and perhaps the concerns of the world. I don't know. But they are going to have the opportunity to appear in court.
YOU HAVE FOCUSED IN BROWARD COUNTY BECAUSE OF CLONAID ACTIVITY THERE?
Yes. I don't know if the child really exists. What I do know is that Clonaid persists in coming to Broward County. They could have picked anywhere in the entire world and they picked Broward County to have their press conference announcing this. They could have picked anywhere in the world, but Mr. Kaenzig appeared on January 11 to give the keynote address at a Money World conference where there were venture capitalists to talk about Clonaid. That's where he got served with a subpoena. So, if they are going to persist and make Broward County their nest to do business, it seems to me that some place needs to take jurisdiction and some one should put a Clonaid official under oath just to try to get to the bottom of it.
DID HE (KAENZIG) MAKE ANY COMMENT WHATSOEVER ON THE STATUS OF THE CHILD, OR EVEN SUGGEST WHERE THE PARENTS AND CHILD MIGHT BE?
It seemed to me that he was saying that he didn't know. But I also heard ­ I want to review the transcript carefully of the hearing ­ that he testified that there was a child. He sort of pointed a finger at Dr. Boisselier to answer these questions and perhaps she will have an opportunity to come to court. It remains to be seen.
SO FAR, SHE HAS NOT BEEN SERVED WITH A SUBPOENA BECAUSE YOU HAVEN'T BEEN ABLE TO LOCATE HER?
That's correct. It was a little difficult with Mr. Kaenzig's vagueness yesterday to be able to ascertain even what continent she was on, although I think he finally said she was in Canada ­ at least for today. I heard that she is going to be giving a press conference today about the birth of yet another cloned child. So, who knows? All I know, as a Florida lawyer, I've tried to do what I can to shed some light on this.
THE QUESTION BEFORE THE COURT: SHOULD A CLONED BABY BE DEFINED AS AN ABUSED CHILD BASED ON MEDICAL INFORMATION THAT THERE CAN BE A LOT OF MEDICAL PROBLEMS IN CLONING ­ HOW HAS THAT PROCEEDED SO FAR IN THIS BROWARD COUNTY COURT?
I think in order to climb Mt. Everest, you have to take the first step. I think the first thing the Florida court is wrestling with is jurisdictional issues. That's going to be up to the judge to determine. I can only present what I have one step at a time. But the first step was taken when we went to the court yesterday at the arraignment. I am pleased Mr. Kaenzig will be coming to Florida and will have to submit to further questioning. I think that's an important first step.
IS THERE ANYTHING THAT THE BROWARD COUNTY JUDGE CAN DO IN TERMS OF REACHING OUT TO BRIGITTE BOISSELIER AND GETTING HER THERE?
I don't want to comment on that.
THE FRUSTRATION IS THAT YOU HAVE A VALID ISSUE TO BRING BEFORE COURT. BUT THE ONE PERSON WHO APPARENTLY HOLDS ALL THE ANSWERS, BRIGITTE BOISSELIER, IS NOT GOING TO BE FORTHCOMING PHYSICALLY OR ANY OTHER WAY?
As I said in court, it seems like they have all the cards. I, as the petitioner, am trying to do a diligent search and get this information and that we have to start somewhere and Mr. Kaenzig was served a subpoena and the judge has ordered him to physically be in the courtroom on January 29, 2003.
WHAT DO YOU THINK ABOUT CLONAID MAKING PRESS ANNOUNCEMENTS THAT THEY ARE CLONING WITHOUT ANYBODY EVER SEEING ANY PROOF?
I read some commentary or heard on television, 'Clonaid is giving birth to another press release.' I don't know what to make of it. I can only do what I can do here and know they are persisting in saying they are cloning people and, if in fact they are, it's my personal belief that at this stage of science, it's child abuse. It would be terrible. There is no consent that a child can sign. Just because there might be science to do it, that doesn't mean you have the right to create a human being that is maimed or handicapped. It's unethical. It even arises as a dangerous medical experiment which is what the Nuremberg Code of 1947 was written to prohibit. It's a very, very serious matter and cloning is no joke."

© 1998 - 2023 by Linda Moulton Howe.
All Rights Reserved.