"I believe this is the first time we have observed a coronal mass ejection (from the sun) apparently interacting with a comet."
- Gareth Lawrence, Ph.D., Goddard Space Flight Center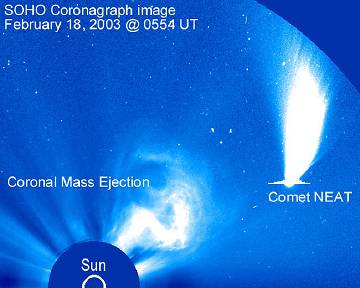 March 7, 2003  Greenbelt, Maryland - Comet NEAT was named after the "Near-Earth Asteroid Tracking System" based at the Jet Propulsion System in Pasadena, California. NEAT's job is to monitor the solar system for comets and asteroids that might be on a collision course with Earth and warn about size and nearest approach date. The comet was not discovered by the NEAT system until November 6, 2002. When it was first seen, it was extremely faint to even the most sensitive ground-based observatories. But as it moved in its orbit toward the sun, it began to brighten intensely as gas and dust cooked off the comet and deflected sunlight back towards the Earth. The comet brightened so much faster than predicted that some scientists were worried nothing would be left. At its closest to the Earth on December 24, 2002, it was .8 of an Astronomical Unit from our planet, or about 74 million miles.
Click here to subscribe and get instant access to read this report.
Click here to check your existing subscription status.
Existing members, login below:

© 1998 - 2023 by Linda Moulton Howe.
All Rights Reserved.