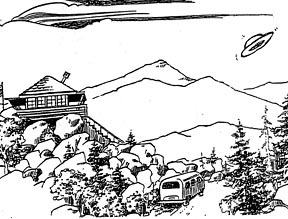 April 21, 2003  Ashland, Oregon - Recently at the Eureka Springs UFO Conference in Arkansas, I was introduced to Professor Emeritus, Jim Doerter who received his Doctorate of Education in Art from Pennsylvania State University in 1962. He is now 75-years-old and retired, but Prof. Doerter did a study in 2001 of "UFO Experiences and Anomalies as Reported by Forest Fire Lookouts and Forest Workers."

© 1998 - 2018 by Linda Moulton Howe.
All Rights Reserved.