May 2, 2003 – The last week of April brought news from England about the first crop formations of 2003, all laid down amid the yellow flowers of early spring oilseed rape. One was in Privett, Hampshire, near Petersfield, discovered on Easter Sunday, April 20th. See: Earthfiles 04-26-03.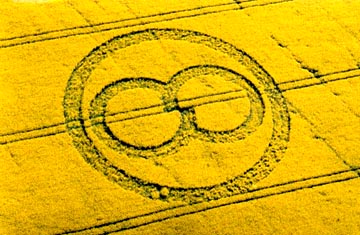 Another was at All Cannings near Alton Barnes in Wiltshire discovered on April 26th.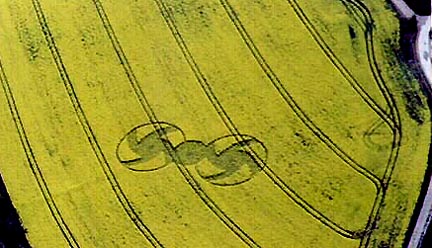 And the third reported only recently was actually the oldest and apparently first crop circle of 2003. It was a simple circle in oilseed rape below Cliffe Hill in Lewes, East Sussex.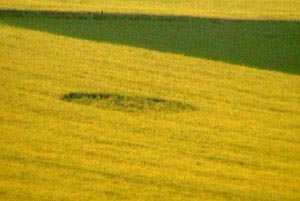 Not far from the Cliffe Hill crop circle is the home of Andy Thomas, editor of the crop circle website, SwirledNews.com. He is author of a wonderful book recently released in North America entitled, Vital Signs: A Complete Guide to the Crop Circle Mystery and Why It Is Not A Hoax. Andy received an e-mail saying there was a circle below Cliffe Hill east of Lewes and he set out to find it.
Andy Thomas Investigates England's First
Crop Circle at Cliffe Hill, Lewes, East Sussex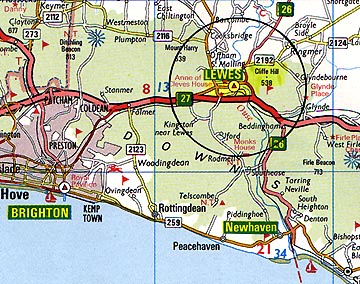 Andy Thomas, Author and Editor, SwirledNews.com, Cooksbridge, Lewes, East Sussex, England: "So, we went out there, myself and my colleague Alan Brown, and there sure enough in oilseed rape just at the foot of some down lands there was a simple circle. We managed to find the farmer and have a chat with him and he told us that it had been there for at least three weeks, so that would put it back before any of the other reports we've had so far this year. We can date it pretty much to around the 12th of April.
LAST YEAR, APRIL 12TH, ON EXACTLY THE SAME DATE WAS THE SOBERTON FORMATION IN HAMPSHIRE. See: Earthfiles 04-29-03.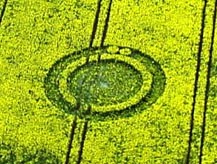 Yes, and so, I was lucky enough ­ although I didn't know it at the time ­ to have the first formation of 2003 just a few miles from my own home.
WHAT WAS THE DIAMETER?
It was 56 feet across. And it sits at the foot of a place called Cliffe Hill, which is near Lewes. Lewes is a very historic town. It was built on a series of burial mounds and on the downs just above the circle, there's a long barrow. There are some strange tales told about the long barrow because various people over the years have reported seeing this huge, shimmering demonic figure howling from the top of the hill.
Now, I would have perhaps been slightly cynical about this were it not for the fact that one of the people who told me this is a close friend and a devout skeptic on anything remotely strange at all. And he saw this with some friends about 30 years now when he was walking back along that road and he said it terrified the life out of him. He knows exactly what he saw and it sticks in his mind to this day even though he can't explain it.
WAS IT SOMETHING SHIMMERING IN THE AIR LOW TO THE GROUND?
It appeared to be standing, from what I can gather, on the long barrow. He estimated it was about ten feet all. He said it was taller than an average human being. This might not have nothing to do with the crop circle whatsoever! But it's just interesting this is an area associated with paranormal happenings, as it were, and now we get a circle down there.
WHAT WAS THE ROTATION INSIDE THE CIRCLE? CLOCKWISE?
It was a clockwise circle, yes. Oh, and there were quite a few stems in there that seemed to be nicely bent without any damage. But on the other hand, there were some snapped stems. But from what the farmer told me, other people had been in before to look at it.
But there were no trails coming out of it which went through any other parts of the field that we could see on the ground. The oilseed rape was pretty high. I think people don't often appreciate actually how tall rape is until you actually walk in it. I think you call it canola in the States. I mean this stuff can reach to 4 and 5 feet high and when you walk amongst it, you are absolutely fighting your way through it ­ even in the tractor lines! And you come out absolutely yellow, covered in yellow pollen. You're pulling it out of your clothes and ears for the next three days!"
Lucy Pringle Investigates the April 20, 2003
Privett, Hampshire "Severed Eight or Infinity" Pattern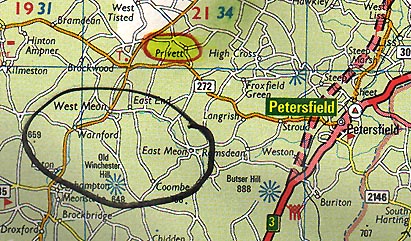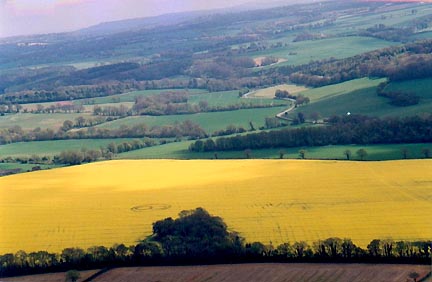 Another researcher who ended up this week neck high in yellow, wet oilseed rape was Lucy Pringle from Petersfield, Hampshire. Lucy has been photographing crop formations since the early 1990s, has done biophysical research in them and is author of a wonderful book entitled, Crop Circles: The Greatest Mystery of Modern Times. She lives in Petersfield, not far from the April 20th crop formation of a figure eight or infinity symbol cut in the middle and surrounded by a ring. But she did not hear about the Privett formation for several days and then was frustrated by rainy weather that interfered with flying. The first person who did fly over the Privett formation was photographer David Russell who gave Lucy the ground coordinates. She tried to find the pattern, but could not. Then a couple of days ago, she asked the farmer for help and he told her where to walk.
Lucy Pringle, Photographer, Crop Formation Researcher and Author, Petersfield, Hampshire, England: "When one got closer walking along the perimeter, one could see a sort of scar in the field. It was quite easy, especially having my photographs to tell which tramlines to go up. But it was a helluva walk. It couldn't have been much short of half a mile! Maybe even more.
YES, AND YOU HAD THE FRUSTRATION OF TRYING VERY HARD IN RECENT DAYS TO FIND THE FORMATION AT ALL FROM THE GROUND.
That's right because you simply cannot see it from the (flat) ground.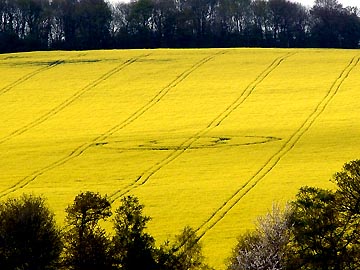 BUT THE FORMATION IS IN THE LOWEST PART OF THE FIELD?
In a little dip. It's a steeper gradient than it looks from the road and you walk up. And yesterday, it had been raining, so I can tell you that we walked through the flowering oilseed rape, canola, it just doused its water, emptied its water from the petals, onto our trousers that then went into our boots. Oh, we were soaked to the skin, I can't tell you! But you go up this gradient you see this formation. But it's not visible from the road.
AS YOU WERE GETTING DOUSED WITH WATER, WERE YOU ALSO GETTING DOUSED WITH ALL THAT YELLOW POLLEN?
Oh, yes, covered in yellow, absolutely covered with yellow! What was very interesting was that the height of the crop on the lower part was really quite short. I'd say it couldn't have been much more than 2 feet six inches. But as we got up to the dip part of the formation, it was almost five foot. It was well over my shoulders.
I have always been under the impression that oilseed rape being a hollow stemmed crop would snap if it was bent at an angle of more than 40 degrees. Normally when you go into these canola formations, you hear snap, snap, snap, snap if you are one of the first ones as you walk over the crop. Now, in this formation, there was no snapping whatsoever.
There was evidence of muddy footprints, but I understand from the farmer's daughter that about 8 people had been into it already. Looking at the stems, there were very few broken. There were quite a few broken around the two little standing circles on the perimeter, and in the center, there was a lot of evidence of broken stems. But on the outside in the perimeter, there were virtually none, and some of the really thick, big stalks were bent over at 90 degrees absolutely perfectly. And this I've taken a picture of. I thought, 'This is just amazing!'
Pilot Busty Taylor Discovers New 2003
Formation at All Cannings, Wiltshire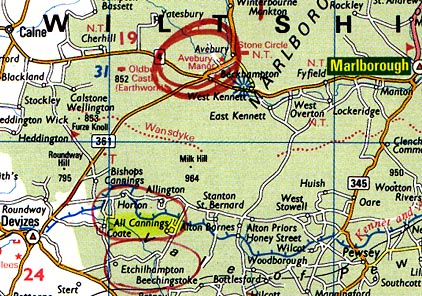 The difficulty in seeing some crop formations from the ground and people not reporting them also happened at another formation further west in Wiltshire. Pilot Busty Taylor has been photographing and investigating English crop formations since 1985. He heard about the Privett formation and wanted to see it. So, on April 26th, he got in his airplane. Not only did he find the Privett pattern, but he was surprised to find another formation near the farming village of All Cannings, Wiltshire, that seemed like it must have been visible to residents in houses around the field but no one had reported it.
Busty Taylor, Pilot, Author and Crop Formation Investigator Since 1985, Andover, Hampshire, England: "Having heard there was something out at Privett and not knowing the exact location, I just got in the plane and started heading that way and slowly let the plane fly around because over the years ­ 17 to 18 years of doing this ­ I basically got an instinct as to where it could be. I just let the plane fly along and recognized one or two landmarks and kinked the plane over to the right, and there it was basically right under the nose. And that was the Privett one. I did a few circuits of that having a look at it.
I just flew around the area looking for the crop circles and headed northwest and arrived in the Alton Barnes area and chugged along, and sure enough under the nose again and slightly to the left this time, I thought, 'That looks like another circle about two miles out.' I peeled around and had another look and realized it wasn't very far from All Cannings village. The actual circle is only about 150 yards from the actual buildings there and about 70 yards from the canal. I thought, 'That's pretty close. Certainly, everybody must know about this.' I flew around it and took some more pictures and decided to fly on. To me it looked like it had been there at least a week. Even though I say I fly at 800 feet, it looked to me as though the growth, the heads of the plants were starting to pick back up vertically again and that normally takes 3 to 4 days.
SO THIS MIGHT HAVE BEEN CREATED ABOUT THE SAME EASTER SUNDAY AS THE PRIVETT ONE?
If you could say no more than seven days before or somewhere in between, I think you would be about right. I do estimate it was about 120 to 130 feet in length.
As far as I know, no one had reported anything in the All Cannings area at all prior to that, but what I couldn't understand was that the people from the houses 150 yards away from their upper windows, they should have seen that at All Cannings quite easily.
YES, AND IF THEY DID, WHY DIDN'T THEY REPORT IT?
Again, it could be down to the farmers. You must remember that a lot of farmers treat these as the devil, so to speak, because it makes people walk all over their land and create extra damage. They may have known about it, but wanted to keep it quiet. Then I come along and upset the apple cart a little bit."
---
More Information: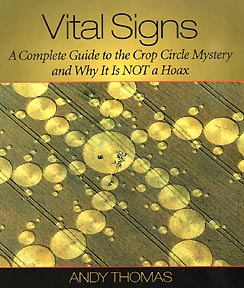 "… These beautiful and joyous creations not only transcend our ordinary understanding of the material world, but confront our sense of the spiritual, too. To learn about the formations is remarkable enough, but to see and enter and savor them is truly awesome … poised as we are on the brink of ever more mind-blowing formations and hidden messages, it is a blessing that we have a guide as inspired as Andy Thomas." – From the Foreword by Mike Leigh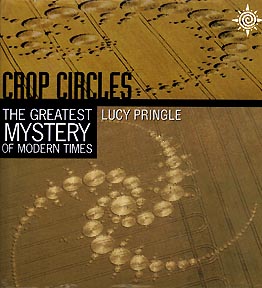 "Lucy Pringle's book will fascinate a great many readers. The breadth of her own experience and research will make even hardened sceptics think again." – Duff Hart Davies
---
Websites:
http://home.clara.net/lucy pringle
http://www.cropcircleresearch.com
http://www.cropcircleconnector.com
http://www.temporarytemples.co.uk/
http://www.busty-taylor.com/cropper/98busty2.htm

© 1998 - 2018 by Linda Moulton Howe.
All Rights Reserved.