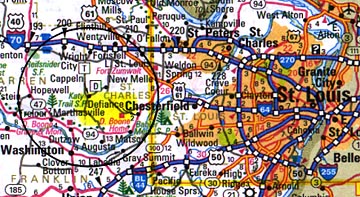 May 10, 2003  St. Charles, Missouri – Among earth mysteries that I have investigated, crop formations have continually provoked me with their beauty and implication that perhaps another intelligence is working to produce the mysterious patterns amid the cereal crops and grasses of our planet for reasons yet unknown.
Now comes an event from Defiance, Missouri, on Palm Sunday weekend of April 12 to 13 in rural farm country about 45 minutes from downtown St. Charles that does not fit any previous crop formation story, except perhaps Mission, British Columbia last year. The similarity is that in both cases the plants were cut off 6 to 12 inches above the ground, some cut flat across and others cut on a sharp angle. In the Mission, Canada formations, the plants were 9 feet tall corn. See Earthfiles 10-1-02 and Earthfiles 10-11-02, plus More Information below.
In Defiance, Missouri, the plants were trees varying in trunk diameter from 1 inch to 4 inches, according to Police and Fire Reporter Susan Weich of the St. Louis Post-Dispatch newspaper. She traveled to the very rural home of Art and Pat Brown where hundreds of young trees were downed in the shape of a capital T, made from straight corridors 6 feet wide and 80 feet long in both directions that intersected. The T-pattern was only 200 yards from the Brown's house. The family was home all Palm Sunday weekend, but never heard nor saw anyone or anything unusual. Yet, somehow hundreds of the young trees growing up in a muddy lake bed were cut off. Most of the severed trunks were missing. The St. Charles Sheriff's Department investigated, but could not find any footprints or tire tracks.
I talked with reporter Susan Weich this week about the mystery and got her firsthand observations from her trip to the T-pattern. Unfortunately, no one has yet been able to provide any aerial photographs or good close-ups of cuts.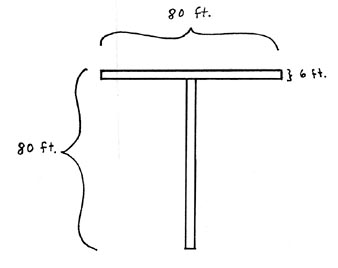 ---
Interview:
Susan Weich, Police and Fire Reporter, St. Louis Post-Dispatch, Bureau in St. Charles, Missouri: "You had to go down a pretty steep incline to get down into the area where the trees are into this dry lake bed. It was very muddy. We've had a lot of rain here. all of these pieces of trees, these stumps were sticking up about ankle high and I was wearing sandals at the time and I was thinking that I wanted to be very careful because it was very dangerous. I mean it was not like someone cleared a path. It was almost like someone was trying to booby trap someone because these stumps were very small trees, but some of them were probably 4 inches wide and they were hacked off with either a saw or an axe and they were very jagged and pointy and then when you got down into the middle there, then the pathway started going at an angle towards the house. You could see the house directly as you looked down (the path) and there didn't appear to be any sawdust anywhere like you would expect if someone had sawed these trees down. Actually, the trees themselves weren't lying around anywhere, just the stumps.
YOU MEAN THAT EVEN THE TOPS OF THESE TREES THAT HAD BEEN CUT OFF WERE NOT THERE?
Right, there were some saplings on the ground, but not all of them. Someone had cut these trees, saplings, down in the shape of a "T." The trees weren't like a traditional crop circle where they are just bent over pieces of corn. As trees, they were actually cut and they were not all cut the same way. That was kind of weird because some of them looked like they might have been chopped off with an axe because they were at an angle. Then there would be a higher piece of wood on one side, but they weren't all cut at the same angle. Some were cut at one angle, some were cut the opposite angle and then some of them looked like they had been sawed off and others looked like they had been torn over. It looked like it was the work of quite a few people, not just one person.
The elderly couple don't believe in aliens and they don't think it's aliens, but they thought it was just someone doing some sort of vandalism. But they can't figure out why they would pick the shape of a T. Their name does not begin with a T and they don't know anyone around whose name begins with T. And it happened right around Easter, so were joking about if it had been in the shape of a cross, we might have understood it. But anyway, there weren't any cigarettes around. There weren't any beer cans lying around, so it didn't look like juveniles.
WHAT ABOUT PRINTS?
We didn't see any footprints at all. They actually said it looked like something that could have been done with something called a brush hog. But there weren't any tire tracks, either. So, it must have been done by hand. I think it would have taken someone quite a few hours to do what they did.
I'M WONDERING COULD THESE PEOPLE SEE THIS DRY LAKE BED FROM THEIR HOUSE?
They can see the dry lake bed, but they couldn't see the damage really because from their angle, it doesn't look like there is a path in the trees. But they apparently the weekend they discovered it were moving some rocks out of a garden and their son was over there and he sort of saw a clearing in the trees and when he went down inside, he realized there was this T. The thing that bothered him was that the leg of the T actually is a direct pathway to the house. Even though you can't see it from the house, you can see from the pathway to the house. And they were afraid that somebody was hiding in there and planning to rob them. They weren't sure. I guess that's what maybe the most creepy thing about it is: why would someone go through all that trouble? The couple felt like their property had been violated.
And that was another thing that bothered them. They never heard any noises. They felt certain if someone had been out there with a saw or something that they would have heard something.
ABOUT HOW FAR FROM THE HOUSE?
Probably 200 yards from the house.
THAT'S ONLY A COUPLE OF FOOTBALL FIELDS AWAY. HOW COULD THAT HAPPEN WITHOUT THEM HEARING SOMETHING OR KNOWING THAT SOMEBODY WAS OUT WORKING ON THEIR PROPERTY THAT CLOSE TO THE HOUSE?
I don't know. It's a mystery, that's for sure.
DID THE POLICE INVESTIGATE?
The police were called out there and the deputy who responded said it looked like something you would see on The Discovery Channel or something. He had never seen anything like it in all the years he has worked on the force. I certainly haven't experienced anything like that and the people whose property this was on, they had a very good sense of humor. We said, 'Do you think it's beavers? Do you think it's aliens? What do you think it is?' They don't think it's anything but a bunch of kids, but it's still very troubling that someone could come on their property, do so much damage to these trees, and they not hear a thing or see a thing.
RIGHT. WERE THE LINES THAT WOULD DEFINE THE SWATHS WHERE THE TREES HAD BEEN CUT, WAS IT VERY STRAIGHT?
Yes, it was. They were very defined lines. They were about 6 feet wide and very straight.
HOW COULD ANYBODY HAVE GOTTEN DOWN THERE WITHOUT LEAVING TRACKS IN WHAT YOU YOURSELF SAID WAS MUDDY?
Right. I don't know. It's very bizarre and like I said, there was none of that, and they didn't see anybody. It's close enough to the house that if somebody would have driven up there, they would have had to seen lights or something. It's so remote out there that I don't believe anyone could have pulled up without being seen. Their headlights would have been facing right towards the house.
It's kind of spooky, really, to think that someone could get that close to your house."
Anyone With Information, Please Contact
St. Charles County Sheriff's Department
636-949-0809
---
More Information: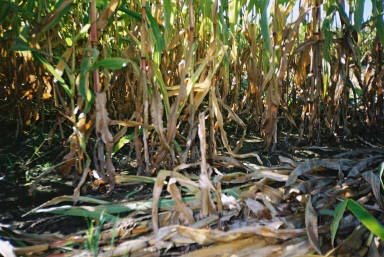 Excerpt from Earthfiles 10-1-02: Paul Anderson, Director, Canadian Crop Circle Research Network, Vancouver, British Columbia: Some were broken off like that close to the ground, almost at the ground. Other ones, again like these other ones, were broken off as much as a foot or foot and a half above the ground. So, it was all kind of mixed. And then there were a few other isolated ones I did find that were curved over close to the ground and then laying flat on the ground like that, but not broken. So, it was all kind of mixed. Some like this and some like that. and you would have some right beside each other. There would be one broken completely off and one beside it that was just curved over and not broken.
Would you say that what you were looking at in either of the formations in Mission could fall into the category of violent energy applied?
That's a good question. That is a term I guess you could use for this certainly looking at it. Again, going back the description I gave for the first formation applied pretty much to the second one as well, even though that one was almost twice as large as the first one. It was – there wasn't any radial lay in either one of these. It was all just in both of them in the main circle just clockwise lay and then in the pathways themselves, just straight lay, straight down to the ground going out away from the circle respective to each formation.
But the way that the plants were all – a lot of people would look at this and say, 'Obviously, it was kids with planks doing this.' And yet, the way a lot of the plants were either broken off or completely snapped off, that might be a good description (violence) to use because whatever , who or whatever did this, must have used a fair amount of force. I would definitely say that just because when you had stalks that were completely cut off, whether just at the ground or a foot and a half above the ground like other ones, this laying, thrown onto the ground like match sticks kind of thing – yeah, I think that would be a good description, actually.
Violence, violent energy?
Yeah."

© 1998 - 2018 by Linda Moulton Howe.
All Rights Reserved.