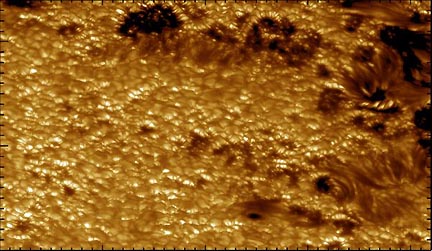 July 16, 2003 Palo Alto, California – At the recent American Astronomical Society's Solar Physics Division meeting in Laurel, Maryland, solar physicists from Lockheed Martin Solar and Astrophysics Lab (LMSAL) at the company's Advanced Technology Center in Palo Alto, California, along with other European scientists, presented the highest resolution images ever taken near the visible edge of the sun.
Tom Berger, Ph.D., principal scientist on the LMSAL study said, "Until recently, we thought of the solar photosphere as the relatively flat and featureless 'surface' of the Sun, punctuated only by an occasional sunspot. Now, using the newly commissioned Swedish one-meter Solar Telescope (SST) on the island of La Palma, Spain, we have – for the first time – imaged the three-dimensional structure of the convective 'granules' that cover the photosphere."
Instead of a flat surface, new images show granules, or irregular cellular patterns, thought to be caused by temperature changes similar to the way bubbles rise to the surface in boiling water. The size of each granule is astounding – about the size of Texas – and there are hundreds of thousands of them. In these new, highly detailed images, sunspots appear as dark holes amid all the granules.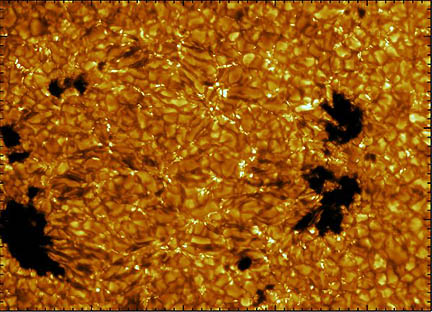 Increased Sunspots Produce A Brighter Sun
Bright structures near the edge of the sun known as "faculae" (little torches), could be linked to increased solar brightness that occurs in the eleven year cycles of maximum solar magnetic activity. One of the paradoxes has been that solar maximums bring high concentrations of dark sunspots and logic would assume all those black spots would decrease solar light radiation over days and weeks. Instead, satellite radiometer data in the 1980s showed the sun's brightness increased as sunspot magnetic storms proliferated. That "extra brightness" of the sun is now thought to be caused by the faculae. Spaceflight Now writes, "Most of the bright structures seen are between 150 and 400 kilometers tall and are typically elongated towards the limb. Simultaneous measurements of the magnetic field establish that the bright faculae are exactly aligned with the magnetic fields."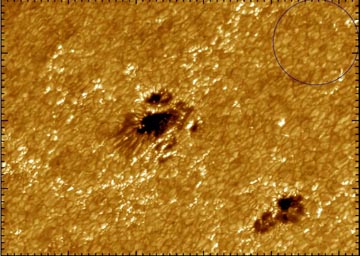 The Bright Sun Connection to Global Climate Change
If increased magnetic storms/sunspots are linked to increasing brightness of the faculae and increased brightness is linked to more solar radiation on Earth and subsequent warming of temperatures, then understanding exactly what makes the solar light fluctuate might give us insights into global climate change. Prof. John Lawrence of California State University, Northridge, said, "We can hope to incorporate the effects of magnetoconvection into solar irradiance models to better predict variations in solar output."
---
Website:
http://www.lmsal.com/Press/SPD2003.html

© 1998 - 2019 by Linda Moulton Howe.
All Rights Reserved.