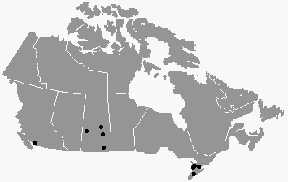 August 23, 2003 Vancouver, British Columbia, Canada – Even though the crop formation season has ended in England because most fields have been harvested, it has been evolving in Canada since July. At least fourteen crop formations have been reported in provinces ranging from British Columbia to Saskatchewan and Ontario – some eerily similar to the British pictograms of the early 1990s.

Paul Anderson, Director of the Canadian Crop Circle Research Network, talked with me this weekend about surprising physical changes to plants that have been found in some formations, a few mysterious aerial objects, and the pictograms.
---
Interview:
Paul Anderson, Director, Canadian Crop Circle Research Network (CCCRN), Vancouver, British Columbia, Canada: "Since July 23, we have had fourteen formations reported as of today, August 23, 2003 – exactly a month. The most recent of those being in Scott, Saskatchewan, which is two large circles in wheat. That is all I know about that one so far; the report came in yesterday.
Just before that we had the second formation at Tisdale, Saskatchewan reported on the other side of the province. This is a formation close to the first formation near Tisdale. This new second one had already been combined by the farmer, so we don't have any more details about the second one yet.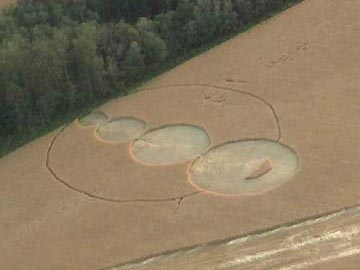 The first one at Tisdale was reported August 20, and this is a large one. I just got new photographs up at our CCCRN website of this one. It's a large formation in wheat consisting of four circles in a straight line going from the smallest to the largest. The largest one has a small standing kind of crescent inside it and there is a thin ring that goes around and connects the smallest circle to the largest one.
The formation looks a bit rough, but it's interesting that the farmer reports that the plants inside the thin ring are bent over about four inches above the ground.
WHAT ABOUT FARMERS AND INVESTIGATORS FINDING BLOWN AND REORIENTED GROWTH NODES AND SIGNS OF THE TRULY STRANGE PHENOMENON THAT WE ASSOCIATE WITH MYSTERIOUS CROP FORMATIONS?
In some of the cases, we found swollen nodes, but not ruptured. In several we have found ruptured or expulsion cavities in the nodes.
There's another surprising thing this year. In three or four of the formations all in wheat, we have found the twisted seed head anomaly where the stem directly below the seed head – and I know you are well familiar with this (See Linda Howe's book: Mysterious Lights and Crop Circles.) – has that twisting and kinking in it. We found that in three or four of the Canadian formations so far.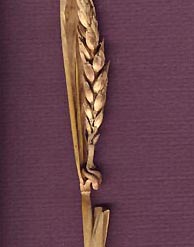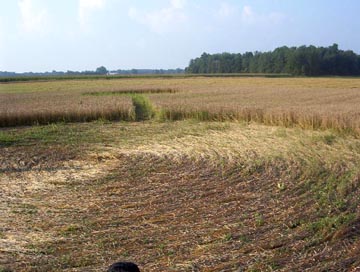 THAT IS SIGNIFICANT TO BIOPHYSICIST W. C. LEVENGOOD, BECAUSE HE SAYS FOR THAT KINKING TO OCCUR WHERE IT DOES IN THE GROWTH NODES, IT WOULD HAVE TO HAVE BEEN AN ENERGY IMPACT ON THE PLANT MUCH EARLIER IN ITS GROWTH THAN THE DISCOVERY OF THE FORMATIONS.
Yes. And it's surprising to find it in this many. But we have, so we're documenting all of this as fast as we can.
Speaking of expulsion cavities, something that surprised me is the formation out in Agassiz, British Columbia, not too far from me and not too far from the location of the two formations at Mission, B. C. last year. (See: 09/28/02 and 10/01/02 Earthfiles.com.)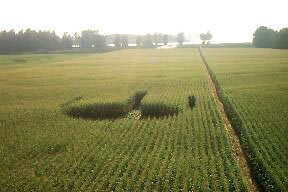 The 2003 Agassiz formation is thirty or forty miles away from that site. Again, this is in cattle corn – like the 2002 Mission, B. C. formations – about nine feet tall. The formation pattern is also similar to those at Mission last year as well. But what was surprising was that in this 2003 one, we have found quite a few expulsion cavities in the stalks. On the stalks, many of them have three or four expulsion cavities – meaning, three or four of the nodes are affected. Some nodes actually have two cavities in them. We didn't find any like that in the Mission formations last year. There were some nodes that were somewhat swollen and other ones that appeared to be cut through or sliced. So, this is kind of unusual, especially to have this many on one stalk. Keep in mind that these are stalks about an half-inch thick.
The farmer has been very cooperative in this case, unlike the one from Mission last year who only let us (on his property) very grudgingly. This farmer (in Agassiz) has been very cooperative and quite interested, so he has been helping us. He told us that he has never seen these expulsion cavities before in his crops. He's been farming that field since 1996.
SO HE HAS NEVER SEEN EXPULSION CAVITIES IN HIS CATTLE CORN BEFORE?
Not before this (2003 Agassiz formation).
DID ANYONE AROUND THAT AREA REPORT ANY MYSTERIOUS LIGHTS OR SOUNDS?
The only formation so far this year where we have had reports of unusual lights, or similar phenomena, was the formation at Hensall, Ontario, which was reported July 30, 2003.

Peter Davenport's National UFO Reporting Center in Seattle (NUFORC) had a sighting report of a cigar-shaped object on July 13 in that same area, as seen by two witnesses, moving across nearby a deserted road. This was late at night, I think it was, on a back country road and close to where that formation was found.
There was also a newspaper report about people saying they had seen some colored lights in that same area approximately July 21. But those are the only two reports I've heard so far in connection with any of the formations.
Going back to the formation at Hensall, Ontario (discovered July 30, 2003), the similarity of this one to the one I know you investigated back in August 1993 in England at Cherhill Down. As soon as I saw this one, it reminded me immediately of that 1993 formation with the two outstretched 'hands' or 'hooks' coming together in the center part of the formation. Hensall is not quite as large, only 233 feet in length (compared to the 445-foot-long pattern at Cherhill in 1993.) But the design similarity is there.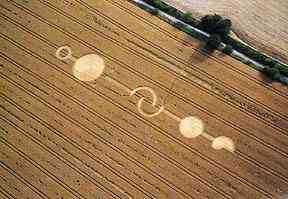 In my book, Glimpses of Other Realities, Volume I: Facts & Eyewitnesses, I discussed my investigation of the August 8, 1993, Cherhill, Wiltshire, England formation shown above for comparison to the July 30, 2003 Hensall, Ontario formation. The central overlapping arcs at the center of both formations is similar to an Old European script sign for "lu."

In the Hensall and others in Canada this year, the designs have certainly been different from what we usually see and at least one or two notches more complex. So, whatever the origin of any of these, the evolution seems to have gone up this year in Canada. It's not over yet either.
ECHOING SOME OF THOSE OLDER, BEAUTIFUL PATTERNS FROM ENGLAND IN THE EARLY 1990S.
That's right. Also the one before Hensall at Stewarttown, Ontario, reminded me of the earlier pictograms from England and that one actually came in two stages. That one was a bit larger – 326 feet in length – with the similarity to many of the early pictograms in England."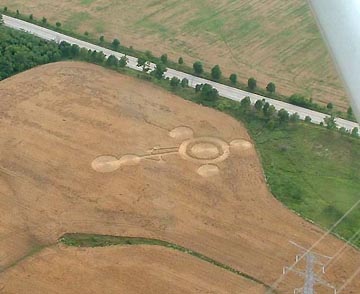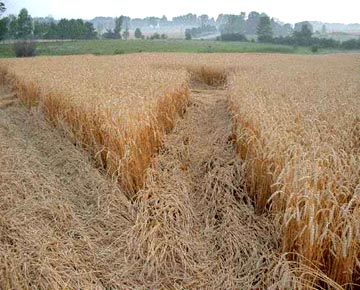 ---
Website:

© 1998 - 2023 by Linda Moulton Howe.
All Rights Reserved.