Mars At Its Closest August 27, 2003,
At 2:51 a.m. PDT / 5:51 a.m. EDT.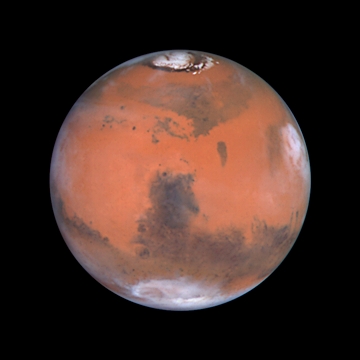 This week, Mars rises at 6:30 p.m. PDT / 9:30 p.m. EDT in the southeastern sky as it approaches what is known as "Mars opposition." Like a full moon, the red planet will be facing the Earth (opposition) and opposite the Sun on August 28, 2003. Mars will have reached its closest approach to the Earth in 60,000 years the day before on August 27 – only 34,650,000 miles away.
The reason this happens is shown in the diagram below where the orbit of Mars is not quite a perfect circle. As Earth passes Mars about every two years, the distance between the two planets varies. The next three oppositions will be November 7, 2005, December 24, 2007 and January 29, 2010.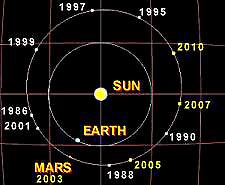 Basic facts from University of Washington Astronomy Department and Philadelphia's Franklin Institute:
Closest approach occurs on Aug 27, 2003 at 2:51 AM PDT / 5:51 AM EDT.
Closest approach will be 55.76 million kilometers from Earth (34.6 million miles, or 37% of the Earth-Sun distance).
At opposition Mars will be as close as it has been since the year 57,537 B.C. The next approach this close is 28 August 2287 A.D.
The apparent size of Mars' disk at closest approach will be 25.1 arcseconds, the apparent size of a dime at 500 feet.
Mars will be the brightest object in the sky after about 10 PM PDT / 1 AM EDT in late August and early September. It will be found highest in the sky at about 1:30 A.M. PDT (from Seattle, about 27 degrees above the southern horizon.)
Mars appears orange in color. So do a few stars. But Mars will be brighter than all stars, and it won't twinkle.
Maximum brightness will be near peak brightness (magnitude -2.9) for about a week before and after 27 August. If you miss seeing Mars one night, try again the next. Mars fades rapidly after early September as the Earth pulls ahead of it.
Mars appears reddish-beige because it is covered with oxidized iron.
Phobos and Deimos – the two moons of Mars – were named after the Greek gods of fear and panic.
The Martian atmosphere is 95% carbon dioxide, 2.7% nitrogen, 1.6% argon, .13% oxygen, and .03% water.
The red planet's highest temperature in Fahrenheit is 77 degrees and lowest is –193 degrees.
A Martian day is 24.6 hours and a year is 687 days.
Hubble Telescope image of Mars and the largest canyon in the solar system, Valles Marineris, that stretches for 2,500 miles (4,000 km).

---

Website:

http://www.stsci.edu/exined/Mars.html  (Hubble Telescope Images)

http://www.astro.washington.edu/dept/mars_opposition.html  (Univ. of Washington Astronomy Dept.)

http://www.fi.edu/tfi/info/fels/date_mars.html  (Philadelphia's Fels Planetarium)

© 1998 - 2019 by Linda Moulton Howe.
All Rights Reserved.