"Mars has probably always been very cold and if (occasional melted) water rushed out of those massive outflow channels and flowed out onto the northern plain, it likely froze very quickly."
­ Philip Christensen, Ph.D., Planetary Geologist, Arizona State University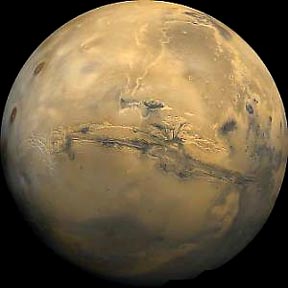 August 27, 2003 Tempe, Arizona – Observations of Mars go back to the 1700s. People saw bright and dark markings on Mars and they speculated that the dark areas were oceans and the bright regions were continents. So, the idea of oceans on Mars has been postulated for three hundred years.
When we went to Mars in spacecraft in the 1960s, we learned there were no oceans. But there were huge river channels, things that dwarf anything on the Earth. Huge craters hundreds of miles across filled with sediments were seen and scientists suggested they might have been lakes at one time. People have argued that early in the Martian history, the climate was warmer, that water flowed on the surface, that lakes formed, that oceans formed, and that early in its history, Mars was a very different place than the cold, frozen, dry place we see today.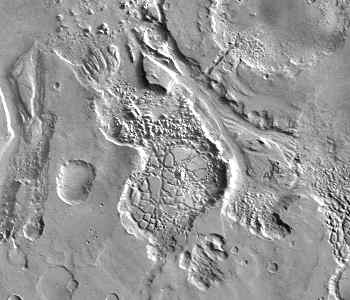 The huge river channels we see are the oldest terrain on Mars and we can tell that because they are heavily cratered and look like they have been beat up over the history of Mars. But in the past billion years or so, younger geological features don't show any river channels. That fact has fueled speculation that early in the Martian history, the climate was much warmer with oceans. However, planetary geologists at Arizona State University in Tempe have been looking with the THEMIS infrared satellite that has orbited Mars over the past six years for any evidence of limestone rocks on the surface that scientists say should be there if water was abundant in a carbon dioxide atmosphere. The data so far was recently published and this week I talked with ASU Prof. Philip Christensen, team leader of the Thermal Emissions Spectrometer research.
---
Interview:
Philip Christensen, Ph.D., Korrick Professor of Geological Sciences, Arizona State University, Department of Geological Sciences, Tempe, Arizona: "I can't build a time machine and go back four billion years and see what Mars looked like. But the rocks of Mars hold that record. They are like these books lying on the surface that tell the history of Mars. So, for example, on the Earth we have oceans and in those oceans, the water reacts with carbon dioxide in our atmosphere, and it produces limestone, lots of it. That limestone is used to make concrete. That limestone hardens into marble. We have limestone all over North America and Great Britain, limestones that formed in ancient oceans on the Earth. So, the theory was that if Mars had oceans and it has a carbon dioxide atmosphere, so it should also have made lots of limestone. And I wanted to look for it.
So, in the mid-1980s when NASA said they were sending a spacecraft to Mars, I proposed an experiment called the Thermal Emissions Spectrometer, or TES. One of its main objectives was to go and search out evidence for the limestone rocks. The way TES works very briefly is that it measures the infrared light from the surface. We break that up into a spectrum. Every mineral has a characteristic spectrum and so we can look at the spectrum of light coming from the surface and use that to identify different minerals.
August 2003 – Results of Search for Limestone on Mars
Fast forward to now and we've been looking for five or six years for the limestone rocks and we have not seen them. There is no evidence at all for limestone rocks laying around on the surface of Mars. Since we have argued quietly that we are not seeing any evidence for these limestone rocks, other people have suggested two things:
1) Perhaps TES can't see limestone or carbonate minerals in general for whatever reason.
2) Or maybe these minerals break down when exposed to UV light as they sit on the Martian surface.
So, in a paper we just published we show that after years of hard work we have managed to detect only tiny amounts of carbonate minerals ­ a percent or two in the dust of Mars, vastly less than what people thought we would find as massive limestone deposits. So, our conclusion is that Mars did not have the big, warm oceans.
DOES LIMESTONE HAVE TO BE A BYPRODUCT OF WATER SITTING ON THE MARTIAN SOIL?
It pretty much does if you have a carbon dioxide atmosphere and Mars currently has a carbon dioxide atmosphere. When you look at and walk on those limestones, you are basically walking on the ancient atmosphere of the Earth because huge amounts of carbon dioxide have been taken out of our atmosphere and locked up in those rocks. So, if I take a beaker full of seawater and put some rocks in it and put carbon dioxide in it and leave it for a few thousand years, I'll come back to find limestone. These carbonate minerals will have precipitated out and be sitting on the bottom of my beaker. So, that's the idea ­ if Mars really had warm oceans, it should have made those limestone rocks.
Could Martian Limestone Be Under the Iron Oxide Surface?
ANY CHANCE THERE COULD HAVE STILL BEEN THE OCEANS OF WATER AND THAT THE LIMESTONE THAT FORMED IS NOW BENEATH THE SURFACE OF WHAT IS OXIDIZED IRON ON MARS?
That's certainly possible. We can never prove the negative. I can never prove there is no limestone on Mars. It's like trying to prove there aren't dinosaurs swimming in the ocean that we haven't found yet.
But if you look at pictures of Mars, there are huge canyons and you can see the walls and see layers of rock in the walls of the canyons. It has craters all over the place that basically explode huge holes in the ground and throw rocks out on the surface. You can see layers in the walls of those impact craters. There are places where huge amounts of erosion have occurred on Mars, stripping down the rock layers. Our argument is that it seems unlikely that if Mars had massive oceans and made lots of these limestone rocks, that we're not finding them.
BUT ISN'T THERE ALSO THE PROBLEM THAT THERE APPEARS TO BE A DISCREPANCY IN THE ALTITUDES OF GEOGRAPHY BETWEEN THE NORTHERN AND SOUTHERN HEMISPHERES ON MARS. ONE OF THE ARGUMENTS HAS BEEN THAT WHERE THERE IS A FLATTER, LOWER LARGE AREAS, IT IS BECAUSE THERE WAS A LOT OF WATER IN THOSE AREAS ONCE?
Glaciers, Not Ancient Oceans?
That's certainly the argument. Another thing I want to emphasize here. There's a ton of water on Mars, no doubt about that. And there is no question that there are these massive outflow channels and those channels look like they flow into the northern plains. Undoubtedly water ponded there. The question is: is it an ocean or a glacier?
My sense is that Mars is very cold. The water that's there today is frozen. It's probably always been very cold and if water rushed out of those massive outflow channels and flowed out onto the northern plain, it likely froze very quickly. Rather than thinking warm ocean in the Bahamas, think the North Sea covered with icebergs and very cold, frozen environment with that water freezing very rapidly in hundreds of thousands of years, rather than a warm tropical ocean. Even on the Earth today, in reality limestones (carbonates), are only forming in the relatively warm tropical parts of our oceans. They don't form rapidly in the very cold waters of the North Sea.
Why Has Any Melted Water Flowed on Mars?
WHAT CAUSED GLACIAL ICE TO MELT INTO ALL THOSE GULLIES AND RIVER CHANNELS IN THE FIRST PLACE?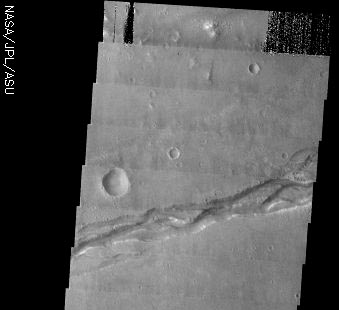 That's really interesting. You look at places where there are what is called 'chaotic terrains.' There is one in particular I'm looking at with a student called Aram Chaos.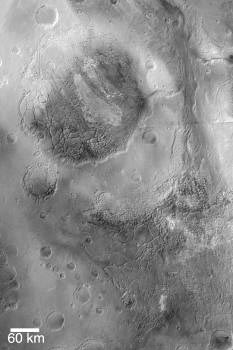 Aram Chaos started off life as a crater 200 miles across. It was filled in with material. something heated it from below. There was probably a great deal of ice in the subsurface, melted that ice, the ice roared out through a channel and the whole surface of this crater collapsed. We see this collapsed and chaotic terrain all over the place. The argument for 30 years has been that water and ice from beneath flowed out when the terrain collapsed. So, the question has been: what melted that massive amount of ice? The thinking is that it was probably volcanic heat from below. Another possibility ­ although this is a little harder to figure out – -is heat produced by large impact craters. But it's most likely some kind of volcanic heat from below that melted the ices and roars out across the surface. That would also explain why most of them occurred in the first half of Earth's history when the interior of the planet was warmer. There was more volcanic activity, more heat available to melt the subsurface ice.
Volcanic Heating of Water on Mars?
OLYMPUS MONS IS THE BIGGEST VOLCANO KNOWN IN THE SOLAR SYSTEM. DO WE HAVE ANY IDEA WHEN THE LAST TIME OR EPOCH WAS THAT IT WAS ACTIVE?
A great question. Olympus Mons and some of the other volcanic structures ­ the only way we get a handle on age on Mars is by counting the number of impact craters. The idea is the older it is, the more impact craters. There are places on the volcanoes like Olympus Mons and other ones that have very few impact craters and it has been suggested that the last gasp of volcanism on some of those may have occurred very recently — perhaps in some places on Mars where it might occur more or less today, again in geologic terms. So there is probably some volcanic activity. I would be shocked if there wasn't some place on Mars with a little dribble of volcanic activity going on today. For the most part, it has frozen up and volcanic activity is over.
SO, THE ANSWER IS THAT WE AREN'T CERTAIN WHEN OLYMPUS MONS WAS LAST ACTIVE?
Yes, I think that's fair. It could be relatively recent in the last millions of years, as opposed to going extinct a billion years ago. The camera ­ a few years ago I proposed an infrared camera which is orbiting Mars today and one of the things we are looking for is that we can make temperature measurements/images with that camera and we are actually looking for evidence of hot spots, places where there are evidences of hot springs or volcanic heating. So far we haven't seen any, but clearly we are looking and the reason we are looking is that we think it's not impossible there is some volcanic activity going on.
BUT IT'S PROBABLY LOGICAL TO CONCLUDE THAT WHENEVER OLYMPUS MONS WAS LAST ACTIVE THAT THERE WOULD HAVE BEEN ENOUGH HEAT TO MELT THE PERMAFROST AND BEEN PARTLY RESPONSIBLE FOR THE WATER ON MARS.
Exactly. There's other volcanic areas as well. I think that's quite likely. One of the questions I've been asked in the last few days is, 'Well, is the lack of ocean mean lack of life on Mars?' And the answer to that question is absolutely not because of all the volcanic activity ­ all the big volcanoes. They are going to locally melt ice and create hot springs ­ so there are still ways to get local hot water from volcanoes and ice without needing a big ocean.
Is Warm Water Necessary for Life
IT'S THE HEATED WATER THAT WE LINK TO THE PRESENCE OR EVOLUTION OF LIFE?
Yes, and rightly or wrongly. We think of the oceans as the great stew in which life formed and evolved in on the Earth. There is evidence ­ I don't want to get too far beyond what I know ­ but there is a lot of evidence that life on Earth might have started in very extreme environments. Places like hot springs where you have very hot water coming out of volcanic vents and those are places where life might have started on Earth. Mars very likely had those places. The oceans idea might be a red herring or side track in terms of the search for life on Mars.
the other thing I'll point out is that there is a lot of biological activity in very cold climates on the Earth. There is algae that live in snow and ice. There are lichens that live in very cold environments. So, life can get by in snow and ice. It doesn't have to have a warm, tropical ocean.
Ice Ages on Mars?
IS THERE ANYTHING ABOUT THE WOBBLING ORBIT OF MARS THAT RIGHT NOW IS BRINGING IT CLOSER TO THE EARTH THAN IT'S BEEN FOR 60,000 YEARS ON AUGUST 27. THEN IT GOES FURTHER AWAY AND COMES BACK. IS THERE ANYTHING ABOUT THAT WOBBLING ORBIT OF MARS THAT COULD CONTRIBUTE TO THE MELTING AND FREEZING?
Absolutely. Absolutely. That's one of the most exciting things about Mars. Two things: Mars has a very wobbly orbit in a lot of ways. It varies in distance from the sun by quite a bit. Also, the tilt ­ the angle at which the rotation axis is tilted ­ varies dramatically on Mars. As that changes over 50,000 year cycles, a change in the tilt can have dramatic changes to the climate of Mars. Imagine the rotational axis of Mars being more or less vertical to its path around the Sun. In that case, the poles of Mars hardly ever get any sunlight and they get extremely cold. Most of the water probably migrates to the poles. Now, 50,000 years go by and the axis of Mars is tilted over as much as 35 or 40 degrees and now the poles get a lot of sunlight. And it turns out they aren't the coldest place. So, that water migrates away from the poles and into the mid-latitudes and are colder than the poles and that's where the water ends up.
So, there have been a number of papers written in the last few years that suggest that Mars has these dramatic changes where it will get big, thick snow deposits in mid latitudes and those go away and come back and go away and come back every 50,000 to 500,000 years.
WHERE WOULD WE BE IN THAT KIND OF CYCLE RIGHT NOW?
We're actually in sort of the warm ­ the mid latitudes are relatively warm at the moment. I wrote a paper a few months ago arguing that there are snow deposits that melt during relatively warm periods and the melting of the snows are forming the very small, relatively young gullies that we've seen on Mars in the last few years.
If you look at pictures, there are patches, remnants of those snow deposits, that are still present in the mid-latitudes. I've argued that those are remnants of what were much more extensive snow deposits and those snow deposits will come back in a few hundred thousand years. So, Mars goes through the remarkable stage of snows that melt and retreat and then come back and melt and retreat. Even in this cold climate today, there is snow, melting of snow, and gullies forming. So, locally you can get quite a bit of liquid water in a very cold climate.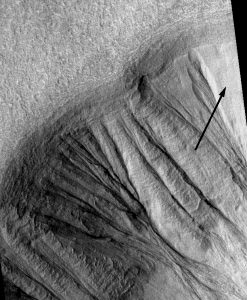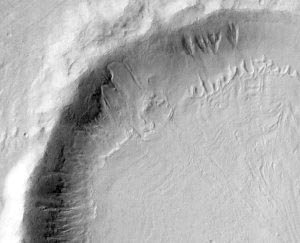 WE'RE IN A WARM PERIOD ON THE EARTH. IS THERE ANY POSSIBILITY THAT THERE HAVE BEEN PARALLEL CYCLES BETWEEN MARS AND EARTH IN TERMS OF GLACIATION GIVEN THE FACT THAT OUR OWN PLANET HAS EXPERIENCED GLACIATION THAT HAS COVERED ALL OF NORTH AMERICA AT ONE POINT?
Absolutely. I think it's a perfect parallel. In fact, the suggestion is that tiny changes in the tilt of our planet's orbit are related to these periods of Ice Ages.
SO WE CAN HAVE AN ICE AGE ON EARTH AND SIMULTANEOUSLY THE SAME THING COULD BE OCCURRING ON MARS?
That's right. They are out of sequence. Our orbit wobbles around differently than Mars's does, but the idea is the same. I mean, we've definitely had cycles of ice ages and so has Mars. I think we've learned a lot about our own ice ages by studying the effects on Mars.
DOES THAT EXPLAIN SOME OF THE PROVOCATIVE PHOTOGRAPHS FROM MALIN'S CAMERA THE PAST COUPLE OF YEARS THAT LOOK LIKE DARK TRIANGLES OR LONG, DARK PATCHES THAT PEOPLE ARE INTERPRETING PERHAPS AS FRESH WATER OR SPRINGS THAT DARKEN IN THE OTHERWISE REDDISH SOIL?
I think it does. Mike and I are very good friends, but we disagree about the formation of these gullies and some of the patches. Mike has argued that it's ground water coming out in springs that are making the dark patches and forming the gullies. And I've argued that it's snow that sits on top of the surface that melts and forms the gullies. I think either way, the images are incredibly provocative and do suggest pretty much without doubt that liquid water is present at or near the surface today.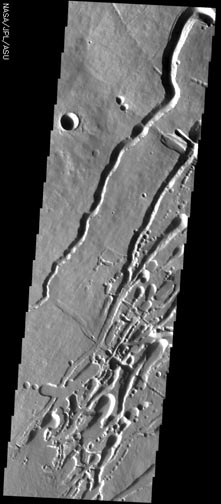 Latest Data?
IS THERE ANYTHING RIGHT NOW WITH MARS REACHING OPPOSITION ON AUGUST 27 AND OUR HAVING MACHINES UP AT MARS. IS THERE ANYTHING THAT HAS BEEN PARTICULARLY EXCITING TO YOU IN THE LAST FEW MONTHS IN TERMS OF ANY NEW DATA?
I think we are continuing to pour over the data we are getting from the spacecraft which went into orbit around Mars in 1996. I think that really points to how difficult it is to interpret and puzzle out story from the data we get. It also points to the fact that we are asking very sophisticated questions. Twenty years ago, it was enough to say, 'Oh, my God, Mars has volcanoes.' today, we're asking much more complicated questions about the composition of the rock. I think we really are in a golden age of exploring Mars. The knowledge we are gaining, the information, in our understanding is improving dramatically. Our view of Mars ­ this whole idea of a cold Mars is really just coming about in the last few years from images, from arguments about snow on the surface, arguments about the lack of oceans. I think our view of Mars is really at a cusp of a dramatic improvement of our knowledge of that planet.
IF IT TURNS OUT THAT THERE HAVE NOT BEEN OCEANS ON MARS AS HAS BEEN SPECULATED FOR THE PAST 20 TO 30 YEARS, DOES THAT CHANGE YOUR THINKING IN GENERAL ABOUT THE EVOLUTION OF THE PLANET?
For me, it doesn't. I was joking with someone that if I could go back to every paper written and just do a global change of the word 'ocean' to the word, 'glacier,' I think that might reflect some of the current thinking. But Mars is still a remarkably wet place. There is a lot of water there. If we just come to think not of oceans covering the northern plains, but massive glaciers covering the northern plain. In many ways, those aren't that different. It's still a massive amount of water. there are a lot of neat things going on in that ice. You can melt that ice and do a lot with it. It makes us think about a cold Mars, but not a barren Mars by any means.
The Cydonia "Face On Mars"
WHAT ABOUT THE POSSIBILITY THAT CYDONIA COULD ONCE UPON A TIME BEEN A SETTLEMENT VISITED BY SOMETHING THAT WAS EXTRATERRESTRIAL AND HAS LEFT ARCHAEOLOGICAL REMNANTS BEHIND IN TERMS OF PYRAMIDS AND THE FACE?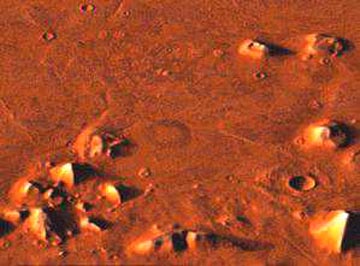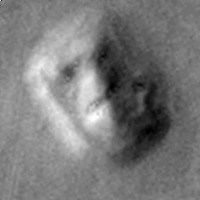 Ah, one of my favorite subjects, or least favorite, depending upon how you look at it. The close-up high resolution images from MOC, and even ones we've taken from the THEMIS camera, in my mind, clearly show those features to be natural hills and knobs carved by wind and water and snow and ice. In the area around Cydonia, there are literally hundreds of more knobs that don't look like anything in particular and look like they were carved by natural processes. So, my view is that's it's unquestionable that they are natural phenomenon. It's interesting that they look a certain way. But of the hundreds of thousands of images we have, you can look at almost anyone of them and find an unusual feature and say, 'Oh, that looks a little too geometric to be natural.' But that's not the case. The Earth is covered with features that you can look at and they look like something."
---
Website:

© 1998 - 2019 by Linda Moulton Howe.
All Rights Reserved.