"The effects of an eruption of Mt. Rainier, the severe effects, would be much smaller than the effects of the potential 9 Richter earthquake that can happen off the Pacific northwest. That earthquake will affect areas from northern California to southern British Columbia."
­ William Scott, Ph. D., USGS Cascades Volcano Observatory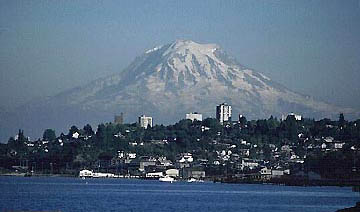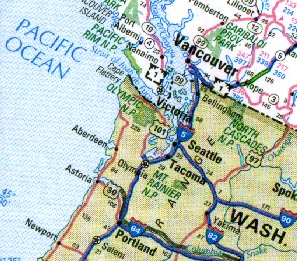 August 29, 2003 Vancouver, Washington – Along the northwest coast of the United States and southern British Columbia, Canada, there is a volcanic range called the Cascades. There are thirteen Cascades volcanoes which have been intermittently active for hundreds of thousands of years ­ the latest being Mount St. Helens on May 18, 1980. Another moderately active volcano is Mt. Rainier near Olympia and Tacoma, Washington and could directly affect the lives of more than a hundred thousand people who now live on or near the lower slopes of the mountain.
The 1980 eruption of Mount St. Helens darkened the Pacific northwest skies for days and produced huge landslides of mud, rock and water called "lahars" which move like concrete over everything in their path. If Mount Rainier blew its top as Mount St. Helens did, could that volcanic activity have a domino affect on the tectonic plates of the Pacific Ocean now slowly sliding underneath the North American continent and set off a 9-point earthquake on the Richter scale warned about by geologists?
I talked about that question this week with Dr. William Scott, the U. S. Geological Survey's scientist-in-charge at the Cascades Volcano Observatory in Vancouver, Washington.
---
Interviews:
William Scott, Ph. D., Scientist-In-Charge, Cascades Volcano Observatory, U. S. Geological Survey, Vancouver, Washington: "There is no close connection between those things. There are two separate issues out here. One ­ both occur because of the same geologic situation. But one is a very large earthquake that will occur out in the coastal region and it has really nothing to do with Mt. Rainier. And Mt. Rainier will erupt in the future and it won't necessarily be tied to this big (projected) earthquake. They all derive from what we call the same 'tectonic setting.' The fact that a piece of the northeast Pacific ocean floor is being thrust underneath this part of North America and sets up the conditions to have both a large earthquake along the coast and this chain of volcanoes inland. So, there is a general connection, but not a specific one-to-one connection.
ONE MIGHT NOT NECESSARILY SET OFF THE OTHER, BUT THAT IS A POSSIBILITY?
The last large earthquake occurred in the year 1700. As far as we know, there was no eruption of any volcano during that time.
DO YOU KNOW WHAT THE RICHTER LEVEL ­ OR ESTIMATED RICHTER LEVEL – WAS IN THE 1700 EARTHQUAKE?
I think the people who are studying that estimate it was on the order of a magnitude 9.
Magnitude 9 Richter Earthquake Likely in Pacific Northwest
TODAY IN 2003, FOCUSING ON THAT PARTICULAR POTENTIAL FOR A MOMENT INSTEAD OF THE VOLCANO, WHAT IS THE LIKELIHOOD THAT A 9 RICHTER EARTHQUAKE COULD OCCUR IN THE PACIFIC NORTHWEST IN THE NEXT FEW YEARS?
I don't know what the exact probability that those people are giving to it. That's a pretty complicated question. But these earthquakes have occurred in the past few thousand years. They have occurred as closely as a few hundred years apart and as far as a thousand years apart. So, it's difficult to say, but it's certain that in the next few centuries to a thousand years that we'll have another one of these events.
Everyone who lives here realizes that it will occur some day and the states of Oregon, Washington and California and the province of British Columbia are all spending time and money to try to mitigate the effects of those in terms of strengthening bridges and buildings and public education so that people will understand the threat, both from the earthquake and then possibly from a large tsunami or sea wave that could follow the earthquake.
IF MT. RAINIER WENT OFF AS A VOLCANO, WOULD IT AFFECT THE SAME GEOLOGICAL AREA?
No, the effects of an eruption of Mt. Rainier, the severe effects, would be much smaller than the effects of the potential 9 Richter earthquake that can happen off the Pacific northwest. That earthquake will affect areas from northern California to southern British Columbia. And an eruption of Mt. Rainier, the furthest traveled effect would be just the ash drifting downwind and that's not necessarily a life-threatening situation. The issue at Mt. Rainier is in the valleys that drain the volcano that can carry these lahars. there are a few valleys in particular that have towns that moved in and developments so there are several tens of thousands of people who would be in harm's way potentially.
Public Danger and Preparedness in Seismic and Volcanic Threats
HOW MANY PEOPLE DO YOU ESTIMATE LIVE WITHIN A DANGER AREA OF MT. RAINIER IF IT DID ERUPT?
One figure I've heard from the counties and cities is that the young geological lahars from Mt. Rainier ­ that there's probably something in the order of 150,000 people that live on those deposits. But the areas of greatest concern are smaller than that. I've heard numbers in sort of the 30,000 person range that are potentially at risk.
HOW DO YOU GET THAT QUANTITY OF PEOPLE OUT ON WHAT MUST BE JUST TWO LANE ROADS?
We've worked with Pierce County to develop a warning system for these lahars that is always operating with the low probability that something of potential concern could occur without warning or very little warning ­ that system is up and operating and the counties are working on evacuation planning and notification.
IS THAT A SPECIAL KIND OF SIREN THAT CAN BE HEARD FOR LONG DISTANCES?
They are using a combination of ways of notifying people. There is some notifications that occur by pager. There are sirens. We have the National Weather Service operates a weather radio system that gives warnings of hurricanes or tornadoes or whatever and there are plans to fold that into the mix so people would be notified through their radios and televisions. There is a lot of work going on right now about how to alert that population, but the other important part of it is not just alerting them, but giving them the tools to know what is the best way out of the valley. Public officials have put up signs to mark evacuation routes and there is an ongoing public education program that the counties and cities are doing so that citizens will know what they are to do should the (alert) system ever go off.
The scientific questions we are working on have to do with how the volcano has grown in recent times? how large the eruptions have been? the types of eruptions that have generated these lahars? Mt. Rainier is covered with a large amount of glacier ice and perennial snow. so any kind of eruption that is able to mix hot material with snow and ice instantly generates large amounts of water that picks up debris and forms the lahars that go down the valley.
WHICH CAN FLOOD.
They aren't like water floods. They are basically flows similar to wet concrete. It's rocks and mud and trees and water. So, it's not a water flood. It's a flood of sediment and water.
WHICH COULD BE VERY DESTRUCTIVE.
Which is very destructive. It's very dense and can move relatively rapidly and smash structures or bury them.
Mt. Rainier Last Erupted 500 Years Ago
IN THE DATA YOU HAVE COLLECTED OVER THE DECADE, HOW MUCH HAS MT. RAINIER CHANGED?
We know that about 6,000 years ago, there was a very large landslide on Mt. Rainier that basically removed the summit and the upper part of the volcano, larger than the great landslide that occurred at Mount St. Helens in 1980. That (6,000 year old) event made a very large lahar that went down several valleys all the way to the Puget Sound. Since that time 6,000 years ago, the volcano has regrown and much of the upper part of Mt. Rainier that we see today is younger than 6,000 years old which in geologic terms is very young. We know that parts of the cone were built by eruptions as recently as 1,000 years ago, and perhaps more recently than that.
So, we're finding that the cone of the volcano has grown quite rapidly in the past few thousand years.
IS THAT RAPID GROWTH SOMETHING THAT SAYS IT COULD EXPLODE SOONER THAN LATER?
Yes, I think the message is that volcanoes don't erupt periodically. There is not a nice periodic rhythm to their eruptions, say every 100 years. That would make this job a lot easier. In fact, these volcanoes are quite episodic in their eruptions. They might erupt frequently for a period of several thousand years and then be relatively quiet for a period of several thousand years. What it looks like is that Mt. Rainier in the past since this great event 6,000 years ago has been quite frequently active. Seldom has there been a period of 500 to 1000 years gone by without some kind of a significant eruption on the volcano.
We know the last significant event was on the order of about 500 years ago. Since that time, there have been a few small eruptions that haven't done a whole lot. There isn't a fixed time in which the volcano erupts. But, it's been say 500 years or more since the last sizable eruption, so it's reasonable to assume that in the next few centuries, there probably will be a sizable eruption of Mt. Rainier.
Monitoring Mt. Rainier and Other Cascades Volcanoes
DO YOU HAVE USGS SCIENTISTS WHO LIVE ON MT. RAINIER AND THE CASCADES TO MONITOR THE VOLCANOES?
No, we don't. Generally with our weather and many of these volcanoes being high in fairly remote areas, visual inspection isn't often possible. So basically we rely on a network of earthquake sensors, seismometers. This is a system that the U. of Washington operates in Oregon and Washington and we cooperate in that monitoring. We look for earthquake swarms that might represent the re-awakening of the volcanoes. The eruption of Mt. St. Helens in 1980 was heralded by quite intense earthquake activity that occurred over a period of weeks to a couple of months.
We also have a few new tools now in which we can measure movements of the earth's crust and this is important because for a volcano to erupt, magma needs to move up to shallow levels and this causes deformation of the ground surface. It might be just a few inches of movement, but we have technology now to detect that using the global positioning system. In a few instances, we have instruments out on the volcanoes that are constantly positioning themselves and we can look for movements that might be related to magma moving underground.
Three Sisters Region in Oregon Has Risen 7 Inches in 5 Years
We also use satellite radar imagery to look for broad areas in the Earth's crust that are being deformed. Right now in the Three Sisters region of central Oregon, there is an area of earth crust about ten miles in diameter where the center has risen about seven inches or so in the past five years. We think that means magna is accumulating at great depths. Whether or not that ultimately drives an eruption to the surface, we don't know."
Yellowstone National Park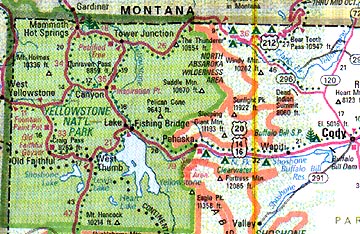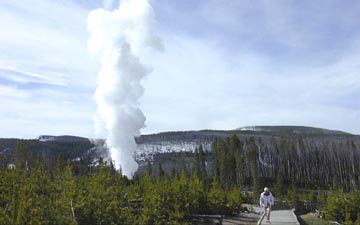 Further east of Mt. Rainier is Yellowstone National Park in the northwestern corner of Wyoming. Yellowstone is its own very large volcanic system with boiling geysers and mud flows that have entertained the public for decades. Yellowstone has not had any volcanic eruptions for tens of thousands of years, but in the summer of 2003, one public trail heated up to about the boiling point of water which is 212 degrees Fahrenheit. This week I talked with the United States Geological Survey's' scientist-in-charge of the Yellowstone Volcano Observatory, Dr. Jacob Lowenstern, about the anomalous heating.
Jacob Lowenstern, Ph.D., Scientist-In-Charge, Yellowstone Volcano Observatory, U. S. Geological Survey, Menlo Park, California: "Most of the anomalous behavior has been related to changes in the shallow hydro-thermal system. They are shallow processes that are going on. Yellowstone is a volcanic system, but most of what we see at the surface is related to the hydrothermal system which is well above any deep magma. Heat that rises off that magma, heats up the hydrothermal system. There is a lot of hot water. It's boiling underneath the ground. Steam rises. Hot water rises up to the surface. This year more boiling has been observed in the Norris Geyser Basin ­ that's one of several geyser basins scattered around Yellowstone.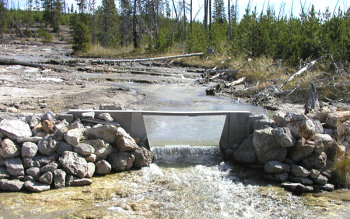 IS IT TRUE THAT SOME OF THE SOIL TEMPERATURES THERE REACHED AS HIGH AS 200 DEGREES F?
That's right. Of course, that's a normal temperature for any steam vents at Yellowstone. That's the temperature of water when it's boiling, so that's a common temperature. But this summer, there was a variety of new vents that formed and many of them were right around the trail that goes through the back basin of the Norris Geyser Basin. So, obviously when you have soil temperatures and new steam vents forming right along a trail, it presents hazardous conditions for the public, so the park service prudently decided to close that area.
SO, THAT'S HOW IT BECAME PUBLIC ­ YOU HAD TO CLOSE A TRAIL BECAUSE THE TEMPERATURE OF THE SOIL WAS SO HOT?
That's right.
WHAT DO YOU THINK IS ABOUT TO HAPPEN WHERE ALL OF THIS SOIL HAS GOTTEN SO HOT?
Well, we don't really know. It's very possible that it will just form new thermal areas and there will be new hot springs and fumeroles on that trail and there won't be any more problems aside from that. This is not that uncommon in the Norris area. There's another area called the "Ragged Hills" just to the west and that's been growing for the past ten years ­ slowly with increased boiling in the area and new thermal features that are spreading to the west.
AS A GEOLOGIST, DO YOU WORRY ABOUT VOLCANIC OR MAGMA FLOWS EVER COMING OUT IN YELLOWSTONE PARK?
It's always a possibility. It's not a high probability in any given year. Certainly, there have been many eruptions in the Yellowstone area. There have been some that have been very large.
But they've occurred in the distant past. the most recent was 640,000 years ago. Since then, there have been about 30 different eruptions, most of them much smaller, all of them much smaller. the most recent lava flow was about 70,000 years ago. So, it's always possible that we'll get another eruption in Yellowstone and that is something that we do monitor and look out for, but it's not something that is likely in any given year.
COULD AN ERUPTION OF MT. RAINIER INTO ACTIVE VOLCANIC ERUPTION, OR ONE OF THESE POSSIBLE 9 POINT ON THE RICHTER SCALE SEISMIC EVENTS OFF THE PACIFIC NORTHWEST CAUSE SOME KIND OF MAJOR ERUPTION IN YELLOWSTONE?
An earthquake that far away ­ well, it's always possible. It's always possible, but it's not something that we would think would be likely."
---
Website:

© 1998 - 2019 by Linda Moulton Howe.
All Rights Reserved.