"Scientists already know of 113 Potentially Hazardous Asteroids (PHAs) tumbling on paths that will eventually lead them to within an astronomical hair's width of Earth. The total number of such asteroids could be well over a thousand."
– EarthSky.com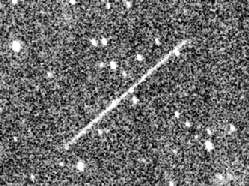 Updated –  The Jet Propulsion Lab's Paul Chodas, a research scientist who specializes in calculating the orbits of asteroids and other near-Earth objects, announced today that asteroid 2003 QQ47 is not on a collision course with Earth in March 2014. Chodas said, "This particular one was of interest because it is fairly large, 1.3 kilometers [0.8 mile], and the predicted impact was only ten years away. Combining those two factors, we raised it to some level of concern."
September 2, 2003  Cloudcroft, New Mexico – The first eyes to see the new asteroid threat called "2003 QQ47" are at the Lincoln Near Earth Asteroid Research Program at MIT in Cambridge, Massachusetts. LINEAR, as it's known to astronomers, was an outgrowth of the Ballistic Missile Defense Organization (BMDO) that took over the Reagan Administration's Star Wars program. LINEAR rose from the development of very high tech surveillance equipment that was originally designed to look for orbiting space junk high above our planet. Scientists already know of 113 Potentially Hazardous Asteroids (PHAs) tumbling on paths that will eventually lead them to within an astronomical hair's width of Earth. The total number of such asteroids could be well over a thousand. And this newly discovered one is about two kilometers in diameter – big enough to do serious damage on Earth if it hit us.
There was a smart astronomer in the Lincoln Laboratories at MIT named Brant Stokes who envisioned that all that BMDO high tech surveillance technology could be used to search for near earth asteroids. MIT's Lincoln Labs had a telescope that was based at White Sands Missile Range in New Mexico that began testing the BMDO system in the mid-1990s. LINEAR made a few discoveries of objects and then went online in early 1998. Since then, those guys have kind of blown everyone else out of the water (with near earth object discoveries).
Another astronomer famous for co-discovering the Hale-Bopp Comet is Alan Hale, Ph.D., Director of the Southwest Institute for Space Research in Cloudcroft, New Mexico. He and his colleagues are looking over the first data on QQ47 and making quiet bets that in the next several weeks, new orbital data will change the potential Earth impact to at least a near miss in 2014. But – on the other hand – if orbital calculations of QQ47 reinforce a likely impact with Earth on March 21, 2014, what could humanity in 2003 to 2014 do about it?
Interviews:
Alan Hale, Ph.D., Astronomer and Director, Southwest Institute for Space Research, Cloudcroft, New Mexico: "I receive all the information that comes from the Minor Planet Center (at the Harvard Smithsonian Astrophysical Center, Cambridge, Mass.). They are the world's clearinghouse for receiving and disseminating information about all the asteroids that are discovered in the Linear and other survey programs that are reporting discoveries. I gather positional data for these things and the Minor Planet Center computes orbits any time a new near earth object is discovered. The MPC issues information out to anyone on their mailing list, so I received the announcement for this one on August 27 or 28. It's one of several that come out all the time. We get two or three of these announcements every day. So, there was nothing especially unusual about this one.
They do denote objects that are deemed potentially hazardous and this one did have that kind of description on it when it came. Again, that's nothing dramatically unusual. Those are usually discovered two or three a month.
WHY DID THIS MAKE THE HEADLINE, "GIANT ASTEROID COULD HIT EARTH IN 2014?"
A lot of that I think is just sensationalism. I saw the preliminary orbital calculations which will continue to be studied over the next few weeks. But what I presume has happened here is that the calculations have been run forward (computer projected), and assuming the orbit we have right now, that would indicate that object would be coming pretty close to Earth at that time in 2014.
WHICH IS MARCH 21.
But there is always a significant amount of error. There is quite a bit of uncertainty, especially in the first week or two after an object has been discovered. In astronomerese, we could say, 'The Earth is within the asteroid's error ellipsoid.' What that means is that there is a volume of space that the asteroid could occupy at that time, based on the orbit we have now and the uncertainties, and the Earth is within that volume of space.
WHAT WILL HAPPEN OVER THE NEXT WEEK OR TWO TO REFINE THOSE CALCULATIONS?
A number of things. One is that people are going out to observe it and collect positional information on it and each set of observations that comes through helps in refining the orbit.
Another thing that is being done is that people are searching old data ­ data that was taken by LINEAR and other programs in the past five years ­ data that might have shown up on photographs at Palomar when photographic surveys were being conducted there back in the 1980s and even as far back as the 1950s sometimes.
BECAUSE THIS HAS AN ORBIT OF 1.18 YEARS AND IT WOULD HAVE BEEN AROUND THREE OR FOUR TIMES POSSIBLY IN THE LAST FIVE YEARS?
Yes.
IF YOU FIND A PHOTOGRAPH IN WHICH YOU CAN SEE WHERE IT WAS BACK THEN, HOW DOES THAT HELP YOU?
Then you have a much longer base line from which to calculate an orbit. You can get a much better base line from a three year or five year orbit when your data spans that long versus one week.
HOW BIG IS THIS NEW ASTEROID?
About all we can do is get the absolute magnitude or intrinsic brightness of the object, which is the brightness it would have at a certain distance from the sun and Earth. Then we can convert that to an approximate diameter. The number we have now for the intrinsic brightness of this asteroid works out to a diameter of one to two kilometers (about a mile in diameter).
What Would Happen If A Mile Wide Asteroid Hit the Earth?
HOW MUCH DAMAGE COULD A MILE DIAMETER ASTEROID DO TO THE EARTH IF THERE WAS A FULL IMPACT?
It can do quite a bit. You are aware of the Tungunska event back in 1908. Well, that was believed to be only an 80-meter-diameter object that exploded in the atmosphere. It was the airburst that did all the damage in Siberia. A one to two kilometer asteroid could wreak a lot of havoc, certainly over a continental area, perhaps even over a global area if it were to hit.
COULD YOU GIVE A SCENARIO BASED ON AN EDUCATED PROJECTION OF WHAT MIGHT HAPPEN?
There would be significant earthquakes. There would be significant pressure waves of the object in the atmosphere. A lot of the atmosphere would be ionized and create a lot of fires and burn damage over a wide area.
If it struck in the ocean, there would be tsunamis created. There would be blast damage from the actual impact itself. A lot of forest fires could throw a lot of smoke into the atmosphere that would create a bit of a nuclear winter affect over some areas of the planet.
WHAT WOULD HAPPEN RIGHT AT THE AREA OF IMPACT?
Well, there wouldn't be much left. You wouldn't want to be underneath it!"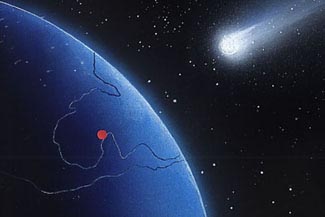 The conceptual sketch above depicts an asteroid moments before impact on Mexico's Yucatan coastline 65 million years ago. According to the Smithsonian National Museum of Natural History, "Approaching at an angle from the southeast, it sent the main force of its impact northward in a fire storm over North America. The evidence has grown so overwhelming that few scientists dispute that an asteroid nearly 10 km (6 mi) wide slammed into what is now Mexico's Yucatan Peninsula. The impact blasted a 180 kilometer-wide (100 miles) crater many kilometers deep into the Earth.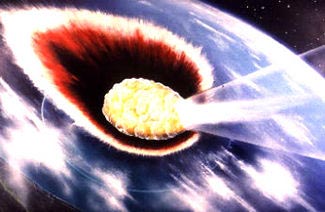 "The heat of impact sent a searing vapor cloud speeding northward which, within minutes, set the North American continent aflame. This fireball and the darkness that followed caused major plant extinctions in North America. Environmental consequences led to global extinction of many plants and animals, including the dinosaurs. Lingering airborne debris is believed to have triggered darkness and a decline in the global temperature, making Earth uninhabitable not only for dinosaurs by also for many other plants and animals. Dinosaurs, like Triceratops depicted in this sketch, passed into extinction, ending more than 150 million years of evolution and dominance over life on Earth. Other organisms, including mammals like those shown in the lower left of this sketch, somehow survived. In the words of Dr. Brian Huber: "This event profoundly changed the course of life on Earth. If it had not happened, evolution would have followed a different path and in all likelihood we would not be here today."
Dust and ash fallout as well as material blasted from the crater are clearly evident in the deep-sea core, which scientists recovered more than 1,920 km (1200 miles) from the impact site off the east coast of Florida.
Mark Boslough, Ph.D., Physicist and Principal Member, Technical Staff, Sandia National Laboratories, Computer modeling of climate, evolution and asteroid and comet impacts, Sandia National Laboratories, Albuquerque, New Mexico:
"IF THE ASTEROID WAS 2 KILOMETERS IN DIAMETER AND THAT HIT NEW YORK CITY, WHAT WOULD HAPPEN?
It would be the end of New York City. In fact, it would be the end of the entire Eastern seaboard and ­ depending upon which direction it came from ­ it would be the end of most of the cities for great distances down range (of impact.) If it were a grazing impact, the asteroid coming in at a fairly low angle ­ a lot of that debris would just continue down range and be ejected into space. But then it would re-enter the atmosphere, so you would have multiple impacts downstream from the original impact. Each one of those would be devastating, heat up the atmosphere and create fires. All the material would be in motion and sweep across a large part of the Earth's surface. So it would create a wide swath of destruction.
SO YOU WOULD HAVE WIND AND FIRE FOLLOWED BY A NUCLEAR WINTER?
Potentially followed by a nuclear winter, depending upon how much material actually ends up in the atmosphere. I think that would depend on how fast the object hits, exactly where it hits, what kind of material is excavated, how steep an angle it comes in and so on. Every impact is not the same, but something of this magnitude is going to be devastating.
WHAT IF IT HITS INTO ONE OF THE OCEANS?
There are different phenomena associated with impacts into oceans ­ one being tsunamis. You would generate a huge wave in the ocean basin that would sweep across the coast lines that form the boundary of that ocean. But you also get the other effects associated with it as well: ejection of material and subsequent impacts of ejected material re-entering the atmosphere.
WHEN YOU'VE DONE COMPUTER MODELING ON THE IMPACT OF ASTEROIDS OR COMETS AND YOU ARE DEALING IN THE SIZE OF ONE TO TWO KILOMETERS, WHAT IS THE HEIGHT THAT A TSUNAMI WAVE COULD BE FROM SUCH AN IMPACT IN THE OCEAN?
It depends on the depth of the ocean. it depends on a lot of things. But the calculations show there is significant run up on the coastlines, so you would not want to be on the beach.
IS THERE A RANGE ­ I THINK ALAN HALE SAID IT MIGHT GET UP TOWARD A MILE HIGH?
I think if the coastline was near the impact point, that's not too ridiculous to think about. I don't think it would be that high for the entire range of coastlines in the distance, but in the near field, you could get extremely high waves.
WHAT MIGHT WE AS A PLANET WITH CURRENT TECHNOLOGY DO IF WE KNEW THAT QQ 47 AFTER MONTHS OR A YEAR OF CALCULATION, WE KNEW IT WAS GOING TO HIT ON MARCH 21, 2014 ­ DO WE HAVE ANYTHING GOING IN OUR MILITARY ARSENAL THAT COULD DEFLECT THIS ASTEROID?
That's an interesting time frame. I think it's important to keep in mind that these are preliminary numbers that are based on a lot of uncertainty. The kind of numbers I'm hearing are probabilities of roughly one in a million ­ that's an extremely low probability. So it's not something to worry about at this point. In fact, I'd be willing to bet you there's enough new data to drive that number to zero.
But if the number got higher and it really is on an impact trajectory ­ we've got what? ­ eleven years to try to deflect this thing. I think when billions of lives are literally at stake, a crash program could be put together to deflect something like that. Of course, it would require nuclear explosions.
IT WOULD REQUIRE THEM TO BE OUT NEAR THE ASTEROID IN ORBIT?
That's right. Some how you're going to have to change the orbit of something like this. On the kind of time scale we're talking about ­ a decade ­ the only way to deflect something that big and moving that fast is with nuclear weapons.
WE WOULDN'T WANT TO BREAK IT UP?
No. In fact, you would make the problem worse and I did look at the problem of broken up objects in the atmosphere. If that happens, you can actually put more energy into the atmosphere which can make the problem worse.
BECAUSE YOU HAVE MORE PIECES COMING IN ALL AT ABOUT THE SAME SPEED AND MULTIPLYING THEIR IMPACT?
Multiplying their impact. It's the same amount of energy, but a larger fraction of the energy goes into the atmosphere if you have a lot of smaller objects. It's kind of like the difference between a shotgun blast and a single bullet.
DO WE NOW HAVE ANYBODY WORKING ON HOW THEY WOULD USE NUCLEAR WEAPONS TO DEFLECT INCOMING ASTEROIDS?
There are certainly people thinking about the problem, but it's not an economic priority right now.
WAS THE 65 MILLION YEAR AGO EVENT THAT HIT NEAR THE YUCATAN AND IS LINKED TO THE DESTRUCTION OF THE DINOSAURS THE LAST BIG IMPACT OF AN ASTEROID OR COMET THAT CAUSED GLOBAL DEVASTATION?
No, I think there have been others ­ perhaps not extinction-causing, but impacts that have caused global devastation, climate change, at least in the short term. One example of that would be the impact that gouged out the crater that's underneath Chesapeake Bay, Maryland.
WHEN DID THAT OCCUR?
That was about 30 to 35 million years ago."
---
Websites:
http://www.lpl.arizona.edu/spacewatch/
http://ssd.jpl.nasa.gov/  (JPL's "Solar System Dynamics")
http://cfa-www.harvard.edu/iau/lists/Dangerous.html  (Potentially Hazardous Asteroids)
http://nssdc.gsfc.nasa.gov/planetary/planets/asteroidpage.html  (Asteroids and Comets)
http://www.boulder.swri.edu/clark/near.html  (The Asteroid/Comet Impact Hazard by Clark Chapman.)

© 1998 - 2019 by Linda Moulton Howe.
All Rights Reserved.