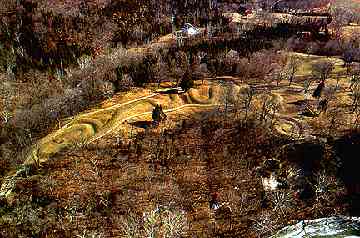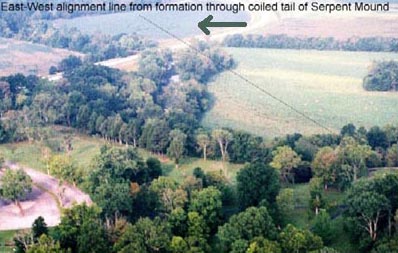 September 6, 2003  Peebles, Adams County, Ohio – Delsey Knoechelman was driving with her mother, Beverly, and her two daughters, Natasha and Aerial around 11 a.m. Sunday, August 24, 2003, when they rode over the Brush Creek bridge and saw "an oddity in the soybean field that was not natural."

Delsey explained to me that the reason they noticed the field was that on Friday, August 22, there was a major thunderstorm that caused a lot of flooding and they were looking for water damage. Upon seeing the strange pattern in the soybeans, Delsey turned the car around and went back home for her camera. She also called a cousin who is very tall so he could help her get higher angled photos of the crop formation. Delsey also called the Adams County Sheriff's Department to see if there was a process for reporting crop formations. The deputy sheriff said there was not and that nothing could be done unless the landowner filed a vandalism report.
Finally through her father, a former deputy sheriff, Delsey was able to confirm who the farm owner was and received permission to enter the field, along with her husband, Tony, and researchers Jeffrey Wilson, Ted Robertson, and Roger Sugden, who contacted a pilot in order to take aerial photographs.
---
Interviews: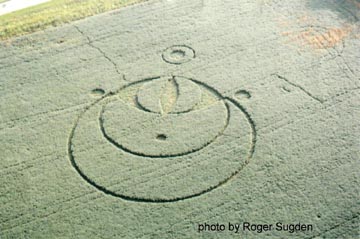 Delsey Knoechelman, mother of two daughters and co-owner with her husband of the website design company, Knoechelman Development Group, Peebles, Ohio: "You can see from Roger Sugden's photographs of Friday morning (August 29), the only paths into the crop circle (were made by) the farmer, Jeff Wilson, and Ted Robertson.
My husband and I ­ we were about the second group to go in and went out into the field and helped them that morning to collect the data and everything.
CAN YOU DESCRIBE WHAT YOU AND YOUR HUSBAND SAW AS YOU WENT INTO THE FORMATION?
Walking through soybeans is like walking through spaghetti. I spent more time trying to protect the soybeans that I was trying to walk through to the point where I was following what they call the 'sprayer lines.' Even that was a nightmare. So, we are walking towards this design and I'm trying to separate these crops to get through them and I was almost in the middle of the design before I realized I was there. You can't tell until you are right on top of it because of the particular lay of the land, the thickness of the crop and sometimes it went from waist to shoulder height.
BECAUSE THERE WERE IRREGULARITIES IN THE FLATNESS OF THE LAND?
More in the crop. It is a very thick type of crop, thick and likes to run among each plant and they intertwine and it is very difficult to walk through.
AS YOU WALKED AROUND IN THE PATTERN, DID YOU NOTICE ANYTHING SPECIAL ABOUT THE SOYBEANS THAT WERE FLATTENED – FOR EXAMPLE, IN THE 'PUPIL OF THE EYE,' COMPARED TO THE SOYBEANS THAT WERE STANDING UP?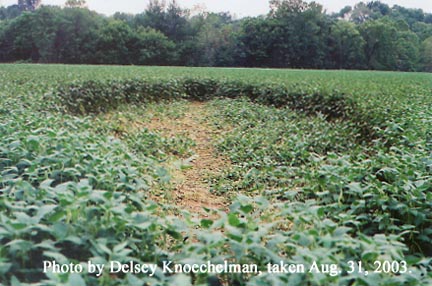 The plants had a very interesting design to the swirl. The 'eye' is shaped like a football and there is yet a distinct line that goes right down the center. And yet, it still continues to swirl clockwise even though there is the center line.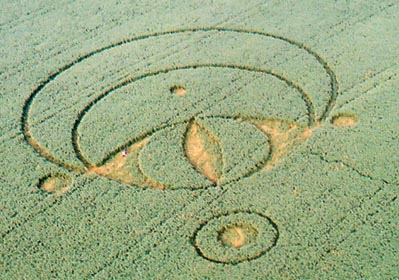 Another oddity was where all the crop would be going clockwise, we did find one particular plant was then woven back towards the other direction.
GOING COUNTERCLOCKWISE?
Yes.
No Tracks Around or In Formation
BECAUSE THE FARMER DOES NOT WANT TO SPEAK PUBLICLY, DID HE MAKE ANY COMMENTS ABOUT TRACKS SINCE HE WOULD HAVE BEEN THE FIRST PERSON IN THERE?
Yes, he did and he said he did not see anything unusual. If anything, he might have caught animal tracks, but that was it. Deer run through there all the time. But he specifically said he never seen any tracks whatsoever.
HAD HE EVER HAD ANY PATTERN LIKE THIS IN HIS CROPS BEFORE?
No.
IS THERE ANYTHING ELSE THAT STRUCK YOU AS UNUSUAL IN YOUR EFFORTS TO WALK THROUGH THE FORMATION?
"Chest Pressure" Experienced by Some Inside Formation
A couple of us kind of noticed on Friday, August 29, morning when we were the first ones, we were collecting data, we just kind of had a heavy feeling. Not all of us had it, just a few.
HEAVY FEELING – CAN YOU DESCRIBE WHAT YOU MEAN SINCE YOU FELT THAT HEAVINESS?
It's kind of like a pressure where if you were starting to get heart burn in that vicinity, and yet it is nothing like heart burn. It's just a pressure that you can feel in your abdomen and chest, like there is weight pushing down on you."
Continued in Part 2
---
Websites:
http://www.cropcircleconnector.com
http://www.cropcircleresearch.com
http://www.temporarytemples.co.uk
http://home.clara.net/lucy pringle
http://www.invisiblecircle.de and http://www.invisiblecircle.org/ser/d-archiv-2003.html
http://www.busty-taylor.com/cropper/98busty2.htm

© 1998 - 2023 by Linda Moulton Howe.
All Rights Reserved.