Return to Part 1.
September 6, 2003 Dexter, Michigan –
The Investigation
Jeffrey Wilson, independent crop circle investigator with a Master's Degree in general science, arrived around 8:30 a.m. on Friday, August 29, with his colleague Roger Sugden who wanted to take aerial photographs. Meeting them in the field was Ted Robertson, a harpsichord craftsman volunteering to help with the survey and sampling work. The group had obtained permission from the farm owner via Delsey Knoechelman to enter the field. Jeffrey estimates he has been in more than 100 United States formations since his first investigation of the Paulding, Ohio pattern in 1996. "Geometrically, the Serpent Mound pattern is one of the most sophisticated that we've seen," he told me this week, and all their electronic testing and plant sampling have shown statistically significant anomalies. See Earthfiles, Part 3.
---
Jeffrey Wilson, Independent Crop Formation Investigator, Master's Degree in General Science, Dexter, Michigan: "Seeing crop formations in soybeans is relatively rare. I've got about 250 or so reported formations in the United States and I want to say there are less than ten that have been in soybeans over the years.
Soybeans is a tough crop to make your way through. It's a vine-like plant, so when you wade your way through the stuff which is about chest high, it is difficult to make your way. You almost have to rip your way as you are walking through the plants.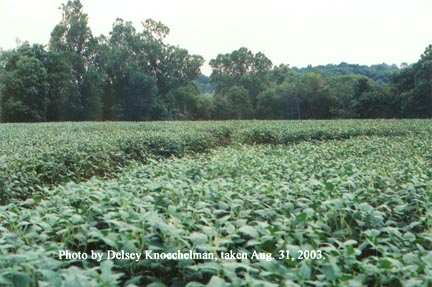 YES, IT IS A VERY DIFFICULT CROP TO WORK IN, WHICH MAKES THIS PARTICULAR PATTERN QUITE EXTRAORDINARY, IT SEEMS TO ME.
Yes, it is. First of all, when you are inside the formation itself, the plants that are down ­ this formation is so large that when you are standing in any one of the circles, you cannot really see any part of the rest of the formation. It is very flat ground there. Maybe only a four foot elevation across the entire formation (of 271 feet length). You can't get up high enough to see any other part of it.
No Tracks or Pathways to Four Small Circles
When we walked around to map out the formation while we were on the ground, none of the four, small single circles in the formation had any pathways leading into them, including sprayer line pathways or pathways connected to the flattened rings or by people walking into them. There just was not anything that would allow us to get into those four, small circles. In one in particular, which is the extreme left circle which is just underneath the two large rings ­ that circle was at least 15 feet from any access point where we had to cross into it.
WHICH EMPHASIZES THAT SOMETHING INTERACTED WITH THOSE PLANTS THAT DID NOT LEAVE ANY TELLTALE FOOTPRINTS, POLE PRINTS OR ANY THING ELSE.
That's correct, yes.
Soybean Plants Inside Formation Exposed to Heat?
In looking at the plants themselves, we normally would look at the growth nodes in cereal crops. But in this case, soybeans are a little bit different. They don't really have analogous growth nodes like on a wheat plant where you would see elongation of the growth node or see expulsion cavities.
In this case in soybeans, what we did find though is where those branches stem off at the side of the plant ­ that's called a leaf base ­ we found there was a collapse and what we are calling necrosis setting in of the surface layer of cells called the parenchyma tissue. We've done a couple of cross sections where we've looked at that leaf base versus controls. There is a clear layer of damage from whatever energies hit the plants and heated up those cells.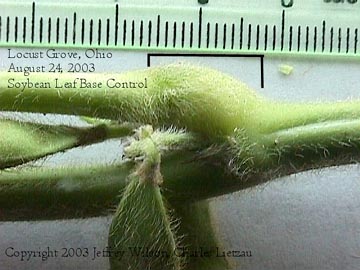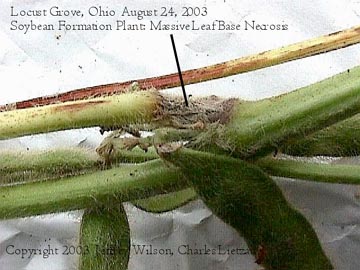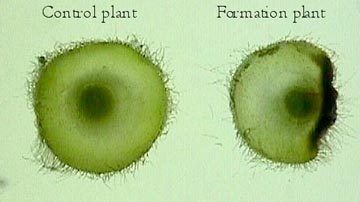 What typically happens in the field crops is that the vessels that carry the moisture through the plants ­ those heat up and it creates a pressure that explodes out of the growth nodes of the plants. But in this case, the layer of parenchyma cells is much thicker in soybeans and acts as a kind of cushion and doesn't actually reach the vessels that would carry that moisture. So, it's only that layer of damage that we see in these plants, again suggesting heating.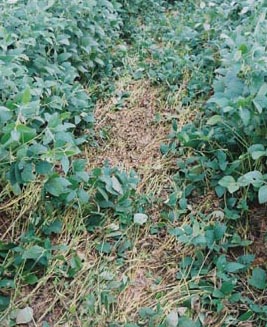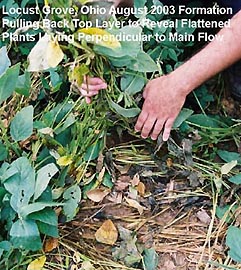 Serpent Mound Is Site of Ancient Meteor Impact
The area around Serpent Mound is geologically interesting in that it the site of an ancient meteor impact. They are estimating around 230 million years ago a meteorite hit this area and shattered the bedrock for about a 5 mile radius and turned over some of the bedrock. Serpent Mound itself, which lies about 3,000 feet to the east of this formation….
A LITTLE OVER A HALF MILE.
Right up on top of a 100-foot-high ridge is the western area of the impact site. The whole area is a spider web of faults and deformations. There actually is a contact fault that runs into this field about 50 feet to the north of where this formation is and then it makes a severe bend and goes to the south, cutting through Brush Creek that runs along adjacent to this field. As we know in geometries, when you have faulting going on, there can be this piezoelectric effect that may be responsible for some of the electromagnetic effects that we see, although we are not certain.
COULD YOU PLEASE EXPLAIN THE ORIENTATION OF THE PATTERN TO THE SERPENT MOUND'S TAIL THAT YOU MENTIONED?
The formation clearly has a central axis point. You have four circles spaced around this Vesica Piscis where you can draw a line through the east circle, through the ring, through the center of that to the west circle and if you extended that line toward the east, that would run through the swirled tail of the serpent on Serpent Mound.
SO, WE HAVE A GEOGRAPHIC ALIGNMENT THROUGH THE CENTERS OF THE CIRCLES IN THE FORMATION GOING RIGHT INTO THE SPIRALED TAIL OF THE MOUND.
Correct. And we confirmed that both visually and with our GPS units.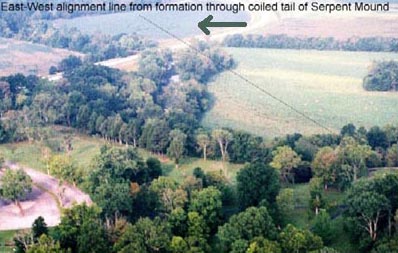 Research Equipment and Electronic Failures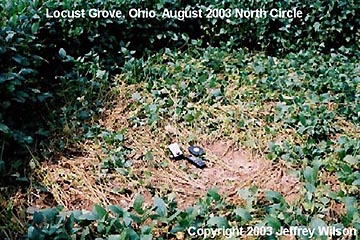 WHAT EQUIPMENT DID YOU USE?
We run a battery of tests. We have a standard protocol when we go into a crop circle. The kind of tests that we do:
1) We take plants that are down inside a formation and we compare them against plants that are away from the formation, normal control plants.
2) We take soil samples and typically send them off to a lab for analysis.
3) I use a Geiger counter to measure radioactivity.
4) I use a Tri-field Natural Electromagnetic Meter to measure the magnetic field strength in micro Teslas.
5) I measure the electric field strength in volts per meter.
6) I measure the radio microwave emission in watts per meter squared.
7) There is an additional one that we can use called a "sum," which sums up or adds together the change in both the magnetic field and radio/microwave.
8) We take GPS (Global Positioning Satellite) readings around the formation to get an approximate latitude and longitude and an elevation.
We did all of those tests. I want to say this is the first formation that we have done all these tests in that every one of the tests that we have run so far came back statistically significant, which means that every one of the tests we did inside of the formation when we compared them to the numbers that we took as a control, everyone of them was anomalous versus the controls.
IN THE PROCESS OF TRYING TO GET THESE MEASUREMENTS, WHAT KIND OF PROBLEMS DID YOU HAVE WITH YOUR EQUIPMENT?
We did have two equipment problems and we're really not sure at this point if it was a result of energy in the formation or not. But, Roger (Sugden) had trouble with his digital camera in the south circle. While he was trying to take pictures, his camera actually heated up very rapidly and he pulled the batteries out of it and they were hot to touch. He never had that happen before.
WHICH WOULD SUGGEST POSSIBLY THE PRESENCE OF SOMETHING LIKE MICROWAVE RADIATION?
Possibly. Well, we did pick up an emission of microwave energy which we've actually never had before. we've never picked up anything in radio and microwave in any other formation that we've looked at. It was slight. I don't think we picked up more than .4 watt/meter, but when you are comparing that to outside the formation which was zero, then we definitely have something there. And right after that, I usually use two GPS units kind of as a control, so we have a double check. And one of the GPS units that was being held by Ted Robertson at the time, as we walked out of the formation just past the south circle, the GPS unit that he was holding, the electronics just fried right out.
WHAT KIND OF ENERGY COULD DO THAT?
To be honest with you, I'm not sure, but it would have to be an electronic component that would override the circuitry and cause that malfunction.
SO BOTH THE HEATING UP OF THE CAMERA AND THE BATTERIES AND THE GPS GOING OUT AND THE ELECTRONICS BEING FRIED ­ THEY WOULD IMPLY THERE WAS SOME KIND OF HEATING ENERGY STILL IN THAT FORMATION, WOULDN'T IT?
Yes, in fact that's what we picked up when we measured the electric and magnetic field strengths. We both picked up elevated readings using those tests.
WHAT ABOUT ANYONE IN THE VICINITY SEEING ANYTHING UNUSUAL IN THE SKY OR HEARING UNUSUAL SOUNDS?
As far as we could determine, there hasn't been anyone who saw anything prior to the formation happening. Although, I want to say that the day or two before the formation was spotted, there was quite an electrical storm over this area of Adams County, Ohio, which lasted quite a long time. The power went out for a couple of hours and affected three different power companies."
---
More Information:
The field report and data by Jeffrey Wilson, Roger Sugden and Ted Robertson will soon be posted at:
Continued in Part 3
Return to Part 1.
---
Websites:
http://www.cropcircleconnector.com
http://www.cropcircleresearch.com
http://www.temporarytemples.co.uk
http://home.clara.net/lucy pringle
http://www.invisiblecircle.de and http://www.invisiblecircle.org/ser/d-archiv-2003.html
http://www.busty-taylor.com/cropper/98busty2.htm

© 1998 - 2023 by Linda Moulton Howe.
All Rights Reserved.