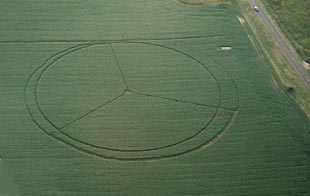 September 12, 2003  Bainbridge, Ohio – On Tuesday this week, September 9, crop circle investigators, Jeffrey Wilson and Roger Sugden, called to tell me a second soybean circle had been spotted near Bainbridge, Ohio, not far from an ancient mound called "Seip." The new formation resembled a Mercedes hood ornament and is about twenty miles from the first soybean formation discovered on August 24, 2003, near the Serpent Mound outside Peebles and Locust Grove, Ohio.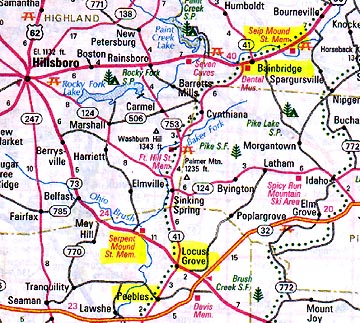 Jeff and his colleagues, Roger Sugden and Charles Leitzau, have now been up in a plane to take aerials and down on the ground to investigate the soybeans. Unlike the truly mysterious and anomalous Serpent Mound soybean formation, this second one near the Seip Mound is definitely manmade, Jeff says.
Jeff Wilson has been in more than a hundred crop formations in the central United States the past few years, so I asked him to describe what he found in the new Seip pattern that is clearly different from the anomalous Serpent Mound formation ­ since both are in soybeans.
---
Interview:
Jeffrey Wilson, Independent Crop Formation Investigator, Master's Degree in General Science, Dexter, Michigan: "The Seip formation is a 100% authentic hoax! We found plenty of evidence of that from mechanical damage to huge errors in the design to we even found a gum wrapper out there. It is quite large. It is about 400 feet across, but it is one huge mess!
YOU HAVE BEEN INSIDE OF BOTH THE SERPENT MOUND AND NOW THE SEIP ONE. CAN YOU GIVE THE LAY AUDIENCE A KIND OF OVERVIEW ABOUT WHY THE SERPENT MOUND IS SO GENUINELY MYSTERIOUS AND THE SEIP MOUND IS SO OBVIOUSLY MANMADE AND HOAXED?
In this (Seip) case, all of the plants were smashed mechanically instead of whatever energy put down the ones over by Serpent Mound. There was a clear distinction between the way the plants looked on the ground. I'll have to send you the photographs so you can see the difference. Almost all of the plants inside this new formation were all dead, like someone had come in and kicked the plants down every which way. It was pretty apparent quickly that this was just one gigantic mess.
WERE MOST OF THE SOYBEAN PLANTS IN THE SEIP FORMATION BROKEN COMPARED?
Probably 90% or more.
OK, 90% OR MORE WERE BROKEN, BUT IN THE SERPENT MOUND FORMATION…
Maybe 30% were.
OK, SO 70% WERE NOT IN THE SERPENT MOUND.
TO MAKE A DISTINCTION BETWEEN THE TRULY MYSTERIOUS FORMATION, WHICH I THINK WE ALL FEEL THAT THE SERPENT MOUND IS, AND WHAT HAPPENED AT SEIP, WHY WOULD ANY OF THE PLANTS BE BROKEN IN THE SERPENT MOUND FORMATION?
I think that's just the nature of the plants themselves. When you try to bend over a soybean plant, it snaps pretty quickly. It snaps quicker than if you try to bend celery. You can just start to bend it slightly and it will just snap. So I think that when whatever energy went down over by Serpent Mound, most of the plants went down without being snapped. But in some areas, there were ­ I want to say there were three or four areas about 10 to 12 feet long ­ in which that whole section, all the plants had been snapped. And it may be such that whatever the energy is, it had to use more force or energy there to get those plants to go down and they just snapped. I'm not really sure. I couldn't give a complete explanation. I'm just hazarding a guess at this point.
Not A Single Anomaly in Seip Formation Tests
We also did the full range of testing and we tested for radioactivity. We did the magnetic field testing. We did the electric field testing. We did all that stuff. And at no point did we get anything anomalous at all. In fact, we got mostly zeroes on everything.
AGAIN, ANOTHER CONTRAST SINCE THE SERPENT MOUND YOU SAID WAS PERHAPS THE FIRST FORMATION OUT OF MORE THAN A HUNDRED THAT YOU'VE INVESTIGATED IN WHICH EVERY SINGLE TEST SHOWED ANOMALIES.
Correct. In this one (Seip), not a single test showed a single anomaly. We looked at the plants very carefully and the tests that Chuck (Charles) Lietzau and I did where we looked at the damage to the leaf bases, I spent quite a bit of time out there looking at the leaf bases in this formation and I didn't find a single leaf base that had any sort of desiccation on (dried or heat damage) it at all. There was no damage at all to any of the leaf bases, even though the plants had been snapped and broken right off and dried out and dead, there wasn't that kind of damage.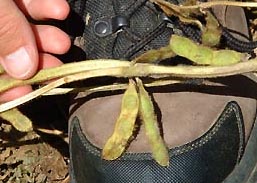 Are Some Manmade Formations Being Made
by An Agency to Deliberately Confuse the Public?
"Mr. Rantala reported that there was no apparent means for the wheat to have been swirled and flattened ­ nothing unusual in the sky, no lights, no unusual sounds, and no unusual odors. Whatever the energetic force was that caused the circles to form, it was beyond the range of visible sight." – Jeff Wilson, July 2003

View from Art Rantala's workshop in Mayville, Wisconsin, of the three circles he allegedly saw go down one after the other over a time span of about 15 seconds in the wheat field across the road. It was raining, but no wind or thunderstorm. Photograph © 2003 by Jeffrey Wilson.

When we started this summer, we visited what we found afterwards was an authentic formation in between Mayville and Kekoskee, Wisconsin ­ the three circles that were eyewitnessed by Art Rantala (at 7:40 a.m. CDT on July 4, 2003. See More Information below).

Above: Mayville, Wisconsin circles that resident Art Rantala allegedly watched form one at a time over about 15 seconds while rain was falling on the wheat field. Below, the small circle of standing wheat inside one of the three Mayville circles. Photographs © 2003 by MilwaukeeChannel.com.

HE SAW THEM COME DOWN IN A THUNDERSTORM?

Well, the circles formed during a rainstorm, but there was no wind, no lightning, no UFOS, nothing that made the circles. They just swirled down, all three in succession, one at a time in about 15 seconds.

AND IT WAS ONLY RAINING.

It was just raining. That was it. We went to that formation and a week later, there was a hoax circle that showed up about two miles away in wheat. It was clearly a hoax.

We then took another trip out to Wisconsin and discovered the authentic formation near Clyman that was reported July 18, about 20 miles from the Mayville crop circles discovered earlier. Then another week went by and yet another hoaxed formation showed up in corn.

Then in the last week of august, we went down to visit this crop circle in soybeans near Serpent Mound, and a week after that, this one in Bainbridge shows up twenty miles away.

THAT IS CLEARLY A HOAX.

That is clearly a hoax. So we seem to be seeing a pattern that somebody out there is copy catting or trying to show that hoaxed circles are the same as authentic ones, or that they can be made. But we have managed to identify the hoaxed ones in every case.

AND THAT WHICH IS TRYING TO MUDDY THE WATERS HERE COULD BE THE FINGER OF OUR GOVERNMENT?

That's a possibility and we don't know for sure. But when I was contacted again by the people that we met inside the Mayville, Ohio, crop circle who claimed they were from the military, they asked us specifically about what we had seen in that hoaxed corn circle later.

USAF man who identified himself to Jeffrey Wilson and Roger Sugden in the July 2003 Mayville, Wisconsin, wheat formation as being a member of a "Special Crop Circle Investigative Unit in the US Air Force," that had been looking into this Mayville formation for a couple of weeks, temporarily based out of a hanger in Milwaukee. Photograph © 2003 by Jeffrey Wilson and Roger Sugden.

We thought that was kind of odd that out of all the formations that we had been to in Wisconsin, that (hoaxed one in corn) was the one they wanted information on. So, whether they were trying to test us to see if we could identify their handiwork or not, that's as good a suspicion as anything else.

THE IMPLICATION IS THAT BOTH IN ENGLAND AND IN THE UNITED STATES, THERE ARE ORGANIZED EFFORTS TO MUDDY THE WATERS AND KEEP THE PUBLIC IN CONFUSION ABOUT WHAT IS HOAXED AND WHAT IS NOT?

Yes, that seems to be what whoever is making these (hoaxed patterns) wants, that might be one of their aims, or goals, to confuse. And I think it is maybe getting us to waste more resources and waste more time and kind of run us around trying to chase after these hoaxed ones because we have to check them out. And they know that. And they are going to continue to put them down whenever we find a new (real) one."

---

More Information:

US Military Visited After Mayville, Wisconsin,
Circles Formed In Rain

Excerpt from Jeffrey Wilson, Roger Sugden, Charles Lietzau and Gary Kahilme report:

(Full report at: www.cropcirclenews.com)

"Roger Sugden and I arrived at the formation after Roger's aerial photo flight, meeting Dr. Lietzau and Gary Kahilmer who were already there. We were surprised by the appearance of a military helicopter circling the formation very low to the ground.

View of the military helicopter circling over the Mayville, Wisconsin, crop formation in July 2003. Photograph © 2003 by Jeffrey Wilson and Roger Sugden.

The helicopter circled the formation for a few minutes (with our team in excited amazement), at which point it then flew off in the direction of the Horicon Marsh. It looked as if it flew the length of the marsh, and then flew back in our direction, but not as close. It then flew off towards the Southeast where we eventually lost sight of it. In all the crop circle reports in the USA in my database (over 250) I have never seen one that mentioned overflights by US military helicopters, or that the US military might be interested in crop circle reports. Of course, we have seen this repeatedly in the UK, but not in the USA.After the helicopter left and our team settled down, we returned to gathering additional soil and plant samples from the field. After about 40-45 minutes, I noticed that we were also under surveillance on the ground.

Looking up the hill towards Mr. (Arthur) Rantala's workshop, I noticed a man in a camouflage uniform watching us with binoculars.After I informed the rest of the team that we were being watched, the uniformed soldier got into his car, drove down the hill towards where we were parked, and slowly passed us noting our license plates. He drove to the end of the block, turned his car around, drove back to where we were standing and parked his car. He got out and walked directly into the formation. Dr. Lietzau was practically jogging after him into the field. We decided on the spot that since we were going to publish our results on the Internet for everyone to share, we were not going to hold back anything from the military.
As we chatted with this soldier from the US Air Force (who we had now identified by his uniform), he told us that he was part of a Special Crop Circle Investigative Unit in the US Air Force, and that they had been looking into this formation for the past couple of weeks, temporarily based out of a hanger in Milwaukee. He also told us that this unit was originally based out of Scott Air Force base located in Illinois (southeast of St. Louis, Missouri). He further told us that this team had investigated two crop circles that appeared near "Downing, Illinois" last summer (2002), but that he hadn't participated in that investigation — but others had. We had not heard of that crop circle report in Illinois, so we are checking to verify that information. As far as we have uncovered, there is a "Downing Park, Illinois" which isn't too far from Scott A.F.B., but no "Downing, Illinois" (using MapQuest and MS Streets), so Downing Park is what he may have meant. [If anyone has information about this reported formation please contact us and let us know so we can confirm this piece of information.]

US Air Force soldier, July 2003, in Mayville, Ohio, formation of three circles that Arthur Rantala allegedly watched form in the rain on July 4, 2003. Photograph © 2003 by Jeffrey Wilson and Roger Sugden.

I (Jeff Wilson) played tour guide, and walked him around the formation — pointing out the various crop lay anomalies, our ideas on where the formation began to be flattened, and how various parts of it were flattened in which order. We told him of some of our plant anomaly findings, and asked several questions (including a few rather silly ones) most of which he dodged or declined to answer. I offered my contact information to him, which he took, and our team offered to cooperate with his investigative team by providing them with any information we might find (and hoping they might reciprocate). I told him that we had traveled up from Michigan, and that our investigative report would be published on CropCircleNews.com. He said he was familiar with the website, and believed that someone from his team would most likely get in contact with me soon about the formation. He said he knew we were from Michigan (most likely from our license plates), and that their team was familiar with CropCircleNews.com. He stayed in the formation about 10-15 minutes, at which point he seemed satisfied, and he returned to his car and immediately got on his cell phone, and then left.

One of the questions we asked him has left us with a nagging inconsistency: we asked him if he had been on the helicopter when it had overflown us about 45 minutes before he appeared. He said he had been on board the helicopter, and that besides himself there were two other members of this special crop circle investigative unit, a pilot, and a co-pilot on board. He had also told us that they were operating out of a hanger in Milwaukee. Milwaukee is at least an hour and a half drive from where the crop circles were located. From the time we lost sight of the helicopter to the time he appeared, he couldn't have flown all the way to Milwaukee, got in a car and driven all the way back to the site. Either he wasn't on board the helicopter, or the helicopter landed elsewhere closer by for him to drive back to the formation in the allotted time. We don't know at this point.
Of course, we are working to confirm all the details of this soldier's freely-given information. Over the next few days we will be in the process of filing Freedom of Information Act (FOIA) requests for additional information about this possible USAF special investigative crop circle unit, and any crop circle information they may have uncovered. Any information we obtain we will share with the crop circle community."

Above: Many of the plants inside the Mayville, Ohio circles had 'blown node collars,' or expulsion cavities. Below: Other anomalies were twisted somatic stem tissue that had to have been affected by some kind of energy two or three weeks before Art Rantala allegedly saw the circles go down in the wheat on July 4, 2003. Jeff Wilson: "The joint or node collars were flash heated by so much energy, that their internal moisture turned to steam causing them to explode and rupture like popcorn. We also located plants with blown node collars inside 'randomly-downed' patches of flattened wheat that were also found in the field as far away as 500 feet from the circle formation."

---

Website:

http://www.cropcirclenews.com/

© 1998 - 2023 by Linda Moulton Howe.
All Rights Reserved.