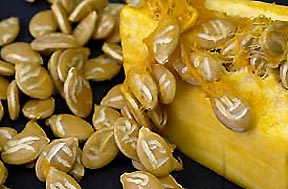 September 9, 2003  Grass Lake, Michigan – Earlier this year on March 14, 2003, a restaurant owner in Salt Lake City contacted The Salt Lake Tribune about the banana squash he cut open filled with seeds seemingly carved with symbols and letters. (See Earthfiles 03/15/03 and 03/28/03) Kasim Barakzia is owner of Salt Lake's Baba Afghan Restaurant in which he has also been the main cook for nine years. Banana squash is a staple in his restaurant meals and he was shocked while cutting open one to find what he thought were symbols and letters on the seeds, including several with what he perceived to be the Arabic symbol for "Allah."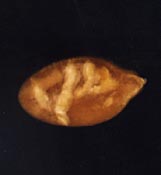 I interviewed Kasim and he agreed to ship some of the seeds to biophysicist W. C. Levengood for examination. Levengood's photographs and findings are detailed below. His conclusion is the same as the Utah State University Extension Service: the markings were made by insect larvae.
---
W. C. Levengood, Biophysicist, Pinelandia Biophysical Laboratory, Grass Lake, Michigan: "The adult squash bug bores a hole into the squash that you don't even see and goes into the parenchyma tissue that holds the seeds and lays its eggs. Later, the eggs hatch into larvae which immediately go to the hilum, the natural holes at the tip of each seed. The hilum controls the amount of water that the seeds take up from the plant.
HOW DO THE WORMS END UP IN NEARLY ALL THE SQUASH SEEDS?
Because the adult lays a helluva lot of eggs. They are the same color as the squash inside, so in the mature fruit, you don't even see them. Kasim (restaurant owner) has probably thrown thousands of these egg/worm-infested seeds away cleaning other squash and didn't even know it.)"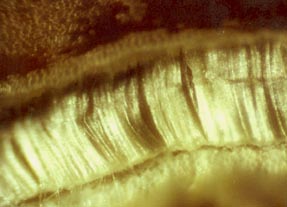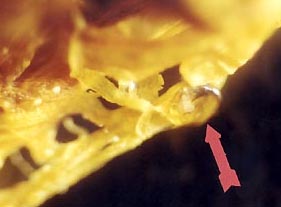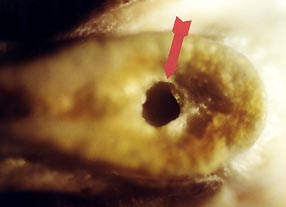 © 1998 - 2023 by Linda Moulton Howe.
All Rights Reserved.