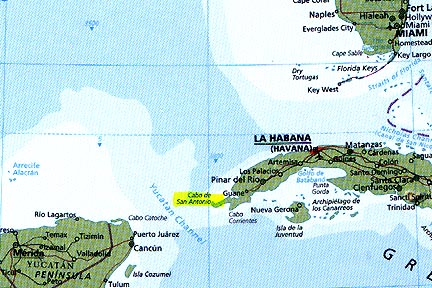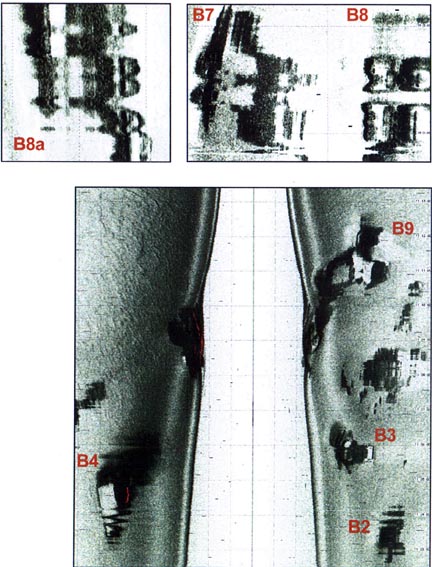 September 24, 2003  Havana, Cuba – It was a summer day in 2000 that the first surprising side scan sonar images of what looked like architecture were seen a half mile down off the western tip of Cuba. The ocean floor there is very flat and covered with white sand. The camera was run by the Remote Operated Video control room on the "BIC Ulises" ship owned and operated by engineer and oceanographer, Paulina Zelitsky, and her husband and business partner, Paul Weinzweig ­ co-owners of Advanced Digital Communications International, Inc. ­ or ADC International, Inc. Paulina was born and educated in the Soviet Union and was assigned to work in Cuba. Later, after she married Paul, a Canadian citizen, ADC was based in Canada. More recently, ADC International has become an international business company incorporated in the Commonwealth of the Bahamas to conduct deep ocean bottom survey in the Caribbean and Gulf of Mexico.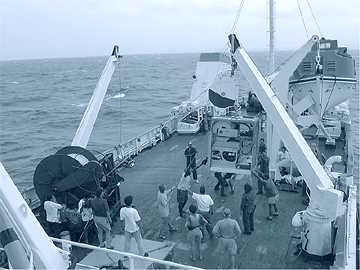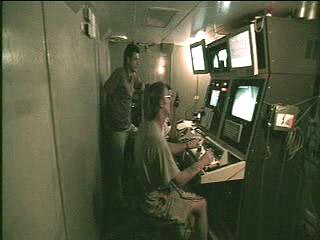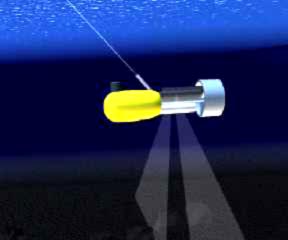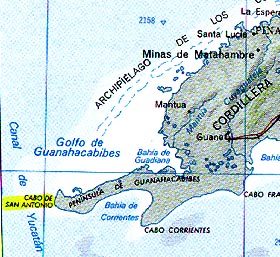 Back in 2000, Paulina Zelitsky had been contracted to take ocean current temperatures at various depths for a global warming study and was working in the waters northeast of Cabo San Antonio offshore from the Guanacahabibes Peninsula. That peninsula is geologically anomalous compared to the rest of Cuba and geologists think it originated from the continental margin of the Yucatan Peninsula. Both have lots of porous limestone mixed with bentonite clay and extremely fine sand. What stunned Paulina about the unexpected structures on the sea floor were the 90 degree angles and regular spacing of large objects as deep as 2200 feet.
Dr. Manuel Iturralde, Ph.D., Geologist at the National Museum of Natural History in Havana, presented a scientific paper about his examination of the side scan sonar images and videos of the stone structures referred to as megalithic because they seem to be shaped or molded.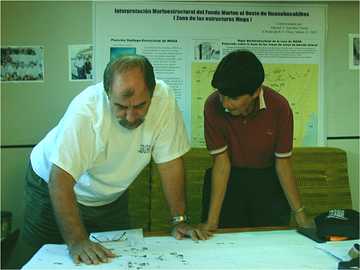 Paulina Zelitsky knows Cuban and Caribbean archaeological histories because one of ADC International's business services is to look for underwater shipwrecks, treasures and artifacts. Paulina had discovered in late 1998 the 100-year-old battleship, The Maine, that blew up mysteriously in 1898, killed 260 American sailors and set off the Spanish-American War. So when she saw the Cuban side scan sonar images with 90 degree angles and long, straight corridors, she thought of Meso American architecture and places like Teotihuacan.
Teotihuacan might have been the largest city on Earth 2,000 years ago. Archaeologists estimate that nearly a quarter of a million people inhabited houses, apartments and palaces covering almost ten square miles on the northeast outskirts of what we know today to be Mexico City.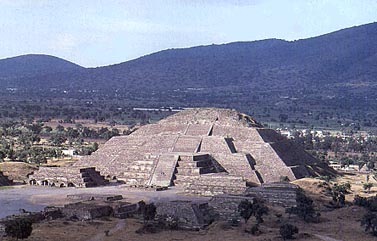 Teotihuacan was dominated by the 15-story-high Pyramid of the Sun and the Pyramid of the Moon, plus the smaller but intricately carved Pyramid of Quetzacoatl. Aztecs did not discover Teotihuacan until the 1400s and gave the mysterious place the name "Teotihuacan," which in the Aztec language meant "City of the Gods" The Aztecs were impressed by the city's size, splendor and the huge rectangular rocks that fit closely together in its buildings and pyramids.
Teotihuacan's most important religious structures were concentrated in the ceremonial center of the city, an area about two square miles in size. A great avenue ran north south for three miles with buildings arranged symmetrically on either side ­ while other streets intersected going east and west in a perpendicular grid pattern. The pyramid sizes ranged from 492 (Moon) to 738 feet (Sun) bases and rose as high as 210 feet.
Those dimensions are similar to the estimated sizes of some of the deep underwater megalithic structures ADC International, Inc. has on sonar images. On videotape, there are also singular, large, granite-like stones that are curved with an unidentified line detail, or squared off, or one that seems to be a pyramid-shape rising up out of a rectangular stone.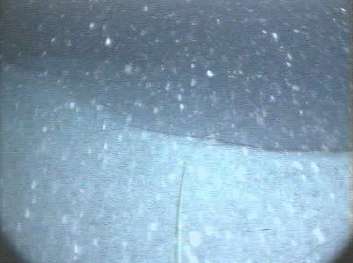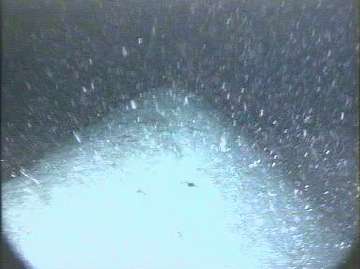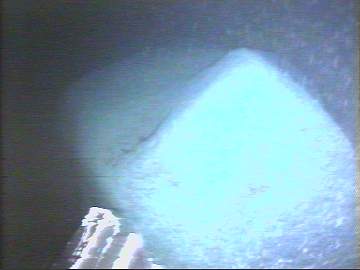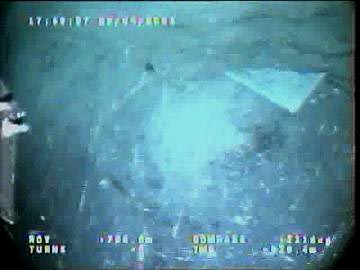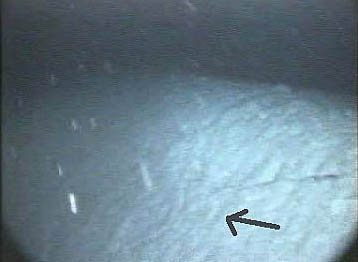 ---
Interview:
Paul Weinzweig, Partner with Paulina Zelitsky, Advanced Digital Communications International, Inc., Havana, Cuba: "We're still very interested and excited about the initial finds that we made in cooperation with Dr. Iturralde. He's taken a respectable conservative, but intelligent, approach: 'We don't know what it is, but it doesn't look like geology to us.'
Where we stand really is that we have the sonar images which show architectural types of structures with geometry, perpendicular lines, symmetries, that one does not tend to find in nature and are not repeated anywhere else in the region. They are extensive and large and we have video, but is suggestive because the stones that we have videotaped are very large, very smooth. They do not belong to the local geology at all, according to our ocean bottom survey work and to Dr. Iturralde. And the stones appear to have some aspects of cut and polished features.
Paulina and I do feel that we have found something remarkable. Our intuition tells us in addition to the data that we have that there is a good chance that there was some remarkable civilization on an island many thousands of years ago to the west of present day Cuba.
AND THE SIZES OF WHAT DR. ITURRALDE CALLS MEGALITHIC STRUCTURES ­ DO YOU HAVE BETTER ESTIMATES ON WHAT THE LENGTH, WIDTH AND HEIGHT OF THOSE RECTANGULAR STRUCTURES WOULD BE?
According to our estimates, the sonar images are up to 150 to 200 meters (492 to 656 feet) in length and maybe up to 50 to 100 meters (164 to 328 feet) in width. So they are very large structures.
ABOUT HOW HIGH?
Well, it's difficult to say because what we see is only above the sandy soil of the ocean bottom. That could be up to 15 to 20 meters, but there could be extensive structures below the loose sand, white sand on the ocean bottom.
WHEN PAULINA WAS DESCRIBING ONE OF THE CROSSED OVALS AT LEAST ONE OF THE INVESTIGATORS THOUGHT MIGHT BE ON ONE OF THOSE, WAS IT ON ONE OF THE MEGALITHIC STRUCTURES OR WAS IT ON A SINGLE, SEPARATED STONE?
It was on what we call ­ the word 'megalith' is used to describe both the structures and the individual stones that are part of the structures. The stones are also very large.
WHAT'S THE SIZE OF THEM?
They could be 10 to 15 feet high.
BY ABOUT WHAT WIDTH?
5 to 10 feet wide. We did not videotape many of these stones, so we have a few samples. But they are very large and some of them appear to be fitted ­ that is, one on top of the other in a comfortable position.
AND IN FITTINGS, WOULD IT LOOK SORT OF LIKE STONEHENGE KIND OF CONSTRUCTION OR?
That's right. Not so long, but certainly more square, more rounded, more perpendicular. As I say, the entire ocean bottom in that region is simply white sand with a few outcroppings of blackened limestone. By the way, when limestone is blackened, it's because of contact with oxygen. So, that also suggests the area was once above sea water. These things (megalithic structures) just appear out of nowhere that look like granite. Because there is no granite on Cuba. Cuba is a limestone similar to the Yucatan. It's mostly limestone, the whole area is limestone.
WHAT ABOUT THAT PYRAMIDAL SHAPE THAT WAS IN THE IMAGE OF PAULINA LOOKING AT THE COMPUTER MONITOR?
That's a stone. It's one of the stones.
AND IT DOES SEEM TO BE PYRAMIDAL SHAPED?
Yes. Yeah, it has a shape that doesn't appear often in nature. It's not a shape one would expect to see in nature.
IN TERMS OF THE ROBOT YOU HAD HOPED YOU COULD GET DOWN THERE WITH MAYBE ONE OF THE ADVANCED SPACE ROBOTS THAT COULD GO AND DRILL INTO SOME OF THESE STRUCTURES AND FIND OUT EXACTLY WHAT THEY ARE?
We are discussing a proposal with National Geographic right now to do a preliminary survey using our own technology, but a more extensive survey than we've done before and on the basis of those findings, to decide whether to go forward or not. If we do go forward, of course, it would be with more advanced technology.
ARE YOU NOW CLOSER FOR NATIONAL GEOGRAPHIC TO HELP WITH SOME FUNDING AND EQUIPMENT HERE?
They would like to send their own camera, their own person down, on our ship to validate what we've found and to get a little more information that would support a more strongly the hypothesis that there was a civilization there. And then they would, of course, take the next step which would be a more serious financial and logistical effort.
Then it's a matter of timing ­ their people have to be ready, we have to be ready. We have to have all permits and approvals in place. The weather has to be right. The season has to be right. It's a complex scenario, you know?
WOULD YOU THINK THE SPRING OR SUMMER OF 2004 MIGHT BE AN OPPORTUNE TIME?
Yes, that sounds very possible.
HAS THERE BEEN ANY OTHER DATA THAT HAS SUPPORTED THE POSSIBLE HYPOTHESIS THAT THERE MIGHT BE METAL COATINGS ON SOME OF THE MEGALITHIC STRUCTURES?
It's possible from our sonar images that there could be metal because the darker the image, the more dense the material. So we do have ­ but again, this is only hypothetical and would need to be verified by visual probes, by an ROV and cameras and good lighting. The area is quite extensive, spread out over several kilometers and really ­ we've barely touched it in terms of video probes.
IS IT TRUE THAT THE MEGALITHIC STRUCTURES COVER ABOUT 10 SQUARE KILOMETERS?
Could be more.
THAT'S A BIG AREA.
It is very extensive. We don't know the full extent of it because we haven't analyzed all of the data from the region. We have a great deal of side scan sonar data and this is just one area that we've done in-depth analysis."
To be continued in Part 2.
---
More Information:
Andrew Collins, British researcher of the Caribbean and the Atlantis legend, hypothesizes in his 2000 book, Gateway to Atlantis, that Cuba was in fact part of the great lost continent that sank into the Atlantic at least 11,000 years ago, according to the famous Greek philosopher, Plato.
Collins says, "I also concluded that Plato's claim that Atlantis's destruction in one single night and day through earthquakes and floods was based on catastrophe legends told to Phoenician and Carthaginian mariners by the indigenous peoples of the Bahamas and Caribbean. They were told to the first Spanish explorers to reach the islands, and speak of a catastrophic event involving a period of darkness, as well as an all-encompassing flood which engulfed a former great land mass, leaving behind the thousands of islands and cays which today make up these same archipelagos.
"In my opinion," Collins says, "these stories relate to a cosmic event which occurred at the end of the last ice age and involved the creation of 500,000 elliptical craters in the eastern states of the United States. See: 12/15/2001 Earthfiles.com report listed below.
Please see my previous Earthfiles.com reports about the Cuba megalithic discovery and related issues such as the Carolina Bay Craters in the Earthfiles Archives.
07/10/2002 —  Update About Cuba Underwater Megalithic Research

12/28/2001 —  Images from Cuban Deep Water Megalithic Site

12/15/2001 —  Are Carolina Bay Craters Linked to Atlantic Ocean Impact and Sinking of Atlantis?

12/01/2001 —  1200 B. C. – What Caused Earthquake Storms, Global Drought and End of Bronze Age?

11/19/2001 —  Update on Underwater Megalithic Structures near Western Cuba

06/13/2001 —  Update on Mysterious Deep Water Sonar Images Off Western Cuba

05/18/2001 —  Underwater City Reported Off Western Cuba

© 1998 - 2019 by Linda Moulton Howe.
All Rights Reserved.