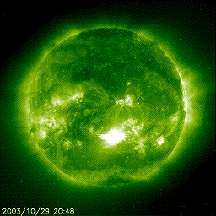 October 29, 2003  Grenbelt, Maryland – Today at 20:48 UT (4:58 p.m. ET), the fifth intense solar X-Flare (10) in a week erupted on the sun. The massive Jupiter-sized sunspot known as 486 has been the source of two of the most powerful solar flares ever recorded in the X category that indicates most intense sunspot eruptions. The unprecedented series of five X-flares within a week began last Thursday, October 23, 2003, when there was a powerful X-sized solar flare, followed by two weaker X-flares. Then on Tuesday, October 28th, came the third largest solar flare ever recorded – an X 17.2. The strongest known is an X 20. That was followed on Wednesday, October 29th, with an X 10.

The five X-class solar flares have caused x-rays, ultraviolet rays and plasma energies to impact the Earth's magnetosphere and ionosphere causing interference with radio and satellite transmissions, the re-routing of some airline flights and provoking beautiful Northern Lights as far south as Florida.
Sunspot 486 and another large one, 488, still pose a threat of more strong X-class solar flares which could continue to interfere with Earth cell phones, pagers, electric grids, and satellites.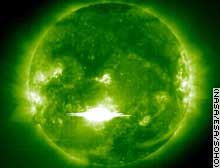 Paul Brekke, Ph.D., Solar Physicist with the European Space Agency in the Solar and Heliospheric Observatory (SOHO) at NASA Goddard Space Flight Center in Greenbelt, Maryland told me today, "This is very unusual. The sun is very active right now and the fact that the same region of the sun explodes with X-sized flares two days in a row is not very common. What happened? We don't really know. The sun is very unpredictable and just two weeks ago, we thought the sun was unusually quiet. There were no sunspots on the surface and we thought this would be a very long and kind of dull decay down from solar maximum. But suddenly, the sun changed its mind and this is the result."
---
Interview:
Paal Brekke, Ph.D., Solar Physicist, European Space Agency, Solar and Heliospheric Observatory (SOHO), NASA Goddard Space Flight Center, Greenbelt, Maryland: "Just about two hours ago (at 4:58 p.m. ET), another very powerful flare erupted from the sun. And this is also a very strong flare compared to normal flares. It's classified as X-9.8, which is still among some of the twenty strongest flares ever recorded in the last 25 years.
YESTERDAY'S WAS A 17.2?
Yes, the one yesterday was much more powerful, but the one today is also very powerful compared to normal flares. When a flare goes up like this, it is a very intense flash of x-rays and UV light. That light will move at the speed of light and reach the Earth in eight minutes and slam into the atmosphere. It doesn't reach the ground because these energies are absorbed by the Earth's atmosphere, but it will heat up the atmosphere and make it turbulent so that many radio communication systems will not be able to reflect from the ionosphere or go through it. So, they usually call this a 'radio black out' when radio communications are falling out due to this intense flare that happened.
HAS THERE EVER BEEN A TIME PREVIOUSLY RECORDED IN WHICH THERE HAVE BEEN FIVE SUCH LARGE SOLAR FLARES IN JUST A MATTER OF A FEW DAYS?
I don't think so big, no. The first one was not that extraordinary. It was an X-5 and X-1. But then you have X-10 and X-17.2 and the next one X-9.8 ­ that's very unusual, I think.
We don't know really why the sun acts like this. Sometimes it has a very quiet period and then suddenly activity runs up again. If you're looking at the top of the solar cycle and sunspots, you will see it's not a very smooth curve. It's jumping up and down and very active for a few weeks. Then it can drop down and be very inactive for another couple of weeks. It goes up and down, but still this period must be regarded as quite special ­ these big flares. Also, by luck, they were centered on the central portion of the sun, so the storms are headed toward us. That is not always the case. We can still see big flares, but if they are on the limb (edge) of the sun, we can see the flash, but we don't receive the storm because the CME cloud will go off on the side.
DO YOU KNOW SINCE YESTERDAY AFTER THE 17.2 X FLARE, DO YOU KNOW WHAT CONSEQUENCES THERE HAVE BEEN ON EARTH TODAY?
From the flare today, I don't know. The flare yesterday had an immediate effect lasting for a few hours. It's the cloud of gas that is coming off the flare that has affect for several days. Right now, the flare is ongoing as we are talking, there is severe radio blackouts on the sunlit side of the Earth, the one facing the sun. That's where the rays are hitting right now. So, that's the immediate effect: on radio communications, some satellite telephone will have problems working because they have to go through this region (ionosphere) and also Global Positioning Systems (GPS) can be interfered with during these solar flare storms.
One group that is using those radio frequencies are the commercial airlines and those blackouts are usually more severe closer to the poles, the North and South poles. They try to avoid those regions when there is a blackout because they don't want to lose contact with aircraft from the tower. They usually reroute their airplanes to go further south, which mean a longer flight and more delays. That's one thing I know happened the last couple of days – air traffic control rerouting planes.
I also heard today that aircraft flying to the South pole for the station down there also had problems with their radio communications.
WHAT EXACTLY IS THE MATERIAL THAT MOVES FROM THE SUN TO EARTH IN EIGHT MINUTES FROM A SOLAR FLARE?
The flare is just light, like any other light, but moves very fast. It takes only eight minutes from the sun to Earth.
Then there is also a second wave of particles which is called 'high energy protons.' That takes about an hour or less from the sun to the Earth. The high energy protons move almost at the speed of light and they can kill satellites and be harmful to astronauts in space.
The third wave that usually comes is called a 'Coronal Mass Ejection' (CME). It's a big blob of gas that is pushed out from the sun at high speed and takes about one to three days to reach Earth, depending upon the speed. That is the big cloud that contains protons, electrons, particles and negatively or positively charged ion plasma, plus the magnetic field. The CME is the one that slams into our magnetosphere a couple of days later after the flare on the sun.
SINCE THIS IS UNUSUAL AND PERHAPS UNPRECEDENTED TO DATE, COULD IT MEAN THERE IS SOMETHING ON THE SUN THAT IS CHANGING?
The sun has always been changing. That's a very interesting topic. We know the sun is more active today than it was like 150 years ago. In fact, there was a period further back in time around 1650 when the sun did not have sunspots for 70 years. People looking into this since the sun is the ultimate driver for our heat and climate, people think the sun might drive the climate's variations. So, this period back about 400 years ago, corresponded to a very cold time period on the Earth called the Little Ice Age. So people have tried to understand how much of the recent global warming, for instance, is due to the sun which is more active now, sends out more energy and particles. This is a very interesting topic to understand: how much of the warming is caused by the sun and how much by atmospheric gases?
WHAT DO YOU THINK?
I personally think that the sun is more important than the general climate society will admit it is. Right now, I think it is a consensus within the climate research society that the sun can explain quite a lot of the warming up in 1940 when the temperature had decreased for 30 years and then is increasing for 30 years. The sun can only explain about 20% of the warming the last few years, but I think the sun can be more important that currently used in climate models.
IF WE WERE GOING TO SEE A PATTERN OF AN INCREASING NUMBER OF THESE LARGE X-FLARES, WOULD WE SEE ANY INCREMENTAL INCREASE IN THE TEMPERATURE ON OUR PLANET?
No, these flares only send out UV and X-rays and they will be absorbed in the atmosphere. It also lasts for only a few hours. If you want to change the temperature on the Earth, you have to have a change in the sun's activity over many years. So, even an 11 year cycle, we can see there is a signal in the surface temperature in the solar 11-year-cycle, so the sun has some effect. But it has to be shining bright for many years, maybe 20 or 30 years before the Earth responds with temperature increase.
SO, THE BIGGEST IMPACT OF HAVING THIS UNUSUAL SERIES OF LARGE X-FLARES IS THE INTERRUPTION WITH OUR COMMUNICATION SYSTEMS?
Yes, that is a serious one because a lot of people depend on this. We mentioned aircraft and control towers. You can imagine you want to go out and rescue people in a snowstorm up in the mountains. You have to send out the rescue team and they will depend on their walkie talkies. Those systems can fail, it can be dangerous to send out people into the mountains to rescue that person sitting there. Many types of things that we have to be aware of and society needs to be aware that if you depend on a system very much, you need to know about these solar flare storms and maybe pay attention to the forecasts and maybe have a backup system for storms.
No, it has happened before in some of the active regions. Very often we see that the sunspots lump themselves on the same side of the sun. Then they rotate around to the backside. And then we see no sunspots until some come back the next month. It takes 27 days for the sun to rotate around its own axis one time. So sometimes sunspots can live for several orbits around the sun. It's not often you have two such powerful flares so close together (October 28 and 29).
DO YOU AND OTHER SOLAR PHYSICISTS HAVE HYPOTHESES ABOUT WHAT IS HAPPENING IN THE SUN TO CREATE THESE GIGANTIC FLARES?
We think we know a little bit about that, especially after SOHO was launched and we can see inside the sun and we can now see beneath the surface of the sunspots. What we think it is: the inner portion of the sun rotates a bit different from the outer layer and this boundary layer where this difference happens, there will be very strong 'friction,' you might say. That is what we think is causing the sun's magnetic field to form. Sometimes these magnetic fields can raise up to the surface and that's what is creating sunspots when some of these strong magnetic fields or areas come up to the surface. They will block some of the energies trying to escape from beneath, but have to come out other places on the sun. That's why sunspots look darker. There is less energy coming out of them and they are a little bit colder.
That's why we think the internal magnetic fields are popping out and after awhile the surface field will become unstable and snap. And we think again you can look at this as rubber bands, two pieces of a rubber band that connect on two places on the sun. You wind them up and if you wind a rubberband up enough, it will snap. And when a rubberband snaps, it goes in one direction and usually with a sound snap, too. So, the snap can be the flare that the energy is released very suddenly and the rest of the energy is going to throw this rubberband away.
IN LOOKING BACK OVER OUR SOLAR RECORDS HAVING TO DO WITH THE 11-YEAR SUNSPOT CYCLE, IS THERE ANY PRECEDENT FOR THERE BEING THIS KIND OF INTENSE SOLAR FLARE ACTIVITY IN BETWEEN SUNSPOT CYCLES?
A sunspot cycle on the 11 year cycle has been measured only with the number of sunspots. You can have fairly good solar storms even if there are a few sunspots on the sun. If you go back in the literature and look at the previous solar cycles, very often some of the biggest flares have happened actually on the decay phase of the solar cycle. We are now in a decaying phase. We reached maximum solar cycle in 2000. But increases can happen any time. We can never be for sure. But most of the flares happen during solar max or just after.
IF THESE WERE COMING DAY BY DAY FOR A PERIOD OF TIME, WOULD THEIR IMPACT INCREASE ON THE EARTH BECAUSE SO MANY WERE COMING? OR DOES IT DISSIPATE QUICKLY?
I think it dissipates very quickly, but if the storm that came yesterday and hit us today ­ if the storm continues for two days like they sometimes do, the next storm from today will maybe arrive early tomorrow and then they might add up. If you had three or four of these flares in four days, then it will increase impact on the Earth. But the sun has existed for many thousands of years and there have been many flares back in history. I don't think that is a worry.
YOU ARE NOT PERSONALLY CONCERNED ABOUT WHAT THIS INTENSE X-FLARE ACTIVITY MIGHT MEAN?
No, the Earth system will accommodate this easily. It's done it before. It will just be a lot of activity in the system right now and in a few days, we will be back to normal. Unless there is another flare. But in four or five days, all this activity will be out of sight from us and it will probably be at least 14 days with a quiet and peaceful time."
---
 Website:
http://sohowww.nascom.nasa.gov/

© 1998 - 2019 by Linda Moulton Howe.
All Rights Reserved.