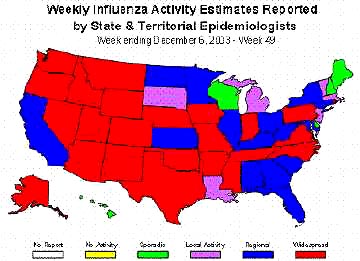 Updated – December 12, 2003  Little Rock, Arkansas – The way the Fujian flu has hit so early and so hard in the Northern Hemisphere has left some seasoned doctors stunned. Dr. James Todd, Director of Epidemiology at Denver Children's Hospital where at least four flu-related deaths have occurred, said this week, "In my 30 years on the job I've never seen an outbreak this bad."

This is dangerous, deadly flu and to make matters worse, the nation has been running out of flu vaccines. But yesterday on December 11th, U. S. Secretary of Health and Human Services, Tommy Thompson, announced at a press conference at the Centers for Disease Control in Atlanta:
"The Department has just completed the purchase of 100,000 doses of adult Influenza A vaccine from Aventis Pasteur (in Europe). It is being shipped to state health departments now. It is expected to arrive in the states by the end of this week. Each state's supply will be based upon its population."
Secretary Thompson said an additional 150,000 doses of pediatric vaccine had also been purchased from Aventis and is expected to be ready for shipment to the states by January, 2004. Secretary Thompson emphasized that his department was looking for other vaccines wherever possible.
CDC says the dangerous Fujian virus has now spread to every state and schools throughout the United States are reporting high absentee rates because of the flu. With so many students and teachers ill, some schools have temporarily closed. One example is the Trousdale County schools near Nashville, Tennessee. It's a district of 1,300 students and classes were canceled on Tuesday with no plans to open again until Monday, December 15.
Also this week at Dallas Children's Medical Center in Texas and in Colorado Springs, Colorado hospitals, doctors have been reporting children with so much damage from the Fujian flu strain that they are put on heart-lung bypass machines just to stay alive. The number of deaths has climbed to an estimated two dozen, including a teenager.
Further, Dr. Steve Schexnayder, the Chief of Critical Care Medicine in Pediatrics at the Arkansas Children's Hospital in Little Rock, reports an unprecedented number of flu cases – including his own daughter – and more severe complications in children from flu than he has ever seen before.
---
Interview:
Steve Schexnayder, M. D., Chief of Critical Care Medicine, Dept. of Pediatrics, Arkansas Children's Hospital, Little Rock, Arkansas:
Unprecedented Number of Influenza A Cases
"We have been treating children from Louisiana with severe complications and in terms of confirmed influenza, our complications at this point have come from the Arkansas/Texas border and Louisiana ­ the most severe complications we have seen.
HOW MANY CASES HAVE YOU HAD SO FAR OF CONFIRMED INFLUENZA AND WHAT DO YOU EXPECT THE INCREASE TO BE?
I don't have an accurate number. I believe the hospital had reported 400 positive tests as of yesterday. We are very concerned. Yesterday we set a record for the number of in-patients in our hospital and we simply do not have room for more sick children at this point. We are very close to maxing out the resources we have to care for them. So, we're obviously very concerned on a number of fronts.
THAT WOULD BE HOW MANY AS OF YESTERDAY?
Yesterday we had 260 in the hospital. We have never gotten 260 patients in the hospital before and that was essentially using most beds that weren't in a specialty area such as a burn unit or the natal intensive care.
DOES THAT MEAN YOU ARE NOW HAVING TO TURN CHILDREN AWAY WHO ARE SICK AND SENDING THEM OFF TO OTHER HOSPITALS?
We have not. We have delayed transfer of some in, but we're fortunate that we have been able to either provide or ensure that children who needed particularly our services in critical care were able to get their needs met through our institution or one with similar capabilities.
BUT IF YOU MAXED OUT YESTERDAY ON DECEMBER 10, 2003, AND THIS INCREASES OVER THE NEXT FEW WEEKS, WHAT WILL HAPPEN?
We could be faced with a situation that we've actually never encountered that is routine in most cities in the country of actually diverting ambulances and saying we don't have the resources to take more patients in the emergency department at this point.
Unprecedented Numbers of Severe Complications
In addition to a really unprecedented number of flu cases through our out-patient areas within the hospital, meaning our clinics and the Emergency Department, we're also seeing a number of children with severe complications. The severe complications have included staph pneumonia which was mentioned in that AP article, we've seen a condition where there is an inflammation of the heart which causes the heart to function very poorly. We've seen breakdown of muscles resulting in kidney failure. We have seen little babies with pneumonia. In addition to some more common illnesses that can be associated with influenza such as croup or one called bronchiolitis.
WHAT ABOUT THE BRAIN?
We have not seen any influenza encephalitis yet. But with the volume of influenza we're seeing this year, we may. But we have not seen brain complications to my knowledge at this point through the intensive care unit. They may have in other parts of the hospital. But if the children, if they've had that, it's been mild and not sick enough to require admission to the ICU.
IF THE AMOUNT OF COMPLICATIONS IN THIS FLU IS UNPRECEDENTED, WHAT IS IT ABOUT THIS FUJIAN INFLUENZA A THAT IS CAUSING SO MUCH DAMAGE IN CHILDREN?
We simply don't know. I think that is the target of the CDC trying to examine this. Is it a really different strain? Or are we just seeing a larger number of children affected by it? We're not clear why this seems to be an incredibly contagious and in some cases, very virulent strain.
WHAT IS HAPPENING IN THE BODY OF A CHILD OR ADULT THAT HAS TO GO ON A HEART-LUNG BYPASS MACHINE?
Generally that is from failure of the heart and/or lungs. It can be from what we call myocarditis which is an inflammation of the heart muscle or you can also have a severe pneumonia, or a combination of both. And a patient with severe shock who is literally dying, it might be a rescue therapy we would use.
WHAT THE VIRUS IS DOING IS ATTACKING LUNG TISSUE, HEART TISSUE, MUSCLE TISSUE AND POTENTIALLY BRAIN TISSUE IN SUCH AN AGGRESSIVE WAY THAT IT'S CAUSING THIS MUCH DAMAGE?
Yes, in general, and with lung it might be a particular secondary infection like pneumonia. Certainly how many patients we are seeing causes me an alarm. Pneumonia is a complication of influenza every year, but the vast numbers of children we are seeing with influenza make me very concerned that we could be set up for having a large number of complications that potentially could overwhelm our resources.
THE CDC REPORTED YESTERDAY THEY HAVE FLU REPORTED IN EVERY STATE EXCEPT WASHINGTON, D. C., AND MASSACHUSETTS. THEY ARE EXPECTING THOSE PLACES TO BE INFECTED AS WELL. WE ARE MOVING TOWARD EPIDEMIC LEVELS OF THIS FLU. IF YOU'VE HAD UNPRECEDENTED NUMBERS OF CHILDREN WITH THESE VERY SERIOUS COMPLICATIONS, WHAT ARE YOU EXPECTING TO SEE IN THE NEXT THREE OR FOUR WEEKS?
I think we will be at risk to continue to see these complications as we see more and more children with the disease. I think the onus is on medical professionals to be aware of complications and for parents for a child who seems disproportionately ill to get that child to medical attention quickly.
Drug-Resistant-Staph Bacteria
TIME IS OF THE ESSENCE IN THINGS LIKE STAPH INFECTIONS WHICH CAN TAKE OVER THE BODY PRETTY QUICKLY. I'M CURIOUS WHAT YOU KNOW ABOUT THE STAPH- DRUG-RESISTANT GERMS THAT SEEM TO BE INFECTING PEOPLE?
More and more of the infections that we are seeing now that are caused by staph are being caused by resistant organisms. Five years ago, we would typically see a rare case of any type of staph infection ­ the most common being a skin infection like an abscess of the skin or what we call cellulitis, just inflammation of the skin and soft tissues from staph infections.
Five years ago, only a few percent of those were caused by drug-resistant organisms. Currently, we are seeing probably around 40% to 50% of the organisms are resistant to the traditional antibodies that we've treated them with.
WHAT DO YOU DO IN THESE CASES?
We use different antibiotics. Fortunately, there are some alternatives available. Sometimes they are more costly and frequently more toxic than some of the other medications we have more classically used. But there are other antibiotics available.
WHAT IS YOUR PERSONAL GREATEST CONCERN AS WE TALK NOW ON DECEMBER 10?
That we are still on the up-slope of this widespread illness. We will continue to see more and more cases of influenza with potentially inadequate vaccine protection this year because of the shift, what we call the antigenic shift. And as we see increased numbers (of patients), we will see increased numbers of complications.
THAT MEANS INCREASED NUMBER OF DEATHS, DOESN'T IT?
It can. We've been fortunate that we've been able to support all the children. We've taken care of complications and have not had any deaths. However, that could change today.
Fujian Flu Symptoms
I THINK WE TEND TO UNDERESTIMATE THE SERIOUSNESS OF FLU. I REMEMBER HAVING THE HONG KONG FLU 1968 AND FEELING LIKE I HAD BEEN HIT BY A MACK TRUCK AND UNABLE TO MOVE FOR FIVE OR SIX DAYS. IF I UNDERSTAND CORRECTLY, THESE ARE THE KINDS OF SYMPTOMS THAT SHOULD BE EXPECTED FROM CHILDREN TO ADULTS WITH THE FUJIAN STRAIN?
Correct. I have a daughter at home right now with it who developed flu despite being vaccinated about a month ago. So, clearly no vaccine is 100%; however, we have seen a number of children and adults that have had flu symptoms despite being immunized.
COULD YOU DESCRIBE FROM YOUR MEDICAL POINT OF VIEW EXACTLY THE SYMPTOMS YOUR DAUGHTER HAS HAD WHICH WOULD MAYBE HELP PARENTS WHO ARE LISTENING?
Fever, headache, cough and muscle aches have really been the predominant ones. Occasional vomiting. But really the fever, muscle aches, headache and cough and some sore throat. In fact, it started with a store throat and cough.
WHAT KIND OF FEVER HAVE YOU BEEN DEALING WITH?
She began treatment with an anti-viral medicine within about 12 hours of her symptoms and her fever has only been to about 102, which has been relatively low compared to some kids we've been seeing in the emergency department. We've seen temperatures of 105 not uncommonly.
THAT IS REALLY SERIOUS.
Yes, it is.
Anti-Viral Drugs
WHAT SHOULD PEOPLE DO ABOUT GETTING ANTI-VIRALS?
Contact your physician and the physician might want to see them and test them to see if it is influenza. There is a time window, though, for anti-viral medication in that it needs to be given within 24 to 48 hours of onset of symptoms. It does not cure it immediately. Most of the data suggests that you can reduce potentially the severity and length of symptoms by approximately a day. We have already seen a regional shortage of some of the anti-viral medicines as well.
BECAUSE THEY ARE BEING USED SO MUCH IN OTHER PLACES?
Just because we were using so many of them. We had a stock this week, but two weeks ago we had none available in liquid form for a period of time.
THAT MUST BE FRUSTRATING AS A DOCTOR KNOWING IT COULD HELP. AND THAT RAISES A QUESTION THAT IS COMING INTO EVERYONE'S MINDS: WHAT DO WE DO ABOUT DISTRIBUTION OF BOTH VACCINES AND ANTI-VIRALS IF IN THIS YEAR WE ARE JUST DEALING WITH FUJIAN, WHICH IS AN EPIDEMIC, NOT A PANDEMIC. WHAT WOULD HAPPEN IF WE WERE FACING A PANDEMIC LIKE THE 1918 SWINE FLU?
We would be in a much more serious condition because clearly the supply of anti-virals is not sufficient to treat the United States, much less to treat the world."
---
Website:

© 1998 - 2023 by Linda Moulton Howe.
All Rights Reserved.