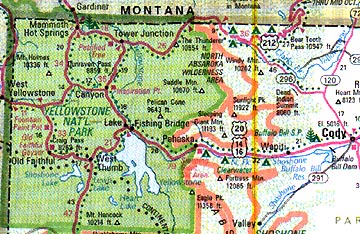 Yellowstone National Park in western Wyoming is an active volcano and the world's largest concentration of thermal features.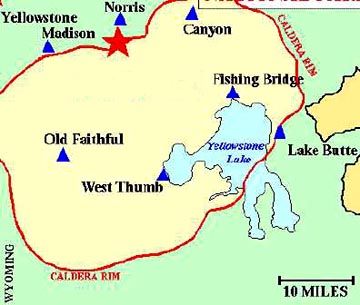 December 12, 2003  Yellowstone National Park – This past week in San Francisco, the American Geophysical Union (AGU) had its Fall meeting which included two dozen presentations about research concerning Yellowstone National Park. Yellowstone is an active volcano and the world's largest concentration of thermal features.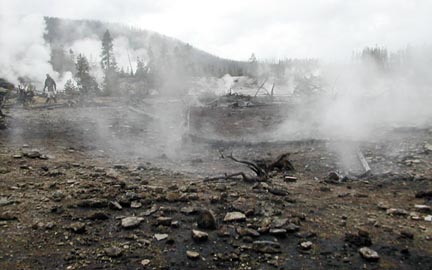 The heat comes from the volcano that created the current geography of the park 640,000 years ago after a gigantic eruption. Yellowstone volcanic eruptions have occurred in the past 2.1 million years ago; 1.3 million years ago, then 640,000 years ago. Some scientists wonder if the volcano is overdue for another explosion? Or is it perhaps headed for quiet extinction?
There were several scientific papers at the Geophysical Union meeting that focused on thermal and land deformation changes in Yellowstone. Satellite radar images confirm a large area of uplift, about 30 by 40 kilometers, or 19 x 25 miles, which is centered under the north rim of the Yellowstone caldera. Geologists call it the Norris Uplift Anomaly, which began raising up in 1997 a few millimeters a year.
Writing about the bulge, United States Geological Survey scientists appearing before for the American Geophysical Union spoke about: "Stress Transfer, Thermal Unrest, and Implications for Seismic Hazards Associated with the Norris Uplift Anomaly in Yellowstone National Park."
These are their words (see AGU website below):
"The spring and summer of 2003 has been a time of vigorous thermal unrest in the Norris Uplift Anomaly… Unrest began with the eruption of Steamboat Geyser in May 2000, and has intensified in the 2003 spring and summer with the eruption of Porkchop Geyser on July 16, which had been dormant since 1989. From April 1 through July 1, 2003, the temperature of waters in Porkshop's vent increased continuously.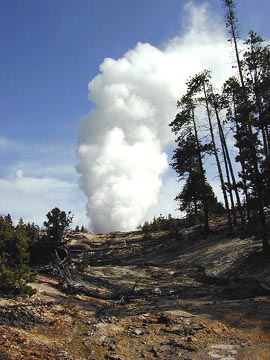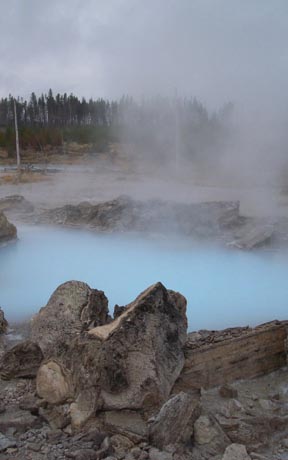 "There has also been the formation of a 75 meter line of fumaroles just north of the Norris Geyser Basin and a general trend of increasing spring and ground temperatures there. This year, the 'Norris disturbance' began around July 11, 2003, when pronounced changes were noted, including thermal pools that were boiled to dryness, creating fumaroles.

"The National Park Service has closed some footpaths in the geyser basin owing to near-boiling ground temperatures. The uplift has also led to an increase in seismic hazard potential in the area of uplift."
Other USGS research this year was conducted by geologist Lisa Morgan who took a team underwater at Mary Bay in Yellowstone Lake. Mary Bay was apparently created 13,000 years ago when a gigantic steam explosion ejected rocks and gas all around the area. Nearby at the bottom of the lake itself, there is what park geologists call a "structural dome" that is 2100 feet across and 100 feet high. Is the dome an indication of more building pressure below the lake that could blow like it did 13,000 years ago? Dr. Morgan thinks the dome is static, but in Mary Bay her diving team reported 250 thermal vents, fissures, geyser basins and 30-foot-high columns of silica.
What is happening at Yellowstone? Could all the hot temperature changes, new steam and water eruptions, and large land bulge be related? Are they precursors to a big steam, or water, or carbon dioxide, or lava eruption that might be coming?
I talked about these questions on December 11th with Hank Heasler, Ph. D., Supervisory Geologist for Yellowstone National Park in Yellowstone.
---
Interview:
Hank Heasler, Ph.D., Supervisory Geologist, Yellowstone National Park, Wyoming: "You're right ­ it's all related because it is caused by the heat from the Yellowstone volcano as far as this bulge and all the hydrothermal features, all the hot springs geysers, mud pots and steam vents in Yellowstone, are the result of the volcanic forces. Does this signify an imminent danger?
We don't believe so because there are things that you analyze and look for to indicate any sort of imminent hazard that is getting ready to occur.
LIKE WHAT?
Let's go through the process and see if you can tell me. If we started having a vast amount, cubic miles of molten rock starting to move to the surface of the earth, what do you think might happen?
PROBABLY SEISMIC EVENTS.
You've got it. That's our number one indicator. And they would not be minor seismic events. These would be seismic events in the 5 to 6 magnitude (Richter Scale). Basically people in Yellowstone can feel seismic events that begin about 3, so by the time they are up to magnitude 5 or so, the tremors can be felt 100 times easier.
If we have a lot of molten rock forcing its way up to the surface of the earth, as the rock moves up, there will be some fairly significant earthquakes.
Then if it got to the point that we were having felt swarms of earthquakes, we would focus in a lot, the next thing would be ground deformation, ground uplift or subsidence. Do we see highly unusual patterns of that? That would then tend to focus in on perhaps the scale of the eruption and whether it would be a small, local event? Or perhaps bigger? Then from there, we would look at chemistry and temperatures.
AND NONE OF THESE THINGS THAT YOU HAVE JUST OUTLINED HAVE OCCURRED IN 2003?
None. In fact, last year in 2002, we had some interesting earthquake swarms around Grant Village and progressing from Grant Village toward the caldera boundary that were fascinating scientific-wise. We haven't had any such swarms this year.
We've had one magnitude 4.4 earthquake ­ that's been the strongest earthquake. So, the seismic action is at or below background levels for Yellowstone.
AND THE LAST BIG ERUPTION OF THE YELLOWSTONE VOLCANO WAS 640,000 YEARS AGO. IS IT FAIR TO SAY THAT NEITHER YOU NOR ANY GEOLOGIST EXISTING ON THE PLANET TODAY KNOWS IF WE ARE NOW AT ANOTHER POINT WHERE IF THERE IS SOMETHING LIKE THIS 640,000 CYCLE, THAT WE COULD BE MOVING INTO A PERIOD WHERE IT COULD BLOW AGAIN?
I think that's a fair statement. You're right in your statement that Yellowstone is a very, very active volcano. I think a main question that comes up: Is it something to be feared? I don't think it's something to be feared, but it's something we need to be aware of and keep our finger on the pulse of.
Now, if you want to start playing the odds game ­ the most likely type of volcanic eruption would be just a simple lava flow. We've had 30 of those since 640,000 years ago and those definitely, if they flow over a road, affect travel. But they don't affect anything regionally. They are just very local, like in Hawaii, depending on the type of lava flow.
SO BOTTOM LINE AS A GEOLOGIST WHO WORKS AND LIVES IN YELLOWSTONE PARK, YOU ARE NOT CONCERNED ABOUT THERE BEING SOME KIND OF GEOTHERMAL OR VOLCANIC EVENT ANY TIME SOON?
That's it exactly. Now, am I diligent and do I keep aware? Constantly. That's my job.
And sometimes do we have calls at 1:30 in the morning because something looks interesting and peaks our curiosity as a scientist? Yes. But have any of those then gone on to indicate major changes? No."
---
More Information:
What about that big bulge under the north side of the Yellowstone caldera that has been rising a few millimeters each year since 1997?
Professor Bob Smith at the University of Utah and his students reported at the American Geophysical Union meeting that they have done seismic tomographic imaging of the bulge which covers 19 x 25 miles. Their seismic velocity data suggest there is leakage of gas, maybe carbon dioxide, causing some of the ground to lift. There is a possibility that there might be some magma movement, but the seismic tomography shows magma only in small amounts under the Mallard Lake and Sour Creek resurgent domes in Yellowstone. The University of Utah data suggests that 90% of the large bulge is solidified. Another possibility for the slowly rising bulge could be superheated water moving underground.
---
Websites:
http://volcanoes.usgs.gov/yvo/2003norris.html  (U. S. Geological Survey)http://www.agu.org/  (American Geophysical Union)

© 1998 - 2023 by Linda Moulton Howe.
All Rights Reserved.