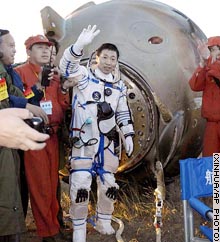 December 12, 2003 Alexandria, Virginia – American science might soon be challenged by the President of the United States with a request to get back to the moon. According to Washington insiders, Vice President Dick Cheney has been having a series of confidential meetings for some time to discuss with agencies and congressmen how to reinvigorate the depressed NASA space program. One idea that has caught a lot of attention ­ and speculation ­ is going back to the moon with astronauts – and maybe even building a permanent lunar base.
Next Wednesday on December 17, President George Bush will speak on television. It will be the 100th anniversary of the Wright Brothers first airplane flight at Kitty Hawk, North Carolina, and only two days before the December 20, 1973, anniversary of the last time that American astronauts landed on the moon.
It's now thirty years later, the Columbia shuttle blew up last January and there hasn't been a shuttle launch since. But only two months ago on October 16, China's first man in space completed fourteen orbits around the earth. Now the Chinese leaders say they want to send a research satellite to orbit the moon within the next three years.
Could it be that China's sudden public emergence as a player in the space exploration game has provoked the Bush administration to test the political waters about going back to the moon?
This week I talked about that question with Dean Cheng, Senior Asia Analyst and Chinese Space Program Specialist for CNA Corporation, originally the Center for Naval Analysis, in Alexandria, Virginia.
---
Interview:
Dean Cheng, Senior Asia Analyst and Chinese Space Program Specialist, CNA Corporation, Alexandria, Virginia: "In terms of impact on the U. S., the simple act of the Chinese trying to get to the moon I would expect and in some ways hope would serve as a spur to get us to think about what we want to do in space.
The time to think about how we want to deal with China in space is not when they are knocking at the door of the International Space Station (ISS). Similarly, how we want to as a nation to respond to and interact with China in space is not necessarily in response to finding out they are planning on going to the moon.
HOW CAPABLE DO YOU THINK CHINA IS RIGHT NOW OF PLACING SOMEONE ON THE MOON?
Tomorrow?! I think the Chinese have just put their first man in space. So, this is not a short term goal. It is a challenge, but hardly outlandish.
I would note that we put our first man in space, if I remember correctly, in 1961. And we had a man on the moon in 1969 and that's 8 years and that's where there were a lot more in the way of theoretical issues ­ everything from the affects of weightlessness to what the lunar surface was actually comprised of that were overcome. The fact that those theoretical issues have been resolved makes it much more an issue of engineering than one of science in terms of the difficulties inherent.
WHAT DO YOU EXPECT WILL HAPPEN WITH CHINA'S SPACE PROGRAM?
There clearly is an interest in going to the moon first with unmanned probes and then with manned craft. Then there seems to be an interest in either establishing a Chinese space station. Or perhaps, although they have not said, some kind of exchange with the International Space Station. I would expect to see in the next 10 years see various parts of that come to fruition very clearly. First, a multi-man shot ­ the official statement was within the next two to three years. I would be very surprised if it took that long.
WHAT IS THE GREATEST VALUE FOR ANY NATION, INCLUDING THE UNITED STATES AND CHINA, TO HAVE SOME KIND OF PERMANENT BASE ON THE MOON?
Well, I have to say that is a very good question, one that I'm not sure that I or too many other folks have answers to. Certainly, there are scientific aspects. The moon is our closest celestial neighbor, but we know relatively little about it ­ anything below the surface where we have probed and dug. So, there are scientific rewards to be had. There are potentially economic benefits to be gained, although I'm not an economist. It would seem there are significant hurdles to be overcome before it becomes a long-term paying operation.
Presumably it represents an ability to survive on the moon in a long-term suggests an effort to go beyond Earth. Presumably it would provide a testing environment to go to Mars or elsewhere. So in so far as space is the final frontier, going to the moon is our first step into that larger, broader frontier."

© 1998 - 2019 by Linda Moulton Howe.
All Rights Reserved.