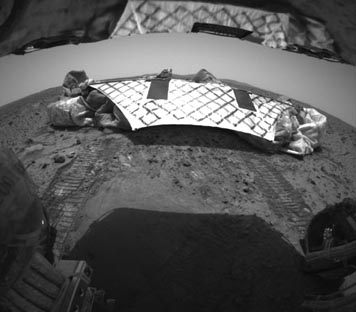 January 15, 2004  Pasadena, California – NASA reported early today after the 3 a.m. ET roll out of Spirit onto the Martian crater soil: "This image from the Mars Exploration Rover Spirit's rear hazard identification camera shows the rover's hind view of the lander platform, its nest for the past 12 'sols,' or Martian days. The rover is approximately 1 meter (3 feet) in front of the air bag-cushioned lander, facing northwest. Note the tracks left in the Martian soil by the rovers' wheels, all six of which have rolled off the lander. This is the first time the rover has touched Martian soil."
For the next three months – or as long as its energy supply lasts – Spirit will be a working "geologist" sampling soil and rocks in the crater, looking for evidence of ancient lake water and possible microbial life.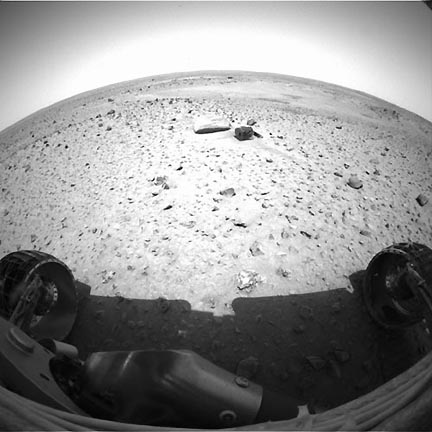 This wide-angle image from Spirit's front hazard identification camera shows the rover's view of the Martian landscape from its new position 1 meter (3 feet) northwest of the lander. One of the rover's next tasks will be to locate the Sun with its panoramic camera and calculate from the Sun's position how to point its main antenna toward Earth.
---
Websites:
http://marsrovers.jpl.nasa.gov/home/index.html

© 1998 - 2019 by Linda Moulton Howe.
All Rights Reserved.