"Certainly like the green in the Gusev crater picture or by looking at the development of darker spots toward the South Pole which are tied to seasonal variations, it certainly gives rise to the speculation that there could be algae."
 – Michael McKay, European Space Agency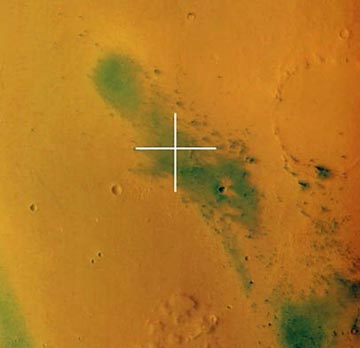 January 31, 2004 Darmstadt, Germany – The European Space Agency's Mars Express Orbiter has been exploring the red planet from 186 miles (300 kilometers) altitude. Its high resolution stereo camera has been sending back extraordinary color images. Some, like the Gusev crater image above, show green areas. Some like the Reull Vallis ancient river channel below show blue and blue-green regions.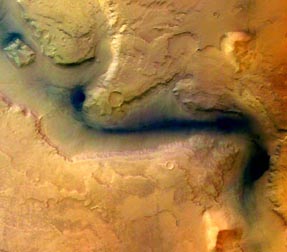 Could any of the blue and green colors indicate current moisture? The Mars Express camera and OMEGA infrared spectrometer confirmed a lot of water ice at the South Pole on January 18, 2004, and the Spirit and Opportunity rovers are looking for further soil and rock evidence of water – past and present.
What causes the green, blue and blue-green colors in the Martian geography? Current scientific speculation includes mineral deposits, soil moisture and maybe even algae. I called the European Space Agency in Darmstadt, Germany, this week and asked ESA Flight Operations Director, Michael McKay, how long it would take for the instruments on Mars Express to have more answers.
---
Interviews:
Michael McKay, Flight Operations Director, European Space Agency, Darmstadt, Germany: "It's a very good question. When you look at these pictures, there are so many images it evokes of our own planet, Earth, and actually with our own perception of vegetation and what it looks like or possible signs of life. I think it's up to Spirit to have a look (in the Gusev crater) and to give us more conclusive evidence because from several hundred kilometers, you can draw only so many conclusions.But certainly like the green in the Gusev crater picture or by looking at the development of darker spots toward the South Pole which are tied to seasonal variations, it certainly gives rise to the speculation that there could be algae.
Could Colors and Dark Spots Be Living Algae?
Also, the fact that there is water ice in that South Pole region – maybe some of the dark spots in craters that have been discussed in some of the scientific papers could possibly be algae. The water ice discovery adds a bit more evidence and weight to that theory.
WHAT YOU MEAN IS THAT THERE MIGHT BE GREENISH COLOR OR BLUISH-COLORED ALGAE ON MARS BECAUSE THERE IS PRESENCE OF H2O?
It certainly gives much more weight to such speculation, particularly since here on the Earth's glaciers and the Alps and the North Pole, you can see algae in the ice itself which turns rather a pink color or greeny-grey color. Just tying that observation on the Earth together with things we are starting to see on Mars, certainly adds a bit more weight and people will seriously be thinking about these questions and trying to put some definite answers to them.
AND FINDING ALGAE WOULD CERTAINLY BE FINDING LIFE!
It's a big question that we as a human race ask ourselves: are we the only planet in the entire universe that supports life? It would question so many things on a theological basis, on a religious basis, on a perspective of what are we as human beings? It goes through the whole fiber of our own perception of what we are as the human race. Just to find life somewhere else on another planet would be so earth-shattering.
DO YOU THINK ALGAE DOWN IN THE REULL VALLIS RIVER CHANNEL MIGHT EXPLAIN THE DARK BLUE-GREEN COLOR?
I hate to disappoint you, but my money is on that it's just a different mineral from either bedrock that has been exposed or perhaps depositing of minerals that have been washed out in that region. I think it is a very local type of phenomenon feature. My money (on sites that could have water and algae) would be more on the dark rings that vary with seasonal variations to perhaps be a sort of algae.
Lots of Water Ice At the Martian South Pole
What really astounded us was that the Martian South Pole had the water signature so clearly and confirmed directly that this was water (ice).
Before with Odyssey and Mars Global Surveyor, they had seen neutral hydrogen atoms which comes from water. We'd already seen water in the atmosphere and also with the temperature measurements made by Odyssey, they could see different layers of temperature on the South Pole and some of it was much warmer than dry ice. But it appeared white in the pictures. So the question was: How could we have dry ice, carbon dioxide, at this temperature? It's impossible. Could it possibly be water? So there have been many elements pointing to say there is water on the South Pole. And there were papers released in January and February in 2003 speculating that and giving evidence for it. But with the Mars Express OMEGA instrument flying over it, we get the real fingerprint. We get the evidence that can't be disputed. There is water on the South Pole – and there is a lot of it.
Over the next weeks, we'll be flying over different swaths. We had some coming in this morning. Tomorrow we also do another over-flight and the next week another one which would give us a complete mapping of the South Pole so we can estimate how much water there is actually on the South Pole.
It's also important to other models because we have been looking at the atmosphere of Mars and looking at the past and thinking: is there enough carbon dioxide on Mars alone that it could have been a greenhouse effect so that it could have been warm and wet once on this planet? And the fact that a large part of the south polar cap is now water and not carbon dioxide gives scientists around the world another element of the puzzle so they can start thinking about what is the history of Mars? How could it have evolved, particularly when we don't have as much carbon dioxide as we originally thought.
IN THE DATA FROM THE MARS EXPRESS ABOUT THE SOUTH POLE CONTAINING WATER ICE, COULD THE QUANTITY THAT IS LOCKED UP THERE EXPLAIN ALL OF THE ANCIENT RIVER CHANNELS?
I think the quantities we see there are probably what is left from the (past) water. There is other speculation that under the surface of Mars, there is probably a lot more water ice locked up. Some of the peculiar features that have been seen by Spirit and Opportunity are indicating that maybe there is something there already just below the surface.
Mars Express Radar Will Penetrate from Surface
to 3 Miles Underground Looking for Water on Mars
We're flying onboard the European Space Agency's Mars Express mission a radar that will look 5 kilometers below the surface (3 miles). Not 5 meters – everyone thinks I'm making a mistake when I say 5 kilometers – but it's 5 kilometers underground looking for locked up water, underground lakes, rivers, oceans even, glaciers and permafrost. This will really be a key to identifying where the water is on Mars underground and also to do a complete mapping of it over the Martian surface, or under the Martian surface, I should say.
HOW LONG WILL IT BE BEFORE THAT DATA IS IN?
The radar is not deployed yet. It's the last instrument. Everything else has been switched on in Mars Express and performing beautifully. The radar itself won't come on until April and we will start getting results back in May. The first capabilities to see below the surface and see what this radar can do, naturally it's also dependent on the surface that it's trying to penetrate whether it gets down to the 5 kilometers.
This is a very international collaboration for the exploration of Mars and we work very closely with our NASA and JPL colleagues and we rely very heavily for many aspects of our mission. And we also have cross-support. This week we will be contacting Spirit and Opportunity through the Mars Express spacecraft and also delivering them commands from NASA through the European Space Agency's spacecraft onto the surface. They have also been looking for the Beagle 2 lander that we delivered there on Christmas Day. It is really an international and extremely cooperative exploration of Mars and the results from all of these missions are really for the human race and not just for national consumption.
"Muddy-Looking" Lander Tracks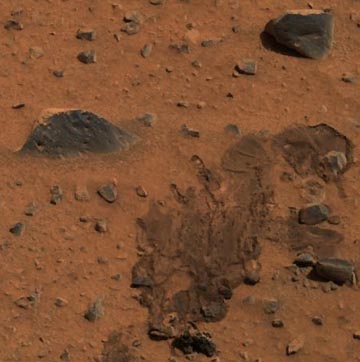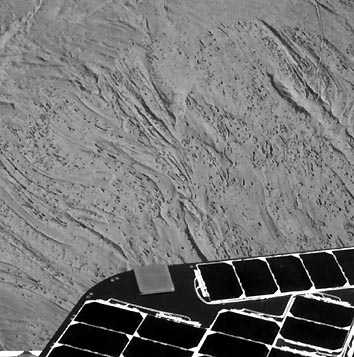 WILL YOUR RADAR STUDIES PERHAPS SHED SOME LIGHT ON WHERE THE LANDERS CAME DOWN ON BOTH SIDES OF THE PLANET, THE TRACKS LOOK MUDDY. IS IT POSSIBLE THAT THERE IS MOISTURE IN THOSE SOILS?
Certainly, people have speculated that just below the surface of Mars, there is a permafrost and there is water frozen just below the surface. Why not – might there have been slurry in that particular region, a mud patch where the water drained below the surface? This is one of the things that the radar will be looking at where the water is below the surface. And perhaps from that, we can see where it's actually come from and give more support to the theory of a muddy area where Spirit has touched down.
DO YOU THINK IT'S JUST AS LIKELY THAT MOISTURE COULD EXPLAIN THOSE SEEMINGLY MUDDY STRANGE TRACKS AS ONE OF THE OTHER SPECULATIONS THAT THERE MIGHT BE SOME ELECTROSTATIC PHENOMENON IN THE SOIL?
What a lot of scientists do, rather than jumping to theories, is they look to see what other explanation can I find to explain the phenomenon that I see. And rather than going with a very narrow-minded idea that it can only be mud, I think it's correct to open one's mind to other possibilities and then try to eliminate them by observation or direct measurement. So, I would be delighted that it is and that there are larger quantities of water which I think would have resulted in creating the large Grand Canyon, Valles Marinaris, its shape. And also the very flat and deep ocean beds that we believe are on the Northern Hemisphere of Mars. They are very, very flat and have obviously been protected in that part of the planet's surface from meteorite impact because it has very few craters.
If those Northern Hemisphere low regions are two kilometers below the average surface of Mars, then it would look like there has been a huge quantity of water – not just what could exist on the South Pole, but there must have been a huge quantity of fluid or ice there before. The big question is: Where is it? Who pulled the plug on the oceans on Mars? And is that water or fluid locked up somewhere just below the planet's surface?
With the radar, those are the kinds of questions we hope to answer and bring the whole understanding of the Mars atmosphere, surface and sub-surface to a better conclusion.
WHEN WILL YOU BE LOOKING WITH THE OMEGA SPECTROMETER, SAY DOWN IN THE REULL VALLIS ANCIENT MARTIAN RIVER CHANNEL AND THE GUSEV CRATER TO SEE IF YOU DO PICK UP WATER THERE?
I don't know when we're going to be over-flying them – certainly not within the next weeks. We are also coming into the 'eclipse season' on Mars Express and we have several operations we have to prepare and the payload will be brought to a lower level before we can resume them again, during and after the eclipses.
The exact plans are being discussed at the moment between many different scientists: what are the priorities? What do we need to get done? At the moment, we have a very high data rate due to the close proximity between Mars and Earth and this is growing every day and consequently, the data rate will start stepping down. So they are trying to find what are the most scientifically meaningful measurements to make with the over-flights we have and focus on those first.
WHEN YOU SAY 'ECLIPSE SEASON,' WHAT DO YOU MEAN EXACTLY?
It means that the orbit of Mars Express takes the spacecraft behind Mars so that Mars occults the sun and we don't get enough power on the solar arrays to sustain full operations through the whole orbit. Consequently, we have to do a bit more power management and not operate everything as if we had full sunlight and fully charged batteries.
HOW LONG DOES THAT LAST?
That will last until March and following that, we will perform the radar deployment."
What Color is the Martian Sky?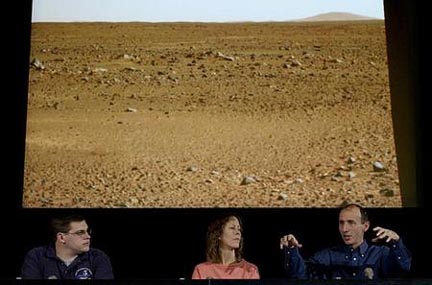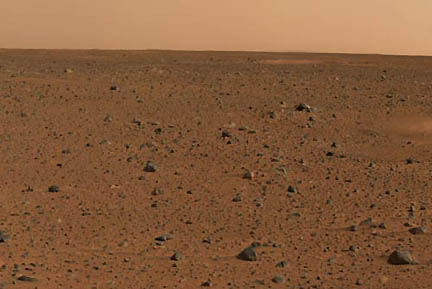 Soon after the Spirit rover landed in the Gusev crater on January 3, 2004, NASA held a press conference at the Jet Propulsion headquarters in Pasadena, California. On television, behind the scientists who spoke, there was a large blow-up from Spirit's panorama camera that showed light brown ground and at the horizon a pale blue sky, not pink. That's when the internet was abuzz with questions about what exactly is the color of the Martian sky?
This week I posed that question to both Michael McKay and a Mars atmosphere expert from France who is working with the European Space Agency. He is Dr. Jean-Loup Bertaux, Director of Atmospheric Research for CNRS. I asked him if the Martian sky could ever look blue like the Earth's sky if we were standing on Mars?
Interview:
Jean-Loup Bertaux, Ph.D., Director of Research, Service d'Aeronomie du CNRS, Verrieres-le-Buisson, France: "Well, I would assume no, really. As you know on the Earth, the blue of the sky is due to scattering by air molecules which takes scattering all the photons from the sun. But these molecules of air are scattering better the blue part of the spectrum of the sun than the red part.
But in the atmosphere of Mars, what is dominating the color of the sky is the presence of dust particles. And when there are dust particles on Earth, they look a little bit red. The thing is confusing because sometimes you see the Sun which is setting down and you see red. That is the same effect because the air between your eye and the sun has diffracted the blue light from the beam, so what you see remaining is the red of the sun.
So to have a sky with reddish color, you would need to have particles and that is what is happening on Mars.
But your question is not trivial. In the Martian atmosphere is plenty of dust, up to maybe 50 kilometers of altitude, and so you would see exactly the color of that dust. And in my mind, it could not be really blue, I would think.
But I think it is a very important question. And in fact it is not a triviality. I think it should be asked to NASA: is this the true color (of the sky)? I think it is very important. The sky color might change with the quantity of dust particles in the air. Sometimes they may be red or less red, depending upon mainly the size of the dust particles. There might be a lot of very fine dust grains that might have a slightly different color from the big grains, I would say. So, the question is not trivial. It is important and it is interesting that the public is asking such a question.
SO, IF I AM UNDERSTANDING, IT SOUNDS LIKE THE SKY ON MARS COULD CHANGE A GREAT DEAL FROM MAYBE EVEN A LIGHT BLUE TO A DARK PINKISH-RED, DEPENDING UPON THE AMOUNT OF DUST IN THE ATMOSPHERE AT ANY PLACE IN ANY GIVEN TIME?
That is, I think, a fair statement, yes."
Michael McKay, ESA, Darmstadt, Germany: "I do not know what processing was used in producing the pictures. Sometimes the color received from such cameras needs to be calibrated to ensure it's true color. Or they can be using a different color mapping for each of the values in the picture to try to accentuate features that they are seeing in the soil so you can get a better contrast between the different elements that you are looking at. So unfortunately, I don't know what they have actually used and I couldn't comment on the trueness of the blue sky or the pink sky. But certainly in previous pictures we know that because of the red dust on Mars that is often quite scattered in the atmosphere, you will see a redness in the sky.
"Dust Fall" in Albor Tholus Volcanic Caldera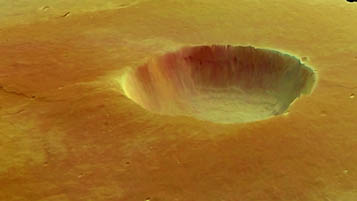 Relating to dust on Mars, the 3-dimensional picture that really impresses me is the one of the volcano crater showing a dust storm coming up on the side of the crater and just falling with dust – much like a waterfall, we have a 'dust-fall' on the surface of Mars. You can see that it's coming off the side of the volcanic crater. It's actually a caldera that it's falling into. If you look in the picture, it's on the top left hand side – you can see just before the rim a smudge that looks like it could be a small dust storm or stirring of dust by the atmosphere being pushed up along the hill and just seeing it falling off the rim onto the volcano crater bed. The bottom of that caldera – you think wow! Dust is so small, but when there is a lot of it, you see the features in the resolution we have on this camera.
IT IMPRESSES ME AS A REPORTER REALIZING THAT YOU ARE GETTING IMAGES OF A DYNAMIC PLANET RIGHT NOW, NOT SOMETHING THAT IS DEAD, BUT THAT YOU HAVE AN IMAGE OF DUST THAT IS ACTIVELY FALLING INTO THE CALDERA WHILE YOU WERE PHOTOGRAPHING.
It was a pure chance that it was caught, but you are so right. It underlines that we are looking at a very dynamic system. None of the planets are dead. They are evolving at some rate in some way. Our whole solar system is evolving and that is our real question: What was Mars before? Was it like the Earth one time, or similar? It's got a relatively good distance from the Sun and still receive quite a lot of energy. It has seasons, just like the Earth. It has a similar day and it's the last of the inner four rocky planets. The rest of the planets are more gaseous and liquid in form. So, what was Mars? Why is it the way it is today?
More importantly, will our Earth look like Mars in another few million years? In which case, where are we going to go? How are we as a species – perhaps even all species on Earth – going to survive somewhere else?"
---
More Information:
Color Calibration Controversy
January 29, 2004 Color Calibration Target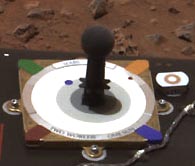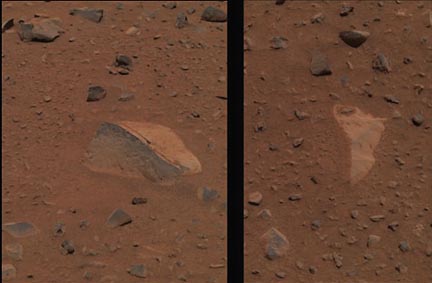 Earlier Color Calibration Target Images
The Above Top Secret News Network did its own investigation of the Martian sky color question on January 18, 2004, at http://www.atsnn.com/story/30048.html

In a reply to Above Top Secret News Network, astrophysicist Jim Bell, Ph.D., of Cornell University wrote:
"The answer is that the color chips on the sundial have different colors in the near-infrared range of Pancam filters. For example, the blue chip is dark near 600 nm, where humans see red light, but is especially bright at 750 nm, which is used as "red" for many Pancam images. So it appears pink in RGB composites. We chose the pigments for the chips on purpose this way, so they could provide different patterns of brightnesses regardless of which filters we used. The details of the colors of the pigments are published in a paper I wrote in the December (2003) issue of the Journal of Geophysical Research (Planets), in case you want more details."

For more about the color controversey, see Bill Hamilton Skywatch.

---

Websites:
http://marsrovers.jpl.nasa.gov/home/index.html
http://www.esa.int/export/esaCP/index.html
http://www.goroadachi.com/etemenanki/mars-hiddencolors.htm

© 1998 - 2019 by Linda Moulton Howe.
All Rights Reserved.