February 4, 2004 Vancouver, B. C., Canada – This morning I received the following e-mail with images attached from Paul Anderson, Director, Canadian Crop Circle Research Network (CCCRN). He and others have been looking at Opportunity and Spirit images on Mars in some detail and have questions about yet unexplained features. Below is Paul's e-mail with images and I will follow up with planetary geologists for further comments in a future Earthfiles.com report.

February 4, 2004 E-mail from Paul Anderson,
CCCRN, Vancouver, British Columbia, Canada:
"Hi Linda,
Just forwarding you some images and information to you from the Opportunity and Spirit landing sites on Mars. Didn't know if you had seen any of these yet?I did send an e-mail to Andrew Knoll of the Mars Rover Team at JPL and he replied this morning saying he thinks the 'plant' is probably airbag debris, though I'm curious as to there being no markings in the soil around it at all and it is not next to or in any of the other airbag bounce or drag marks, it is some ways away all by itself in (or on) the barren dark soil in the panorama (see photo attached). He did say also there is a lot of interest and discussion re the 'Sushi' rock at JPL (see below) even though the rover seems to have bypassed it (??). He said it may be a magma-produced vesicle. Do you have any contacts at JPL you could follow all this up on more? People in anomalist groups are talking a lot about these things, but nobody in the mainstream (as per usual I guess).
Section of Opportunity Panorama Image
Which Includes 2-Pronged Feature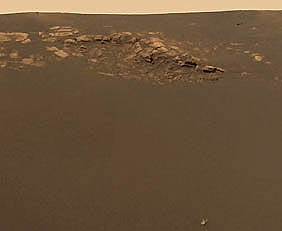 The first (shown above here), at Opportunity, is an odd little something first noticed in four of the raw images taken of the nearby soil on Sol 2, a small object which looks almost, dare I say it, like a tiny plant with two upward-pointing 'stalks' or else some kind of debris from the lander itself. It is also better seen in the new colour panorama just released on February 2. I've attached two cropped, but otherwise untouched photos I made from the high-res panorama: one showing it in relation to the bedrock (it is on the soil 'below' the far right-hand end of the exposed bedrock, near the bottom right corner of the image) … and the other is a closer zoom (shown below).
Original panorama: http://marsrovers.jpl.nasa.gov/gallery/all/
Enlarged Close-Up of 2-Pronged Unidentified Feature

Another Puzzling Opportunity Image: Sphere "Rock"?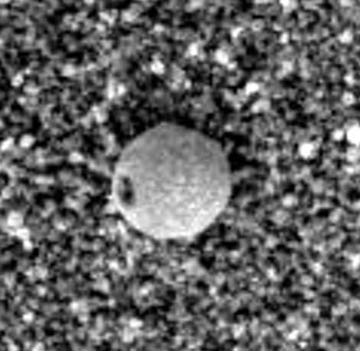 This image is from the Opportunity microscopic imager just released today. One of at least two similar objects in this photo, they seem to be spherical with a spot or hole in their side. I've attached a cropped and zoomed but again otherwise untouched photo (microball_zoom.jpg). Again, looks organic, sort of like diatoms, but may be mineral or dust grains?
Original images:
http://marsrovers.jpl.nasa.gov/gallery/all/opportunity_m010.html
Comments from NASA/JPL/Cornell about spherical structures in Martian soil: "This magnified look (above) at the Martian soil near the Mars Exploration Rover Opportunity's landing site, Meridiani Planum, shows coarse grains sprinkled over a fine layer of sand. The image was captured by the rover's microscopic imager on the 10th day, or sol, of its mission. Scientists are intrigued by the spherical rocks, which can be formed by a variety of geologic processes, including cooling of molten lava droplets and accretion of concentric layers of material around a particle or 'seed.'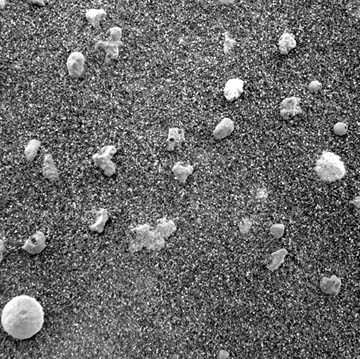 The examined patch of soil is 3 centimeters (1.2 inches) across. The circular grain in the lower left corner is approximately 3 millimeters ( .12 inches) across, or about the size of a sunflower seed."
"Sushi" Rock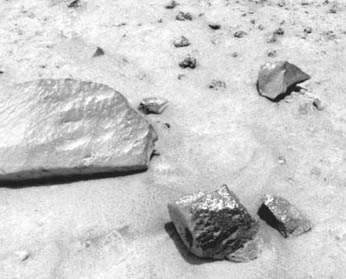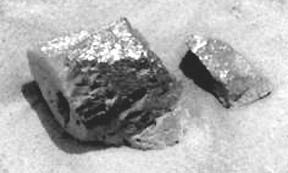 The third above, at Spirit, is the rock nick-named "Sushi" by NASA/JPL. It was to have been one of the first targets for the rover, but then determined to be too rough for grinding. The rock itself appears very interesting however, with the sort of rectangular looking "hole" in it's flattest face (left side of rock), clearly seen in the images. I've shown the photos to a couple of geologists I know here, and they are quite interested in it, but they need closer photos. They both say this could be the hole left by a dissolved crystal, such as glendonite, for example. I'm surprised this hadn't been examined more closely yet (before the software problems), or at least it has not been commented on by JPL. To these geologists and myself also, it would seem this particular rock could potentially be more interesting geologically than these next ones on the list, 'Cake' and 'Blanco.' and is also nearby.Images of 'Sushi' are here:http://marsrovers.jpl.nasa.gov/gallery/all/spirit_p014.htmlPaul"
---
Websites:
http://www.atsnn.com/story/30048.html
http://marsrovers.jpl.nasa.gov/home/index.html
http://www.esa.int/export/esaCP/index.html
http://marsrovers.jpl.nasa.gov/gallery/all/http://marsrovers.jpl.nasa.gov/gallery/all/opportunity_m010.htmlhttp://marsrovers.jpl.nasa.gov/gallery/all/spirit_p014.html

© 1998 - 2019 by Linda Moulton Howe.
All Rights Reserved.