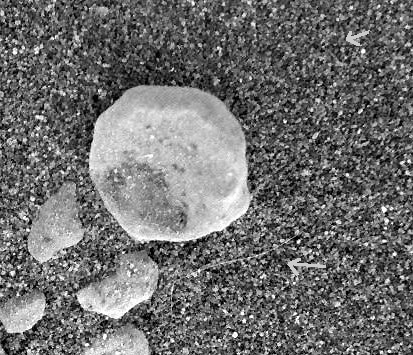 February 14, 2004  Tempe, Arizona – The NASA/JPL rover called Opportunity has been rolling along the light-colored bedrock in the Meridiani Planum taking spectrometer measurements of the rocks and stopping here and there to examine closely the soil through its microscopic imager (MI).
On Thursday, February 12, the microscope image was taken and is among images at:
http://marsrovers.jpl.nasa.gov/gallery/all/opportunity_m019.html   Click on photos for full views.
Paul Anderson, Director of the Canadian Crop Circle Research Network (CCCRN) in Vancouver, B. C., Canada, has been studying Opportunity and Spirit raw images as they are released at the NASA Mars Exploration Rover Mission website. Yesterday he sent me the e-mail below with text he had superimposed on the microscopic image questioning what the hair-like filament is.02/13/04" Hi LindaI was looking at the newest micro images posted from Opportunity (yesterday, Sol 19), and noticed something similar to a long thin hair-like "filament" apparently lying on the soil next to one of the larger spherules. I've attached two zoomed crops from this (one as is, and one with text). The original (one of several, but about the clearest one) is here blown up at: http://marsrovers.jpl.nasa.gov/gallery/all/1/m/019/1M129869847EFF0338P2953M2M1.JPG
It seems to have a sharp downward bend towards the left end and maybe another "hook-like" bend at the end of that (but fainter so more subjective). Must be very tiny and thin if the larger spherules are about 2-4 mm in size or so.Not sure what the explanation may be – dust from the rover? Volcanic ash? Biology? Another day, another puzzle…Paul"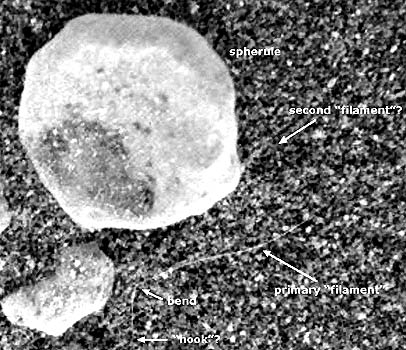 I e-mailed the images to Prof. Ronald Greeley, Ph.D., Regents Prof. of Geology at Arizona State University in Tempe, Arizona. Dr. Greeley is also one of the seven lead Chairs of the Science Operations Working Group for the Mars Exploration Rover Mission.While he looked at the images on his computer, I interviewed him by phone about the puzzling filament and Martian geology questions.
Interview:Ronald Greeley, Ph.D., Regents Prof. of Geology, Arizona State University, and a Lead Chair, Science Operations Working Group (SOWG), Mars Exploration Rover Mission, Tempe, Arizona:"WHAT DO YOU THINK THAT HAIR-LIKE THING IS?Yep, it's a hair-like thing, all right! It's a puzzle. At the Spirit site in some of the first microscopic images, we had seen things that looked like they were tiny soda straw holes. This (filament) would be potentially somewhat similar to those, but finer in diameter. And some of the folks on the team feel those holes could be the result of groundwater, water that is working its way up from the subsurface to the surface, or from the surface working down ­ not necessarily today, but sometime in the Martian past. In the process of percolating, it could form these soda straw-like structures. (NASA "soda straw" images not currently found at time of this report.)
Now, the filament that is visible in this latest Opportunity image, though, is smaller than that. There are fibrous things that can form in minerals like asbestos. I'm not saying this is asbestos, but like asbestos, that are common with some minerals. So that would be a possibility, too.
WHERE WERE THE 'SODA STRAW' IMAGES?
Those were in the first IM image that was taken by Spirit as soon as we came off the lander and the rover's arm went down on the soil. They are very subtle things ­ small, dark rings. People think it's the end of the soda straw being looked at and then they look at other areas where it's linear, as if you cut the straw lengthwise.
HOW WOULD THEY FORM AS PERCOLATION OF WATER?
If you took a bucket of sand and you sprinkled water on it, the water would tend to find its way among the individual grains of sand. In the process of percolating downward, being pulled down by gravity, it would sort of concentrate along certain pathways among the grains. Now, if the water had material dissolved in it like salt, then as the water percolates down through the sand along those little channel ways, some of that salt would be precipitated along the walls of the channel way and leave behind a tube. So, it's that idea people have in mind.
IS THERE ANY REASON IT WOULD BE CIRCULAR?
If you look at water, water tends to form little droplets by surface tension and tends to be round. If you think of that working its way down through the sand, it might also tend to be round.
Electrostatic String of Martian Dust?
Now, there is a third possibility and that is the smallest things we can see in these MI images is about 100 microns in diameter. The actual pixel size is about 30 microns, but to identify something it has to be bigger ­ it has to take several pixels. And so when we look at the picture such as you sent me, the fine grain material ­ not the round spherule ­ but the fine grain material is about 100 to 200 microns in diameter. That's about like sugar. If you think of sugar which you put in coffee, that's about the size of those grains that you are looking at there.
Now, the filament ­ the dust on Mars is much smaller than that. It's a few microns in diameter and that means each dust particle is about 1/100th the size of the individual rock grains that we can see in this MI image. If you took a bunch of dust grains and strung them together and bonded them with electrostatics, then it's conceivable that you could get this kind of filament. You wouldn't see the individual dust grains, but they would all be hooked together with electrostatic charging. So, that's one possibility besides this soda straw mechanism that I mentioned earlier.
LET ME MAKE SURE THAT I UNDERSTAND. THE FILAMENT COULD BE MADE OUT A WHOLE SERIES OF DUST GRAINS STUCK TOGETHER BY ELECTROSTATIC FORCES?
Yes. That's one idea anyway.
SO RIGHT NOW, THIS FILAMENT IS VERY INTERESTING AND IT WOULD BE HARD TO KNOW EXACTLY WHAT IT IS?
That's right. Indeed.
BECAUSE EVERYBODY IS INTERESTED IN WHETHER THERE IS ENOUGH MOISTURE OR WATER ON MARS THAT THERE COULD BE LIFE, MAYBE LIKE AN ALGAE OR OTHER, IS THERE ANY WAY OF FINDING OUT WHETHER OR NOT THIS FILAMENT COULD BE ORGANIC?
That's a good question. I think you would need to talk with one of our astro-biologists on the team such as Jack Farmer or Andy Knoll."
---
I e-mailed both of those exo-biologists and received the reply below from Professor Andy Knoll, Harvard University.
02/13/04
"Dear Linda,
I don't know exactly what caused the feature you espied in the MI image. I looked back at earlier images and saw faint linearities in one or two of them. All share a particular feature, which is that you can see underlying grains through the linear feature. This makes me suspect that the feature is some kind of defect in the frame rather than a hair on Mars. Ken Herkenhoff, who built the MI, could tell you more about this possibility. The obvious test of such a hypothesis is: will we see more of these?
For now, I'm skeptical of the idea that this structure (I couldn't discern the second candidate in your file, superimposed text) is an indigenous piece of Mars, although thin hair-like features can form during basaltic volcanism — the most famous example is Pele's hair, seen around Mauna Loa in Hawaii. I'll keep my eyes open.
Sincerely,
Andy Knoll"
---
What Are Spirit and Opportunity Doing Now?
Professor Greeley:
Spirit
"The past two days for Spirit were spent driving towards a feature that is called "Stone Council" on the way toward the Bonneville crater. We need to look at those rocks up close and see if they are of interest or not. There is a very strong motivation to get to Bonneville crater. And so I think we are going to see some discussion on whether we want to stop and do extended science observations or just move straight on to Bonneville.
WHY THE NAME 'STONE COUNCIL?'
Oh, it's just a ring of rocks that looks like a campfire if you were out in the woods and making a fire ring.
Opportunity
At Opportunity, the focus has been on getting the trenching operation underway, as well as doing some of these touch-and-go investigations. I don't think there have been any updates on the analytical data.
SO THIS MICROSCOPIC IMAGE THAT HAS THE FILAMENT IN IT WOULD HAVE BEEN UP THERE ALONG THE BEDROCK, RIGHT?
Well, in that area. This is not from the bedrock itself, but from the soil in the foreground.
Any Further Investigation of 2-Horned Mystery Object?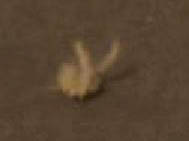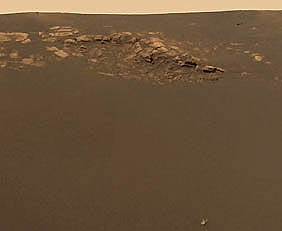 WHAT ABOUT THAT '2-HORNED' UNIDENTIFIED WHITE OBJECT DOWN BELOW THE OPPORTUNITY BEDROCK IN ONE OF THE PANORAMIC CAMERA IMAGES? COULD THE ROVER ARM PICK UP THE 2-PRONGED OBJECT TO FIND OUT WHAT IT IS?
No, we can't do that. The arm can't lift weight.
DO YOU KNOW IF THEY HAVE DONE ANYTHING WITH THE ROVER TO TRY TO GO TO THAT SPOT BELOW THE BEDROCK WHERE THAT ODD 2-PRONGED OBJECT WAS?
No. The plan for today was to do a trenching operation with the wheels. If the trench is successful we are going to look at the stratigraphy in the soil and that would be our goal for seeing things like the composition of the crust and if there is any structure in the soil itself. That will be contingent on whether the wall of the trench stands up or just slides and fills in. But there are no plans to look at that feature that you are describing.
I WONDER WHY NOT BECAUSE IT IS SO PECULIAR.
There has not been a lot of discussion of that in the team, so I don't think most of us feel that it amounts to anything.
HOW CAN IT BE DISMISSED THOUGH. WHAT IF IT IS A PLANT?
I don't want to bring it up, but it's like the Face on Mars.
BUT THIS LOOKS SO 3-DIMENSIONAL WITH SHADOW AND EVERYTHING.
I don't know.
20% Sulfur/Sulfate Content in Meridiani Planum Bedrock
IN TERMS OF THE 20% CONTENT IN THE BEDROCK, WHAT WOULD BE COMPARABLE IN ROCKS HERE ON EARTH?
Here, (the percentages are) much lower than that. But it depends on the environment we were talking about the other day. If this were an environment where there were volcanic materials in place and if it were hot ash, the sulfur content at those levels (20%) would be expected.
SO THE 20% IS CONSIDERED HIGH AND ASSOCIATED WITH VOLCANIC PROCESSES?
Not necessarily only with volcanism. That's one environment. There are sedimentary environments, too, where high sulfur contents exist. The mineral gypsum is an example."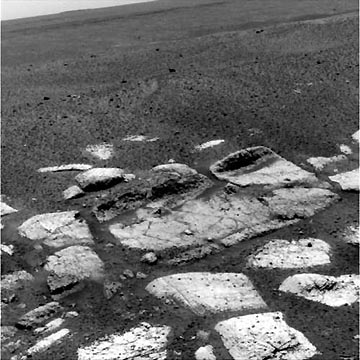 ---
Websites:
http://marsrovers.jpl.nasa.gov/home/index.html
http://www.esa.int/export/esaCP/index.html

© 1998 - 2019 by Linda Moulton Howe.
All Rights Reserved.