"How it got there in such an eccentric orbit that comes as close as 76 astronomical units to our sun and goes all the way out to nearly 1000 astronomical units away is a complete mystery! There might still be something else out there causing this object's peculiar orbit."
Brian Marsden, Director, Minor Planet Center,
Harvard Smithsonian Astrophysical Observatory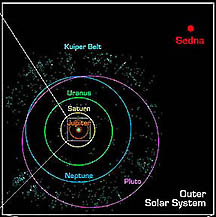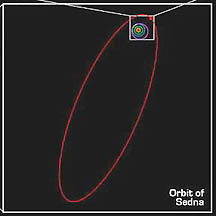 March 15, 2004 Pasadena, California – The first sight of a mysterious object moving slowly like a planet at the outer edges of our solar system was on November 14, 2003. The discoverers were astronomers Michael Brown at the California Institute of Technology and his colleagues, Chad Trujillo of the Gemini Observatory in Hawaii, and David Rabinowitz at Yale University. They have been working together on a NASA-sponsored project, Near Earth Asteroid Tracking (NEAT). The team contacted other astronomers who began to look for the object first labeled "2003 VB12" and is now unofficially dubbed "Sedna," the name of an Inuit woman in the Arctic who was thrown from a kayak by her frightened father. Here fingers became the sea creatures. Sedna is definitely a cold place, probably the coldest object in our solar system, with temperatures never rising above MINUS 400 degrees Fahrenheit.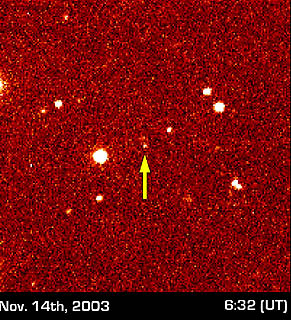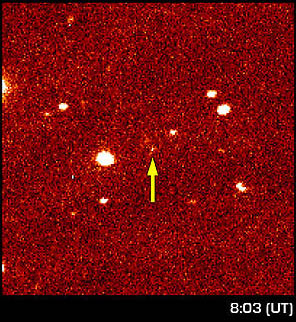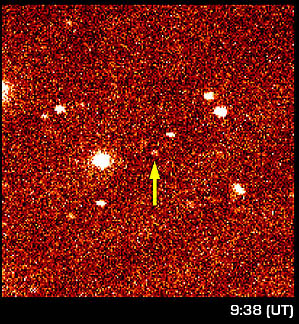 Ironically, as cold as it is, Sedna is red hot and shiny to look at through high-powered telescopes like the orbiting Spitzer Space Telescope. The astronomy team says that the only other object so red in our solar system is Mars. What would make such an intense red? "Probably all its ice," says astronomer Brian Marsden, Director of the Minor Planet Center at the Harvard Smithsonian Astrophysical Observatory in Cambridge, Massachusetts. Dr. Marsden helped this week to calculate the orbit of 2003 VB12/Sedna. He has also been at the forefront of the astronomical controversy about whether or not Pluto should still be called the ninth planet, or be reduced to the category of an icy planetoid – or "Plutino," a recent new category applied to our solar system based. There are a lot of Plutinos and they are all icy and smaller than Pluto.So, in fairness to Pluto, Dr. Marsden does not think the newly discovered icy body at the edge of the solar system on the outskirts of the Kuiper Belt should be considered a tenth planet. In fact, what exactly it is and how it got to be where it is in such a radically eccentric orbit has Dr. Marsden and all the other astronomers baffled.
---
Interview:
Brian Marsden, Ph.D., Director, Minor Planet Center, Harvard Smithsonian Astrophysical Observatory, Cambridge, Massachusetts: "This particular object which we still call '2003 VB12' – Sedna has not been approved officially – it takes 10,000 to 12,000 years to go around the sun. It's probably a little bit smaller than Pluto, but its exact size is hard to say.
The most interesting thing about it is that the orbit is so eccentric and it is never gets any closer to the sun than 76 times the Earth's distance from the sun (93 million miles from Earth to sun is called an Astronomical Unit, A.U.) and at its furthest, it's about 1,000 times the Earth's distance from the sun. It's a very eccentric orbit. We have absolutely no idea!
How it got there in such an eccentric orbit that comes as close as 76 astronomical units to our sun and goes all the way out to nearly 1000 astronomical units away is a complete mystery! There might still be something else out there causing this object's peculiar orbit. What I'm saying is that this new discovery is a complete mystery because I don't understand how it can have an orbit that can go from 76 at one end to 1000 times the Earth's distance at the other.
Planets Versus Planetoids
Neptune is at 30 times the Earth's distance from the sun, 30 astronomical units. Neptune is in a circular orbit and is surely a planet. I have no problem with that ­ it's big and massive and affects other things. It affects Pluto, which goes from about 29 astronomical units at its closest out to about 53 at its furthest. Pluto has a somewhat eccentric orbit. When Pluto was discovered in 1930, it was indeed a mystery the same way this new object is now. People at the Lowell Observatory who discovered it decided to call it the "ninth planet." I think that was a mistake. They also thought that Pluto was quite a bit bigger than it really is. They didn't have any way of measuring its size at that time. They were guessing when Pluto was discovered that Pluto was as big as the Earth. But we know that the diameter of Pluto is only a little over 1/8th the diameter of the Earth. Pluto is very small.
IS THAT WHY IT'S ARGUED THAT PLUTO SHOULDN'T BE IN THE PLANET CATEGORY?
You might say that. The search that lead to the discovery of Pluto was by Percival Lowell at his observatory in Arizona. He thought he was looking for something much larger even than the Earth, more the size of Uranus and Neptune. If it had been, there would have been no question: that would have been the ninth planet. But, Pluto was a lot smaller than that and had this very unusual orbit. There was no reason whatsoever to call it the ninth planet.
Now, we've learned a fair bit about Pluto since that time. It was noticed in the 1960s that the period of Pluto's revolution about the Sun is half as long again as Neptune's. There is a resonance, we call it: 2:3 between Neptune and Pluto. What this resonance does is prevent Pluto from making close approaches to Neptune, even though the orbit of Pluto comes quite close to the orbit of Neptune. They are prevented from making close approaches to each other.
Plutinos
BECAUSE OF THE GRAVITATIONAL AFFECTS.
Because of the gravitational affect of Neptune which is manifested through this resonance. Now, in 1994, we discovered some other objects just like Pluto ­ smaller, but they also had this 2:3 resonance affect. We know a couple of hundred objects like that now. So, Pluto just happens to be the largest of this group we call 'Plutinos' ­ little Plutos.
ARE THEY IN THE KUIPER BELT?
They are part of the Kuiper Belt. The Kuiper Belt is a rather complex thing, but the Plutinos are part of it. The more regular part of the Kuiper Belt consists of objects that have rather more circular orbits and not obvious resonance with Neptune and they go from about 38 astronomical units at perihelion to about 55 A.U. furthest from the sun. They are in that general range, in the average range of 42 to 47 A.U. They tend to be a bit further out than the Plutinos and Pluto and they don't have orbits that go so close to Neptune's orbit. They are in a stable situation there and don't need to have a resonance with Neptune in order to avoid close approaches to Neptune.
2:5 Resonance Objects At Edges of Kuiper Belt
Where Mystery Planetoid Comes Closest
We've also found some other interesting objects out there, including a group that is in a 2:5 resonance with Neptune going from about 30 A.U. at perihelion and an average distance of 55 A.U., so at the furthest from the sun, they are about 80 A.U. This is close to where this new object is.
This new object is minimum distance from the sun is 76 A.U. which it reaches in the year 2076 and at its furthest, it goes out to 1,000 A.U. This is very, very strange. We don't understand it at all. We don't know where it came from, why it is there. It is a real mystery. And also as far as size is concerned, it's a guess but it seems to be a little bit smaller than Pluto, probably like something like 1,200 miles in diameter maybe, whereas Pluto is about 1300 miles in diameter. But to be honest, we really don't know how big this object is. It could even be bigger than Pluto if it has a very dark surface. Or it could be a lot smaller if it has a very bright surface.
Size of New Planetoid?
IN THIS MODERN DAY OF ASTRONOMY, WHEN WE THINK WE SHOULD BE ABLE TO TELL THE SIZE OF SOMETHING IN OUR OWN SOLAR SYSTEM, WHY IS THIS SO HARD TO PIN DOWN?
It's very difficult to determine the size of small things, If you can look at something and actually see the disk of the object, the body of the object, like we look at the moon. When we look at the moon, we see something that is 1/2 degree across. The moon does not look like a star. It has a definite angular size to it and since we know the actual distance of the moon, we can work out very accurately just from observations from the Earth how big the moon actually is.
But when we look at something that only looks like a star ­ and this new object only looks like a star. In fact most of the things that we look at look like stars. Yes, we are able to see the major planets. But all the other things we look at just look like stars. There is no way since a star is just a point, there is no way just looking at it to determine how big it is. Even if you know how far it is ­ as we do know how far away this is ­ but we cannot determine its size.
What we do then is the next best thing. We know how bright the object is. We know how bright the stars are. We can measure one star in relationship to another. We can measure one asteroid in relationship to another and measure this new object in relationship to others. This new object appears to be shiny.
HOW DID THEY SEE IT IN THE FIRST PLACE?
This particular scientific group lead by Michael Brown were searching the Kuiper Belt and Plutinos where they have made some discoveries of other things there. This new one which is moving even further away and more slowly, it was amazing that they detected it at all.
The first detection was last November 2003 and since they could find it again a few days later and then they followed it all the way to the end of December. That was enough information that they could then look for it on photographs and images from 2002 and 2001. So, they have observations from the middle of 2001 to the end of 2003 and this weekend, I arranged for some observations to be made in the Czech Republic and those were included in the orbital calculations.
So we know the orbit really quite well. We know that it will be 76 A.U. near to the Sun in 2076 when it comes to perihelion. Whether its exact revolving period around the sun is 10,000 years, 12,000 years or in between is a little harder to say.
The fact that this new object goes out to 1,000 A.U. and the perihelion distance is at 76 A.U. is very curious. How can it interact with Neptune at that distance. Neptune is at 30 A.U., Uranus is at 19 A.U. This new object's nearest approach to the sun is at 76 A.U. So how can you get a serious gravitational connection between them. I's a real mystery where this thing has come from.
Could Sedna Be from the Oort Cloud,
the Source of Comets?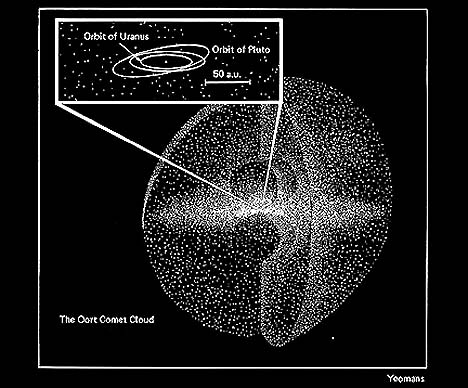 WHEN THE NEW PLANETOID IS FURTHEST FROM THE SUN AT 1,000 A.U., WOULD THAT TAKE IT ALL THE WAY OUT TO THE OORT CLOUD?
No, the Oort Cloud at its nearest is about 20,000 to 50,000 A.U. And this new object at its furthest is only 1,000 A.U. At that distance, this new planetoid is not a member of the Oort Cloud. It might be a member of what some people call the "inner Oort Cloud," but that's a very uncertain concept. The true Oort Cloud has perihelion at 20,000 to 50,000 A.U. ­ something we know from our observations of comet orbits that we have calculated for comets.
When we say there is an OorT Cloud, what we are basing that on is the fact that most of the comets we see do seem to be coming from that distance must be coming into the inner solar system for the first time. Something has sent them in. They weren't ever here before. Maybe distant stars or giant molecular clouds get the comets into our solar system and we tend to see them for the first time. Yes, they go out and some come back and we discover some again subsequently. But an awful lot of comets are coming in for the first time and that is the concept of the Oort Cloud source.
This new object only going out to 1,000 A.U. cannot be said to be a member of the Oort Cloud and the perihelion distance at 76 A.U. is very curious as well because how can it interact with Neptune at that distance. Neptune is at 30 A.U., Uranus is at 19 A.U. This new object's nearest approach to the sun is at 76 A.U., so how can you get a serious gravitational connection between them? It's a real mystery where this thing has come from!
Could There Be Another Large Body Out
There Affecting Sedna's Orbit?
WHAT YOU MEAN IS, HOW COULD IT BE PART OF THE SOLAR SYSTEM ORIGINALLY?
Yes, how could it be part of the solar system originally and get there where it is now? What perturbed it there into its bizarre orbit? We don't know. The planets that we know of are all in closer. Now maybe there's something out there, we don't know about. That's speculation. I don't know. But it is a puzzle as to how it got into this kind of orbit? And given also that the orbit is inclined at a relatively small angle to the planets, like 12 degrees only. That seems to suggest if you try to push it out into the Oort Cloud and then have it come back, that is a possibility and it didn't come in so close ­ that it came in only where it is. But you've still got the problem ­ you can't really do that because if it went out to the Oort Cloud, its aphelion should be 20-50,000 A.U. Ok, something out there sends it into the solar system. It's not too likely to send it in at a low inclination. Most of the comets coming in from the Oort Cloud have HIGH inclinations. But even if it sent it into 76 A.U., when then is the aphelion 1,000 A.U. ? There is no way! I can't think of any way of getting into this orbit, other than having some unknown planet or planets in the range from a few astronomical units from the sun. That's a speculation. We have no evidence for that.
WOULD 1,000 A.U. FROM THE SUN BE THE OUTER EDGE OF THE KUIPER BELT?
I would have to say it goes generally to 55 A.U., but yes you can make it go to 80 A.U. if you include these 2:5 objects. Also, there are the so-called disk objects and they go out even much further. They go from about Neptune's orbit and maybe even out to several hundred or 1,000 A. U. at aphelion. So, the Kuiper Belt becomes rather loose when you want to talk about these things in eccentric orbits. But yes, indeed, this new discovery is an eccentric orbit. So, from the point of view that you can consider the Kuiper Belt might go out to 1,000 A.U., you could say that this object is part of it. But the puzzle becomes the perihelion ­ how can you have something at 76 A.U. when all the other things we know have their perihelion generally in the 44 A.U. at the highest? We don't know of any perihelion beyond that until now. It's a long way from 44 A.U. to 76 A.U. The difference is the distance from Neptune to the Sun!
THE BOTTOM LINE NOW WOULD BE THAT YOU AND ALL THE ASTRONOMERS WOULD BE PROVOKED TO LOOK FOR ANOTHER LARGER BODY OUT THERE BECAUSE OF SEDNA'S ECCENTRIC ORBIT?
I would say so. That is the next thing we want to do ­ find other objects like this. Find objects maybe in lower eccentricity orbits, more planetary-like orbits, and bigger objects. You would have to go out some distance to find something like even Earth size, because we would have discovered it by now if it were bright enough. Or if it were having a gravitational affect, to be close enough to have a gravitational affect on things we know about, we would have found it by now. This is fun, but it's created more questions than it has solved. It's a mystery! A big planet out there would be easier to deal with.
IS THERE ANY SPECTROMETER THAT COULD TELL WHAT THIS PLANETOID IS MADE OF?
I think the Cal Tech press release mentions that it is very red. They said this is the reddest thing in the solar system apart from Mars. Now, there are other things out there that are somewhat red. It may be that the things way out there in the Kuiper Belt, the really red things out there, could be comets. My guess is that it's mainly ice, that it really is a comet.
WOULD IT BE THE ROCKY MATERIAL OR ICE THAT WOULD PRODUCE THE RED COLOR?
It's probably more the ice."
---
More Information:
Sumerian scholar Zecharia Sitchin has studied cuneiform tablets and seals with drawings that are about 5,000 years old from Mesopotamia. The seals do seem to show a solar system with the sun and what appears to be not nine, but ten, planets. (White arrow below points at actual Sumerian seal depiction of solar system.)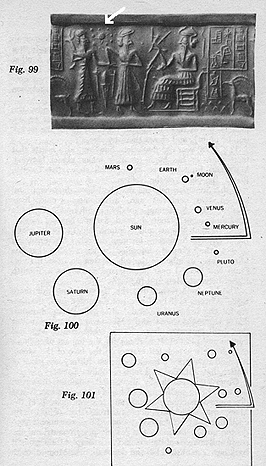 Also see other Earthfiles.com reports:
03/15/2004 —  Most Distant "Icy Planetoid" in Our Solar System Has A Most Baffling Orbit
10/07/2002 —  Large Kuiper Belt Planetoid Found Beyond Pluto
07/11/2002 —  Hubble Telescope Photographs Seven Objects Traveling In Pairs Beyond Pluto
02/24/2002 —  Mysterious Slowing of Pioneer Spacecraft 7 Billion Miles from Earth
01/26/2002 —  Something Is Perturbing Comet Orbits in the Oort Cloud Surrounding Our Solar System
10/25/1999 —  A Mysterious "Perturber" at the Edges of Our Solar System
---
Websites:
http://www.ucs.louisiana.edu/~jjm9638/matese.html

© 1998 - 2019 by Linda Moulton Howe.
All Rights Reserved.