"We're not at all convinced at this point that usnic acid is the toxic compound we are dealing with. It's been hypothesized, but not proven, and it's going to take a fair amount of work to determine exactly what the toxic compound is in this lichen that is causing the paralysis effect in the elk. …We've had e-mails going out to all of our colleagues throughout the nation, and even some international people, and no one has ever heard of anything like this before." – Walter Cook, Ph.D. and D.V.M., Wyoming Wildlife Veterinarian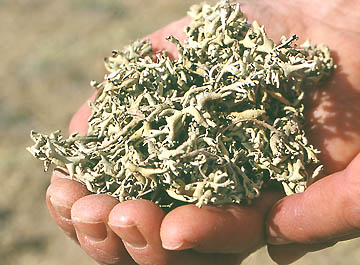 March 29, 2004  Laramie, Wyoming – The Wyoming Game and Fish Department's Veterinarian Laboratory, working in conjunction with the Wyoming State Veterinarian Laboratory, have ruled out 38 possible explanations for the paralysis of 304 elk in a 50-square-mile region south of Rawlins since the beginning of February 2004. Ironically, the culprit might be one of the most common ground plants in the region – a lichen known as Xanthoparmelia chlorochroa, or "tumbleweed shield lichen." But no animal expert in North America or the rest of the world has ever seen such a mysterious assault on elk or caribou before.
Puzzled by what could be seriously damaging the muscles in so many otherwise healthy elk, veterinarian toxicologist Dr. Merl Raisbeck, D.V.M. and Ph.D., from the Wyoming State Veterinarian Lab, walked some of the region with game warden, Benge Brown. Both noticed a large concentration of the lichen where the elk had been found unable to stand up. The lichen also appeared to have been eaten by the elk and later necropsies confirmed the lichen was in dead elk stomachs. But to date, no specific breakdown of chemical ingredients in the lichen has been made and no specific toxin has been identified – despite erroneous media reports that the poison was usnic acid.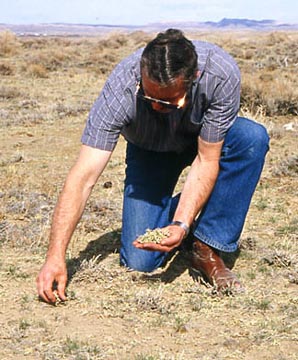 ---
Interview:
Walter Cook, Ph.D. and D.V.M., Wildlife Veterinarian, Wyoming Game and Fish Department's Veterinarian Laboratory, University of Wyoming, Laramie, Wyoming:
Healthy Elk Fed Lichen To See If Poisonous
"Indeed, when we had the rumen contents (stomach contents) of the elk analyzed, they did detect this lichen in the rumen contents. Consequently, Dr. Merl Raisbeck found some literature from the 1950s suggesting that one of the lichen that is fairly common in Wyoming caused a similar syndrome in the 1950s in cattle. So, based on that, we got kind of suspicious about this lichen – Xanthoparmelia chlorochroa, or "tumbleweed shield lichen" – and we decided the best way to definitely find out if the lichen was the culprit was basically to feed it to some research elk.
The Wyoming Game and Fish Department has a research compound for wild animals and has some elk in that compound. So, we took three elk and put them on a diet of this lichen that is found out there and after seven days on the diet, one of the three elk went down. It exhibited virtually identical signs that we have seen in the field. Then three days later, or after ten days of being on that diet, the second animal went down. We still have a third animal who has been on that lichen diet for two weeks and that animal is doing fine. Based on that experiment, it looks very suspicious that the lichen is the culprit.
Rehydrating Sick Elk Did Not Work
Testing the idea that something might be interfering with the elk's vitamin or mineral intake, four elk were kept alive on saline solution and food to see if they could be restored to better health. But after one week, one died, two became more ill and had to be put to sleep and the fourth remained very ill.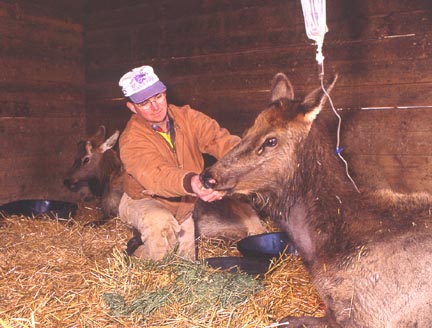 Deteriorated Elk Muscle Contains White Lesions
DID YOU DO NECROPSIES ON EITHER OF THOSE TWO SICK ELK THAT WENT DOWN AFTER YOUR EXPERIMENTAL DIET? IF YOU DID, WHAT ABOUT THE MUSCLES IN THE DISEASED ELK THAT HAVE BEEN REPORTED AS WHITISH AND SICKLY LOOKING, WHICH HAS NOT BEEN LINKED TO THIS TYPE OF TOXICITY BEFORE?
Yes, that's correct. The two elk that went down and we did euthanize and necropsy them. The results on the first elk are completed now and the second one, we are waiting to get the histology results back from the pathologist at the State Vet Lab. But on the first animal, we have the same type of lesions there and see the same kind of muscle degeneration. So, that seems to indicate that whatever toxic compound is in the lichen is causing these muscles to break down.
AND TURN WHITE?
That occurs over an extended period of time. It is very difficult to see with the naked eye, except in the very advanced stages. But under a microscope, you can pretty clearly see the muscle degeneration.
Toxin Could Be Usnic Acid, But Lichen Components Still Not Known
IS IT TRUE THAT ONE OF THE CONFUSIONS IS THAT IN PEOPLE, THE SAME KIND OF USNIC ACID IS FOUND IN CERTAIN KINDS OF DIET PILLS BUT NO ONE HAS EVER SEEN MUSCLE DETERIORATION IN HUMANS – ONLY LIVER TOXICITY?
That's my understanding from the people I have talked to, but I should point out that we're not at all convinced at this point that usnic acid is the toxic compound we are dealing with. It's been hypothesized, but not proven and it's going to take a fair amount of work to determine exactly what the toxic compound is in this lichen that is causing the effect in the elk.
SO USNIC ACID IS NOT CONFIRMED AT ALL?
That's exactly correct. Some of the reports in some of the newspapers make it sound like this is definitely the answer, but we're nowhere near that point yet.
HOW LONG DO YOU THINK IT'S GOING TO BE?
We can analyze the lichen for usnic acid relatively rapidly ­ in a matter of a few weeks. But even if we find usnic acid in the lichen, that doesn't necessarily mean that usnic acid is what is causing this particular problem. If usnic acid is isolated, we then have to try that out itself (on the elk) to see if that is the toxic compound.
The other thing that toxicologist Dr. Raisbeck is interested in doing is fractionating out various compounds from this lichen and going through and testing each one of them individually to see which compound is actually the toxic compound.
I AM SURPRISED TO LEARN THAT THERE HAS NOT EVEN BEEN A CONFIRMATION OF USNIC ACID IN THIS PARTICULAR LICHEN, GIVEN SOME WYOMING MEDIA REPORTS.
That's correct. At this point, we don't even no if it has usnic acid. The research that was done in the 1950s, they were able to detect usnic acid in the lichen. But we don't even know if we are for sure dealing with the same species of lichen as they were in the 1950s.
I have been disappointed in some of the media articles. They were basically taking what were hypotheses and stating as facts. It might turn out that usnic acid is the culprit here. But we are not to that point yet.
Why Would Elk Eat Toxic Plants?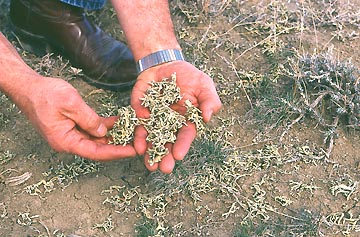 ANOTHER PUZZLE TO ME IS THAT ELK ARE AN INTELLIGENT ANIMAL AND THEY ARE VERY RUGGED AND THEY ARE ALL OVER THIS AREA IN WYOMING. I'M HEARING YOU SAY THAT THERE HASN'T BEEN ANYTHING IN ELK LIKE THIS BEFORE AND THAT IT WAS A 1950 STUDY RELATED TO CATTLE THAT IS FOCUSED ON USNIC ACID. WHY WOULD ELK EAT ANYTHING THAT WOULD CONTAIN A TOXIC POISON?
Well, that's one of the things that we would like to figure out for ourselves. We really don't know. There are a couple of different hypotheses.
One is that elk regularly ingest lichen and regularly ingest this particular type of lichen (Xanthoparmelia Chlorochroa), but that for whatever reason, the lichen in the red rim south of Rawlins has concentrated the toxin that it normally does not have, or has at very low levels. So that's one hypothesis.
The other hypothesis would be that the habitat conditions, the foraging conditions, that are out there are relatively poor and so they didn't have a lot of different forage to choose from. It might have been a matter of necessity that the lichen was abundant and that's why they chose to eat that instead of something else because they didn't have any choice. Those are the kinds of things that we definitely want to work out.
Toxic Metals?
SOME PEOPLE HAVE E-MAILED ME ABOUT URANIUM CONTAMINATION IN THAT WYOMING REGION'S WATER, BOTH GROUND WATER AND SURFACE WATER. COULD THE LICHEN ABSORB SOMETHING FROM URANIUM IN THE SOIL?
Probably not uranium itself. We tested for the heavy metals early on in the course of this investigation and couldn't identify any. But there is a possibility of a different toxic compound that might be out there.
SOMETHING IN THE ENVIRONMENT, PERHAPS SUCH AS DRYNESS AND SUDDEN WATER COULD CONCENTRATE IT IN LICHEN?
That's another hypothesis that we are working on that there is a fairly significant drought in this area and there are some toxins in some plants that do tend to concentrate under conditions of environmental stress, so that is certainly a possibility.
SO, WITHOUT THE DROUGHT, THE LICHEN MIGHT BE TOTALLY HARMLESS?
Yes, that is exactly right.
Most Females and Calves Disabled in Mid-February 2004
DO YOU STILL HAVE A STEADY DRIP OF A FEW PARALYSIS CASES EVERY DAY OR WEEK?
No, it seems like the event is over at this point. We had a peak of the number of cases probably in mid to late February. We had a few cases at the beginning of February and then it increased and got a lot of cases around mid-February and then it's tapered off in March. I haven't heard of any new cases in the last ten days.
WAS THERE ANYTHING THAT ANYBODY HAS BEEN ABLE TO POINT A FINGER TO THAT HAPPENED IN MID-FEBRUARY IN TERMS OF WEATHER OR INDUSTRY OR ANYTHING IN THAT AREA?
No, not yet.
DO YOU PERSONALLY HAVE ANY SUSPICIONS?
I guess I have two hypotheses I'm working from. One is the one I've already mentioned to you ­ that habitat stress, probably the drought, increased a level of a toxic compound in the lichen that doesn't normally get concentrated enough to cause a problem.
The other is that perhaps the animals are slowly introduced to this stuff that their gut could slowly adapt to it so it doesn't become a problem. Because we have other animals in this area, particularly pronghorn in there, and we haven't verified this yet, but it's possible the pronghorn are eating the same lichen and not having the effects. So, the idea that the animals might be able to adapt if they were gradually introduced to this stuff is a good possibility.
ISN'T THAT ONE OF THE PUZZLES THAT THE ONLY ANIMALS THAT SEEM TO BE AFFECTED WERE MOSTLY FEMALE ELK?
That was one of the things that was particularly puzzling about this ­ the fact that it was the females isn't particularly troublesome because the herd itself was made up mostly of cows and calves. There weren't a lot of bulls in there, so you wouldn't expect to see a lot of bulls sick. But the fact that it was strictly elk when there are pronghorn out there, a few deer, a few head of cattle and horses, that is what is particular puzzling.
AND STILL NO ANSWER AS TO WHY.
Still no answer as to why, other than this adaptation hypothesis kind of makes sense from that perspective.
BUT WHY WOULD A PRONGHORN BE ABLE TO ADAPT WHEN A RUGGED ELK COULD NOT?
It's just that the pronghorn is in that habitat year after year, but the particularly affected elk herd does not normally winter in this area. It normally winters considerably further south. So, if it is not normally accustomed to eating this particular lichen and it moves in there and suddenly eats a bunch of it. It seems plausible they could have over-indulged and got whatever toxic compound is in there at such a concentration that it caused this problem.
WHY WEREN'T THE ELK IN THEIR NORMAL FURTHER SOUTH AREA?
That's anybody's guess.
IT MIGHT HAVE SOMETHING TO DO WITH THE DROUGHT?
It could. I really don't know why they chose to be there this year (south of Rawlins) rather than where they have normally wintered.
IS IT TRUE THAT NO ONE HAS EVER SEEN SUCH A DETERIORATION IN 304 ELK EVER BEFORE?
Nothing like this. The only kind of die-offs we get on this kind of scale are usually winter-related mortalities, either starvation events or extreme cold weather. So, this is quite unique.
THIS IS UNIQUE AND IT IS UNIQUE TO THE ENTIRE GLOBE OF THE ELK POPULATION?
As far as I know. We've had e-mails going out to all of our colleagues throughout the nation, and even some international people, and no one has ever heard of anything like this before.
WHAT IS THEIR COMMENT BOTH ON THE UNIQUE DETERIORATION OF THE MUSCLES THAT CAN BE SEEN AS SICKLY WHITE?
They are quite surprised, to say the least. There are a variety of wildlife species that eat a variety of lichens. Caribou are probably the most well known. Caribou are closely related to elk and they make up a large part of their diet from various lichens. So, it was pretty puzzling to everybody. The muscle lesions ­ again, that is something that has not been described before with any kind of toxin like this. It is a unique situation.
Toxin Interfering With Cell's Energy Production?
FROM YOUR VETERINARIAN DOCTORATE AND Ph.D. DEGREE, IS THERE ANY LESION IN ANY OTHER DISEASE THAT AFFECTS ELK THAT COMES CLOSE TO THIS?
Yes, if animals are over-exerted, basically run too hard, their muscles can deteriorate like this. I have seen that both in wild animals and in endurance riding with horses. Horses, if they are over-exerted in endurance rides, can have the same kind of thing.
WHAT WOULD CAUSE EXTREME EXERTION IN PREGNANT FEMALE ELK?
One of the hypotheses out there is that whatever toxic compound ­ it might shut down the cell's ability to manufacture energy. Because of that, the energy sources of that muscle cell get depleted very rapidly and so the muscle degrades because of that. It's not because the muscle is being over-exhorted. It's that the muscle is unable to regenerate its energy supply.
DOES THIS FALL IN ANYWAY INTO THE CATEGORY OF WHAT HAPPENS IN THINGS LIKE MULTIPLE SCLEROSIS AND THINGS LIKE PRION-RELATED DISEASE?
No, this seems to be pretty much so far dealing just with the muscle. It doesn't seem to be that the nerves are affected at all. There is no indication of any kind of prion activity occurring at all.
Trying To Understand Why 50-Square-Miles Became Poisonous to Elk
DO YOU IN AN EPIDEMIOLOGICAL WAY TO SOLVE SUCH A MYSTERY THAT SEEMS TO HAVE A BELL-SHAPED CURVE IN CAUSE AND AFFECT THAT WENT THROUGH FEBRUARY, PEAKING IN MID-FEBRUARY? HOW DO YOU TRY TO FIND OUT WHAT MIGHT HAVE HAPPENED IN THE LANDSCAPE?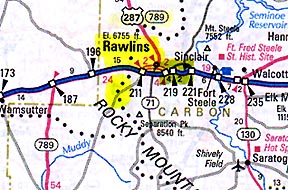 That is actually a good question and that is one of the things that lead up to this. When we first started having the deaths occurring, we have this list of differential diagnoses ­ anything that could cause a similar syndrome. Very early on, we determined that this was not an infectious agent. The vet lab did not isolate any bacteria or viruses or parasites that would have lead to something like this. there was no indication of an immune response as you would expect in an infectious disease. So, fairly rapidly in the course of this investigation, we decided it was some kind of a toxin. Then we started thinking about what is the possibility for a toxic water source or a toxic spill that might have occurred at some place. then as the whole thing progressed and we start of getting what you are describing, the bell-shaped curve of death, and also deaths occurring over a very wide area ­ about 50 square miles in which the elk were dying. that made it very unlikely that we were dealing with a single point source of a toxin. Most spills in a toxic water problem would be a single point source, so the animals would die in a fairly small radius to that point source.
That was another thing that keyed us into that whatever this toxin is, it is pretty equally distributed out there in the environment. That was when Dr. Merl Raisbeck and Mr. Benge Brown, game warden with the Wyoming Game and Fish Dept., noticed all the lichen appeared to have been browsed upon. But what it is in the lichen that is causing this, we don't know yet and it will probably be a matter of months before we are able to say for sure.
THE GOOD NEWS IS THAT WHATEVER HAPPENED, THE ELK DON'T SEEM TO BE DYING IN THE NUMBERS THAT THEY WERE IN FEBRUARY?
That's correct. Whether that's because they adapted to it, or more likely, it's because they moved out of there. They've headed back south into their more traditional migration for summer. They are out of the area of the toxin.
BUT ISN'T THAT A MYSTERY BECAUSE THAT 50-SQUARE-MILE AREA STILL HAS A LOT OF ANIMALS IN IT? WHY AREN'T THE OTHER ANIMALS AFFECTED? WHY ONLY THOSE PREGNANT ELK AND THEIR CALVES?
That's one of the things we want to work up on. There are still some deer and pronghorns in the area, whether it's because they chose not to eat the lichen or because they adapted to it. We want to look at the diets of the other animals out there to see if they have eaten any of this – or learned to avoid it."
---
More Earthfiles Information:
· 03/09/2004 —  300 Wyoming Elk Dead After Baffling Paralysis
---
Websites:

© 1998 - 2023 by Linda Moulton Howe.
All Rights Reserved.