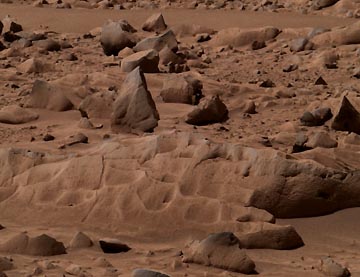 April 2, 2004  Pasadena, California –
Spirit Rover March 31 – April 1, 2004
NASA/JPL reports that Spirit ended sol 86 at 2:20 p.m. PST on March 31, 2004. The rover applied its flower-like 6-position rock abrasion tool brush mosaic on the rock called "Mazatzal." Below it is the ring drilled previously.
This animation show the Mars Exploration Rover Opportunity brushing bright materials off a circular patch of the rock dubbed "Mazatzal." The freshly exposed rock was investigated by instruments on the rover's arm on sol 80 (March 25, 2004). On sol 81, Opportunity used its rock abrasion tool, also located on its arm, to grind into the cleaned-off rock. This animation consists of images taken by the rover's hazard-avoidance camera on sol 79. Image credit: NASA/JPL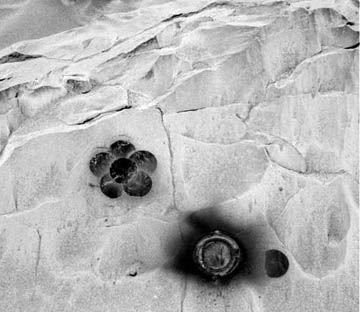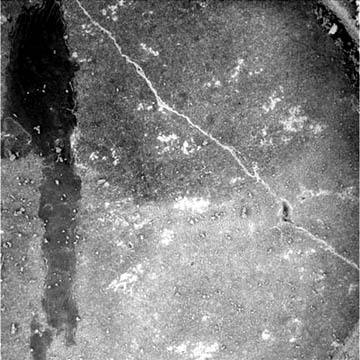 Spirit then rolled backwards .9 meters (2.95 feet) to correctly position itself to acquire mini thermal emission spectrometer imaging of the newly brushed mosaic on Mazatzal and a previously ground hole. In addition, Spirit took sky and ground stares and panoramic camera images of the upcoming drive direction. The sol ended with mini thermal emission spectrometer stares at the "Columbia Hills." Sol 87, which ends at 3:00 p.m. PST on April 1, 2004, will be a driving day for Spirit as it begins what could be a record-breaking journey toward the Columbia Hills. The range of peaks named "Columbia Hills" is an island of older rock surrounded by a younger volcanic layer which surfaces the plain that Spirit has been crossing.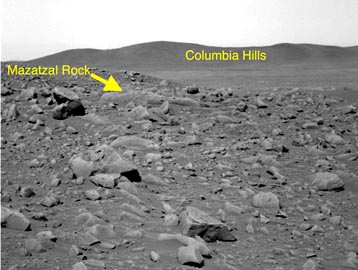 Older rocks may hold evidence of an ancient body of water thought to have once filled Gusev Crater. Spirit landed inside that 150-kilometer-wide (95-mile-wide) crater 12 weeks ago, and the rover's main task is to find geological clues about whether the region ever had a wet environment. Spirit has spent much of its time since landing driving toward a 200-meter-wide (660-foot-wide) crater nicknamed "Bonneville." Rover scientists had anticipated that the impact that excavated Bonneville might have ejected rocks old enough to hold clues about whether Gusev held water.
"The ejecta from Bonneville did not get excavated from deep enough to get below the volcanic layer," said Dr. Ray Arvidson of Washington University, St. Louis. He is deputy principal investigator for the science payload on both Spirit and its twin rover, Opportunity. So, now after the work at the Mazatzal rock, Spirit is on its way to explore Columbia Hills.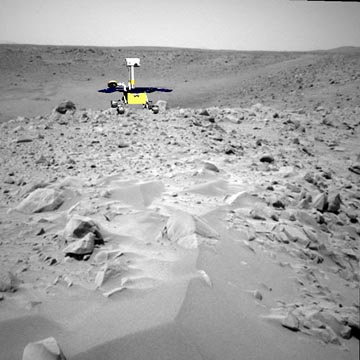 Opportunity Rover March 31 – April 1, 2004
Opportunity's 65th sol ended at 2:02 a.m. PST on March 31. During the Martian morning, the miniature thermal emission spectrometer and panoramic camera studied the atmosphere. "Bounce" rock was imaged by the panoramic camera.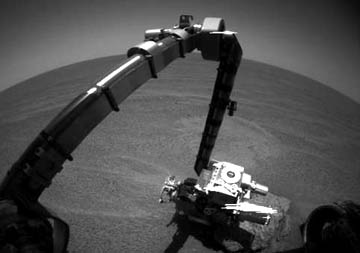 Opportunity's instrument arm was then deployed to get a close-up view of "Bounce" using the microscopic imager. The rock abrasion tool team used some of these images to identify the exact target for next sol's grinding operation. The Moessbauer spectrometer was then placed on a designated target on the rock for an overnight integration. Next sol, the rover's rock abrasion tool will grind into Bounce.
Different Soils Examined by Opportunity in Meridiani Planum
"We're seeing the effects of differences in wind speed," said Bethany Ehlmann, a science team collaborator from the Washington University, St. Louis. In some patches more than others, winds have removed small particles and left large particles behind, she explained.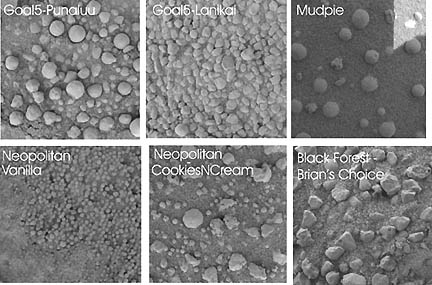 "Punaluu's" largest particles are similar to those seen in the "Eagle Crater" outcrop. There are also some smaller, more irregular rounded particles that have likely been transported by wind.
"Lanikai" target reveals irregularly shaped, light-colored, millimeter-sized (0.04 inch-sized) clasts, or particles, in a fine-grained soil. Lanikai's angular, less-rounded clast shapes interested the science team when compared to other soil targets in the crater area studied by the microscopic imager.
"Mudpie" is representative of the soils lower in the crater, a fair distance from the outcrop. It contains spherules and irregularly shaped vesicles held in a dark sand.
"Neopolitan" highlights the border between two different soil types – a lighter, finer-grained unit to the left and a darker, coarser-grained to the right. Scientists are pondering the unusually distinct border between these different soil types.
"Cookies and Cream" is a mixture of light and dark soil units in the "Neopolitan" area. There are several different types of clasts, or particles, held in surrounding fine-grained sands: rounded spherules, angular, irregular fragments (containing what are presumably vesicles or small cavities) and smaller, about one millimeter-sized (0.04 inch-sized), rounded clasts. At "Vanilla," the microscopic images have revealed small grains one millimeter (0.04 inch) or less in size and somewhat lighter in color than those in other soil units observed in the crater.
"Black Forest" area at the target referred to as "Brian's Choice" are irregularly shaped clasts, low in hematite content based on miniature thermal emission spectrometer readings. Presumably, the particles in this area are more affected by winds since they are on the outer part of crater and are likely deposited and re-distributed by wind on a fairly frequent basis.
The Spherules Are Hematite Source in Meridiani Planum
and Linked to Past Water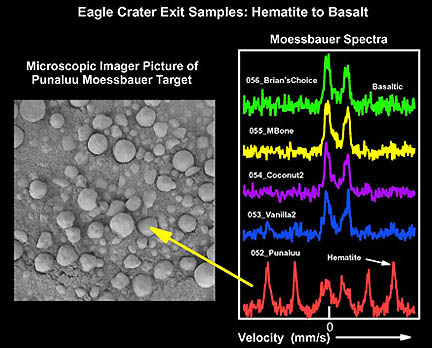 This figure shows spectra, or light signatures, taken by the Mars Exploration Rover Opportunity's Mössbauer spectrometer at various spots in "Eagle Crater." From top to bottom, the spectra represent soil measurements taken from the center of the crater and out to the rim. The top spectrum taken on sol 56 near the center of the crater shows a basaltic mineral composition and only minor amounts of hematite. Basalts are volcanic minerals and hematite is an iron-bearing mineral often formed in water. Moving closer to the rim, the spectra show increasing amounts of hematite with the "Punaluu" site containing the highest amounts seen to date on Mars. Only minor basaltic components are seen in this sample.
The corresponding microscopic image of Punaluu shows a high density of spherules, or"blueberries," indicating that these sphere-like grains are responsible for the observed high levels of hematite. The spherules are plentiful in some soil patches higher on the inner slope of the crater than near the center of the crater. A reading by Opportunity's Mössbauer spectrometer on one of the higher patches found the highest concentration of hematite seen so far in the mission, reported Dr. Goestar Klingelhoefer of the University of Mainz, Germany. He is the lead scientist for that instrument, which is used for identifying iron-containing minerals. The type of hematite Opportunity has been finding usually forms on Earth under wet environmental conditions.
Upcoming
Beginning next week and continuing into the extended mission, Spirit's controllers will switch from working on Mars time – with schedules set to coincide with day or night at Gusev crater – to an Earth time schedule easier to maintain for the long haul. The Opportunity team will shift the following week.
Opportunity is also at the start of a trek. This week, it climbed out of the small impact crater informally named "Eagle Crater" that it had been examining since it landed nine weeks ago. Rocks in an outcrop within the crater have provided evidence that the site was once under flowing water. In coming weeks, Opportunity will drive about 750 meters (nearly half a mile) to a crater nicknamed "Endurance," where scientists hope to find and examine a thicker set of bedrock layers to learn more about the duration of the region's wet history.
---
Websites:
http://www.esa.int/export/SPECIALS/Mars_Express/
http://marsrovers.jpl.nasa.gov/home/index.html

© 1998 - 2019 by Linda Moulton Howe.
All Rights Reserved.