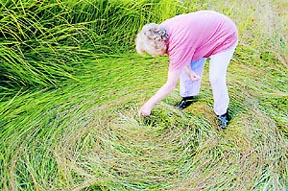 April 7, 2004  Montville, Queensland, Australia – Kate Dash grew up in the Thames Valley of England in a house her mother called "Avebury." Forty years ago, she moved to Australia and has lived the past 35 years in Montville about forty minutes from Conondale. She is fascinated by the crop circle phenomenon and has visited Wiltshire, England, several summers to climb the hills and walk through the mysterious patterns in the crop fields. But she never expected to see beautifully "combed" circles in grass so close to her Montville home.
But on Sunday afternoon, March 28, 2004, some local Conondale teenage boys recognized downed, swirled pasture grass as crop circles. One told his father who told friends of Kate's who went out and looked at the grass circles by flashlight. They called Kate and she met them at 6:30 in the morning on Monday, March 29, to see for herself.
---
Interview:
Kate Dash, retired English teacher, Montville, Queensland, Australia: "They were in a rough sort of field grass. There were four of them. The biggest was just under 8 meters (26 feet) and the smallest was under a meter (about 3 feet). They had a beautiful clockwise swirl. They all were clockwise. The seeds were not knocked off the grass and 24 hours later when I went back to look at them on Tuesday, March 30, the grass was beginning to come up. So, it had not been broken. There was a nice clear, sharp edge, not as sharp as wheat or barley would give you because they are different sort of crop. This was rough grass about 15 inches high. But there was a clear edge to the circles.
The centers had a little mound and it was off by a few inches, enough for you to see visually. The centers were in a line on a north/south axis and I think they were about 15 degrees off a true north/south axis. The circles were not graded in the sense of the biggest being at one end and the smallest at the other end. The biggest circle was second and then the next size was on one size and the two smaller ones in order were on the other side of it.
Overall, it covered about 24 meters from the center of the furthest one to the center of the last one.
YOU KNOW HOW IN ENGLAND AND OTHER PLACES, WE LOOK UNDERNEATH THE SURFACE LAY TO SEE IF THERE ARE ANY 'SKELETONS' OR 90-DEGREE LAID PLANTS UNDERNEATH. DID YOU SEE ANY STRUCTURE UNDERNEATH THE SWIRLED GRASS SURFACE?
It was all laid down beautifully, all in the same clockwise direction and the grass was not broken. The seeds were still intact. The rough field grass that the circles were in was about 15 inches high. It must have been combed or straightened to be laid down just so beautifully in the clockwise swirls.
HAVE THERE BEEN ANY CIRCLES IN GRASS IN THE CONONDALE AREA IN THE PAST?
Not that I know of, or not that has been found and reported.
Glass House, Australia, May 2003
LAST YEAR, I REMEMBER THERE WAS A STORY FROM GLASS HOUSE, AUSTRALIA ABOUT CIRCLES IN GRASS AND THEN LATER PEOPLE SAID IT MUST HAVE BEEN LODGING.
Well, it was in the middle of May last year of 2003 and it was close to some mountains which are volcanic cones which would have been sacred to the aboriginal people. It was in sorghum and it was a rooty, thick crop. They weren't true circles in 2003. You could have seen them as wind damage. I went to see them. They were about 40 minutes drive from me.
The Australian UFO research people came and attributed it to lodging of the crop because it was shallow-rooted and they assumed had been blown over by wind in the sandy soil because of rain. Well, it hadn't rained that much back then.
And there were other associated factors. There was a big flash seen by a few people, particularly by a workman who was an Indian. I talked to him in a little cottage close by and he described it as a flash inside his room. It filled the room.
Bangs were heard, dogs barked, power was off for about an hour and a half. A whole lot of things point to something unusual happening.
THE SORGHUM FIELD AT GLASS HOUSE IN MAY 2003 WAS WHERE IN RELATIONSHIP TO THIS MARCH 2004 CONONDALE?
In driving terms, it would have been about 55 minutes between Conondale and Glass House.
SO IT IS THE SAME AREA AS LAST YEAR'S REPORT. DID YOU TAKE ANY PHOTOGRAPHS OF CONONDALE YOURSELF?
Yes, I did. And my friends ­ this is the very fascinating bit. My friends who went to see it by torch light on Sunday, March 28, after dark ­ I saw their photographs the other day and they had picked up balls of light and light anomalies in the middle of the circles. These lights are mind blowing! Because the two men are standing on either side of a sort of 8-meter-wide grass circle and you've got the shadow of the taller guy on one side which gives you a sense of proportion and the light is between them. Obviously, they saw nothing when they took the photograph."
More Photos Upcoming
---
Websites:
http://www.cropcircleconnector.com
http://www.cropcircleresearch.com
http://www.temporarytemples.co.uk
http://www.busty-taylor.com/cropper/98busty2.htm

© 1998 - 2023 by Linda Moulton Howe.
All Rights Reserved.