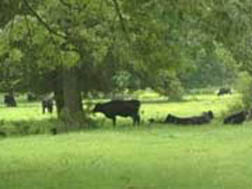 May 5, 2004 Gilmer, Texas – On Sunday, April 18, 2004, neighbor ranchers A. D. Varner and Ronnie Blasingame were out working when they found a dead cow on Mr. Blasingame's ranch in Gilmer, Texas, aabout 150 miles east of Dalls. Ronnie started dragging it off and found another dead cow. While he was dragging that second cow off, he came across three more dead cows. All had a small amount of blood coming out of their mouth along with a large quantity of clear fluid. Neither rancher had ever seen animals die like that before.
Ronnie Blasingame called the local veterinarian, Dr. Dennis Spencer, D.V.M. By Sunday afternoon, the men had counted ten dead cattle, ranging in age from young to old and male to female, and Dr. Spencer had photographed them. Over the next week of April 18 – 25, they found seven more dead cows and a dead dog.
On the pasture ground several yards from an oil gas well not owned by Mr. Blasingame. The men also discovered a large area of what looked like white-colored jelly, or "nose snot," said Mr. Blasingame. He was afraid to touch it because it might have caustic chemicals associated with a dump down the well that his parents had sold rights to thirty years before. As far as Ronnie Blasingame is concerned, he's never been involved with the well or any upkeep of it. But Dr. Spencer speculated that the strange jelly might have been used for something in the well and poisoned the cows that died. Some jelly and animal tissue samples are now in a Pennsylvania laboratory for analysis.
I asked Mr. Blasingame, who had also worked in the oil well industry for about thirty years, if he and Dr. Spencer handled any of the odd jelly on Sunday, April 18, 2004, when they first found ten dead cows.
---
Interview:
Ronnie Blasingame, Rancher since 1986, Gilmer, Texas: "No, I picked up a little sample of it and put it in a vial and we made sure we did not handle it (on our skin).
SO YOU WERE AFRAID OF IT?
According to what they were telling me, it might contain caustic soda or lye or sodium hydroxide, which I'm familiar with. It will really dehydrate skin burns bad.
HOW MUCH OF THIS JELLY SUBSTANCE WAS ON THE GROUND?
It was hard to tell because there were a lot of cow tracks around it, but it covered several square feet.
IS IT TRUE THAT ONE OF YOUR FAMILY DOGS AND SQUIRREL DIED LIKE THE CATTLE?
We're not sure if the squirrel died of the same thing, but one of my dogs picked it up in the woods. Maybe he caught and killed it. But my neighbor's dog had not been eating for a couple of days and died on April 29th with a little blood coming from the mouth and nose with a lot of clear fluid coming out of its mouth. Normally we don't see fluid coming out of an animal's mouth when they die a natural death.
WHEN DID YOU FIND THE OTHER SEVEN DEAD CATTLE?
After Sunday, April 18, we started searching the woods and all the back roads. I have 400 acres back there and a lot of it is in woods and it's hard to find things in there. But we found another four in the woods that probably died on Sunday, too. The other three we found by the next weekend of April 24-25. The seventeen dead animals were mixed male and female and ranged from 300-pound calves to full grown cows.
THIS IS A SUBSTANTIAL LOSS FOR YOU, ISN'T IT?
Yes, they were all raised here on my place.
WHAT WAS YOUR TOTAL HERD SIZE?
150 and the rest are pretty healthy as far as we can see. So, it doesn't seem like it is a disease that would affect the herd over a week or two. Those 17 died in a short period of time.
Rest of Herd Still Healthy
YOU HAVE HAD 17 CATTLE DIE AND ONE DOG. WHY DIDN'T ANY OF THE OTHER COWS GET SICK, DO YOU THINK?
For one thing, if the oil gas well is the problem, they covered it up with barbed wire after the deaths. Maybe the dog got under the wire and died because he got close to something bad. But the cattle couldn't get in there.
SO, THE MYSTERY IS YOU HAVE 17 CATTLE DIED. THE OIL GAS WELL GETS BLOCKED OFF WITH BARBED WIRE, BUT NEARLY TWO WEEKS LATER A DOG DIES IN A SIMILAR FASHION.
WITH YOUR OIL INDUSTRY BACKGROUND, HAVE YOU EVER SEEN THE STRANGE JELLY ON THE GROUND BEFORE?
No, I haven't personally.
HOW WOULD THE CATTLE HAVE INGESTED SOMETHING FROM THE OIL GAS WELL?
I don't know that's the situation, but it might have been something pumped into it and spilled out on the ground.
SO YOU THINK THAT'S WHAT THE JELLY STUFF MIGHT BE?
It could be.
YOU WOULD THINK THAT COWS WOULD STAY AWAY FROM SOMETHING STRANGE LIKE THAT.
Cows are like dogs and humans. They are nosy and get into everything.
HAS ANYONE ELSE IN YOUR REGION WHO MIGHT HAVE OIL GAS WELLS ON THEIR PROPERTY EXPERIENCED ANYTHING LIKE THIS?
To the best of my knowledge, no."
Lab Testing in Pennsylvania
Veterinarian Dennis Spencer hopes to have some definitive lab results back in the next several days that will identify the strange jelly and what killed the cattle and dog. Earthfiles.com will update this report when results are available.

© 1998 - 2023 by Linda Moulton Howe.
All Rights Reserved.