May 10, 2004  Clifton, England – Stuart Dike studied Architectural Technology in school and today works on housing designs for a building developer in Bristol, England. Stuart has always been affected by geometric patterns and when he went to Wiltshire in 1990 to see his first crop formation, he was haunted by the mysterious perfection of the pattern and wanted to know who, or what, was behind the patterns.
Thirteen years later in 2003, he and his Cropcircleconnector.com colleagues, Mark Fussell and Julian Gibson, decided that most of the seventy-three patterns in that English season would be archived in a documentary which the three men photographed and produced called, Out in the Fields, 2003 and another by Julian Gibson entitled Crop Circles: The Ultimate Undercover Investigation (See More Information below).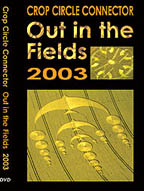 ---
Interview:
Stuart Dike, Co-Editor and Field Reporter, Cropcircleconnector.com and Co-Producer, Out in the Fields 2003 DVD, produced with Cropcircleconnector.com's Mark Fussell and Julian Gibson:
West Stowell, near Huish, Wiltshire, England.
Reported on July 20, 2003:
"ONE OF THE MOST SIGNIFICANT FORMATION OF 2003 WAS IN WEST STOWELL NEAR HUISH,
A 13-FOLD GEOMETRY.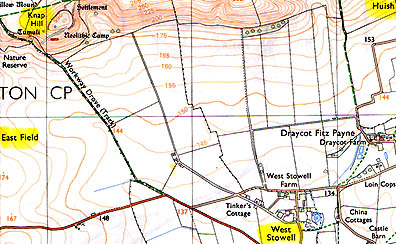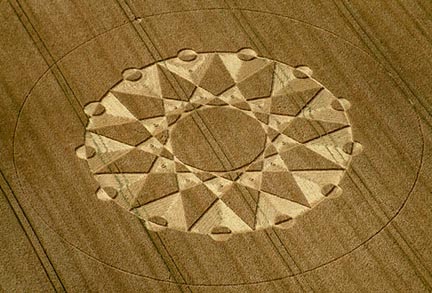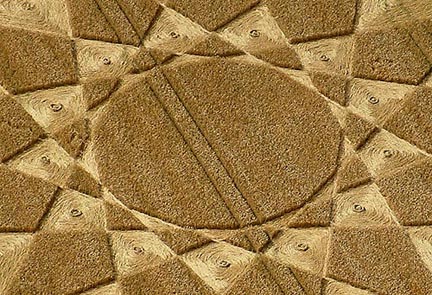 IN THE DVD, YOU SHOW THE 13 REMARKABLE WOVEN AND RAISED FEATURES THAT WERE IN THE WEST STOWELL (HUISH) FORMATION. THERE WERE ALSO SIMILAR 3-DIMENSIONAL WEAVINGS IN THE SAVERNAKE FOREST FORMATION – A VERY BEAUTIFUL AND IMPRESSIVE PATTERN AS WELL.
WHAT DO YOU THINK THE CONNECTION MIGHT BE BETWEEN THE WEST STOWELL AND SAVERNAKE FOREST PATTERNS?
As far as construction is concerned, I think we are looking at another element of the circlemakers showing us how complex they can be. In a sense, they've stepped up a gear as far as the techniques they are using to put the crops to the ground. 2003 was important to me because I think these two formations are showing us the future in how things can get to ­ a leap in the floor construction.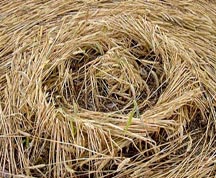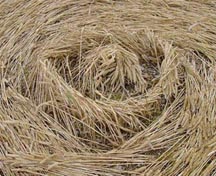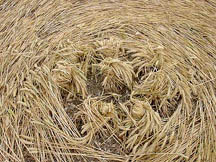 Savernake Forest, Scrope Wood, near Marlborough,
Wiltshire, Reported July 22, 2003.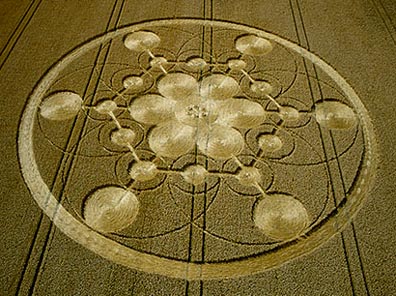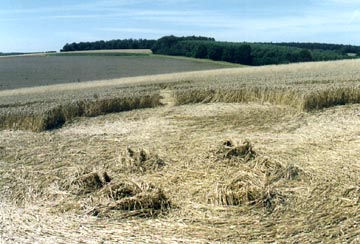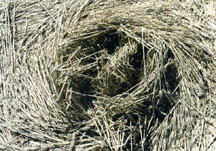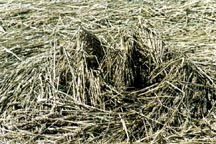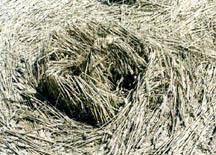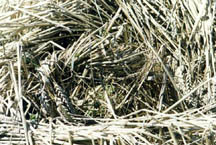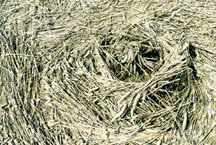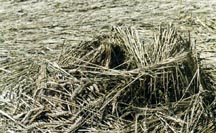 But I think if there is a message there, it's confusing because we are not quite sure what they are trying to portray. But I think they are certainly trying to show us how they can construct formations and saying that we think people can make these things. 'Well, look, this is what we can produce.' Then that will force people to contemplate how people could create that, so they are trying to push the boundaries, really. If we are looking for an esoteric message, it might not be there. But what I think they are trying to show from a mechanical point of view is that they can far beyond what we've been able to think of at this stage.
DID YOU EVER HAVE A CONVERSATION WITH ANY OF THE TEAM SATAN CROWD WHO SEEM TO DELIGHT IN FALSELY CLAIMING FORMATIONS? DID YOU TALK WITH THEM ABOUT THE 13-POINT FORMATION AT WEST STOWELL OR THE SAVERNAKE FOREST PATTERN?
No, we don't have direct contact with them. Obviously we know who they are. But it's very hard to think they could have been responsible for those formations.
I DON'T THINK THEY CLAIMED EITHER OF THOSE PATTERNS, THE WEST STOWELL OR SAVERNAKE FOREST?
No, they didn't.
IN 2003, THERE WERE NOT AS MANY FORMATIONS AS THERE HAVE BEEN IN PREVIOUS YEARS AND IT IS MY UNDERSTANDING THAT THE SO-CALLED HOAXERS SAID THEY WERE BACKING OFF OF 2003 AND SOME PEOPLE THOUGHT BECAUSE IT WAS A LATE FORMATION SPRING THAT MAYBE THEY WEREN'T GOING TO OCCUR BECAUSE THE 'HOAXERS' HAD GONE AWAY.
We were aware of that claim, I must admit.
MY POINT IS: THERE WERE AT LEAST MORE THAN 70 PATTERNS IN 2003 IN SOUTHERN ENGLAND ALONE, WHICH CONTRADICTS THE HOAXERS SAYING THEY WERE WITHDRAWING. OR PUT ANOTHER WAY, SOMETHING ELSE MADE A LOT OF CROP FORMATIONS THAT HOAXERS HAVE NOT CLAIMED.
That's right. Absolutely. That goes to show that this phenomenon continues even thought people sit back and say, 'We're not going to make them anymore.' We still end up with incredible formations.
WOULDN'T YOU SAY THAT IN 2003 THE 13-FOLD GEOMETRY AT WEST STOWELL IS AS REMARKABLE AS ANYTHING THAT HAS OCCURRED IN THE LAST 15 TO 16 YEARS?
Yes, I think it is certainly ­ I think the design element we have seen before, but certainly on the ground, extremely impressive.
North Down, West of Silbury Hill and Avebury,
Wiltshire. Reported July 6, 2003.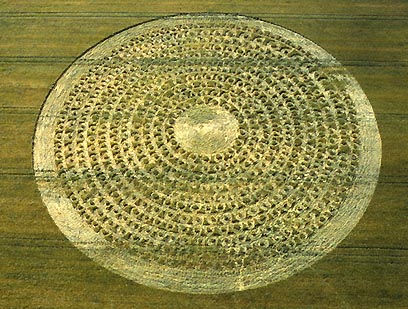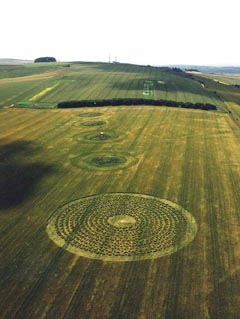 I FELT THE SAME WAY ABOUT THE NORTH DOWN 11 CONCENTRIC RING FORMATION THAT WAS IN BARLEY. I PERSONALLY THINK IT IS ONE OF THE MOST EXTRAORDINARY PATTERNS OF ALL TIME.
Absolutely. I agree. And I think the important thing to remember as well is the relationship to ancient monuments. To me, the North Down was connected most certainly to the 2002 pattern at Stonehenge because you had in both of them related sort of alignments with ancient barrows. They are both showing us that we must look at the past to possibly learn about what's coming in the future. It's like the crop circle makers are saying that ancient wisdom plays a part in this whole process.
I THOUGHT IT WAS ASTONISHING TO LEARN IN WILTSHIRE AND WENT TO THE NORTH DOWN PATTERN THAT NO ONE TO THIS DAY ARCHAEOLOGICALLY IS CERTAIN WHO IS BURIED IN THOSE FOUR AMAZING ALIGNED BARROWS. NO ONE KNOWS.
No one knows, right. Normally when people were buried in barrows, they were quite significant. They were usually well heeled families in the communities. They could allow them to have barrows to be buried in. They were quite significant. Certainly the ones on North Down must have been from some important family. But also, there would certainly be a major ley line (electromagnetic line) running through each particular barrow.
AND THAT THE BARROWS THEMSELVES ARCHAEOLOGICALLY ARE SAID TO BE AT LEAST 4,000 OR MORE YEARS OLD.
That's correct.
SO, WE'RE DEALING WITH A LANDSCAPE THAT WAS HIGHLIGHTING THE RELATIONSHIP OF SOMEONE WHO WAS ALIVE ALONG TIME AGO WITH THE CURRENT PRESENT AND PATTERNS THAT WE ARE SEEING IN BOTH ENGLAND AND THE UNITED STATES IN 2003 THAT WERE INVOLVED WITH BARROWS AND MOUNDS JUST AS THEY WERE IN ENGLAND AND WITH STRAIGHT LINE ALIGNMENTS THAT SEEM TO BE TRYING TO POINT OUT SOMETHING IN THE LANDSCAPE THAT WE ARE MISSING AND WE ARE NOT MAKING CONNECTION.
I THOUGHT OF THAT WHEN I WATCHED YOUR DVD AND IN THE VERY THIN RING THAT WAS AROUND THE 13-FOLD GEOMETRY AT WEST STOWELL, THERE WAS A LITTLE SATELLITE CIRCLE. YOU POINTED OUT IN THE DVD THAT THERE WAS ALSO A SATELLITE CIRCLE ON THE CENTER OF WHAT WAS A VERY ANCIENT MOUND IN BECKHAMPTON AS WELL.
Firs Farm, near Beckhampton, Wiltshire.
Reported on July 19, 2003.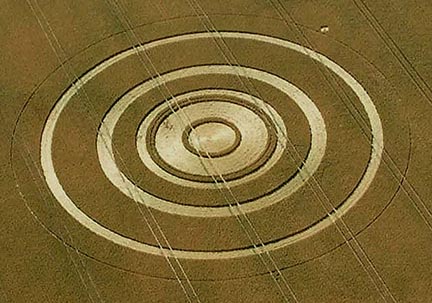 I do feel that the Beckhampton pattern and the West Stowell 13-fold geometry are connected because they both have a very thin outer ring ­ this satellite circle that sits just outside of the main outer ring. Now, at the Beckhampton formation, it was not apparent on the ground where this satellite circle had positioned itself because the very faint outline of the actual small enclosure or round barrow or whatever it was could not be seen from the ground. But from the air, you suddenly recognized that the small satellite circle has positioned itself perfectly within the plowed out ancient barrow marking. The thin outer ring touched the small barrow, just as well as the thin ring at West Stowell (Huish) passed through a barrow there.
So, what we are dealing with here is that the circle makers are intuitively aware of where these barrow markings are in the fields.
NOT EVEN INTUITIVELY. IT COULD BE THAT WE ARE DEALING WITH AN INTELLIGENCE THAT KNOWS OUR PAST, PRESENT AND FUTURE WITH GREAT DETAIL AND WE'RE DEALING WITH AN INTELLIGENCE THAT KNOWS EXACTLY WHERE ALL OF THE MOST ANCIENT BURIAL MOUNDS ARE ALL OVER THIS PLANET.
Yes. Certainly, they most definitely have a connection to the past. They probably have some significance about why ancient men built these things as well. Obviously, these 'entities,' or whatever you want to call them (circle makers), have been around probably from the beginning of Time, perhaps in some form.
They have an extensive knowledge, I think, where to position certain formations for maximum affect and it also shows that if people are being skeptical about the phenomenon, the phenomenon is challenging us to see that somehow there was knowledge of the precise location for the satellite circle inside the center of a burial mound so ancient and plowed over it's almost impossible to find on the ground?
NOBODY KNEW THAT THE BURIAL MOUND WAS THERE UNTIL THE PATTERN WAS FORMED AND YOU ALL SAW IT FROM THE AIR?
Yes.
Crop Circles – A Mathematical Language?
STUART, WHY DO YOU THINK IT IS SO DIFFICULT FOR ALL OF US HUMANS TO TRY TO FIGURE OUT WHAT THE ACTUAL RELATIONSHIP COULD BE BETWEEN THE PATTERN AT BECKHAMPTON AND WEST STOWELL AND THE SAVERNAKE FOREST. YEAR AFTER YEAR, PATTERNS COME AT VERY SPECIFIC PLACES IN THE CONTEXT OF ANCIENT BURIAL MOUNDS AND ALIGNMENTS. WHY IS IT THAT WE CANNOT UNDERSTAND WHY THE CROP FORMATIONS ARE BEING MADE AND BY WHOM AND TO WHAT END?
That's a good point. As far as I'm concerned, after fourteen years of being involved in this, I certainly sit down quite awhile and think, 'Why don't I know the answer after all these years?' How long is it going to take before we do know the answers to this?
It's obviously some form of message language which is being given to us very subtly and very slowly to perhaps ­ we can only speculate ­ perhaps to draw us into a new time where we will gradually evolve intellectually as well as spiritually. Perhaps the crop circles are taking us through that particular journey. That's my personal opinion. For somebody who has given up his life the past fourteen years (Stuart Dike), I get frustrated by the question of how long is this going to take? I was a young 21 and now I'm 35 years old. Am I going to be 55 or 60 before I know any answers and this whole thing has come to an end?
2004 Crop Circles – What Is Next?
WHAT IS IT THAT YOU PERSONALLY EXPECT TO HAPPEN IN THE SUMMER OF 2004?
That takes me back to the DVD. This DVD is an ongoing annual report for the cropcircles. 2004, I think we are going to see designs of a similar nature to 2003. I think we are going to see designs that will incorporate the elements we saw at the end of 2003.
MEANING THE ELABORATE, TWISTED KNOTS OR NESTS?
Yes, the raised nests or centers. I think we are going to see a lot more braiding in the formations, as we have seen in some of the rings going around the perimeters of patterns, plus more layering of plants. Hopefully, this 2004 season will have more momentum to it. Last season, we tended to have fits and starts with a cluster of patterns and then nothing for quite a few days and then another would appear. But perhaps 2004 will be another renaissance.
THERE WAS ALSO THE PECULIARITY OF 2003 STOPPING, NOTHING APPEARED AFTER AUGUST 10TH IN ENGLAND OR ALL OF EUROPE.
That's right.
FORMATIONS APPEARED UP THROUGH MIDDLE TO LATE AUGUST IN PREVIOUS YEARS. 2003 IS THE ONLY YEAR THAT HAD AN EARLY ABRUPT HALT WHEN EVERYBODY WAS ANTICIPATING: 'WOULD THERE BE SOME EXTRAORDINARY FORMATION ON AUGUST 11 BECAUSE OF 9/11 AND SUBSEQUENT DATES OF PATTERNS THAT SEEMED TO LEAD UP TO THE DATE OF AUGUST 11, 2003?
Yes, I think that after the amazing events of 2001 to 2002, we were waiting for a major event at the end of the 2003 season.
IT WAS SYMBOLIC BECAUSE OF THE 9/11 RESONANCE WITH AUGUST 11 AND IT WAS AN ISSUE THAT IF NOTHING OCCURRED AFTER AUGUST 11, 2003, WHAT DID THAT BODE FOR 2004?
Yes. I understand what you are asking. If you look at previous years, you see that a pattern emerges where we get this tremendous formation at the end and then the next year, it tends to be less. We do get peaks and troughs in seasons. 2003 was certainly a trough.
AND THAT AUGUST 2004 MIGHT BE SPECTACULAR AGAIN.
I don't think the circle makers ­ perhaps it's not their priority to bowl us over with a spectacular creation. They come for a purpose, whatever it is. Perhaps it is coincidental that we've gotten amazing ones at the end of some seasons.
Last Crop Formation in England Was August 10, 2003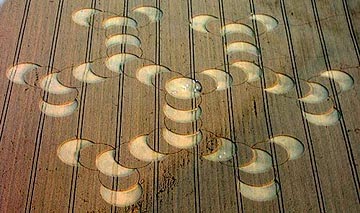 I THOUGHT THAT THE MOLECULE PATTERN THAT OCCURRED NOT TO FAR FROM THE NORTH DOWN FIELD ON AUGUST 10, 2003 WAS AN EXTRAORDINARY FORMATION, BOTH ON THE GROUND AND FROM THE AIR.
Yes, and very large.
WITH MANY LAYERS ON THE GROUND WITH MANY OPPOSITE DIRECTIONS OF PLANTS LAID DOWN.
Yes. I think that the reason we focused in the DVD on the "swallows" below Alton Barnes (August 4, 2003) was because it was so beautiful.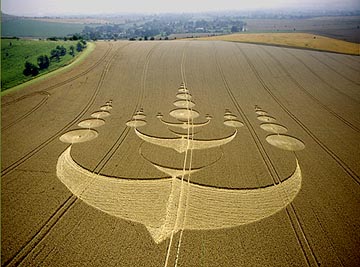 DO YOU THINK 2004 COULD BRING ANY PATTERNS THAT POINT TO THE TERRORISM SWEEPING EARTH?
No, I don't. I think after fourteen years of being involved in this, I think the circlemakers have another agenda. I think they have to ­ if they are here to show us the way, slowly, they have to allow us to have free will. They have to allow people to make their own decisions and be responsible for their own actions. But maybe the ultimate question is: will humans learn from our own actions? One day, perhaps? Cropcircles are probably just one part of the jigsaw puzzle that we are hopefully moving to better times, although many times it seems we are going backwards. I think it's almost like the situation is like a stretching an elastic band. I think that elastic band is certainly fraying in the middle. It's almost like we have to get to a breaking point in society where the whole thing could blow. I think the circles are a part of that whole process and it could happen in the next 20 minutes or the next 20 years. No one really knows. But I think we seem to be moving towards this breaking point where it can't go on any further.
HOW COULD THE CROP FORMATIONS MAKE ANY DIFFERENCE?
Perhaps people like ourselves are helping in that process, getting the message out there. We are trying to tell people, if only a small percentage of society. But if you add up how many people know about crop circles now and compare to back in 1990 or 1989, it's certainly a lot more than it was.
WHY DO YOU THINK SO FEW PEOPLE PAY SERIOUS ATTENTION TO THE PHENOMENON?
I think the people who do pay attention do want to see significant change in the world. Those are the people desperate for the crop circles to show us the way and feel there are messages there if we could understand them. For me, I've had to have incredible patience to get me to this point. But after the early 1990s, some people began to look at the fabric of reality in a different way because of the crop formations and asking if we were dealing with things that are beyond this reality: Are we dealing with aliens? Are we dealing with spiritual beings? These can't possibly be hoaxes. All those thoughts began. On a government level, perhaps there was some decision made to bring in hoaxers deliberately to muddy the waters and deflect public attention.
The result was between 1992 and 1994, some people and the media turned away. Then in 1994, there was a renaissance and our cropcircleconnector.com website first came on in 1995 and helped explode public interest again on the internet. You can't rely on the main media for truth about the phenomenon!
You can get quite a lot of things out of the crop circles. From my point of view, it's a spiritual thing. From the mass point of view, it's the art of it. Everyone gets their own feeling from the patterns and that's what makes them so powerful."
---
More Information:
The cropcircleconnector.com documentary DVD is expected to be an annual report each year. Also available for sale is the documentary DVD that Julian Gibson made which is Crop Circles: The Ultimate Undercover Investigation.
The two DVDs complement each other.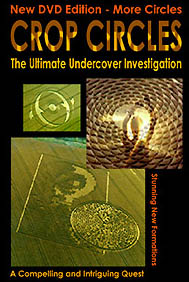 ---
Websites:
http://www.cropcircleconnector.com
http://www.cropcircleresearch.com
http://www.temporarytemples.co.uk
http://members.iinet.net.au/~bwratten/ccc.html
http://www.CropCircleAnswers.com
http://www.busty-taylor.com/cropper/98busty2.htm

© 1998 - 2023 by Linda Moulton Howe.
All Rights Reserved.