May 17, 2004  Long Island, New York – It was a year ago when a 63-year-old Nassau County, Long Island, New York resident, who only wants to be known as "Marjorie," read on the internet about a possible "Planet X" headed into our solar system. She had a JVC digital camera she had purchased in the summer of 2001 and decided she would start photographing after sunrise because she thought Planet X might be seen in the direction of the sun. Since January 2003, Marjorie says she has taken "hundreds and hundreds of pictures, but got nothing more than a few lens flares and little red dots. I just started to do it again this year at the beginning of April ."
On Friday, April 23, 2004, around 7:30 a.m., Marjorie noticed how beautiful the sun was behind cloud cover and got her camera and a piece of dark welder's glass she uses when she aims straight at the sun. Her house is not near the ocean and toward the east, there are one-story houses as far as you can see. But her angle was higher in the sky. She took about twenty-five shots over a couple of minutes, sometimes zooming in, and was surprised when she looked at them. Between normal-looking images, there were two abnormal ones that had a spiral of six lights right in front of the cloud-covered sun and a seventh, dimmer light, to the left. One frame was dark and one was lighter. I asked her about the different exposures. 
JVC Digital Camera
Purchased: July 2001
Model # GC=QX3HD 3.3 mega pix
Digital Photo Memory: 64 MB Card
Zoom: 2.3X that corresponds to a 37mm to 86mm lens.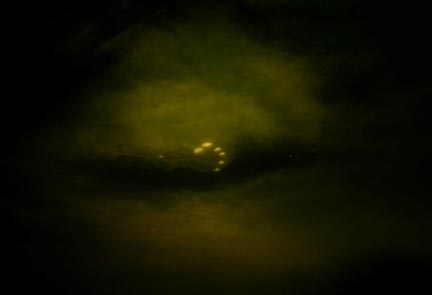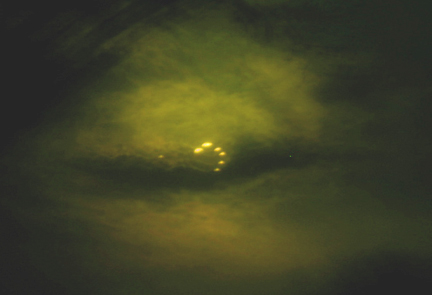 ---
Interview:
Marjorie, Nassau County, Long Island, New York residential area, not near ocean: "I'm not an expert at all with these digital cameras. I just put it on the tripod and take the picture and that's it. But what I noticed with this JVC digital camera is that when it's on the Automatic setting, it comes out the lighter picture. When I put it on Manual, sometimes it's darker. And sometimes when I'm holding the camera in one hand and the welder's glass in the other hand, my hand slips the mechanism from Automatic to Manual. When it's on Manual, it comes out very dark because I guess that's a shorter exposure.
I downloaded those two on my computer and it wasn't until I heard you on Coast to Coast AM the other night (Friday, May 14, 2004) and I went on your website and looked at the pictures from Mexico and saw the dots that reminded me of the pictures I had taken. So, that's why I e-mailed you because I don't know what they are. You can do what you want with them, Linda. But I don't know if they are something – or a camera abnormality. I'm also curious about the dimmer light to the left of the six lights and the little blue dot to the right.
DID YOU SEE ANY OF THESE LIGHTS THROUGH THE CAMERA?
No, I couldn't possibly because the glare was very strong. I put my own sunglasses on and I never directly looked at the sun ­ it is so dark when I have the welder glass that I really can't see much except it's bright.
AND THE SUN WAS DIRECTLY BEHIND THE DARK CLOUD?
Yes. Actually it looks darker in the picture because of the welder glass, but where those bright objects are that would be directly where the sun would be."
Marjorie me an example from other days of the sun and tree branches in a wide shot from her back yard to show what her more normal photos look like.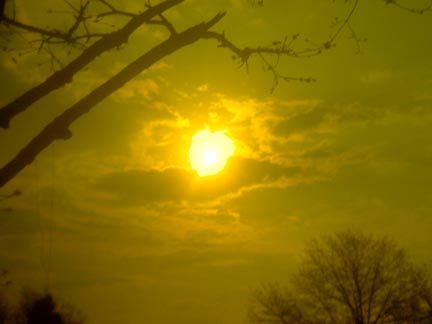 "That morning (April 23), I didn't find anything unusual with the other pictures (before and after the two anomalies) and deleted them. I only kept those two in the computer because I thought they were different. But I wondered if it was something wrong in the camera or the exposure? I just couldn't believe this was something actually there.
ARE BOTH TAKEN THROUGH THE WELDER'S GLASS?
Yes, both through the welder's glass. And I'd zoomed in as close as I could with the zoom, but on digital cameras it isn't much.
SO IN THE PAST YEAR AND THE HUNDREDS OF PHOTOS YOU HAVE TAKEN AROUND SUNRISE, THESE ARE THE ONLY ANOMALIES SO FAR?
Yes. Nothing else at all.
YOU'LL KEEP PHOTOGRAPHING?
Oh, yes, I've photographed since those two, but still nothing else."
---
If anyone has taken any similar photographs, or has information about what could be in front of the sun and clouds, please contact: [email protected].

© 1998 - 2023 by Linda Moulton Howe.
All Rights Reserved.