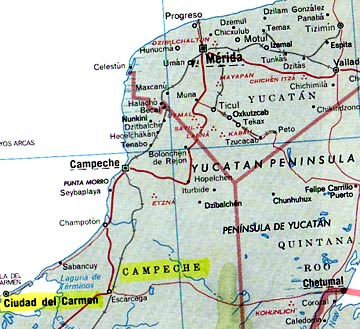 May 19, 2004  Dahlgren, Virginia – Yesterday a manager of Mexico's official meteorological center declared in a Mexico television interview that ball lightning could not explain the eleven objects videotaped in infrared on March 5, 2004, by the Mexican Air Force crew. Alberto Hernandez Unzon, a manger of the National Meteorological Services, is also a member of the Scientific Advisory Committee of the Mexico National System for Civil Protection and member of the Hurricane Committee of the Worldwide Meteorological Association.
Through the translation work of Santiago Yturria of Monterrey, Mexico, here are excerpts from the Mexico television interview. Mr. Unzon said, "According to the satellite images, the conditions registered in the observatories and the satellite RADAR images, there were stable conditions in the entire Campeche zone. In the specific place of interest in this issue, there were cloud formation and some stratus clouds that are stable conditions for this season. There were no rains registered and the cloudiness type was very stable as we can see in this satellite images and the Air Force video. …What we had were the type of cloudiness that does not cause the flash phenomena.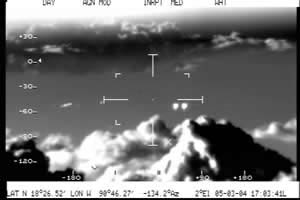 Further, when Mr. Unzon was asked about the scientist from Universidad Nacional Autonoma de Mexico (UNAM) speculating to the media that the videotape could probably be explained as ball lightning, he replied: "They (scientists, including nuclear researcher Julio Herrera Velazquez) have never approached us at any time. If they are talking about a meteorological phenomena at that location, they should have met with us at the National Meteorological Services to obtain the meteorological conditions just like your team did as well as other journalists. (Also) There were no weather balloons sent up in that area. …To say that these lights on the video are ball lighting or electrical sparks is nonsense. I repeat, that day there were no meteorological conditions for flash or ball lightning in the entire Campeche area. The clouds must have been at approximately 7 kilometers (4 miles or 21,000 feet) high. What we see are stable stratus cloud formations. (Editor's note: The Mexican Air Force plane's altitude was 11,480 feet.)
Mr. Unzon said he had no explanation for the unidentified heat-emitting objects on the infrared videotape. He also indicated he would request from NASA in the United States satellite images of the Campeche region on March 5, 2004, to see if anything more could be learned.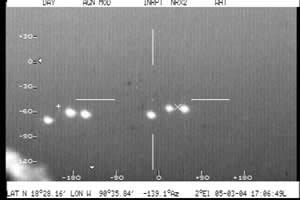 Media Headlines About Ball Lightning Without Any Proof (See More Information below)
After Mexico City TV producer and independent journalist, Jaime Maussan, released the Mexico Defense Department's March 5, 2004, infrared videotape of the unidentified objects – with the cooperation and approval of the Secretary of Defense (See: 5/13-14/04 Earthfiles) – speculations followed that the objects must have been meteors, balloons, an American stealth aircraft – and a scientist from a university in Mexico immediately told reporters that the explanation was probably ball lightning. Press headlines around the world ran with that as the answer to the previous reports about the baffled Mexican Secretary of Defense and the mysterious infrared images. Did anyone in the media have proof of ball lightning? No.
Even the Mexican nuclear researcher, Julio Herrera Velazquez, admitted to reporters: "There is very little documentation and scientific proof of ball lightning." And in fact, a search of ball lightning literature will show there is no physics agreement about the nature of ball lightning ­ let alone proof that it can persist over at least eleven minutes at 11,480 foot altitude, divide itself from one to eleven objects, move at more than 200 miles per hour from 37 miles away to as close as 2 miles to the plane ­ and do it all completely invisible to the eyes and minds of the eight pilots aboard the Mexican Air Force plane ­ while the sun was shining.
I talked about the Mexican scientists' ball lightning explanation on May 17, 2004, with physicist Bruce Maccabee who has worked for the Naval Surface Warfare Center (NSWC) in Dahlgren, Virginia, for thirty-two years. Bruce right now is working with infrared frequencies in the development of Homeland Security technologies. He has also talked with engineers at the FLIR Corporation in Portland, Oregon, who make the infrared camera system that was mounted in the Mexican Air Force plane. FLIR engineers told Bruce and me that they have studied the Mexican infrared image and don't know what the infrared objects are. Here now is physicist Bruce Maccabee explaining why ball lightning speculation does not match the known facts.
---
Interview:
Bruce S. Maccabee, Ph.D., Research Physicist, Naval Surface Warfare Center (NSWC), Dahlgren, Virginia: "I am looking at the CNN internet 'Science and Space' headline: 'Weather May Explain Mexico UFO Stir.' And the story refers to nuclear science researcher, Julio Herrera (Velazquez), who said the blobs of light may have been nothing more than ball lightning. Glowing spheres are often little understood, but have been sighted near the ground during thunderstorms. He said, just as you have lightning between clouds and the ground, you can also have it between the clouds. Sometimes ball lightning can develop. I feel this is one of those rare events. It is a very rare atmospheric phenomenon and it would be very interesting to be able to analyze all the information these pilots have obtained." This is Mr. Herrera talking.
Of course he is correct in saying it would be very interesting from the pilots and also from the radar and from the infrared system. It's best to have all that information before we try to propose too many explanations!
TODAY JAIME MAUSSAN CALLED ME AND SAID THEY HAD CHECKED WITH METEOROLOGISTS AND IN THE STATE OF CAMPECHE ON THE DAY OF THIS EVENT, THERE WERE NO THUNDERSTORMS IN THE AREA.
That makes it hard to justify the presence of electrostatic or electromagnetic phenomena like ball lightning. This is known as explaining one unknown with another unknown, which gives you a lot of flexibility. And you just pointed out that one problem with the ball lightning hypothesis is that there weren't any thunderstorms around. But even before that, it certainly appears these unidentified objects were traveling along with the airplane and that would imply they were moving at a considerable speed – like a couple hundred miles per hour.
It was even suggested there might be some electrostatic interaction between the plane and ball lightning, such as planes drawing them along behind it, or something. I would say that is highly, highly, highly unlikely considering these (heat-emitting objects and Mexican Air Force airplane) were at least two (to thirty-seven) miles apart. That would take something on the order of electricity in a cloud to produce a lightning bolt in order to cause a sufficient electrostatic interaction.
AND WE HAVE TESTIMONY FROM THE EIGHT PILOTS ­ JAIME INTERVIEWED AT LEAST THREE IN SOME DETAIL ­ AND THEY SAID IN THE FIRST RADAR WHERE THEY SAW MOTION THAT THE OBJECT THAT WAS MOVING WAS 37 MILES FROM THE MEXICAN AIR FORCE PLANE AT THE TIME OF THE FIRST RADAR CONTACT.
Right. I suspect that this guy (Herrera Velaquez) is advancing a theory ­ not with the intent of saying that is absolutely the answer ­ but the press needs to have something to say. They hate to leave question marks, or whatever. So they will be happy to grab on to ball lightning. I guess even the press can see through the balloon hypothesis and the press doesn't buy the meteors, I guess, and the press doesn't accept the idea that it is some Top Secret American military aircraft of some sort. So that leaves them with the ball lightning hypothesis being the fourth one. There is a fifth which is that it's a hoax. But apparently no one is buying that either.
Would Ball Lightning Be Invisible?
I can imagine that if ball lightning were to occur in the day time and were not strong ball lightning, it might be possible that you couldn't see it because there was too much other light around. It's not enough contrast between the ball lightning if it is a cool plasma, 600 to 700 degrees Centigrade so it is just barely radiating in the visible spectrum, but isn't radiating considerably in the infrared. Maybe you would not be able to see the ball lightning.
But you know, any scientist who wants to put this over as ball lightning has to have a good theory. The scientific method would be as follows and this applies to any explanation: You make up a model, effectively a theoretical model of what the explanation is. If it's ball lightning, then you need a theoretical model of the ball lightning. Then you make predictions as to how that would show up. For example, on an infrared system. How would it show up on radar? What would its characteristics be in terms of motion and duration and all sorts of stuff.
In this situation as far as I can tell at the present time, these objects were traveling along with the aircraft at about 200 mph. So a major ­ that's something that is hard to be wrong. That's what I mean by a major detail. Something that is difficult to be in error.
You can look at the infrared read out and look at the azimuth values ­ I was mentioning earlier that a considerable amount of time was spent with the azimuth at 130 degrees. If the plane is traveling 3.3 miles per minute and over that period of time, the azimuth does not change ­ then the objects must be traveling right along with the airplane.
The point is that any ball lightning theorist has to come up with some way to convincingly explain how these things could be moving at that speed. If they can come up with that, then fine. But the thing about this ball lightning stuff though is that I notice it's the same story from this guy Herrera ­ his proposal ­ over and over again. It's not like some new scientists are coming along and saying, 'Oh, that guy is right.' It seems to be what the press is picking up on is just one person's suggestion.
Could Infrared Objects Have Been American Stealth Craft?
WHAT DID YOU THINK OF THE PEOPLE SENDING AROUND ALLEGEDLY PHOTOGRAPHS OF SOME KIND OF STEALTH TECHNOLOGY THAT THE UNITED STATES HAS MADE WITH SOMEWHAT TRIANGULAR CONFIGURATION OF LIGHTS AND THEY ARE SAYING THAT IS WHAT WAS UP THERE IN THE SKY?
That would mean there were at least two triangular objects and probably more because there were several groupings of three that were up there. They (pilots) should have been able to see something, is what it amounts to. There aren't any transparent aircraft as far as I know.
BECAUSE IT WAS AROUND A LITTLE BIT BEFORE 5 O'CLOCK IN THE AFTERNOON…
And the sun was probably 20 degrees above the horizon behind them, something like that.
SO FROM YOUR PERSPECTIVE AS A PHYSICIST LONG TIME WORKING FOR THE NAVY, IF YOU HAVE EVEN A STEALTH AIRCRAFT IN AFTERNOON LIGHT AND THE SUN IS UP, THERE IS STILL NO KNOWN WAY TO MAKE THAT CRAFT INVISIBLE TO THE HUMAN EYE?
Not that I know of. Even if they had such a thing, I don't think they would be flying it over Mexico just for the heck of it. I think the plane was flying, at least during the time they were using the FLIR system, the plane was flying almost due east, according to the latitude and longitude read outs and doing about 200 mph on average. These things were sort of northwest of them, you might say ­ to the left of them and farther than 90 degrees back. The unidentified objects were -130 degrees, which is behind and to the left (of the Mexican Air Force plane).
That's after they had been doing the FLIR. When they were heading towards the objects, just by radar, I'm not absolutely sure what direction they were going at that point. The most recent testimony of the pilots seems to suggest that they originally headed towards the object and then they made a considerable change in direction after this thing first disappeared. As they headed towards it, there was this one object initially that they picked up on radar. When they got within a couple of miles, the object took off. Then they turned to go somewhere ­ I don't know exactly where ­ but the point is, when they were headed toward it, if there was one single object, they should have seen something as they were approaching.
That's one of the reasons why the crew was so startled as to what was happening. They could see these things on radar and the FLIR system, but they could not actually see anything visibly. I don't know anything that can have a sizable radar cross section ­ probably several square meters worth, which is equivalent to saying it's a sphere a couple of meters in diameter. With a sizable radar cross-section and be radiating infrared radiation and yet not be able to see anything ­ not have any radiation in the visible, not have any reflection in the visible reflecting sunlight, not being opaque to block the background.
Multiplying Objects, Rapid Movement and Change of Direction On Radar and Infrared
OVER AT LEAST ELEVEN MINUTES – THE RUNNING TIME OF THE ACTUAL INFRARED IMAGES – THERE WAS A CHANGE IN THE OBJECT FROM ONE TO TWO UP TO ELEVEN OBJECTS.
Yes, these are lights of which at least six were quite bright. And some others that weren't quite as bright. And you can see them moving with respect to the clouds. You can see the nearby clouds moving more rapidly past the airplane than the distant clouds appear to. That's a standard parallax effect when you are traveling along in a vehicle of any sort. Things that are close to you move backwards faster than the things that are far away. What this does is give you a sort of 3-dimensional feeling to the video with the nearby clouds going by more rapidly than the distant clouds, and these objects go on the far side of some clouds and on the near side of some other clouds. So you have the impression that they are some fixed distance away and not at infinity and they aren't ten feet from the airplane. They are some distance away. They seem to maintain ­ once you get the grouping of eleven objects or so ­ they seem to maintain almost like a formation.
When that first object was detected ­ according to the pilots' story ­ they approached it and then it took off. And also, the more recent pilot testimony suggested they were able to see on radar the speed of this object, of the one object they were tracking. They saw it speed up, slow down and change direction in very strange ways independently of what the airplane itself was doing. So there are more details that we have to dig out and confirm and we have to put together a history of the event before we are able to understand or approach determining what sort of physical characteristics these things had.
No Radiometer on Mexico Air Force FLIR System
WHAT I'VE LEARNED IS THAT THE FLIR SYSTEM THAT WAS IN THE MEXICAN AIR FORCE AIRPLANE DID NOT HAVE A RADIOMETER WHICH IS NECESSARY TO TELL THE TEMPERATURE OF ANY OBJECT EMITTING HEAT THAT SHOWS UP ON AN INFRARED IMAGE.
The radiometer aspect could tell you the temperature of an object or how much heat it was emitting quantitatively. From the FLIR imagery, you get it qualitatively in the sense if it were very cold, it would be very dim. If it were very hot, it would be very bright. But you can't say from the FLIR imagery how many degrees it is because of automatic gain controls and other software processing of the data to make it look good on the screen.
But it was definitely over-saturating when those two things were side-by-side. And I guess about two miles away at that point ­ that was definitely over-saturated.
THAT'S SUGGESTING THAT WHATEVER WAS OUT THERE TWO MILES WAS EMITTING A LOT OF HEAT ENERGY.
That's what I don't know ­ how sensitive the system was. The fact that there was glare in the imagery, a sort of halo around the bright objects, means there was a lot of radiation impinging on the imaging system coming right through the lens. I hope we can use that fact to make an estimate of just how much radiation was hitting the lens (since no definitive radiometer readings.)
Calculating Size of the Invisible, Heat-Emitting Objects
DO YOU THINK THERE IS ENOUGH INFORMATION ON THE INFRARED VIDEOTAPE TO EVER KNOW WHAT THE SIZES OF THESE OBJECTS WERE?
We can set bounds to it. It wasn't any bigger than the image itself ­ the circular images ­ that's for sure. It's more likely smaller because image size tends to grow with the amount of light or amount of radiation being emitted. So, it could be a teeny weeny thing emitting a huge amount of radiation. It could be the same size of the image emitting much less, or not as much radiation. Or it could be somewhere in between, which is most likely.
DO YOU HAVE AN IDEA RIGHT NOW?
A few feet in diameter. If you imagined it to be a sphere and we don't know what the shape is. It's being covered up by the blobbiness of the infrared image. But if you imagine it to be a sphere, the size of the image itself corresponds to about 6 to 7 feet, something like that. It's not a large number of feet in size. If it were two miles away when you had the two bright ones side-by-side, they were about 16 feet apart, as I recall and 6 to 7 feet in diameter would be the maximum size. It can't be any bigger than the size of the image.
THAT WOULD IMMEDIATELY CONTRADICT THE IDEA OF A STEALTH AIRCRAFT, WOULDN'T IT?
That's the point. A stealth aircraft ­ even if you had a glint. Suppose you had a stealth aircraft with a mirror on it reflecting sunlight, or you had a stealth aircraft with a hot engine generating radiation. In either case, the aircraft would be much larger than the size of the spot that is creating this bright image so you should be able to see something. Even if you can't ­ if they made a stealth aircraft that for some reason was non-reflective of sunlight, it would maybe look like a black hole. It would still be visible because it would be blocking the light coming from beyond it. You would see it silhouetted against the background. And they (pilots) did not see anything.
So, we're talking about something we just don't know about here."
---
More Information:
Historical Information About Ball Lightning
Most ball lightning reports are associated directly with thunderstorms, a weather condition not present on March 5, 2004, around 5 p.m. local time over Ciudad del Carmen in the State of Campeche, Mexico, when the Mexican Air Force pilots saw the unidentified aerial objects on radar and infrared. The few ball lightning accounts on record describe a small diameter phenomenon that lasts only seconds, not several minutes.
In a 1980 paper in Naturwissenschafter, Vol. 67, pages 332-337, written by physicist Stanley Singer, Ph.D., he said: "The theoretical problem is that of accounting for a spherical structure which maintains its identity while moving freely in the air for some seconds and for a radiation process which continues over the same length of time."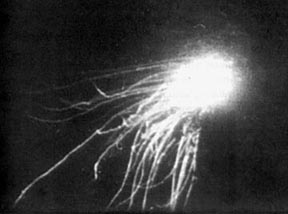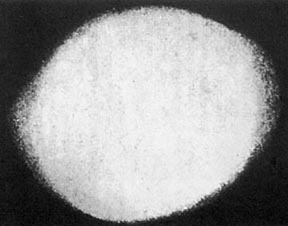 ---
Websites:
http://www.FLIR.com/imaging/airborne/products
http://www.telephonics.com/products/MaritimeSurveillance.shtml#anaps143

© 1998 - 2023 by Linda Moulton Howe.
All Rights Reserved.