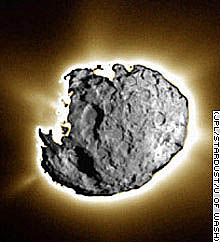 June 25, 2004 Seattle, Washington - The June 18th issue of the journal Science featured on its cover a comet called "Wild 2." (Pronounced Vilt Two) This comet first showed up in human telescopes in 1974 when its orbit changed from far out at the edge of the solar system to one bobbing around the sun between Mars and Jupiter. Since 1974, Wild 2 has been coming around every six years and NASA and the Jet Propulsion Lab in Pasadena decided it might be a good comet to fly by and sample dust coming off its surface in a search for not only the primordial elements that made our solar system, but for even older "stardust" residues from the bigger universe.
Click here to subscribe and get instant access to read this report.
Click here to check your existing subscription status.
Existing members, login below:

© 1998 - 2023 by Linda Moulton Howe.
All Rights Reserved.