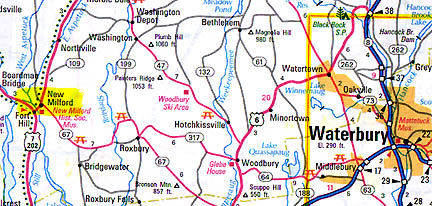 New Milford is about twenty miles west of Waterbury, Connecticut.July 15, 2004  New Milford, Connecticut – Yesterday, Kamilla Gary reported in The News-Times of Danbury and New Milford, Connecticut, about "Mystery of the maize: New Milford woman's corn crop flattened overnight. Mid-garden damage defies explanation, son says."Today I talked with Kamilla and the corn crop's owner, Martha Bailey, who has lived at her New Milford home for three years. There is a 7-foot wire fence built around her garden of tomatoes, squash, yellow and white corn. The squash was about three feet high and the corn plants were nearly six feet high. But on Tuesday morning at 6 a.m., she had sat down to have coffee and was shocked when she looked out the window.
---
Interview:
Martha Bailey, Small Business Owner and Gardener, New Milford, Connecticut: "I looked out ­ 'Where is my corn?!' I see one row standing on the left side by a fence and some standing on the right side about 30 feet away and there is nothing in the middle. However, there is some on the back fence. I have a 7-foot fence all around my garden and this one rectangular section from the north to the south is just flattened as flat as a floor.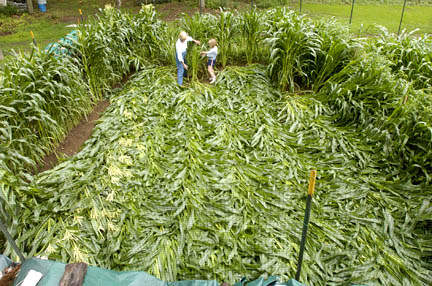 LAID ALL ONE WAY?
Exactly, and all laid to the south. There was no wind. We did have rain the night before (July 12, 2004), but it was not a severe pounding rainstorm.
SO THE GROUND WAS SOFT AND YOU SHOULD HAVE BEEN ABLE TO SEE TRACKS, RIGHT?
Yes.
COULD YOU FIND ANY?
There was nothing there. There were no holes amid the cornstalks. There were no burn marks on the corn stalks. My garden is secured by gates and a fence. And nothing ­ no vandalism, no children around my neighborhood. I have 3.5 acres. I have two very nice neighbors. That's it.
It didn't hurt my tomato plants. I have 20 tomato plants. It didn't hurt my squash. It just took out this small section of corn, like six rows 40 feet in length by 30 feet wide.
DID THE POLICE OR SHERIFF COME OUT?
Oh, no. I had no reason to call them.
SOME PEOPLE WOULD SAY THAT WAS VANDALISM.
It's absolutely not in this neighborhood. I live on a country road and there are no small children in the area, no vandalism.
I have a 4-foot wood pile in front of my garden with a green tarp on it. There are two green tarps and where the tarps meet each other, in the middle where the corn went down, the tarps were kind of turned upwards toward the south. So if the corn laid down from the north to the south, whatever did it had a force that separated the two pieces of tarp that are over my wood pile, which were before very flat.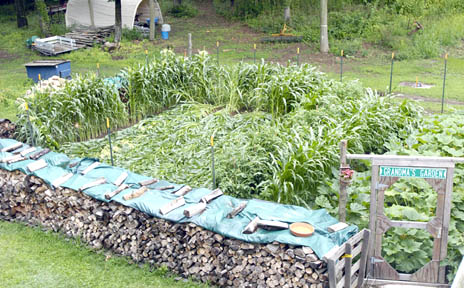 AS YOU'VE HAD A CHANCE TO THINK ABOUT THIS SINCE TUESDAY, HAS ANYTHING STRUCK YOU AS HOW THIS COULD HAVE HAPPENED?
No, because my daughter-in-law talked to Dr. Mel Goldstein on Channel 8 news in New Haven, Connecticut and he said there was absolutely no wind that night and we didn't hear any wind. We did have rain, but it was not heavy torrential downpours.
But the ironic thing about it is that the corn on the left side of the fence is still standing and then there is a row of corn on the north side that's still standing. And some on the east side that is still standing. So something had to come like straight down and toward the south to knock these 7 or 8 rows of corn down.
MOVING NORTH TO SOUTH.
Yes.
WHAT IS BEYOND YOUR PROPERTY TO THE NORTH?
Trees and woods.
NO HOUSES?
No. All standing trees.
DO YOU KNOW IF THERE IS ANY HISTORY OR MYTHOLOGY ABOUT YOUR PROPERTY OR YOUR AREA LINKED TO ANCIENT BURIAL MOUNDS?
Yes, there is. On Route 7 which is not far from here about a mile away, the Indians were here years ago. They just built a new New Milford High School and they found a lot of artifacts.
LIKE ARROWHEADS?
Yes. We're trying to clear 3.5 acres and we've done a lot of digging and haven't found a single arrowhead or anything related to an Indian village. But Fort Hill Road, very close to me, and I think that's where the Indians were. There's a lot of water around here ­ not ponds or lakes, but like water runoff ­ and we have a lot of limestone on my property and I have a big galvanized water tank to the right of my garden where I get the drainage off my little garage which is on the east side of my property and it stops the wind from blowing west to east. My garage is there and my water tank and I water my garden with that. In the west, we have woods. And the wood pile is in the south and I have a 7-foot fence around the garden.
THERE WAS NO BREAK IN THAT FENCE?
No, absolutely not.
WITH ALL THAT LIMESTONE, DO YOU HAVE A LOT OF UNDERGROUND WATER?
I believe so. When I bought this house in 1999, we bought it from Sunny Valley Nature Preserve and when we dug the new well, it was just pure limestone coming up when they were drilling.
ISN'T IT UNUSUAL WITH ALL THE OTHER PLANTS IN YOUR GARDEN THAT ONLY YOUR CORN WAS AFFECTED?
Very unusual, because there was absolutely no wind. My squash plants are three foot high, zucchini and yellow squash, and not one ­ usually when the wind blows, they kind of flop over. There was nothing. But the corn on the left and the corn on the right and the corn on the north did not blow down. Just this middle section."
More Information:
Since June 17, the following formations have been reported in the United States:
1) June 17, 2004 – Solano County, California – Wheat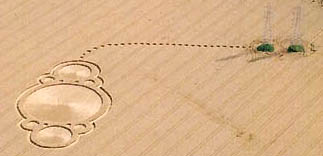 2) June 26, 2004 – Spanish Fork, Utah – Barley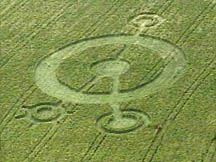 3) July 3, 2004 – Eagle Grove, Iowa – Oats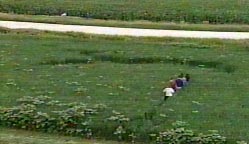 4) July 5, 2004 – Hillsboro, Ohio – Corn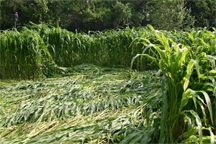 Hillsboro Field Research by Jeffrey Wilson and Ted Robertson, ICCRA – Independent Crop Circle Researchers Assoc. The six Hillsboro, Ohio, corn photographs below are provided with text by Jeffrey Wilson, Director, ICCRA.
1) "Two stalks bent over, one on top of the other; the bending of the second stalk conforms to the bend of the first stalk.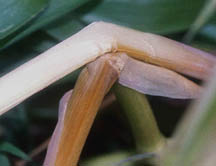 2) "This is a picture of Row 6 where the start of the flattening begins. You can see that stalks side-by-side are both standing and flattened!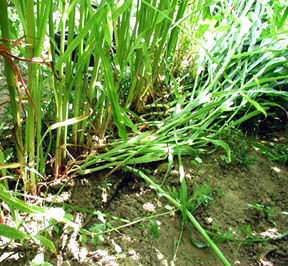 3) "This photo was taken by the landowner at the time of discovery. You can see all the corn stalks flattened to the ground, however in this photo, a single stalk is bent over at about 18 inches from the ground.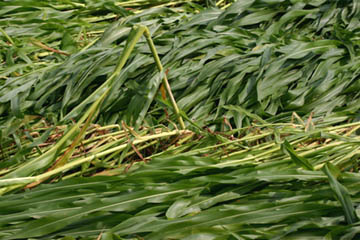 4) "This photo shows a section of corn rows 2 and 3 where the stalks are layered in five separate layers (in four different directions).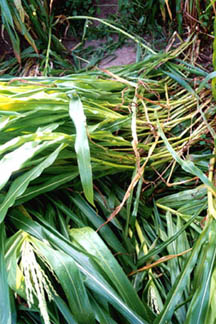 5) "This is the aerial photo of the entire garden plot showing the direction of the lay to be generally SW to NE.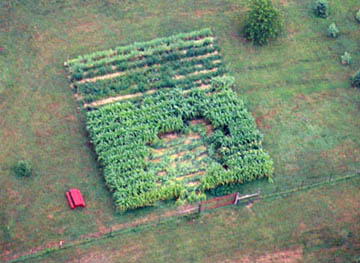 6) "This is a photo of Row 6 looking East. You can see the change in the direction of the flattening of the corn stalks (some flattened south; some flattened north). I am in this photo with two TriField Natural ElectroMagnetic Field Detectors, one TriField Broadband EM Field Detector, a GammaScout Geiger Counter, a couple of GPS meters, and a digital weather instrument for measuring temperature and barometric pressure. I am taking notes."Jeff told me that all of their measurements in the Hillsboro, Ohio, downed corn were anomalous when compared to measurements of normal control plants outside the downed corn.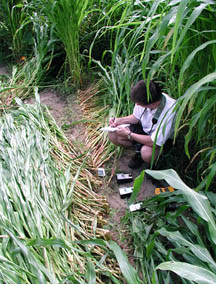 5) July 10, 2004 – Litchfield, Minnesota – Barley
Elongated growth nodes in this downed barley described by an investigator for BLT, even though the consensus of residents is wind damage.
6) July 10, 2004 – Chuckey, Tennessee – Pasture Grass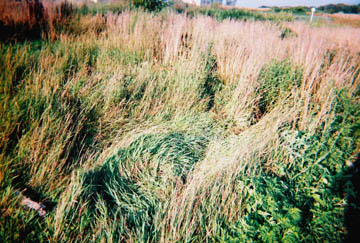 At least five ovals ranging from 10 feet to 20 feet long, swirled counter-clockwise in tall pasture grass. Man who discovered them told Jeffrey Wilson, Director, Independent Crop Circle Researchers Association (ICCRA), there are more downed areas and the field needs to be investigated further. The land is also in a region known for Cherokee Indian arrowheads.
7) July 13, 2004 – New Milford, Connecticut – Corn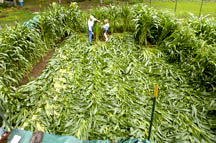 Historic Perspective
August 30, 1992 – Austinberg, Ohio – Corn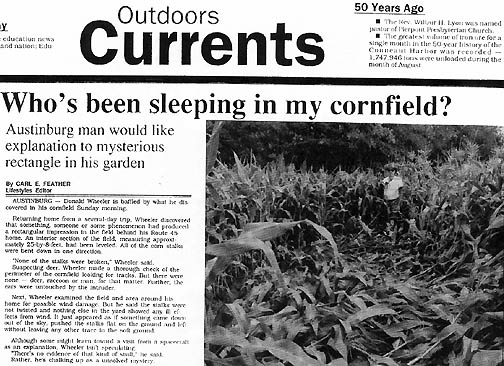 Excerpt from Glimpses of Other Realities, Vol. I: Facts & Eyewitnesses © 1994 by Linda Moulton Howe:
Austinburg, Ohio Corn Rectangle
On August 30, in Austinburg, Ohio, a large rectangle was found in a young, sweet corn garden planted by Donald A. Wheeler. The rectangle measured 8-by-25-feet and Mr. Wheeler told me: "In all my gardening years, I have never seen anything like it before.
"Carl Feather, reporting for the Ashtabula, Ohio Star Beacon wrote: "It just appeared as if something came down out of the sky, pushed the stalks flat on the ground and left without leaving any other trace in the soft ground." When I telephoned him, he said local farmers thought the soil was simply too wet and the corn fell down. But Feather, who took photographs, said all the corn stalks were lying generally in one direction, not randomly as might be expected if moisture were responsible. "None of the stalks were broken and none of the ears were taken," Donald Wheeler said. At first, he suspected deer, but when he checked his field for tracks, he could not find any. Then he thought that maybe a freak storm had hit. But the corn stalks were not twisted, and nothing else nearby showed any signs of storm damage.
The crop was young because it was located near Lake Erie where the water can moderate temperatures, allowing a longer growing season for second plantings. Connie Sistek, an investigator in Ashtabula, talked with biophysicist W. C. Levengood about the odd corn formation. He asked her to gather plant and ear samples on September 2 and October 5, 1992, both from inside the downed rectangle and outside for controls, so he could have different growth stages.
The corn tassels on control plants outside the rectangle were tightly closed. But inside the downed rectangle, the tassels were opened up. "These differences in tassel growth," said Levengood, "suggest that the formation plants developed at a more rapid rate than the controls. Generally, tassel opening is very closely timed in a field of corn. Under normal conditions, one does not see the differences in tassel formation that were observed in this Ohio case."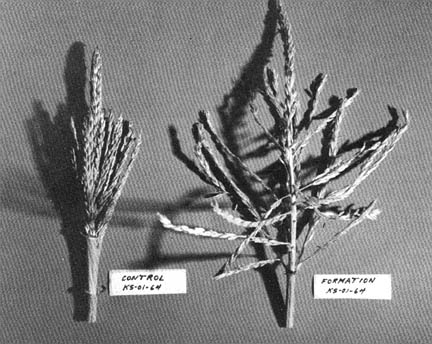 Levengood found other differences. "All the ears from the formation plants appeared a darker brown color and the pericarp on the tiny kernels had a roughened appearance and were smaller in size compared with the controls. The seed weight within the formation ears was only 1/6th the seed weight in the controls. This seed weight difference was surprising in view of the fact that the ear sizes were the same as those in the controls." Another important difference was that none of the formation corn seeds would germinate. "Several aspects of the findings from this sample set indicate that at the time of the crop formation, a suppression of the embryo growth occurred – a developmental perturbation which did not appear to be carried over into the somatic tissue."
"There was also abnormal ear development between a September 2 sample and an ear picked October 5. Both ears were the same size and stage of development on September 2. The bulbous growth at the upper end of the ear picked four weeks later on October 5, 1992, contained much larger, more completely formed kernels indicative of normal development after the earlier retarded growth associated with whatever energy affected the plants at the end of August 1992."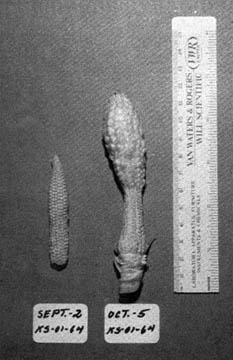 To Be Continued in Part 2 about European crop formations and mysterious lights in July 2004.
---
Websites:
http://www.cropcircleconnector.com
http://thecropcirclewebsite.50megs.com
http://www.cropcircleresearch.com
http://www.wylatowo.mogilno.pl/news.php?art=94
http://www.temporarytemples.co.uk
http://members.iinet.net.au/~bwratten/ccc.html
http://www.CropCircleAnswers.com
http://www.busty-taylor.com/cropper/98busty2.htm
http://www.cropcircleconnector.com/ilyes/ilyes.html
http://www.wylatowo.mogilno.pl

© 1998 - 2023 by Linda Moulton Howe.
All Rights Reserved.