"There is also the fact that NOAD-Northeast was conducting war game exercises that morning, a fact that has been very little talked about and certainly not reported to the general public. What's also not been reported, according to the information that I have, at least one of the scenarios they were considering in their war game exercises concerned hijacked aircraft being crashed into buildings. Now, this could explain the lack of response when the air traffic controllers began to report that four planes were off course…"
– Jim Marrs, Author, Inside Job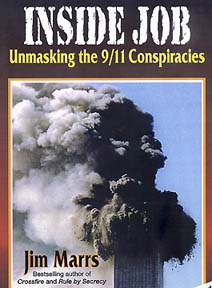 July 17, 2004  Wise County, Texas – Jim Marrs has been tracking down facts and trying to make sense of political stories in America since his college days as a journalism major at North Texas University in Denton. He graduated in 1966 and began a newspaper reporting and editing career at the Denton Record Chronicle, Lubbock Avalanche Journal and Fortworth-Star Telegram where he was an investigative reporter and cartoonist, and earned photography awards.
By 1988, he decided that he had to put his big file about President John F. Kennedy's assassination into a book called Crossfire. Two months after its release in 1989, Jim received a call from Hollywood film director, Oliver Stone, who wanted to option Crossfire for the movie that became JFK.
Jim Marrs began asking book editors and others what each thought was the next big, deep, dark, secret government cover-up beyond the JFK assassination. Unanimously, he says, the answer was UFOs. That's what lead Jim to write his second book, The Alien Agenda.
When that book was published in 1997, Jim did not realize that he was beginning to produce what some would later call his "trilogy." Alien Agenda raised the question: Who would speak for earth if non-humans finally arrived in public?
Trying to answer that question, lead Jim to write Rule By Secrecy published in 2002. In that important book, Jim Marrs made links between the money-power elite of America with the money-power elite of Europe back to the money-power elite of Mesopotamia which might have been linked to control and manipulation by non-human entities with their own agendas on this planet.
Crossfire, Alien Agenda and Rule By Secrecy. Now Jim Marrs has produced a fourth book that extends his historical revelations to more revelations about the terrorist attacks on September 11, 2001. The title is Inside Job ­ Unmasking the 9/11 Conspiracies. This week I asked Jim if this time he consciously wrote Inside Job as an extension of Rule By Secrecy?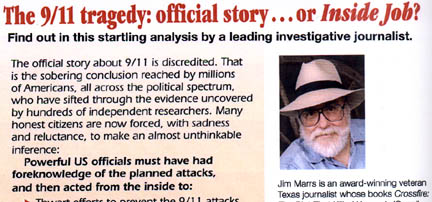 ---
Interview:
Jim Marrs, Journalist and Author, Wise County, Texas:  "Actually, it is. In fact, I've been contacted by so many people who said, 'Holy cow!' after reading Rule by Secrecy. And then watching 9/11 unfold, it's just like they are following a game plan, following the same old M.O. And it's true. Once you understand how they operate, this is exactly the way they do things. You create a problem and then you offer a draconian solution to that problem. Then when the civil libertarians yell and scream and you water it down a little bit and it goes on through and you've accomplished what you wanted in the first place.
NORAD-Northeast War Game Exercise
On September 11, 2004
LET'S GO TO ONE OF THE MAJOR HIGHLIGHTS OF YOUR BOOK WHICH IS YOUR INVESTIGATION OF WHAT WAS GOING ON SEPTEMBER 11, 2001, WHICH COULD EXPLAIN WHAT IS A STAGGERING FACT TO MOST EVERYONE ELSE ­ THAT NO ONE SEEMED TO BE PROTECTING ANY OF THE BORDERS OF THE UNITED STATES ON THAT DAY WITH MUCH OF ANYTHING THAT HAD FIREPOWER.
That's true. In fact, I think that has been one of the greatest puzzles, mysteries that has come out of 9/11: Where were our normal defense systems? I can remember growing up during the Cold War and we were constantly assured that not one Russian bomber was coming across the North Pole and down through Canada without it triggering our NORAD defenses ­ the North American Air Defense Command. And that we would have fighters stopping them before they even got to the U. S. border. Then to add to this to show that even after the Cold War collapsed ­ let's go to 1999 when the golfer Payne Stewart's Lear jet suffered an oxygen deprivation problem. Apparently everyone onboard died or passed out and it went off course.
Twelve minutes later, there were jet interceptors all over Payne Stewart's Lear jet. They tracked it all day, if you remember. And they were prepared to shoot it down if it looked like it was going to crash into a populated area. But, as it happened, it crashed in an unpopulated area. So they just trailed it and let it crash. That was well covered in the media. Twelve minutes (escort jets arrived after the Lear jet was in trouble.)
Now on September 11, 2001, you've got four commercial airliners hijacked, off course, OK? And no planes are even sent into the air for 35 minutes!
AND THOSE THAT WERE WEREN'T EVEN LOADED WITH WEAPONS THAT COULD FIRE ANYTHING.
That's right. Plus, sent from air bases much farther away from New York and Washington. For example, at Andrews AFB which is about ten minutes from the White House and Capitol, there are two squadrons of interceptors on 24-hour duty at all times. Washington, D. C., is one of the most protected air spaces in the world.
OR IS SUPPOSED TO BE!
Yeah, but when they finally scramble planes, they come from Otis AFB, (Bourne, Mass)OK? So, what is with all this? Well, in my book, Inside Job, I think I have provided the answer. But of course it only raises more questions. The answer is not only to the lack of interceptor response, but also to the fact that President Bush continued to sit reading a story about a goat to school children, even after he had been informed that a second plane had crashed into the World Trade Center and that obviously America was under attack. There is also the fact that NORAD-Northeast was conducting war game exercises that morning, a fact that has been very little talked about and certainly not reported to the general public.
What's also not been reported, according to the information that I have, at least one of the scenarios they were considering in their war game exercises concerned hijacked aircraft being crashed into buildings. Now, this could explain the lack of response when the air traffic controllers began to report that four planes were off course, when the Pentagon began to get the word that planes had been hijacked, when President Bush got the word that a second plane had crashed into the World Trade Center ­ they were probably all going, 'Oh, well, it's just part of these exercises.'
Hijacked Aircraft "Bombs" Flying Into Buildings
Were Military Concern Before 9/11
JIM, DOESN'T THAT MAKE CONDI RICE AND THE ADMINISTRATION SUCH AS THE DEFENSE DEPARTMENT AND THE PRESIDENT'S EXECUTIVE WING LIARS WHEN THEY HAVE GONE BEFORE CONGRESS SAYING THEY HAD NEVER CONTEMPLATED THAT ANYONE WOULD BE USING LOADED AIRLINERS?
Oh, that's an out and out lie, period! The people who were designing these war games way back in 2000 and early 2001 ­ and this has been documented and published ­ they had tried to put forth scenarios of hijacked aircraft being flown into buildings. But they were told that they (gov't) did not want those scenarios. Although, my information is they were using such a scenario on September 11, 2001.
You can also go back to the mid-1990s when the Philippine authorities busted an Al Qaeda cell in the Philippines and found the plans for Operation Bojinka, which involved hijacking airplanes and flying them into prominent buildings.
So, the statement that nobody knew that they would hijack airplanes and fly them into buildings is just an outright lie. If indeed, the lack of response on 9/11 was due to the fact that NORAD ­ Northeast was having war game exercises ­ then why in the heck haven't the powers that be made that public?
RIGHT.
And if it sounds like, 'Well, we were kind of caught off guard and it was a kind of embarrassing thing,' then at least why haven't they leaked the war game information? OK? And the reason is very simple: the day before on September 10, 2001, the National Security Agency (NSA) intercepted an electronic message from Mohammed Atta, who has been identified as a leader of the hijackers. His message stated, 'The match is about to begin. Tomorrow is zero hour.'
Hello? 'Match.' That sounds like another synonym for a game, right? So, they knew these games were going on. Of course, if the administration and government admits that their lack of response was due to the fact that these war games were going on, then the immediate next question is: How did the hijackers know when to coordinate their attack with these war games? The answer to that implies that this was an inside job. Somebody passed that information.
THEY WANTED TO USE WAR GAMES AS A COVER AND INTERFERENCE, SOMETHING THAT WOULD MUDDY THE WATERS?
Exactly, to slow down ­ to accomplish exactly what it did which was to slow down and baffle a meaningful and immediate response which would then create greater casualties and greater terror. When you look at that particular aspect, the fact that some how those hijackers knew that these war game exercises were taking place. Then you couple that with all of the information that was flowing upward from the CIA and FBI about the probability, the impending attacks by Al Qaeda, then all of a sudden, it becomes overwhelming that Somebody HIGH within the powers of the federal government knew exactly what was going to happen. And they allowed it to happen to further their own political purposes. And unfortunately, that's the best light you can put on it.
Destroyed World Trade Towers' Metal
and Debris Evidence Sold for Scrap
WE KNOW NOW THAT WE HAVE NOT BEEN ABLE TO FIND WEAPONS OF MASS DESTRUCTION OR ANY OF THE REASONS GIVEN FOR INVASION IN IRAQ. WHICH BRINGS ME BACK, JIM, TO THE WHOLE ISSUE OF A CONTEXT OF FOREKNOWLEDGE THAT IS IMPLIED IN SOME OF THE EMERGING FACTS ABOUT SEPTEMBER 11, 2001. THIS IS AN AREA IN YOUR BOOK THAT I FOUND PERSONALLY TO BE QUITE SURPRISING. AND I'M NOW ON PAGES 44 TO 45 AND THIS IS YOUR DISCUSSION ABOUT BILL MANNING, EDITOR OF THE 125-YEAR-OLD FIREMEN'S PUBLICATION CALLED FIRE ENGINEERING.
YOU ARE QUOTING FROM ITS JANUARY 2002 ISSUE RIGHT AFTER 9/11. AND IN THIS, YOU ARE SAYING THAT BILL MANNING WROTE, 'FOR MORE THAN THREE MONTHS, STRUCTURAL STEEL FROM THE WORLD TRADE CENTER HAS BEEN AND CONTINUES TO BE CUT UP AND SOLD FOR SCRAP.'
COULD YOU PLEASE ADDRESS THIS AMAZING QUESTION: HOW COULD THE HARD PHYSICAL EVIDENCE OF TWO HUGE SKYSCRAPERS THAT MELTED TO THE GROUND, THOUGHT IMPOSSIBLE, HAVE BEEN SOLD? WHY WOULDN'T ALL THAT PHYSICAL EVIDENCE HAVE BEEN KEPT THE WAY WE KEEP AIRPLANE CRASHES?
Exactly. In fact, several prominent national fire officials noted that the World Trade Center disaster was the largest loss of firefighters EVER in one incident. It was the second largest loss of life on American soil ­ I think the first was the hurricane in Galveston back in 1904 or something like that. It was also the first total collapse of a high-rise building during fire in United States history, and it was the largest structural collapse in recorded history!
Now, you would think that you would want to hang on to all of that evidence and all of that metal and all of that dust and debris and study it to make sure that what the heck happened does not happen again. But, no! They immediately hauled it away, sold it as scrap overseas and took it to guarded sites where nobody could get into get specimens.
I even heard a story that they had GPS tracking devices on the trucks hauling the debris out of there so they could keep absolutely total control and knowledge over where they were going and what was happening. This was nothing more, Linda, than blatant destruction of evidence.
It was the same thing that happened at the Oklahoma City federal building bombing. It was the same M. O. at the Waco deaths. The federal government comes in and cleans it all up, sweeps it all away, scrapes the ground, and there is nothing left to study that might provide information to contradict the official story.
Other Explosions On Lower Floors
in World Trade Towers?
THERE WAS ANOTHER PARAGRAPH THAT YOU HIGHLIGHTED ON PAGE 47 THAT I THOUGHT WAS HIGHLY SIGNIFICANT AND THIS WAS FROM YOUR RESEARCH OF JIM HOFFMAN'S WEBSITE, 911research.wtc7.net. I'M QUOTING ACCORDING TO HOFFMAN, 'THERE IS NO GRAVITY COLLAPSE SCENARIO OR PROBABLE EXPLANATION BY FIRE THAT CAN ACCOUNT FOR THE COMPLETE LEVELING OF THE MASSIVE COLUMNS THAT COMPRISED THE TOWERS' CORES OR THE RIPPING APART OF THEIR STURDY PERIMETER WALLS. AND IF NOT, WHAT SCENARIO DOES EXPLAIN THIS?'
Well, the scenario that explains it, of course, is a controlled demolition. From Day One ­ you got to understand as a newspaper reporter, I've covered more than half a dozen major building demolitions. They are always great news locally because the TV cameras can get out there and watch these huge buildings just collapse in a pile of debris and smoke. But as a newspaper reporter, I had to go further. I couldn't just show a picture, so I had to interview all of the demolition experts. They made it very clear to me unanimously that a modern steel and concrete building does not simply blow up. You have top use certain types of explosives, they have to be placed in just certain critical areas, they have to be set off in just a certain timing. It's a very tedious and very complex and detailed process. You don't just put some explosive up next to a wall and blow a building down. It just doesn't happen!
So, in the case of the WTC, though, what we see is all of the earmarks of a classic demolition. In fact, some of the nation's most knowledgeable demolition experts and I quote one or two of them in my book, Inside Job, in the day or two afterwards said, 'This looked to be like a building demolition.' But then apparently someone talked to them and they began to change their story and say, 'Well, we didn't have all the evidence,' and began to backpedal.
Also, I am more firmly convinced now than then because I've had the opportunity to study the films and videos of those buildings coming down. If you look closely, what you will see is on the floors BELOW where the building is collapsing, you can see blasts of smoke and debris coming out the sides of the building throwing debris hundreds of feet out into the air. That is obvious proof that there is some sort of extreme pressurized explosion taking place within the building. These are the floors blowing as they go down. I quote probably a dozen people in my book, Inside Job, who said there were a number of explosions. I quote one fellow who was in the stairwell of the South Tower who said they heard an explosion from BELOW them and that debris and smoke was blowing UP the stairwell.
Ellen Mariani, Widow of 9/11 Victim,
Joins Lawsuit Against Bush Administration
I THOUGHT A VERY STRONG PART OF YOUR BOOK, INSIDE JOB ­ UNMASKING THE 9/11 CONSPIRACIES ­ IS THE PREFACE BY ELLEN MARIANI (WIDOW OF LOUIS NEIL MARIANI OF DERRY, NEW HAMPSHIRE). SHE HAS A LAWSUIT THAT IS IN THE WORKS AND I WONDERED IF YOU COULD EXPLAIN TO VIEWERS AND LISTENERS THE ROLE OF ELLEN MARIANI RIGHT NOW?
This is quite humorously ironic to me because the information for my book, Inside Job ­ I had finished in 2002. This should have been made public to everyone in this country and if everyone had had access to this information in 2002, there might not have been an invasion of Iraq in 2003.
But, the reason they did not get it is that I had a contract with Harper Collins, a major publisher in New York. This book had passed the legal review, they had given me the cover of the book and it was all set to go when a senior executive canceled the book saying she did not want to upset the family members of 9/11 victims.
So, I find it tremendously ironic that Ellen Mariani wrote the Preface to the re-worked version of the original Harper Collins book now entitled Inside Job because Ellen Mariani IS the wife of a 9/11 victim. As you pointed out, she is being joined by others now to sue President Bush, Rumsfeld, Cheney and even the Council on Foreign Relations for having foreknowledge of the event and for taking no steps to prevent this loss of life.
They are not the only ones. There is another group of 9/11 families ­ some 400 families ­ who are now involved in a TRILLION DOLLAR lawsuit against the government of Saudi Arabia, claiming that they are truly behind the 9/11 attacks. The evidence increasingly points that way. Even the 9/11 Commission working as hard as they can not to come up with any real truthful solutions has been forced to admit the role of the Saudis in all this. Of course, the Bush Administration ­ their biggest concern about the 9/11 report is the section that would tie the Bushes, Cheney, Halliburton, to the Saudis. Again, it doesn't take rocket scientists or huge inside knowledge to figure all this out.
CIA Created Osama Bin Laden and Al Qaeda
Who created the Al Qaeda terror network? The CIA back in the 1980s to send into Afghanistan to fight the Soviets.
Who created Osama Bin Laden? The CIA back in the 1980s when they brought him here under the name 'Tim Osmond' and provided him with guns and ammunition and wherewithal to create the Al Qaeda network and go fight the Russians in Afghanistan. This is historical fact.
AND HE IS SAUDI ARABIAN WITH SAUDI ARABIAN MONEY.
Exactly! Exactly! And who are the closest friends in business and social partners to the Saudis but the Bush family. There is the Carlyle Group that Bush Senior has been a big part of and the inner-business connections that go on. Again, we also know right now that Halliburton is taking U. S. tax money and paying truck drivers $100,000/year TAX FREE, plus medical and retirement benefits to go over to Iraq to drive trucks.
Wait a minute. Number One, that sounds like a military duty. Why don't we have our poorly paid reservist driving those trucks at a fraction of the cost that we're paying Halliburton to get those truck drivers?
Or, if you want to look at it from another way ­ considering that our military people are grossly underpaid and have minimal health care benefits. In fact, wounded GIs from Iraq and Afghanistan arrive over here and are sent to V. A. hospitals are forced to pay for their own food. Why don't we pay THEM the $100,000/year plus all the great benefits to drive trucks in Iraq?
But, of course, if we did that that money would not pass through Halliburton, Dick Cheney's old company. In fact, there are now rumblings ­ I got a news story yesterday that there is the real possibility of criminal charges being filed against Dick Cheney because of the role of Halliburton in all of this. Apparently he was instrumental in getting Halliburton this no competitive government contract to do all this work in Iraq ­ the very war he was instrumental in drumming up. It was Dick Cheney, even more than George Bush, who kept maintaining they had weapons of mass destruction and that we had to go into Iraq and do all this stuff."
---
More Information: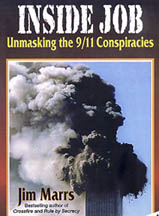 Anthrax Attack and Insider Agendas –
To Force Congress To Fund Pentagon Insiders' War Plans?
NO ONE YET HAS FINGERED ANYONE ON THE ANTHRAX WHICH ALSO KILLED PEOPLE AND WAS STEP NUMBER TWO FOLLOWING 9/11. IT'S ALMOST AS IF IT HAS BEEN OBSCURED.
Yes ­ it's like, 'Well, that didn't happen.' Of course, the reason you don't hear anymore about that is because there was no connection to the anthrax attacks to Al Qaeda or even to the Middle East. In fact, the only thing we know for sure about the anthrax attacks is that a study of the anthrax spores that were used in those attacks could only have come from within the military-industrial complex of the United States.
AGAIN, THERE IS AT LEAST THE STRONG IMPLICATION THAT SOMEONE IN THE U. S. GOVERNMENT WAS BEHIND THE SCENES FACILITATING WHAT OCCURRED ON SEPTEMBER 11TH.
Exactly. And while we're speaking on that subject, I'm sure you are well aware of the ­ what is it? some dozen biochemist experts from around the world who all died or disappeared mysteriously in the year following those anthrax attacks. And of course nobody has paid much attention to that and it's hard to get information. You have to scrape a little here and there and put it all together. But the overall picture seems to be that somewhere somebody wants to get rid of the experts who # 1, could tell us where such anthrax came from and # 2, could provide an antidote for some of those deadly biological agents.
WHAT DO YOU SUPPOSE THE PURPOSE OF THAT ANTHRAX ATTACK WAS IF IT WAS AN INSIDE U. S. GOVERNMENT JOB?
Well, I think the most obvious answer to that ­ I can't tell you that it's THE answer, but it's the one that most immediately comes to mind was that it thoroughly intimidated and stampeded Congress. Congress ­ if it had not been for the anthrax attacks, I'm sure there would have been many Congressmen from all over the country ­ not from New York! ­ who said, 'Well, those attacks on New York and Washington ­ that was really terrible. But let's get cool and judgmental about this and think about it and let's not tear up the Constitution in order to save freedom.' And they might not have been as pliable to ramming through the Patriot Act and Homeland Security. But when they have to evacuate THEIR offices and some of their own staff people are dead from anthrax, then all caution is out the window and let's pass whatever is necessary to protect ourselves. It's the oldest strategy in the world.
WOULD YOU GO SO FAR AS TO SAY THAT THE SITTING PRESIDENT, GEORGE BUSH, WOULD HAVE HAD FOREKNOWLEDGE AND BE RESPONSIBLE FOR ALL THIS?
Personally, I do not think that is the case. I don't think that Pres. George W. Bush had any particular detailed foreknowledge of what was going to go on. BUT, those around him ­ Dick Cheney, Don Rumsfeld, his father former President Bush, and all their buddies within the very secretive Council on Foreign Relations ­ yes, I think they did know what was going on.
AND THEIR VESTED INTERESTS IN HAVING ALL THIS OCCUR WOULD BE?
To advance their own goals which were ­ and this was all articulated and even documented long before 9/11:
– The invasion of Afghanistan to restore the gas pipeline through Afghanistan.
– To restore the poppy crop which was the backbone of the world heroine trade.
– To add impetus to the construction of a permanent U. S. military presence in the Middle East.
– To go after Saddam Hussein again and to re-enter Iraq to take out their oil.
All of these are plans that were articulated by the project for the New American Century which was a Neo-Conservative think tank represented by some of these very people we are talking about and who had put out position papers in the year 2000 and in early 2001 that articulated everything I'm just saying. This was based on the Defense Guidance Policy paper that had been developed under Dick Cheney when he was Secretary of Defense under the old Bush Administration.
American "Democracy" – Manipulated Window-Dressing?
THE DEMOCRATIC CONVENTION IS ABOUT TO START IN BOSTON IN A COUPLE OF WEEKS. IF YOU WERE LOOKING INTO YOUR CRYSTAL BALL THROUGH THE LENS OF INSIDE JOB, WHAT DO YOU FORECAST FOR THE REMAINDER OF 2004 AND INTO 2005?
Unfortunately, I can see several scenarios ­ none of which are of any particular worth or benefit to the average person in this country. In fact, some of them are downright scary. I think it appears likely at this point before the convention that what we are going to have is a John Kerry and John Edwards ticket ­ John Kerry of course being a member of the secretive New World Order society Skull and Bones, just as George W. Bush is. So you can vote for Skull or you can vote for Bones. You're going to get the same people behind them, which again is one of their (Inside Job people) standard operating methods. For example, in the election of 2000 ­ you could vote for oil man Bush or you could vote for oil man Gore. The oil men did not care who you voted for. But in that case, I think the reason they had to end up jockeying the election and having the Supreme Court that had been packed by Bush Sr. appoint George W. as the President was simply the fact that if Gore had been president, 9/11 would have happened, the invasion of Afghanistan and Iraq would have happened, but the right wing conservative Republicans would have raised hell about the destruction of the Constitution of the United States.
But with a perceived conservative in office, they were incredibly muted and you didn't hear anything out of them except some rare grumblings. This time ­ what I see coming up this year ­ is a couple of things: number one, assuming that everything coasts along ­ I think that we're going to see more and more information about the lies, deceit and yes, even the criminal acts of the Bush Administration and I think that by the time the election comes, it is very possible that the Kerry/Edwards ticket could take the field.
If that happens, that's going to create a problem because the very people who have been raising cane against the Bush Administration ­ a good portion of them liberals ­ are going to go, 'Yeah, we won! The Bushies are gone and everything is OK.' And they'll go back to sleep and that will be the end of that.
And yet, the Patriot Act, son of Patriot Act, Homeland Security, all of these constitutionally questionable laws will still be in place and Kerry will still advance the same foreign policy.
But the thing that is really scary is that if we approach the election and it does appear that the Kerry/Edwards ticket will carry the day, then what I fear is: watch for another terrorist attack because this would again be a very common modus operandi which is right before the election, you have a terrorist attack. Most people again will be stampeded again by fear and uncertainty and during such a time as that, most people are hesitant to try to change the leadership. So, we could suddenly see a huge backlash sweep Bush into office legitimately, in which case we are really going to be in trouble because they are already preparing further laws and further regulations and everything else to deny us the basic freedoms that we supposedly are fighting for.
Then, there is one other scenario that is even worse. I'm sure you saw here in the last few days that the Bush Administration has made quiet queries to find out what would be the procedure to suspend the elections. OK? So it could be that they could simply trump up another big terrorist attack by these mercenaries that they control and then declare marshall law and suspend the elections and then we're really off into a whirlwind of questionable activity.
World Power Brokers Hold June 2004 Bildeberger Meeting in Italy
Title: Edwards Solidified VP Bid after Good Performance at Bildeberger Conference Debate vs GOP's Ralph Reed
Source: NY Times http://www.nytimes.com/
Published: July 7, 2004
Author: Wilgoren
"Several political insiders pointed to the secretive and exclusive Bildeberg conference in early June 2004 that drew the likes of Henry Kissinger and Richard Perle to Stresa, Italy as helping with John Kerry's 'heart' in making his decision about Senator Edwards.
"Edwards spoke so well in a debate on American politics with Former Christian Coalition President Ralph Reed that participants broke Bildeberg conference rules to applaud before the end of the session. Before the conference, Edwards went to Brussels to meet with NATO officials brandishing his foreign policy credentials"A Kerry friend present at Bildeberg says, 'His performance at Bildeberg was important. He reported directly back to Kerry. There were other reports on his performance. Whether they reported directly or indirectly, I have no doubt the word got back to Senator Kerry on how well he did.'"
Jim Marrs:  "It's amazing to me that in June, the Bildebergers met in Italy and there was no coverage in this country. That's amazing to me as a journalist because if, for example, all of the owners of the National Football League franchises were to meet in one big hotel surrounded by armed guards and nobody was allowed in or out and then they came out and said, 'No, we're not going to tell you what we talked about.' Wouldn't there be a huge out cry?' The media would just go ballistic and say this is restraint of trade, this is monopolistic business practices.
And no one says anything when the biggest, most powerful people in the world meet together behind closed doors, set their agendas, draw up their plans, and they come out and say, 'No, this is secret and we can't tell you what we're doing.' It really makes a mockery of the idea of freedom and democracy.
And some of those people who attended were ranking U. S. government people and news media people, who come back and cloak themselves in the U. S. flag and say they represent the public and the people. But they won't tell us what they are talking about."
---
Websites:

© 1998 - 2023 by Linda Moulton Howe.
All Rights Reserved.